Earlier this week we had the pleasure to host an edition of CommsChat with Communicate Magazine. CommsChat is an online conversation about all things communications, including PR, marketing, internal comms, and digital strategy.
For this edition we focused on the topic that drives our mission: how to promote employee engagement through internal communications.
In the hour-long exchange of best practices, IC strategies, tips (and hilarious GIFs) participants highlighted what worries them the most; what their biggest challenges are; and how to leverage technology to promote strong employee experiences.
Let's dive into some of the highlights.
Q: What are the most pressing problems for internal communicators when engaging employees?
A: Understanding What Employees Want is Priority Number One
The first pressing problem people highlighted was a big divide in expectations when it came to the role of internal communications in an organization.
"A lack of trust, plus a poor understanding of the role of internal comms," said William Fox, Employee Communications Supervisor at UPS UK Ireland. He also added that "we are a trusted advisor rather than sending ALL the emails and clicking ALL the powerpoint slides." On the misconceptions of the role, Hannah Claffey, PR & Communications at Acorn, added this: 
A1. Lack of understanding – too often IC has a perception of being the senders of the 'fluffy emails and organisers of the cakes and pretty pictures (of course, being #busybusyverybusy) Real IC is measured and provides tangible ROI #CommsChat

— Hannah Claffey (@hannah_claffey) June 4, 2018
Another pressing problem for internal communications planning is misunderstanding what employees actually want to read. The tweet below from Alex Bourgeois, an employee advocacy pro, explains it best:
A1) One of the most pressing problems is understanding what your employees expect and want – treat your staff like your customers. What make them tick? If you don't take that approach and apply your qual and quant, your comms will end up being ignored #CommsChat

— Alex Bourgeois (@wakanouka) June 4, 2018
As IC pros are known to do, the discussion quickly went from problem to solution. How do we make sure employees actually read and open our communications? Advita, Vice Chair at CIPR Inside, suggested the following:
A4: Make sure you have channels that they can access whenever they like, including from home. Our employee app was a good success and it enabled us to help keep these teams informed. We also worked to empower leaders in these areas to share more by creating team briefs #commschat

— Advita (@Advita_p) June 4, 2018
Q: How does your company leverage technology to promote strong employee experiences?
A: Embrace Technology Optimistically But Culture Comes First
We live in a technologically connected world and there's an app, extension or a plugin for almost everything, which is awesome (we're a tech company, it'd be weird to say otherwise :P). But, at the same time, a balance between tech and a company's values is important.
Many participants agreed that, in order for technology to help as it's supposed to, the right values and culture have to be there from the beginning.
Many of our clients swear by slack. Negates the email silos. Allows conversation around a subject. Needs good culture mind – like all technology. Otherwise the tech just reinforces bad behaviours! #CommsChat

— Steve Prior (@steveprioruk) June 4, 2018
Additionally, multiple tools and services were mentioned with virtually everyone agreeing that "digital" is a priority. From intranet services and live-streaming to newsletters and of course, good email practices, many responses focused on not only using those technologies but leveraging them properly with continuous improvement.
If this sounds a bit like marketing it's because internal comms is like marketing and customer experience combined (to make employee experience). The only way to compete for and win attention is to use multiple tools and a multi-channel approach.
A2: It's small scale perhaps but we put a lot of thought into design. Making information really visual, use rich media where we can with usability and UX in mind #commschat

— Leah Bowden (@humanizecomms) June 4, 2018
As Leah mentioned, using technology that allows you to send communication that looks exactly how you envisioned it is key.
ContactMonkey's Internal Comms Email Tracking tool, for example, gives you the ability to send beautiful HTML templates from Outlook that display perfectly in any email client.
We're also deeply aware that Word mail merge is a nightmare so we've done away with it 🙂
Q: What Are Your Biggest Challenges When Trying to Engage Employees?
A: Not Enough Time to Engage With My Team
People agreed that the biggest challenge keeping communicators from successfully engaging with their employees is a finite amount of time to engage with employees.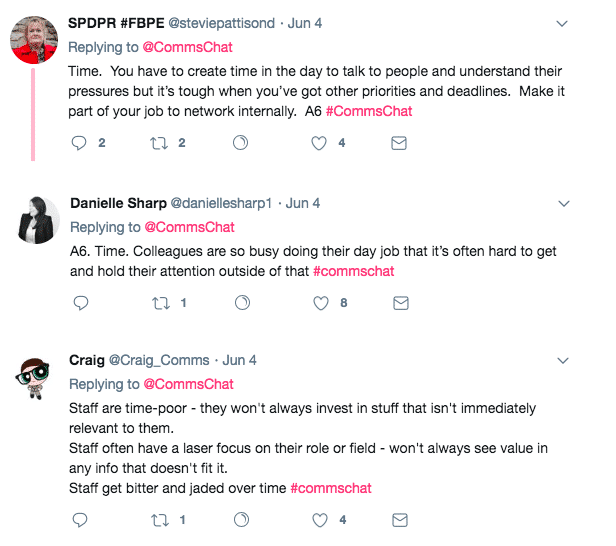 Ultimately, what keeps communicators up at night can be condensed into two main fields:
(a) understanding what employees want
(b) and being able to make the most out of the finite resource that is time.
From research and all of our interactions with internal comms pros we have come up with a solution for these problems.
Want to learn what employees want?  Are you sick of following up with employees by standing over their desk?
Our simple to use tool plugs into your existing Outlook inbox — enabling you to create, send, track and measure all your employee emails right from the email interface you're familiar with. You can also analyze results on a personal and aggregate level without having to leave Outlook … and without having to walk over to see if Matt got your link.
The best way to understand what your employees want to read is to see, in real time, what they're actually clicking on, when, from where and on what device.
We can also help you make better use of your time
Stop opening Word (or Excel) or multiple 3rd party tools to send a simple mail merge or responsive HTML emails.
With ContactMonkey you're able to do all of that right from Outlook, meaning that you don't have leave the email provider you're used to in order to communicate and connect with your employees. That sounds like a lot of time saved if you ask me. Set up your mail merge and go for a coffee with your cubicle buddy.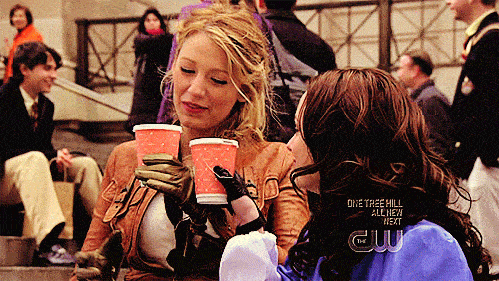 The internal comms profession is ever-changing, but luckily right now it's more important than ever. As you can see from this edition of #CommChats, finding the balance between the right tools and the right organizational values is paramount for success.
What other challenges are you facing as an internal comms professional? Please let us know below.