Just because workers are remote doesn't mean corporate communications have to be difficult.
The job of your corporate communications is to align your employees, clients, and other stakeholders under a single brand image. Your corporate communications must convey a unified brand identity that connects your people under a set of values and priorities.
But effective corporate communication starts from the inside.
Employee communication is the key to success for nearly 79% of organizations. How engaged and informed your employees are determines how they promote your brand. And that impacts the success of your business.
Effective corporate communications are especially challenging as the number of remote workers grows in a post-COVID-19 world.
The key to productive corporate communications, though, is understanding the challenges and taking steps to combat them. Here's how to do just that.
Pro Tip: Streamline, speed up, and scale your internal communications with ContactMonkey's OpenAI integration.
What is Corporate Communications?
Corporate communications refer to all the ways companies engage with the public, internal and external stakeholders, as well as clients.
From public relations to employer branding and crisis management, corporate communications encompass a wide variety of responsibilities.
Just as corporate communications are geared towards many distinct audiences, they occupy many channels. They can consist of written communications in the form of press releases and web content or verbal and visual channels such as interviews, videos, and presentations.
The ultimate goal is to ensure that all the different communications efforts are aligned and deliver a cohesive brand identity.
For effective corporate communications, your PR strategy needs to work in tandem with your internal communications and employer branding. They need to showcase a unified brand voice, aligned values, and mission.
What Is the Role of Corporate Communications?
The role of corporate communications combines external communication and internal communication to create a cohesive overall message.
Corporate communications can be divided across different departments and teams responsible for a particular type of communications. These include PR teams, internal communications teams, and more.
What all these groups have in common is a responsibility to deliver different pieces of the brand identity to their assigned audiences. Ultimately, however, the different internal communications strategies and channels have to work in tandem in order to build effective corporate communications.
Try a modern internal communications tool.
Start a 14-day trial. No credit card is necessary. Zero risk.
What Are the Different Types of Corporate Communications?
Corporate communications involve both internal and external audiences. To reach these audiences in a strategic and targeted way, most companies divide corporate communications into different types.
These different types of corporate communications are often overseen by multiple teams or company departments. The most prominent types of corporate communications include:
Public Relations: how an organization presents its identity, values, and mission to the general public, as well as media personnel.
Internal Communications: the ways and tools the company implements to engage and inform employees and other internal stakeholders.
Stakeholder Communications: how companies reach out to, and maintain engagement with partners, investors, and other financial funders.
Crisis Communications: this type of messaging is geared towards managing the effects of a specific crisis or unexpected event such as a security breach.
The importance of corporate communications
Corporate communications can be the make or break component to a successful internal and external brand.
That's because the way your company communicates with others gives shape to its brand values, brand voice, and identity as a whole.
In a nutshell, corporate communications are important because they shape your brand image. They're responsible for captivating and maintaining customers, potential partners, and employees into supporting your brand.
With an effective corporate communications strategy and the right communication tools, you'll be able to create an aligned and cohesive brand image inside-out.
Create custom email lists without IT
Try ContactMonkey's List Management feature.
How to Implement an Effective Corporate Communications Strategy
At this point, you know the role that corporate communications play in your company. You also know why they're vital for the success of your brand. And while that's all well and good, implementing an effective internal communications strategy is no simple task.
Since there are many types of corporate communications and multiple teams managing them, the job of your corporate communications strategy is to align a range of players.
To help you tackle this challenge, we've created a playbook of essential steps and best practices for a successful corporate communications strategy.
Set corporate communications protocols
From email and instant messages to Trello and Slack, there's no shortage of communication and workflow tools available to modern workers. But when there are too many tools and channels and no specific protocols on how to use them, employees can become overwhelmed.
This makes it difficult for workers to know how to prioritize their responsibilities, and productivity can be impacted. Frequent notifications from corporate communications tools can interrupt workers. In fact, the average employee is interrupted 56 times a day and spends two hours recovering from interruptions.
The solution to this problem is to designate communications tools and outline specifically how employees should use them. This is especially important if some employees work in an office and others are remote.
Consider this: It may be easy for an in-office employee to ask a worker at a nearby desk for a status update. However, remote employees wouldn't receive that information. Instead, avoid this issue with a protocol that requires all questions and updates to be posted in the appropriate Slack channel, for example.
Begin by prioritizing written communication, which 59% of employees say is the most important when working remotely. And since employees spend more than five hours a week just waiting for information, it's also important to use a tool like instant messaging or Slack that's designed to help workers get prompt responses.
Do more with email to improve corporate communications
There are a variety of corporate communications tools available for the modern workplace, but email still has its place. In fact, 95% of workers say that email is their primary communication channel.
Clearly, email is an communication tool for remote workers, and you can use it for much more in internal communications than just sending messages to coworkers.
"Email is used for more formal communication between and across teams together with company-wide announcements," said Morena Simatic, OptimoRoute's VP of Marketing and Growth. "It is an essential way of communication, as it sends out a clear message that can be easily accessible."
Email is also useful for crisis communications, change management, and regular employee newsletters. And it comes in handy for outlining important updates for the entire organization. "We send a weekly update email where each team bullets key things they're working on," said Tom Randle, Geckoboard's VP of operations.
With ContactMonkey, you can easily create eye-catching emails and newsletters with a drag-and-drop email template builder, collect employee feedback and even track the success of your emails. In other words, it empowers your organization to get the most out of this crucial corporate communications tool.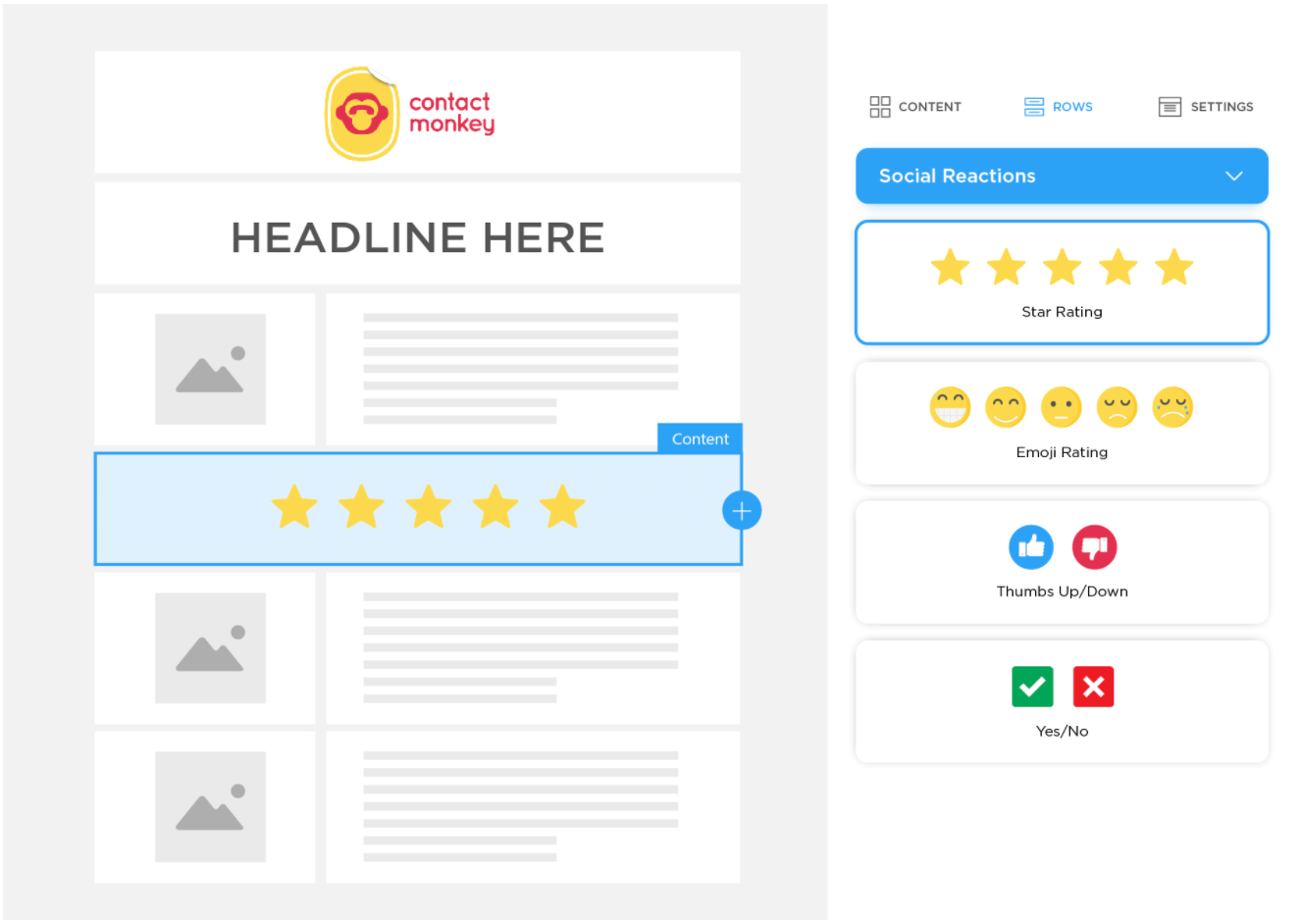 Establish a clear workflow for corporate communications
Remote workers are often advised to overcommunicate to prevent messaging errors, and this can certainly be effective. However, when managers continually follow up with employees and request status updates, over-communication can veer into micromanagement territory.
And that can be bad news for employee retention. A survey found that 71% of workers said micromanagement interfered with their job performance, and 69% said they'd considered leaving their company to escape micromanagement.
Luckily, there's an easy fix to increase visibility and discourage micromanagement. Simply set up a work-management system to create an easy-to-understand workflow and monitor activity. Tools like Trello and Asana, for example, make it a breeze to assign tasks, update everyone on project statuses, and more — regardless of time zone.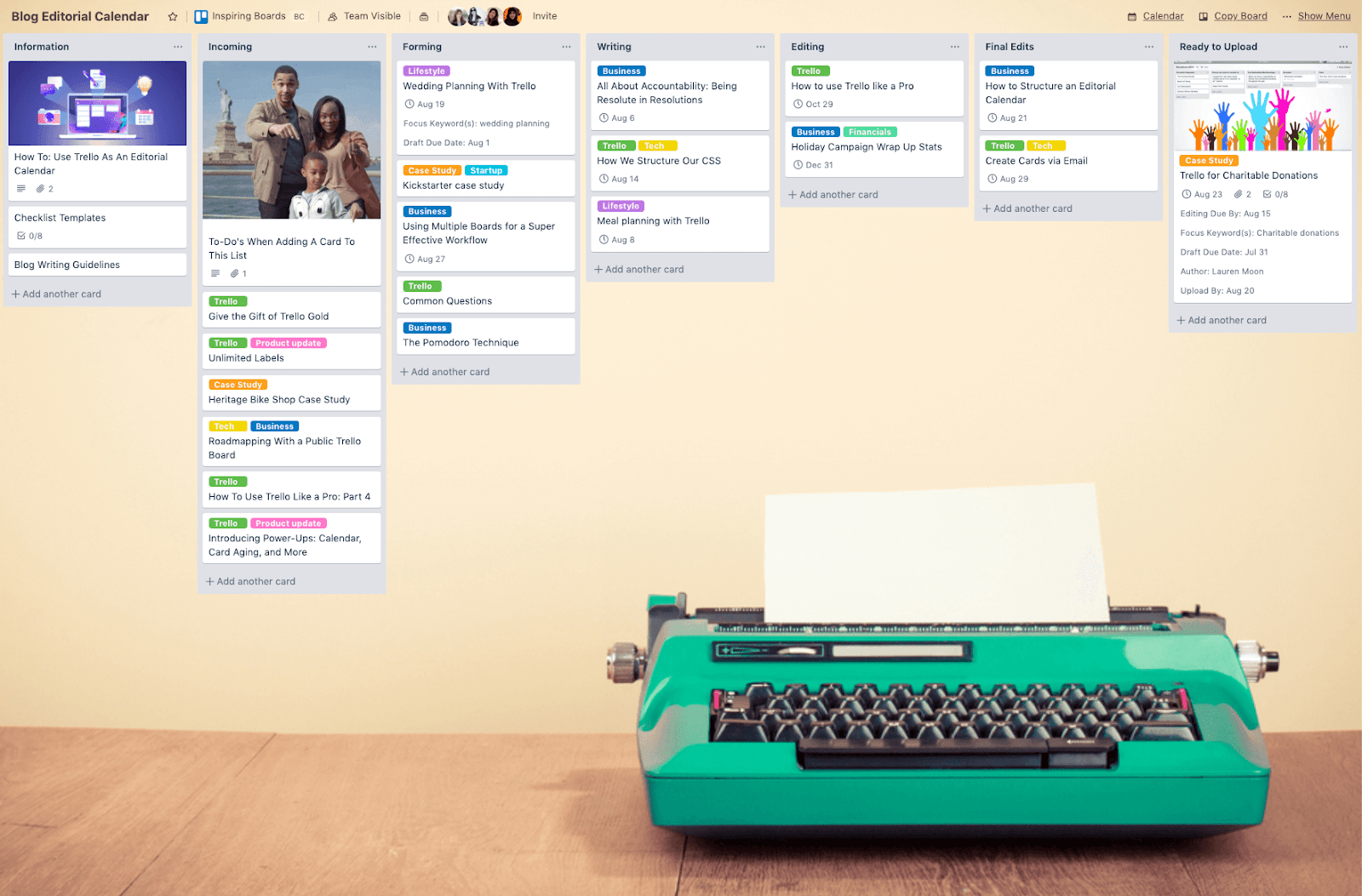 At Trello, the entire business uses its product's boards and cards to organize information. Both company-wide and in individual departments like marketing use the platform to systemize information
"When someone drops a card in our 'Incoming' list, the marketing team discusses the content," said Lauren Moon, Trello senior product marketing manager. "Even if it's not a fit for our blog, we like to think where else the content could be published."
And with ContactMonkey, teams can take corporate communications cooperation a step further by collaborating on internal messaging. The revision comments within ContactMonkey's template builder allow participants to share feedback, have conversations, and approve revisions within the email itself before sending.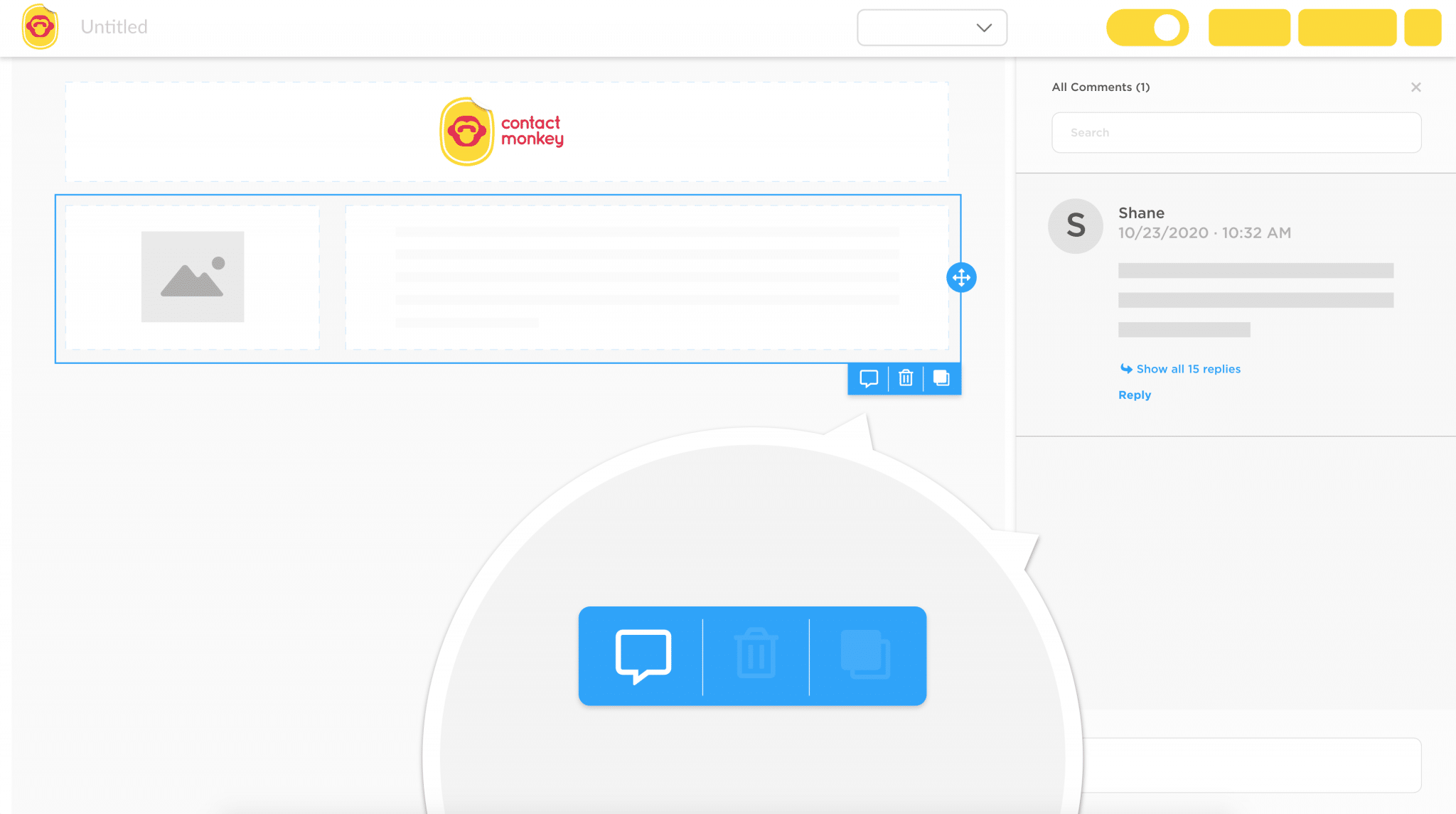 Hold regular video calls to improve corporate communications
It's estimated that up to 90% of communication is nonverbal, so navigating a work environment where employees often can't observe body language or hear the tone of voice can cause misunderstandings.
So much of remote communication is asynchronous. But there's value in holding consistent video calls among workers. They can get time for face-to-face interaction and work on their own communication skills.
Regular face-to-face meetings enable smoother communication because employees can read nonverbal cues. And this type of corporate communications can even increase participation. In fact, 67% of employees say they're more inclined to contribute to discussions that are held via video conferencing.
Plus, this time allows workers to build rapport and relationships. Eighty-seven percent of remote employees say they feel more connected with both their coworkers and their projects when they participate in video calls.
Weekly team video conferences are essential to ensure that everyone is on the same page and communicating effectively.
Build camaraderie among team members
In the office, workers say hello in the hallways, make conversation by the watercooler, and share life updates while refilling their coffee mugs. This builds rapport, turns coworkers into friends, and makes working alongside each other easier.
Creating this kind of environment isn't as easy in a remote-first workplace, but it's certainly possible to foster employee engagement.
"Perhaps counter to what most people think, it's totally possible to manufacture 'office serendipity,'" said Michael Grinich, founder and CEO of WorkOS.
There are several ways to recreate this serendipitous experience in the remote workplace.
Organizations can set up channels in Slack or group chats for non-work conversation. They can hold virtual team-building activities, and they can host occasional get-to-know-you or AMA sessions with employees, just to name a few.
Fully remote content marketing agency Animalz, for example, recently held a company-wide talent show via Zoom. This allowed employees to see each other sing, dance, craft, and even train cats.
"For the social part, we have started writing more together and posting personal and nonwork things in our Slack channels," said David Kofoed Wind, CEO and co-founder of Eduflow. "Additionally, we have started using the app Donut to randomly schedule one-on-one [conversations] between team members each week."
Pro Tip: Never worry about IT restricting your internal employee lists. Use ContactMonkey to sync with your Azure Active Directory or HRIS. Get started today.
Be willing to evolve your corporate communications
Clearly, remote workers face several communications challenges, but there are ways to overcome them. Sometimes, it's simply a matter of trying out different tools and solutions and determining what works best for your organization.
This is exactly what Eduflow has done. "We started as a fully co-located company with a [headquarters] in Copenhagen and have slowly become almost fully remote," Wind said. "This has meant that we have gone through a long series of iterations towards having a remote communication paradigm that actually works for us."
Not sure what's working for your employees? Get employee feedback on your corporate communications processes by including surveys in your regular email messages. This is a cinch with ContactMonkey, which allows its users to embed pulse surveys, accept anonymous comments, and more.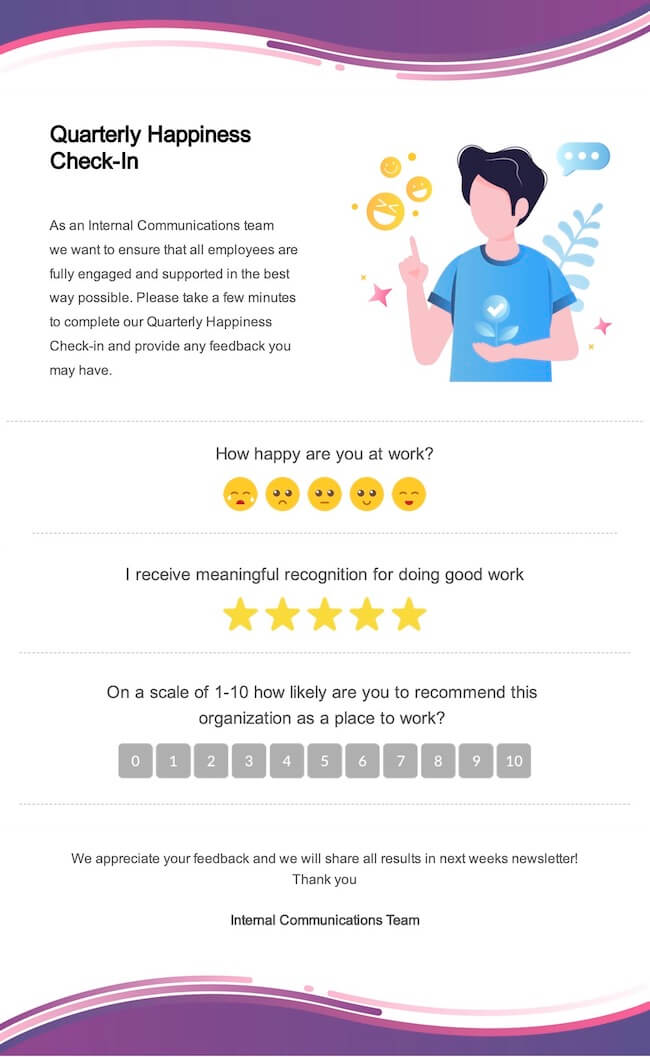 You can ask employees to provide written feedback on how the organization uses communications tools. Or, you can request that they respond with an emoji, as in the example above.
Workers Should Be the Focus of Your Employee Communications
The key to effective corporate communications in a remote-first workplace is to focus on what your workers need.
This means establishing protocols and workflows, prioritizing written communications and video calls, fostering relationships among workers, and being willing to pivot and try new methods when necessary.
But that's not all you can do. If your organization truly wants to streamline communications, you need to get more out of email, and ContactMonkey makes that possible.
See how you can take company emails to the next level. Book a personalized demo today!