Have you been looking for the best Outlook plugins to boost your productivity levels? As an internal communicator, you need to find quick and easy ways to bolster effective communication in the workplace.
Some quick hacks for increasing efficiency and productivity tools such as Outlook plugins can make a huge difference in refining your workflow.
We all know Outlook can be a huge pain in the butt to work with sometimes, especially when it comes to ensuring email responsiveness (by the way, we've also come up with a solution for Outlook rendering issues). Still, Outlook remains one of the top email clients used by millions of people all over the world.
It should, therefore, come as no surprise that there are a gazillion different Outlook plugins and add-ons to enhance project management, internal communication and lead to more efficient communication in the workplace.
We recently wrote a blog post covering a list of  online collaboration tools to enhance workplace productivity and internal communication.
We're now making your life easier by revealing a list of 8 Outlook plugins to enhance your productivity levels, improve your workflow and lead you towards better internal communication in the workplace.
And you know what the best part is? You don't even need to leave Outlook to access these tools!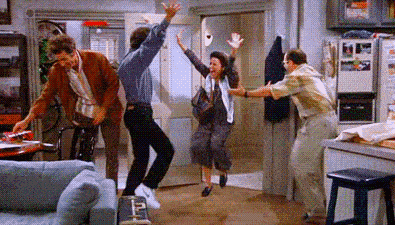 Hooray for you! Now, let's get on to the list, shall we?
8 Outlook Plugins to Enhance Workplace Productivity and Internal Communications
1) ContactMonkey
When talking about stellar Outlook plugins, we must add in a shameless plug for our nifty tool. To put it simply, ContactMonkey's Outlook Email Tracking lets you see what happens to your internal emails after you hit send.  
All you have to do is click the "track emails" and "track links" buttons in your compose window in Outlook and you'll know everything about your email opens: who viewed them, where, when, and on which device.
You can even add pulse surveys, social reactions or employee comments and gather employee feedback in real-time and see the results live within your ContactMonkey dashboard.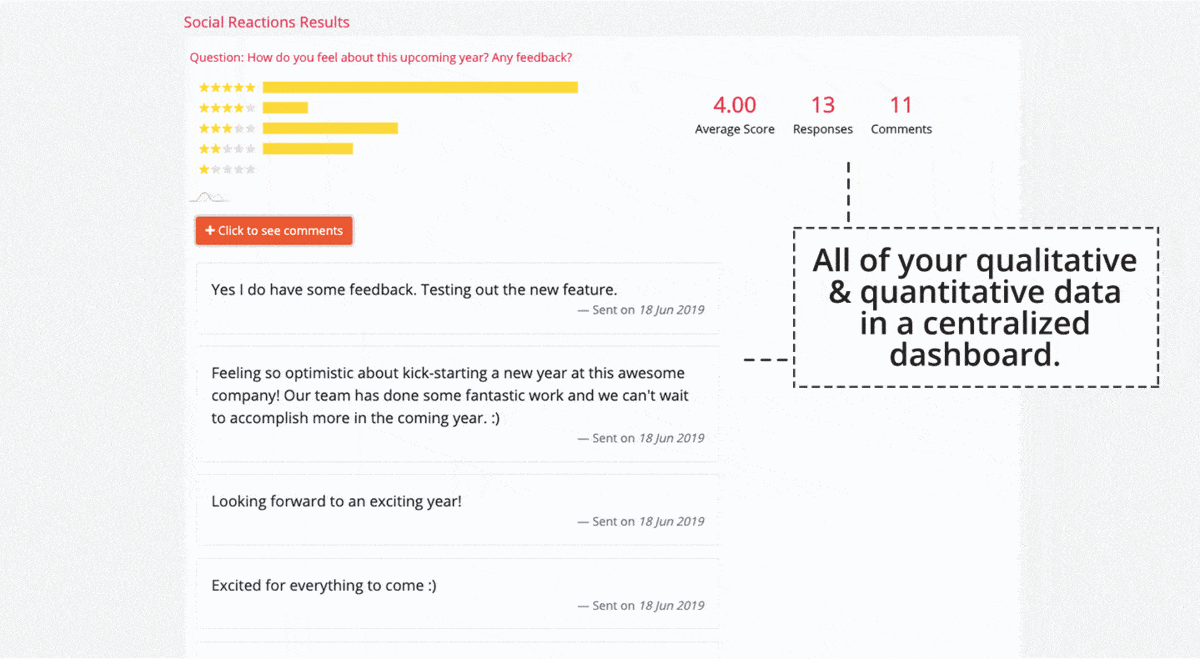 You also get live updates right into your Outlook inbox telling you whenever an email has been opened or a link has been clicked on.
Moreover, you can send personalized emails, straight to your Outlook distribution lists.
If that wasn't enough, we recently introduced our brand new Email Template Builder for Internal Communicators. With our simple to use drag and drop email template builder, you can create on brand internal emails that your employees won't ignore!
You can create your own templates, choose from our library of pre-built templates or just import your existing responsive HTML designs.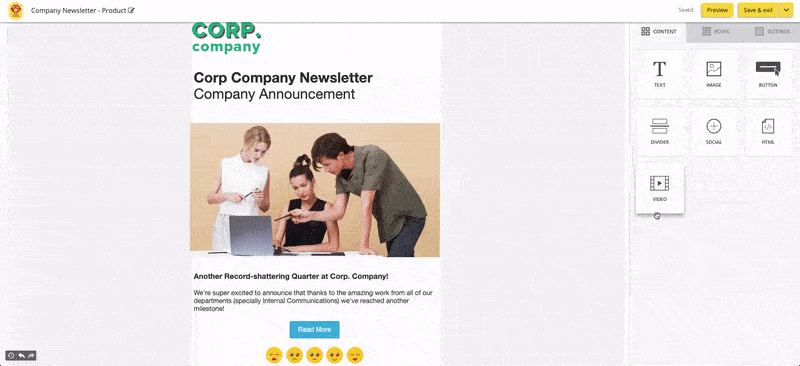 Yes, so many different features all in one plugin! ContactMonkey is definitely one Outlook plugin you need to streamline internal communication in the workplace!
2) Trello
Great for team communication, Trello enables you to know who's doing what and what needs to get done at one glance.
Trello displays information in the form of boards, known as a Trello board. The Trello board helps streamline communication in the workplace by helping you organize information and tasks and see what's getting done.
But Trello for Outlook is especially handy. You can easily integrate any of your Trello boards' calendars with Outlook. This enables you to easily have a look at any due dates without having to leave Outlook!
Talk about boosting your productivity levels or what! Swiftly turn significant emails into actionable items that require your immediate attention so you never need to worry about missing something important.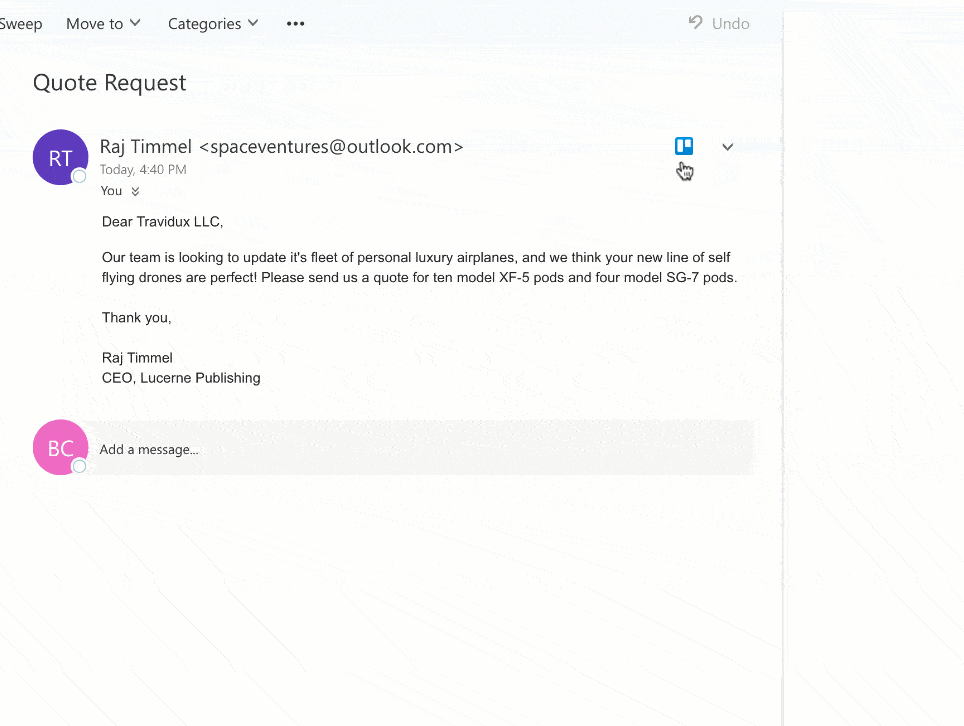 3) Skype
As an internal communications professional, you often have to deal with remote workers or dispersed employees from all across the globe. Many large organizations utilize Skype for remote working opportunities.
Now imagine how productive you'll be if you were able to access Skype directly from your Outlook inbox?
Sounds pretty amazing to me! With the handy Skype plugin for Outlook, you can start making video and voice calls without ever having to leave Outlook!
4) Zoom
If Skype ain't your thing when it comes to video conferencing, you may want to look into Zoom for your internal communication needs. 
Zoom Video Communications is designed to improve communication in the workplace by enabling online collaboration. If you're an internal comms professional looking to conduct webinars or host team meetings with remote workers, you'll definitely benefit from using Zoom Video Communications and its multifaceted options and features.
One such awesome feature offered by Zoom is the handy Outlook plugin. With the Zoom Outlook plugin, you are able to start meetings instantly, invite participants to meetings, edit and start scheduled meetings and even schedule a meeting on behalf of another Zoom host.
Watch the video below to learn exactly how to access and install Zoom and use the Outlook plugin.
5) Evernote
Are you a fan of sticky notes and to-do lists? I know I am. It definitely helps me stay on track of my goals.
As an internal communicator and productivity nerd, you may have come across Evernote or perhaps even used it. Many creative people refer to Evernote as an extension of their brain as it allows you to save every single idea anywhere, from your computer or your phone.
When it comes to neat Outlook plugins, Evernote for Outlook should definitely be on top of your list.
With this plugin, you can easily turn emails into notes and move them to your project notebook. This is invaluable if you use Evernote for project management. With this plugin, you can share an Outlook email into Evernote and even attach notes to an Outlook email. It's pretty nifty, isn't it?
Check out the video below to learn more about Evernote for Outlook.
6) Wrike
If, as an internal comms professional, you're a fan of project management tools to enhance team communication, you may want to look into Wrike.
Wrike is useful for tracking the number of projects your team is working on and looking at new project requests that come in (there's a projects request folder built into the system).
You can even check the workload that each team member has and assign a new project to someone on the team who has a reduced workload.  
Wrike essentially gives you full visibility and control over your tasks as well as your team's task. So if, as an internal comms professional, you're dealing with remote workers, Wrike is great for managing internal communication within your team.
And guess what? They have an awesome plugin for Outlook to simplify team communication in the workplace.
With the Wrike for Outlook plugin, you can turn an email into a task or even add it as a comment, add tasks to existing Wrike projects and edit task details from within Outlook itself!

7) Grammarly
As an internal communications professional, I'm sure ensuring proper spelling and grammar is something very important to you (as it should be). You may want to start using Grammarly on a regular basis to ensure everything you write is flawless and always on point.
If you want to ensure your email communications are seamless with no typos or grammatical errors, then you need to install Grammarly for Outlook.
Check out the video below to see how you can utilize Grammarly fully and use it as a Chrome extension or as an Outlook plugin.
8) DocuSign
When talking about various Outlook plugins, the extremely handy DocuSign is an important one to mention!
As an internal communications professional, you probably receive tons of documents via email that you have to sign and return quickly.
This is where you can really benefit from installing DocuSign for Outlook. This nifty tools allows you to reduce costs and streamline your internal communications by legally and securely signing and returning documents within Outlook.
Say goodbye to printing and then signing and then scanning and then emailing each document. Woaah, just typing that long line was itself time-consuming!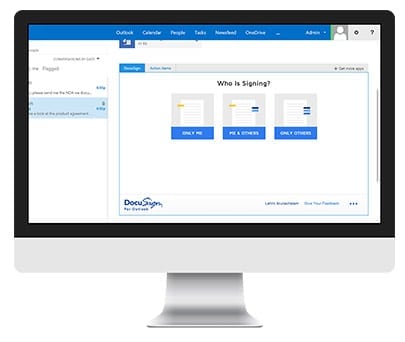 So, there you have it.
8 awesome Outlook plugins to streamline your internal communications and make yourself more productive during the day.
Are you currently using any Outlook plugins you've found super useful but that aren't on this list? Share with us in the comments below. We'd love to hear from you!
Convinced of the power of Outlook plugins to help you streamline your internal communications? Want to learn how to track your internal emails using ContactMonkey? We can set up a personalized demo for you and your team.