Internal influencers might be the key to generating employee engagement, let's show you how to identify them and leverage them.
In a recent article, 5 Killer Internal Newsletter Ideas, we touched on an incredibly important topic in the epic battle of internal communications: getting the attention of your employees by making them the protagonists of your email communications.
The whole point of this is to use what they care about the most (aka themselves) to get their attention and engage them. As an extension to that point, today we'll go over the importance of internal influencers, covering easy ways to identify and leverage them.
If the #1 thing employees care about is themselves, a close second is what internal influencers have to say.
Defining Internal Influencers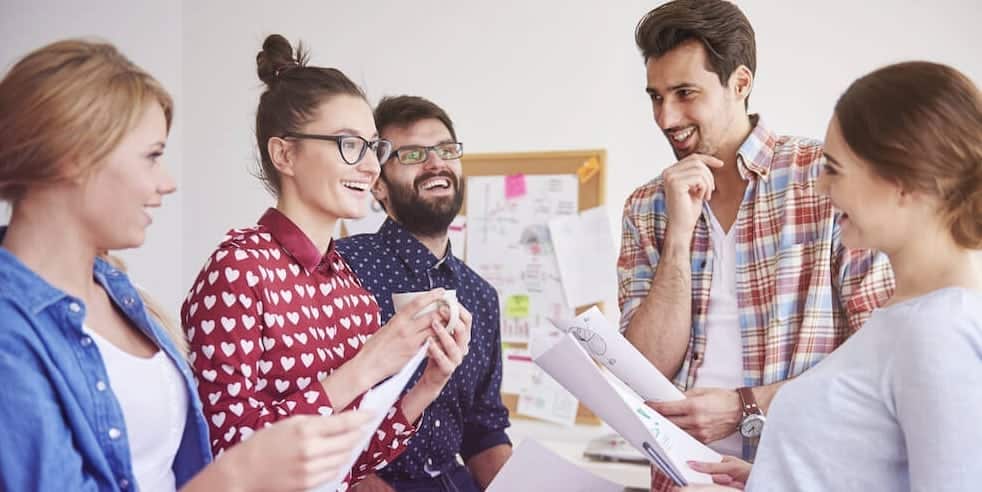 It's tempting to think of internal influencers as those with official power and important job titles, but nothing is farther from the truth.
Although, naturally, having buy-in from executives and managers is a must, internal communicators would benefit greatly from leveraging those with social, informal influence within the company (influence not necessarily reflected in their job titles).
An internal influencer knows exactly what your average employees are experiencing because they are one of them; being able to identify them and leverage them is paramount if you want to increase employee engagement.

"If the formal organization is the skeleton of a company, the informal is the central nervous system driving the collective thought processes, actions, and reactions of its business units." – David Krackhardt and Jeffrey R. Hanson, Harvard Business Review
The Power of Internal Influencers
As aforementioned, the power of internal influencers is agnostic to job titles. According to research on influencers and internal communications by organizational culture expert Leandro Herrero, the five most influential people in the organization can reach more than double the amount of employees than an executive team with the same amount of people can.
"Hierarchical power is limited when compared with the one of highly connected and influent people," writes Herrero, adding that such influencers "need to be found, identified and eventually asked for help to shape a cultural transformation."
In an article from the Harvard Business Review, David Krackhardt and Jeffrey R. Hanson also explain the power of these informal influencers:
"Often what needs attention is the informal organization, the networks of relationships that employees form across functions and divisions to accomplish tasks fast. These informal networks can cut through formal reporting procedures to jump start stalled initiatives and meet extraordinary deadlines."
Finding the real influencers inside the organization is crucial if you want to "orchestrate a bottom-up, peer-to-peer transformation (change, culture, new norms, etc.)," as Herrero puts it.  
Let's go over some tips for identifying these internal influencers and how you can use them to increase engagement and create a culture of good.
4 Tips to Identify and Leverage Internal Influencers
1) Ask Questions, Survey Everyone!
Although no one would be comfortable with answering a question like "Who's an influencer within the company" or "Who do you follow?" most people are comfortable with questions regarding their office friendships, so why not start there. Here are some questions Krackhardt and Hanson found to work the best:

– Whom do you talk to every day?
– Whom do you go to for help or advice at least once a week?
– With one day of training, whose job could you step into?
– Whom would you recruit to support a proposal of yours that could be unpopular?
– Whom would you trust to keep in confidence your concerns about a work-related issue?
From these questions, you'll be able to come up with a list of 5-10 influencers that keep coming up.
The best way to get these answers is via email, since people tend to be more candid when they get time to reply in private (more email tips below!). 

2) Get Off Your Butt and Meet Them
It's tempting to think that those who you see prominently at formal meetings or sharing memes on Slack are the influencers you need to engage with. But more often than not true influencers are often hidden, and operate social circles, you won't have access to without a little effort.
Truly hidden influencers tend to be social, so you need to be social yourself to get closer to them. Join the softball team, attend Friday socials, be nice and conversational with your colleagues. Internal influencers tend to be people who other people like and trust.
3) Feature your Influencers in Your Communications
Email tips as promised! People are more receptive to strategies if they feel they were part of the process. At an individual level, you can create an employee profile section where, every week, you introduce someone into the organization, making sure to include influencers, so your internal comms strategy gains traction.
Employee profiles are a great way to make your internal emails more fun while boosting morale and performance, since a team that knows each other well performs better. On top of that, by featuring these not-so-hidden influencers, the rest of the organization won't be able to ignore your emails.
4) And When You Do, Personalize Everything
As a best practice, you also need to make sure that when you're sending out those emails, you're always personalizing the subject line and body of the text because, your survey can be amazing, but if no one opens your emails, what's the point?

With modern tools like ContactMonkey's Internal Comms Tracking tool, you can personalize everything without leaving Outlook. Again, my making everything in your communications about your employees (including internal influencers) they will engage with it. 
An Internal Influencer Example from a Retail Giant
As more and more brands are looking for established, external influencers to increase traffic and sales, retail giant Macy's has decided to look inside. With the Macy's Style Crew brand ambassador program all store and corporate employees across the country can apply to represent the brand.
Not only did this generate engagement and loyalty from Macy's own employees but it also proved beneficial for the bottom line: one Style Crew member even sold $15,000 worth of bags in just one week.  

What are your thoughts on internal influencers? Which internal communications tools do you use to identify and engage them? Let us know in the comments below or tweet us.