Internal communications professionals are truly inspiring.
We're still coming down from the amazingly fun time we had at the 2018 IABC World Conference last week in Montreal!
Over the 3-day conference we were able to show hundreds of people how to send responsive HTML emails from Outlook and increase employee engagement.
As sponsors, we also had a great time hosting an ice cream and coffee break while exchanging ideas with other industry pros about the role of communicators in the modern workplace.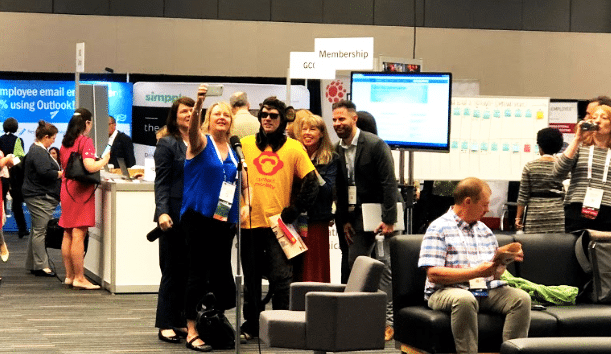 For those who couldn't make it, don't sweat it. The official ContactMonkey, besides giving away ice cream and bonding with other internal communicators, is always taking notes so he's got your back.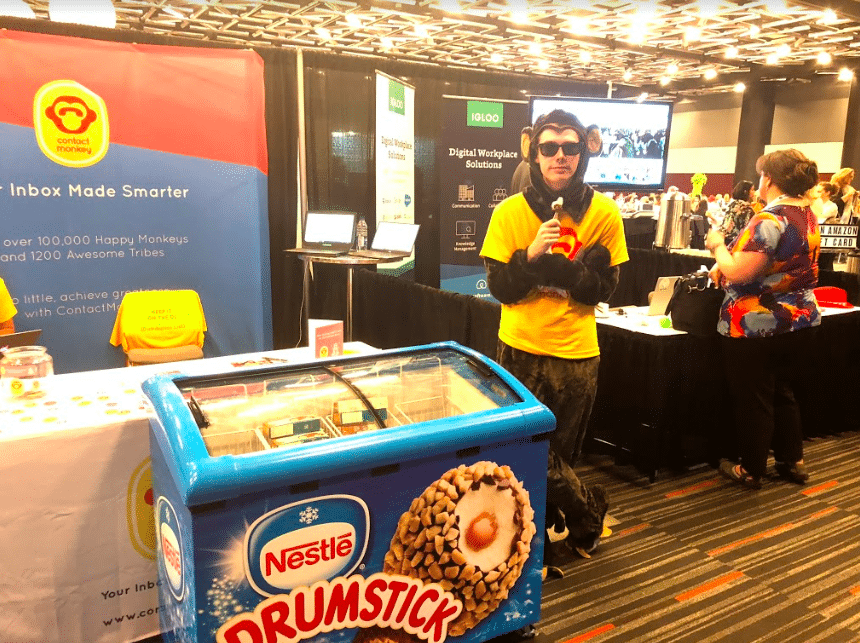 We've identified 3 key lessons from the conference that every internal communications pro should keep in mind. Let's get started.
1) When It Comes to Employee Engagement, Culture Matters the Most
"Companies that don't care about #culture will fade into the distance." – @RyanMcCarty #IABC18 #HR #leadership pic.twitter.com/N4AQqbVgcH

— Rita Zonius (@RitaZonius) June 6, 2018
When talking about the role of internal communications in an organization's culture, it's easy to get into a chicken or the egg debate: what came first, the company's culture or how we express it through our internal communications strategy?
The answer is easy: culture comes first and should never be ignored.
As Caroline Kealey explained in her talk, you can't communicate your way into culture change. You behave your way into culture change, and then use your internal communications strategies to express it, promote it, and influence it — but the culture needs to come first.
Kealey has also put together a checklist for culture change if you want to take a look.
Keynote speaker Seth Godin also highlighted the need to be very deliberate about it — passivity won't create a culture that your employees will want to embrace.
Everyone has innate desire to belong to a community that means something more than just a 9 to 5.
Key takeaways: 
Define your values, mission and brand personality as soon as possible. This will influence everything you do, since all your actions should help drive your mission.
Be bold, honest, and quick with your communications. There's nothing worse than getting a newsletter or internal email that doesn't acknowledge the actual conversation your employees are having.
Involve influencers within your company in your communications. No matter how pretty your newsletter is, without buy-in, you'll have a hard time getting people's attention.
2) To Communicate in the Age of Distraction, Make Your Audience Priority #1
How do we get attention in a distracted world? We have to stop pitching, instead focus on your audience's needs. @ThisIsSethsBlog #iabc18

— Dominique Jolicoeur (@dominiquejoli) June 3, 2018
In a time when your employee newsletter is competing with Instagram, funny memes and the latest monkey video, your internal communications have to be compelling, creative, and reflective of the real conversation your employees are having.
To know what employees want, Seth Godin's key message for the audience of over 1,000 people was this: "your job is to find small threads of interest and weave them together in a way that makes them louder and more important."
In order to find those threads, you need the right tools to create magical moments your employees will love to consume. You'll also need accurate metrics that show how your employees are interacting with your communications.
Whether it's an employee podcast or a responsive HTML email newsletter from Outlook, creating beautiful communications with confidence and speed, and being able to see how your employees interact with it, is key. (Yes, we can help with all of that).
Key Takeaways: 
Use the tools at your disposal to know exactly what content, links and subject lines your employees are responding to. The metrics don't lie.
Create content that YOU would like to consume. Many people forget to be human when they're in an office environment. Don't be one of them.
3) Take Risks and Be Authentic in Your Internal Communications
.@RyanMcCarty Thank you reminding me that I have a purpose beyond my job and combining work + passion is possible. My Why=What. #IABC18 #IWasThere pic.twitter.com/DFihSFZwsZ

— Renea Nichols (@ProfNichols) June 6, 2018
The message of embracing creativity, being real and not being afraid of being different was loud and clear during the whole conference. And who better to drive this point home than Ryan McCarty, co-founder at Culture of Good.
"Be authentic. The life we lead is the legacy we leave."
During his closing remarks he inspired all internal communicators to drive change within their organization by embracing creativity and ignoring fears of failure.
One of the best things I've heard at #iabc18– "If you're infected with passion, sneeze on everyone. Be contagious." @RyanMcCarty

— michelle buchanan (@mabuchanan04) June 6, 2018
Key Takeaways:
Don't be afraid to be creatively weird, scarily authentic or excitingly unsure. The only way to find out if something is going to work is to try it. Have a funny idea for an email subject line? Send it and test it. Why not test now? Sign up for ContactMonkey for free and start tracking your internal comms emails.
Don't just present an internal communications plan to management or your executive team, present a vision.
As you could tell from our official ContactMonkey (in full monkey attire) making the rounds at #IABC18, being authentic is a message we deeply believe in. Go be bold with your communications because it only takes a couple of people to believe in your message for it to stick.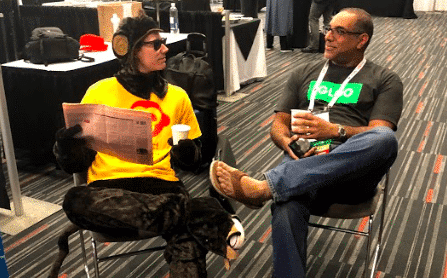 Did you get a chance to go to the 2018 IABC World Conference? Did we miss any strong takeaway? Let us know how you plan to improve and optimize your internal communications strategy.
We'll help out by providing you the tools you'll need to finally send beautiful HTML emails from Outlook while tracking every click and open but the creativity and desire to be different has to come from you. As our slogan for the conference says, Embrace Monkey Business.
Why not try out internal email tracking for yourself? Simply request a demo and we will get you set up with your no commitment FREE TRIAL!