Are you ensuring your emails in Outlook are responsive? Wondering how to avoid Outlook rendering issues? Looking for a how-to-guide on responsive email design? Read this blog to read about the importance of responsive emails in Outlook. 
As internal comms pros, you all know the critical role your employee newsletter plays in your overall employee communications.
It creates a strong internal line of communication between your employees and your company.
We've written several blogs emphasizing kick-ass newsletter content ideas to engage your employees.
We've also given examples of companies that are totally crushing it with their epic newsletter content.
But we haven't talked much about the importance of ensuring email responsiveness when it comes to designing epic newsletters for your employee communications.
According to this blog, responsive email design is design that "adapts itself to whatever is being used to view it. A responsive design, in theory, looks as good on a wall-sized super-HDTV as it does on your iPhone, and offers similar functionality."
When we talk about responsive emails  within employee communications, we essentially mean ensuring that your newsletter content is displaying properly on all kinds of different devices — whether it's being viewed on a desktop, mobile or a tablet.
Many times, internal comms professionals don't even think of responsive email design as something that requires critical attention for their employee communications.
They assume all their emails are being viewed on a desktop computer. Well, that's where they're wrong!
According to Staffbase's research, 98% of millennials use smartphones and by 2025, 75% of the workforce will consist of millennials.
What does all of this mean?
It means your employee newsletters are most likely being viewed on mobile and if you're not ensuring they're responsive, you're failing to engage with a huge chunk of your audience!
I'll let that sink in with you for a moment.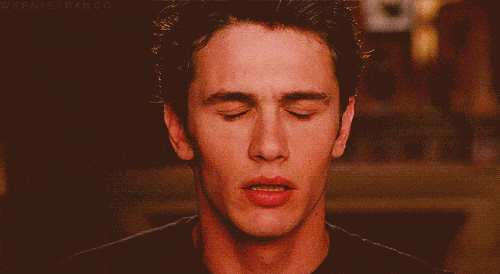 Still not convinced? I have more stats for you.
The Importance of Responsive Emails in Outlook for Employee Communications 
Your audience is likely to view email on a mobile device 51% of the time.
According to a Litmus report, in June 2018, mobile opens accounted for 46% of all email opens and the report speculates that this number may, in fact, be even higher than the research suggests.
So, the question is, are you working towards ensuring your employee communications are responsive?
Can your emails be read on mobile devices?
This is especially pertinent if you need to reach remote and non-desk workers with your employee communications.
So, the next time you decide to send your employee communications via email, go through the check-list below to make sure you're ticking all the points to ensure your emails are responsive. (For more comprehensive guidelines on email responsiveness, check out this post).

Make sure to adhere to these tips for responsive emails (how to avoid outlook rendering issues):
Use the inverted pyramid formula when it comes to placing your content inside your internal newsletter – this means ensuring that the most important information is at the top and the least critical info is at the bottom.

Make sure to use alt tags when uploading images of any kind. We all know Outlook makes it very difficult to render images properly.

Be sure to test your email using a

testing service such as Email on Acid

. This will ensure you're able to preview your emails on more than 70 clients and email devices so you'll know exactly how your email will look on different mediums.

Start ensuring your email copy is concise and to the point. This is especially important if employees are viewing your newsletters on a mobile device — they're more likely to digest smaller content easily on a smaller screen.

Be sure to personalize your email subject lines and make the subject line as short and attention-grabbing as possible.
Outlook Rendering Issues: Are Your Responsive Emails Looking Good on Outlook?
Since we've touched upon the significance of ensuring your emails look perfect across all devices, we must mention Outlook.
Chances are, most of your employee communications take place within Outlook. And if you've ever sent newsletters from Outlook, you'll know that ensuring everything renders properly within this tricky email client can be a nightmare world to navigate.
There are dozens of online forums where email designers and marketers exchange ideas on how to design responsively for this frustrating client.
This MailStyler forum epitomizes the common frustration encountered when trying to create responsive newsletters for Outlook:
"Unfortunately, the number of people who will choose Microsoft Outlook to send a newsletter is still pretty high. It will be frustrating, for no template builder, not even MailStyler, can make sure that the layouts you create and send stay responsive, and it's Outlook's fault," they said.
The bad news is that when it comes down to sending beautiful, responsive emails, more often than not Outlook will take the templates you worked super hard on and render them incorrectly with broken links, missing pictures and misaligned text. You think you've done a great job until the replies start pouring in: "Re: broken link", "picture missing?" are probably among the subject lines.
Well, you no longer need to worry about this issue. In case you didn't know, we introduced a solution to this very problem.
With ContactMonkey's new Outlook mail merge in Office 365 tool, you can now upload responsive HTML emails from Outlook, personalize them, and send them with the certainty that your emails will look exactly how you want them to in all email providers, including Outlook!
With our mail merge feature, all you need to do is follow these simple steps to ensure your email newsletter truly engages your employees:
Upload your HTML email in Outlook using ContactMonkey
Choose your distribution lists or import a CSV
Personalize the subject line and the body of your email (yes, you can really do this using our tool ?)
Preview your email and hit send!
Track who opened your email newsletters, at what time and on which device to improve your email newsletter content.
I'm assuming your response, after reading this, is something like this: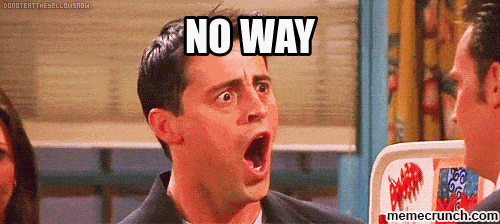 Wait, I've got more.
In case you don't have the time to actually look for responsive HTML email templates, we have amazing news for you!
Use Our Interactive Drag and Drop Email Builder
We've just released a new feature especially for you: our brand-new easy- to-use drag and drop email builder!
With the brand new ContactMonkey Email Template Builder—which you can access from the ContactMonkey menu within Outlook— users can choose from dozens of templates and edit them with easy-to-use drag and drop tools.
What's even better, you can also save your templates under your  "My Templates" section of the tool, so you can continue using your favourite personalized templates.
Not only are you able to edit beautiful pre-built HTML templates, you can also make your own! With this powerful new feature, nothing should get in your way of sending beautiful internal emails from Outlook!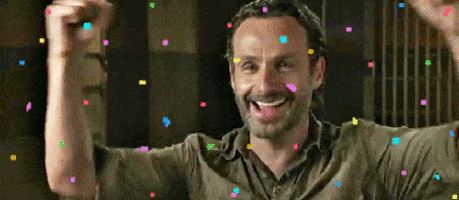 Bonus: Add Social Reactions & Pulse Surveys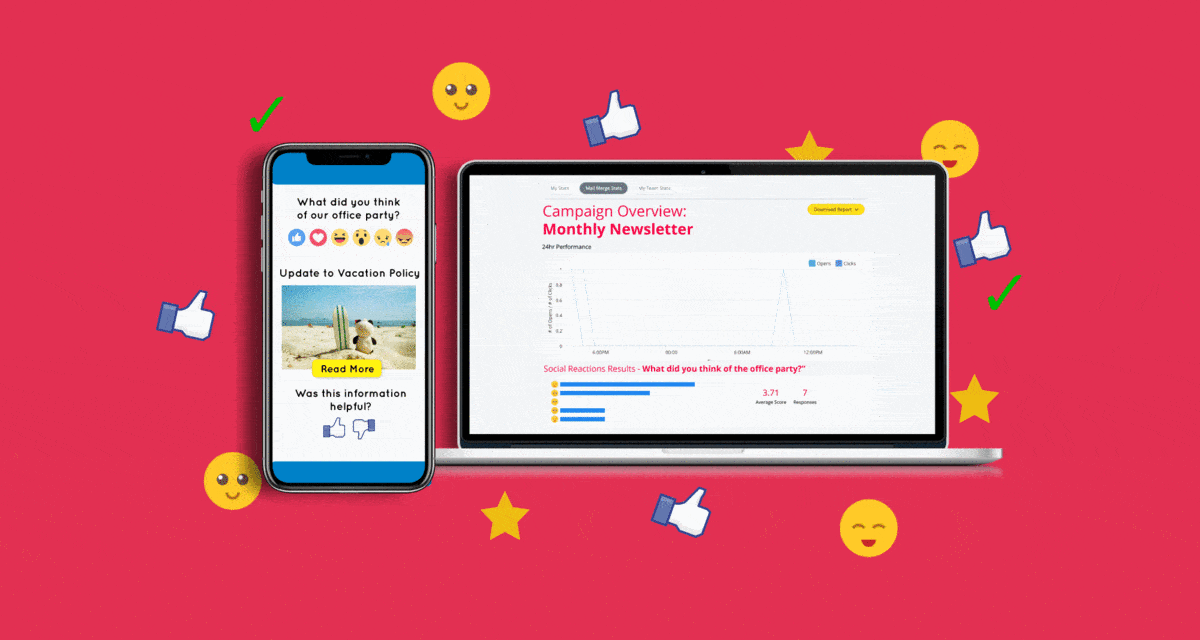 By adding social reactions to your communications, you'll be able to proactively learn what your employees crave. Here's what you can do now with ContactMonkey for Internal Comms:
Social Reactions 
Give your employees the ability to love, like and laugh at any content you send them via email. With social reactions now your internal comms team can constantly gather feedback in a seamless way.
Pulse Surveys 
With pulse surveys you'll also get actionable data on your email communications in seconds. You'll be able to see all of the responses live in real time on your ContactMonkey dashboard.
Like Buttons 
Your employees are already liking content on all the social media platforms they use on their own time. By adding like buttons to your own internal emails, you'll be able to engage your employees with your content and actually learn what they like.
Now that you're aware of the significance of responsive emails and of ensuring your employee communications are responsive, what steps are you planning to take to boost employee engagement?
Is it time for a complete newsletter makeover?
Let us know how your newsletter fares in the comments below. We would love to hear from you!
Want to learn how to track your internal emails using ContactMonkey?  We can set up a personalized demo for you and your team. Just click on the button below to book your demo. Do little, achieve greatness!