Our day-to-day at ContactMonkey revolves around figuring out the biggest pains troubling internal communicators around the world. We hear stories of disengaged employees, unopened emails, and broken HTML emails in Outlook.
With recent feature updates we've addressed all of those, but there are some pain points that kept popping up: employee surveys, team feedback, and real-time actionable data.
With our new dashboard that incorporates the results from new features like social reactions and pulse surveys, we help you overcome those pain points. Let's see how.
Introducing ContactMonkey's New, Powerful Dashboard
We want to help you increase employee engagement while proving the value of internal comms with powerful analytics — all without leaving your inbox.
That's why we've been working on a new dashboard to make the tools you already love even more powerful and insightful.
The new Dashboard is available on our Internal Communications plan. Not signed up? Get your free demo!
The new and improved features for improving internal emails from Outlook:
Social Reactions
Give your employees the ability to love, like and laugh at any content you send them via email. With social reactions now your internal comms team can constantly gather feedback in a seamless way.
Pulse Surveys ✅
With pulse surveys you'll also get actionable data on your email communications in seconds. You'll be able to see all of the responses live in real time on your ContactMonkey dashboard.
Like Buttons
Your employees are already liking content on all the social media platforms they use on their own time. By adding like buttons to your own internal emails, you'll be able to engage your employees with your content and actually learn what they like. (Keep reading to learn how you can create interactive emails for your employees)
Powerful Engagement Map
Identify engaged and disengaged branches, departments or teams on a global level with our new geolocation engagement map.
Shareable Reports — With Just One Click
It's now easier than ever to share data and reports from your campaigns with the rest of your team. Let the whole company know about your team's success!
Real-Time 24-hr Performance
See in real time engagement rates for opens and clicks for any of your email campaigns.
Devices 
Quickly see the open rates for desktop and mobile to really learn where your audience is consuming your content. Ready to see your powerful new dashboard? Book your spot and we'll give you a tour.
Introducing ContactMonkey's New Survey & Employee Feedback Tools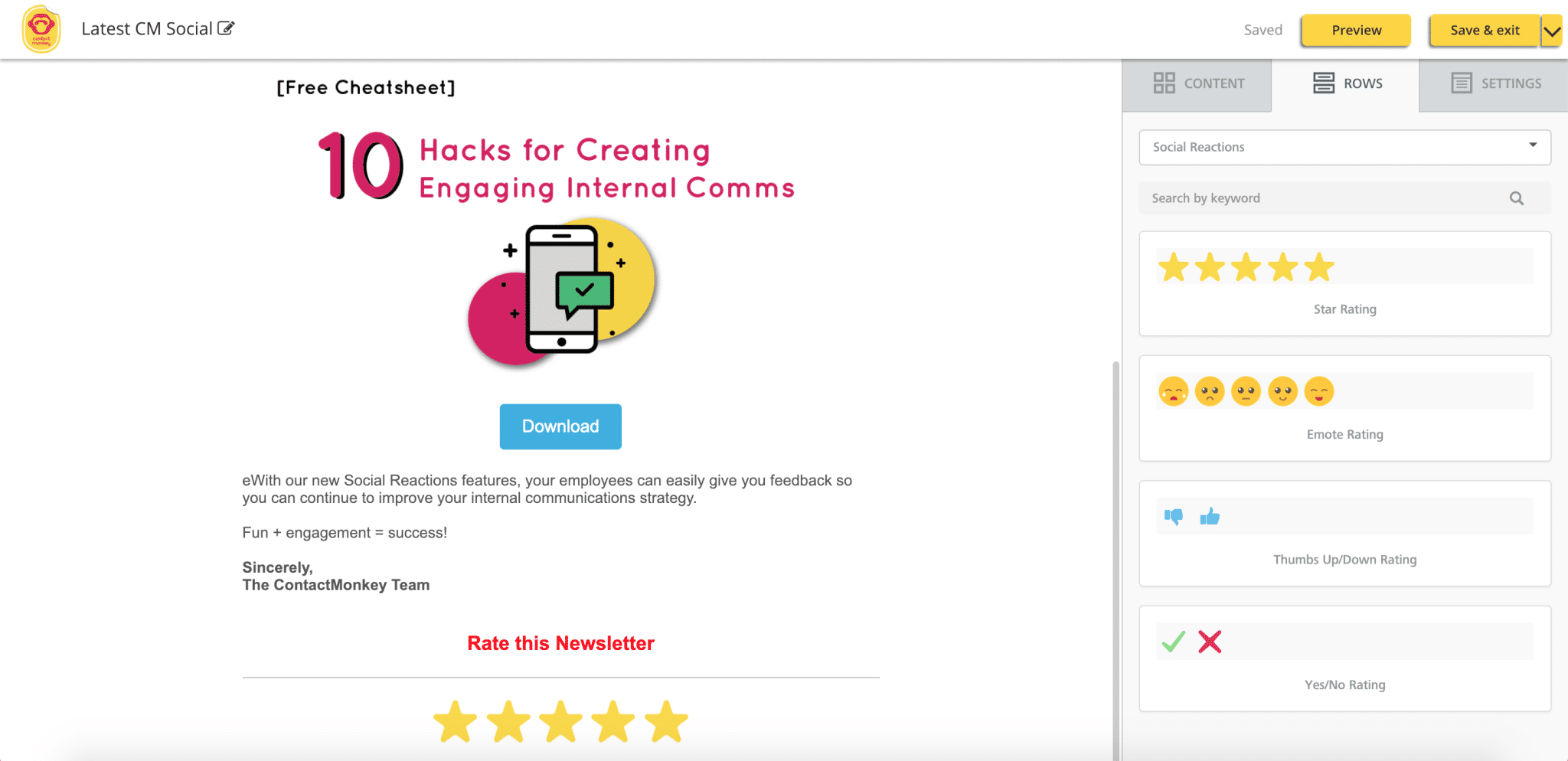 With these new features for Outlook now you can add social reactions, pulse surveys, and like buttons to the content in your internal emails by simply dragging the respective block anywhere you want in a pre-built or new HTML template.
You'll find these blocks in your email template builder that is part of ContactMonkey for Internal Comms.
How to Use ContactMonkey's Social Reactions & Pulse Surveys to Gather Employee Feedback
1) Open your Email Template Builder and choose a template: from the ContactMonkey ribbon in Outlook, click on "Design HTML" and your email template builder will pop up.
Select from dozens of pre-designed templates or upload your existing responsive HTML email designs to get started.
2) Design your template: Use our simple drag-and-drop email template builder to customize your designs to match your companies brand colours, messaging and imagery style.
3) Add social reactions! By simply dragging and dropping a content block with social reactions anywhere in your email, you'll give your employees the ability to really let you know how they feel about your campaigns, your content, or any other importance announcements.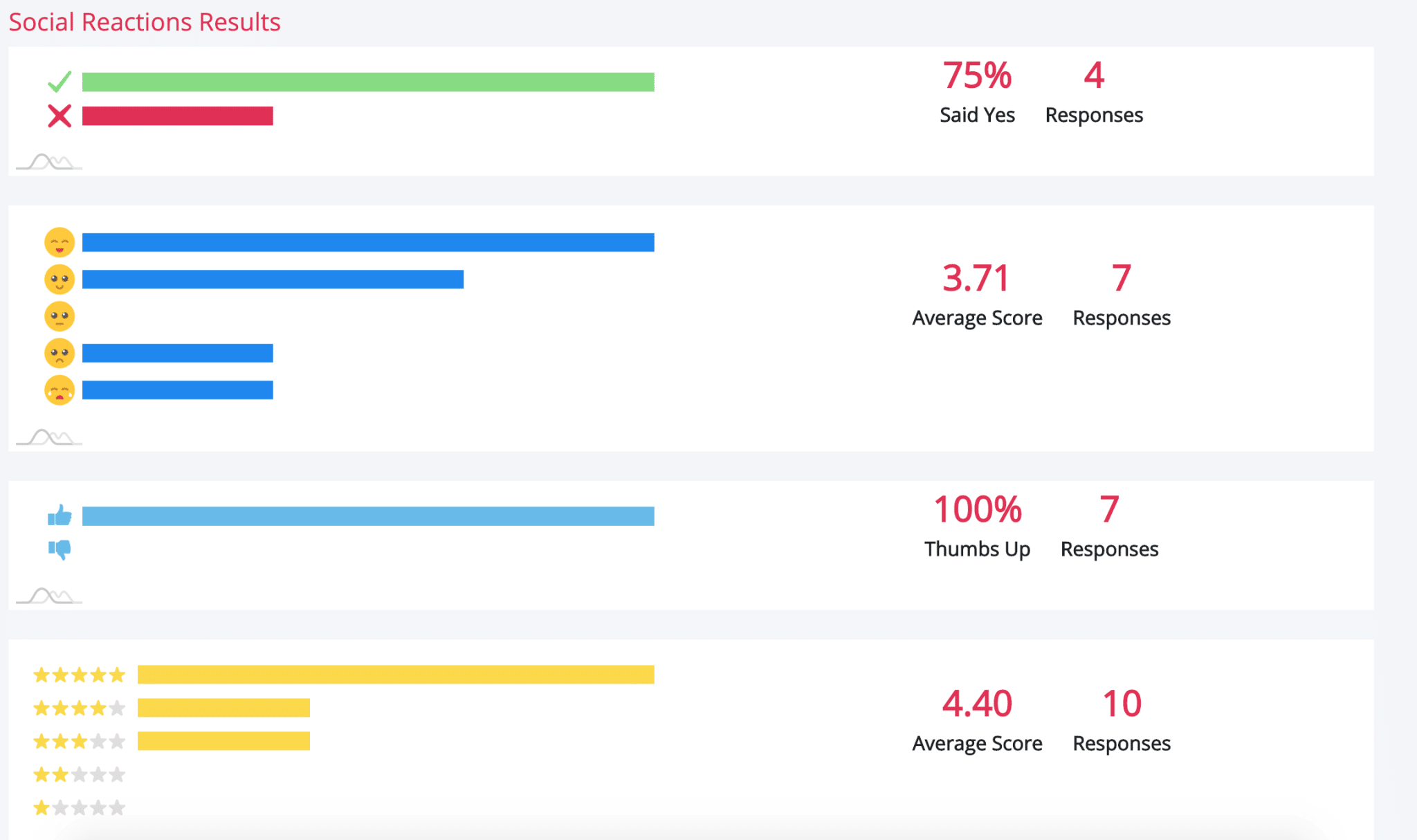 4) Add pulse surveys: With pulse surveys you'll also get actionable data in real-time without having to ask in a formal, unengaging way.
In your email template builder simply drag and drop a 5-star rating, a thumbs up and down, or a Yes/No question anywhere in your template depending on your question.
The questions you'll be asking are fully responsive (like everything in your template builder) and the responses you'll be getting would either be in a five point or a two point scale. Very powerful data depending on your needs.

5) Add Like Buttons: add a "Like" button to any piece of content in your internal emails to easily gather data from your team.
Once you're happy with everything, hit send and and start getting feedback.
To encourage participation and honest feedback, all results from social reactions, surveys, and like buttons are anonymous.
6) See your metrics in real time: With our powerful dashboard you'll be able to see, in real time, the results of your social reactions and surveys. How did the townhall go? How happy are you at work? Are you attending the office holiday party? You'll see the answers, both average scores and number of responses, updated live in your new ContactMonkey dashboard
Spend less time trying to build the perfect newsletter. Our drag-and-drop email template builder lets you do that in seconds.
Why Use Social Reactions to Gather Employee Feedback
So we've shown you how, but why do you think it's important to gather employee feedback?
Understand How Employees Feel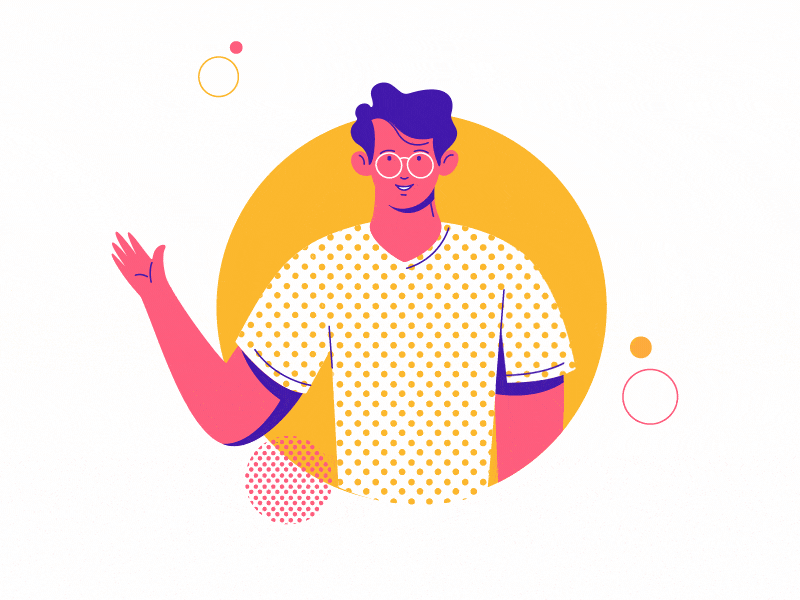 Nothing is more important for an internal communicator than feedback. Using our pulse survey tool you can add a simple survey questions and have employees directly give you feedback from within that email. No extra steps, no extra tools. It literally takes less than 5 seconds!
For example, by simply adding a Yes/No response block you can immediately gauge if people understood or agreed with the message you just sent out.
The Technology They Expect, Finally at the Office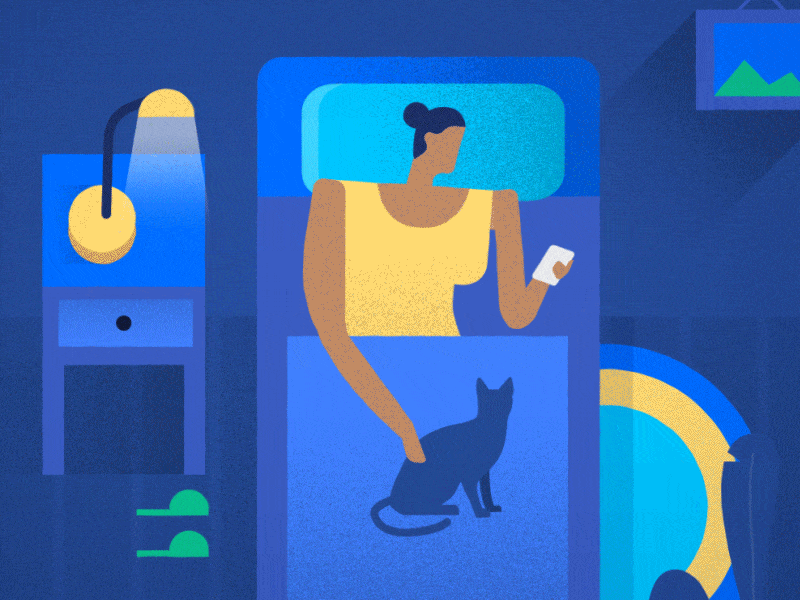 If your main communication tool (email, of course) is a one way, broadcasting system your employees will ignore you because a) no one wants to interact if they feel they're not being heard and b) all the other technology they're already using is allowing them to react and give their input.
With social reactions and pulse surveys you'll be taking the technology they already love outside the office–social reactions on Facebook, favorites on Twitter, a "like" on LinkedIn–and bringing it to the workplace.
Your employees are already used to giving feedback everywhere else in their digital lives — why should your internal emails be an exception?
Want to start sending interactive emails and take the pain out of gathering employee feedback?
Simply book a demo and we will show you how you can leverage pulse surveys, social reactions and internal email tracking to boost employee engagement and prove the value of internal comms today.