Happy New Year, internal comms pros! As part of your professional new year resolutions, have you had a chance to think about adopting some internal communication best practices for 2020?
The new year brings with it a renewed sense of vigour and determination. We make personal goals, such as hitting the gym 5 days a week or practicing yoga every day.
And we make professional goals.
If you're an internal comms pro, you've probably had some time to reflect on 2019 and evaluate some of the internal communication battles you've won, as well as the losses you may have suffered.
Now is the perfect time to look ahead and plan for 2020. What are some internal communication best practices you can adopt this year as your new year resolutions or goals?
We've compiled a list of 6 important internal communication best practices or new year resolutions you should adopt in 2020 to make you shine as an internal communicator! Let's go over them, shall we?
6 Internal Communication Best Practices for 2020
1) Conduct an Internal Comms Audit
We've previously talked about the importance of conducting an internal comms audit to set you up for future success.
There are tons of reasons why an internal communication audit may be beneficial for you. If you're an organization that's looking to figure out how to make sense of your internal comms data and need a baseline to measure certain things against, an audit may be the way to go.
Or perhaps you're looking to create an internal communications plan and want to conduct an audit in the hopes that it'll help you be more strategic with your decision-making skills in 2020.
Whatever your reasons are for conducting an internal communications audit, it's an excellent idea to do so now at the beginning of the year so you can gauge what worked previously and what didn't and set some concrete goals to help you succeed this year!
This is definitely one of the top internal communication best practices you should aim to adopt in 2020.
Learn how to start gathering employee feedback for my communications audit with ContactMonkey
2) Evaluate Your Internal Communication Strategy
This may also be the best time to whip out your internal communications strategy and take a look at what's been working and what's been flailing.
Better yet, if you never had the chance to make a strategy in the first place and have been focusing on the tactics, now is the best time to craft one. When setting goals within your strategy, make sure they are SMART (specific, measurable, attainable, realistic and time-bound).
If you already have a strategy in place, ask yourself:
If your internal communication strategy is in alignment with your overall business strategy and objectives.
What are some of the weaknesses or strengths of your organizational goals and your overall strategy.
What can you improve upon?
Then, take a look at where you want to go with your internal communications strategy this year.
It's also very important that you don't confuse your IC strategy with your tactics. As Saskia Jones points out on the All Things IC blog, "
"A strategy sets the direction in which you are headed. It sets an approach for achieving your overall objective. A tactic is a course of action – one of possibly several – that you will embark on to bring your strategy to fruition."
Once you have a robust strategy in place, you should be able to come up with attainable tactics to set you up for future success!
3) Facilitate Better Line Manager Communication
In her recent blog post, The Truth About Internal Communication, Comms Consultant and Coach, Rachel Miller, identified ineffective line manager communication as one of the biggest barriers to internal communication success.
Considering the extremely important role that executive leaders and line managers play in creating a sense of organizational purpose, it's highly important for internal comms pros to help facilitate better line manager communication between employees and upper-level management.
This means you may need to create a separate engagement plan to help aid stellar line manager communication.
Once you have this bit figured out, you're well on your way to helping your organization achieve success, boost employee engagement and shine as an internal comms pro!
Is this one of the internal communication best practices you're planning to adopt in 2020? It's definitely a good new year's resolution to keep in mind as you plan out your professional goals.
4) Amp Up Your Employee Newsletter
As an internal comms pro, you already know the important role your employee newsletter plays in facilitating exceptional communication within your organization and its employees.
But are you ensuring your employee newsletter is read by everyone including your remote workforce, who may be viewing it on mobile devices?  In other words, is your employee newsletter responsive?
Luckily for you, we're here to ensure your employee newsletters are responsive and look great on all devices.
With our new easy-to-use drag and drop email template builder — which you can access from the ContactMonkey menu within Outlook— internal comms pros can choose from dozens of templates and edit them with ease.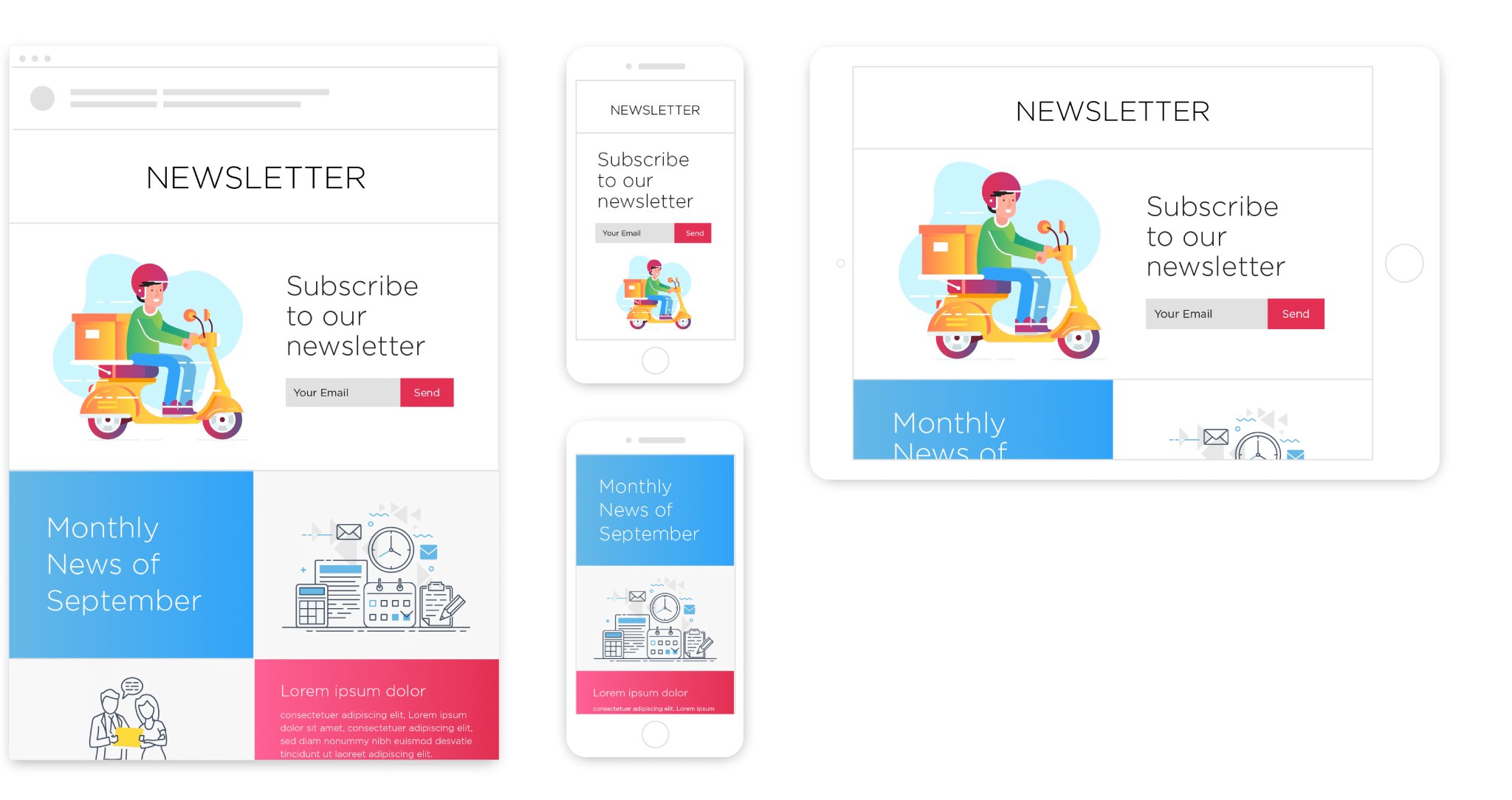 This means you no longer need to rely on a designer to revamp your company newsletter. You can choose from one of our templates or create your own custom newsletter, using all your brand colors.
This is one of those internal communication best practices you just can't afford to ignore in 2020!
Bonus: Add Social Reactions & Pulse Surveys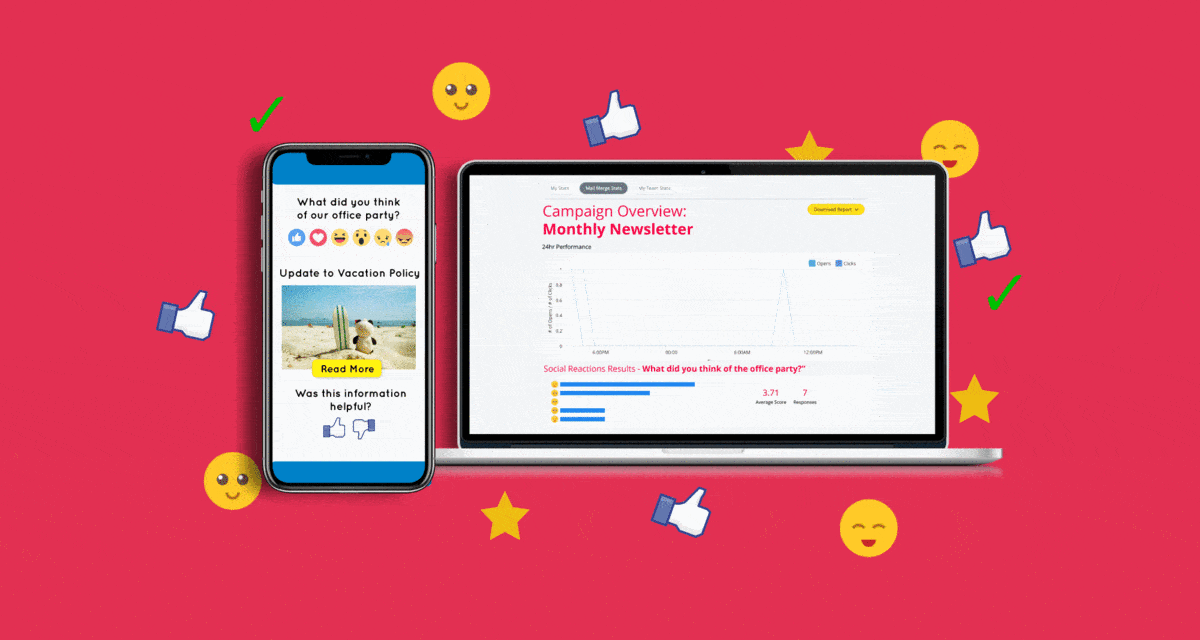 Social Reactions 
Give your employees the ability to love, like and laugh at any content you send them via email. With social reactions now your internal comms team can constantly gather feedback in a seamless way.
Pulse Surveys 
With pulse surveys you'll also get actionable data on your email communications in seconds. You'll be able to see all of the responses live in real time on your ContactMonkey dashboard.
Like Buttons 
Your employees are already liking content on all the social media platforms they use on their own time. By adding like buttons to your own internal emails, you'll be able to engage your employees with your content and actually learn what they like.
5) Expand Your Internal Communications Network
Internal communications is hard! It can also be very frustrating at times. Which is why it's important to ensure you have a supportive network around you that keeps you moving forward.
This year, one of the most helpful internal communication best practices you can adopt as a new year resolution is to expand your IC network.
Yes, we know networking isn't always easy, especially when it means interacting with people you've never met before.
But it's time to do it. And if you've been doing it already, it's time to do more of it!
This means saying yes to more speaking opportunities at conference and webinars, actively attending internal communication events, taking part in internal communication Twitter chats or perhaps investing in some internal comms masterclasses to help you stand out!
6) Start Measuring Your Internal Communications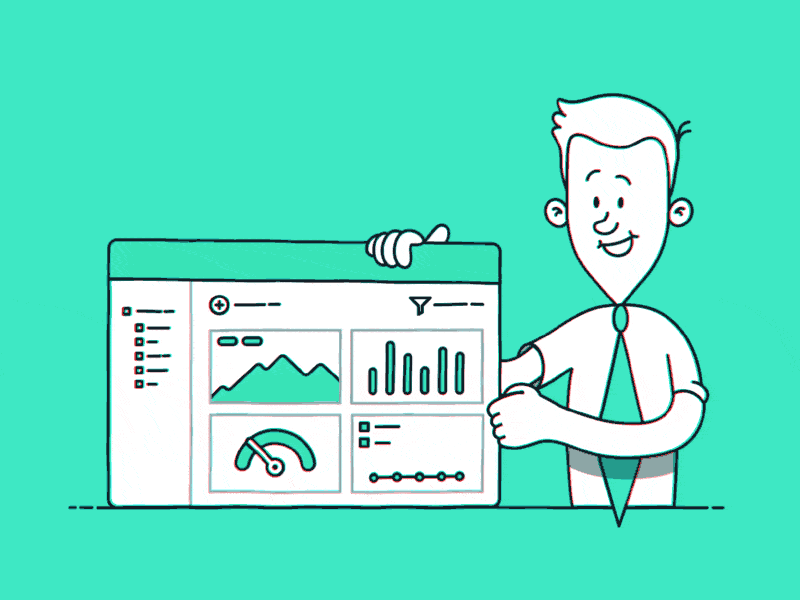 Measure, measure and keep measuring! We can't emphasize this point enough. This is one of the most important internal communication best practices to adopt in 2020.
It's time to get over your fear of metrics and start measuring your internal comms so you can demonstrate to the C-Suite the impact you're making on your organization's bottom-line.
If you're confused about where to start when it comes to measuring your internal comms, we have this brilliant blog post to help you get started with internal comms measurement.
Before you decide to measure anything, always keep in mind what you're trying to achieve. What's your end-goal?
It's always great to measure the success of any campaign from the start, so for example if you've launched a health and safety campaign with the goal of lowering accidents reported in the office, be sure to evaluate how many incidents were reported before the launch of the campaign and how many after? Did the numbers go up or down?
Measurement is definitely one of the most important internal communication best practices to adopt in 2020. We encourage you to also check out this blog on how to measure for success by internal comms pro, Advita Patel.

So, there you have it! 6 stellar internal communication best practices to adopt in 2020 as your new year resolutions. With these goals in mind, you're on the right path towards becoming an internal comms superstar!
Further Reading
Top Internal Communications Tools for 2020
14 Alternatives to Mailchimp for Sending Your Internal Newsletters
Killer Employee Newsletter Ideas
Ready to crush your new year internal comms goals? Want to learn how to track your internal comms using ContactMonkey? We can set up a personalized demo for you and your team. Just click on the button below to book your demo!