Yes, music streaming giant Spotify can teach us a thing or two about our internal communications strategy. 
It feels weird to say I have a favourite brand since, for years now, I've acted in quite the opposite way. For example, whenever I see people camp out in huge lines to get the latest iPhone I kind of make fun of them (sorry?), and I would never pay $400 for a pair of Kanye West's Yeezys.
However, when it comes to Spotify, I gotta admit I'm a bit of a fanboy.
I'm not the only one. Due to its incredibly powerful music app, and thanks to its use of data, great visual storytelling and personalized playlists—as well as great care for its audience, both listeners and artists—Spotify has become the number one music streaming app in the world, with over 90 million premium users in 61 different countries.
When a company becomes so successful, there's lessons to be learned from all angles. And as I study ways to make internal comms pros better, I've found some great lessons from Spotify that communicators can apply to their internal communications strategy today.
Here are 3 great internal comms lessons I learned from Spotify that should help internal communications strategy and internal comms teams up their game.
1) Make Your Internal Communications Strategy About Your Audience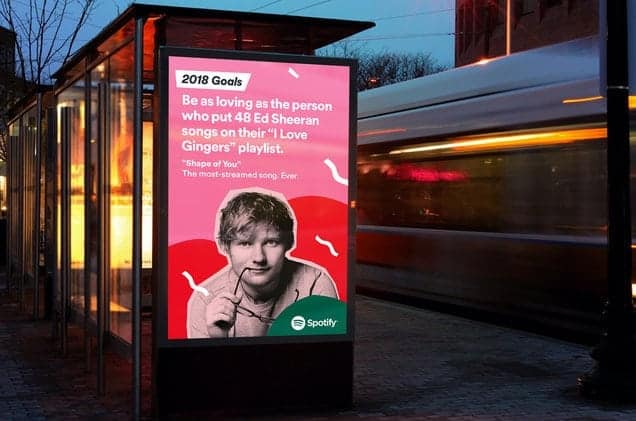 Something that you will never see Spotify do is advertise their product by talking about its product. Instead their billboards and other marketing materials will focus on you the audience, highlighting your quirky behaviour on the app with humour.
As you can see from this billboard, the focus isn't on the product, it's on the relationship between artists and listeners, with Spotify playlists just working as a middleman.
From their playlists to their billboards, it's evident that Spotify knows that their audience doesn't care about complicated algorithms, they care about how other people like them use the product. Almost all of their most popular playlists—Discover Weekly, Your Top Songs of 2017, Ones That Got Away—are based on the user's own behaviour.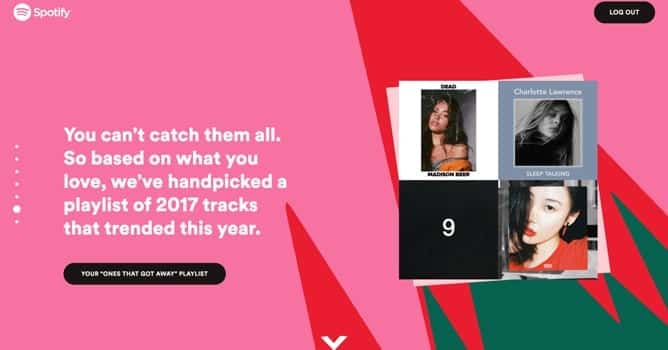 Internal Comms Lessons:
Get to know your audience and feed that information back to them!
Everyone loves inside jokes so be tastefully funny. Whenever possible use references to company-wide experiences like that one time the office Christmas party got a bit rowdy.

When it comes to

 employee newsletters

, the more you feature your own employees, the more engaging it will be. From recommendations from your colleagues to team spotlight and individual profiles, if I know I'm part of a piece of content, I'm way more likely to engage with it.
Instead of writing from your official corporate point of view, use language that is human, conversational, and that reflects the actual experience of your employees.
When it comes to visuals, instead of using random stock photography, try to use pictures from actual humans in your office.
2) Personalize and Curate using Data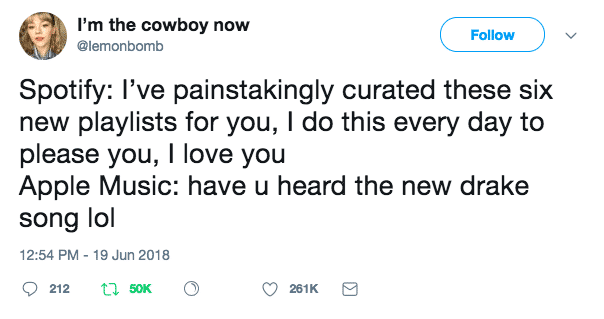 That tweet makes me laugh every time. Although undoubtedly Apple Music also uses user data to suggest and curate music, Spotify is years ahead. One of Spotify's most beloved features is Discover Weekly, a playlist unique to each user based on his or her listening habits every week. With Discover Weekly at the beginning of every week I know that I'll get a playlist curated especially for me and my listening preferences. Although based on a an algorithm that processes mountains of data, a weekly playlist based on my taste feels warm and caring.

"There's no doubt Spotify is a data-driven company and it uses the data in every part of the organization to drive decisions. As the service continues to acquire data points, it's using that information to train the algorithms and machines to listen to music and extrapolate insights that impact its business and the experience of listeners," explains best-selling author & keynote speaker Bernard Marr for Forbes.
Internal Comms Lessons:
Communications measurement means looking beyond open rates

and collecting all the relevant data. By seeing how your employees interact and react to different content, you'll be able to curate relevant content overtime, increasing levels of employee engagement.

What internal metrics should you track? Although multiple factors come into play when

making sense of internal comms data

, you can start by measuring open rates, link clicks and location of your internal emails and other communications channels.
A predictable cadence is important. Knowing that every single Monday without a doubt I'll get a new playlist made just for me makes me want to use Spotify. Similarly, a predictable cadence for your internal newsletter and any other part of your internal communications plan is important too as it'll make people tune if more often.
Segmentation is part of any effective internal communications strategy. This will allow you to produce content that's 100% relevant to your employees, leading to higher engagement rates. Using tech like

ContactMonkey's Internal Comms Tool

you're also able to send responsive HTML email to your segmented distribution lists or upload a specific CSV and send targeted communications.
3) Use Great Visuals to Tell a Story
 
As you could tell from this post alone, I'm a big fan of the way Spotify uses visuals to tell a story. Their consistent graphic design although awe-inspiring still makes the subject or the message, whether it's the artist or my profile picture the center of the story, a joke about a playlist.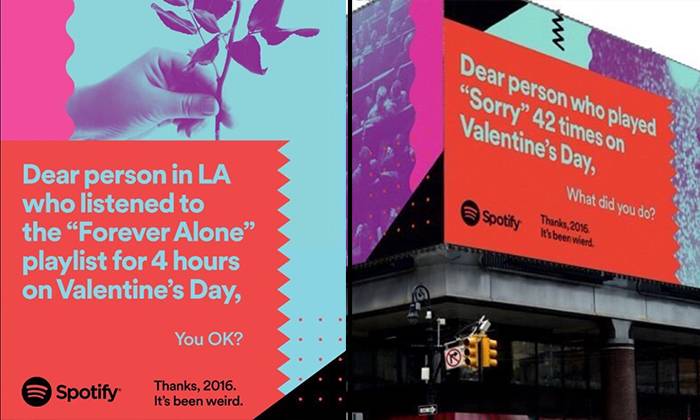 Using bold video, images, and infographics in your internal communications strategy can work wonders to captivate your increasingly distracted audience. According to some studies, people remember 10% of what they hear, 20% of what they read, and, impressively, 80% of what they see. So get visual!
Bonus: Add Social Reactions & Pulse Surveys
Just like the thumbs up and down on Spotify give you the ability to teach Spotify what you like, by adding social reactions to your communications, you'll be able to proactively learn what your employees crave. Here's what you can do now with ContactMonkey for Internal Comms:
Social Reactions 
Give your employees the ability to love, like and laugh at any content you send them via email. With social reactions now your internal comms team can constantly gather feedback in a seamless way.
Pulse Surveys 
With pulse surveys you'll also get actionable data on your email communications in seconds. You'll be able to see all of the responses live in real time on your ContactMonkey dashboard.
Like Buttons 
Your employees are already liking content on all the social media platforms they use on their own time. By adding like buttons to your own internal emails, you'll be able to engage your employees with your content and actually learn what they like.
Internal Comms Lessons:
Use visuals to tell a story in your employee communications. For this to work, you gotta embrace the power of

r

esponsive HTML newsletter

s

to ensure that your beautiful designs actually render properly in all email providers including Outlook.


Just like we suggested above, feature your employees in your visuals as well! At an individual level, you can create an employee profile section where, every week, you introduce someone in the organization. Who's Katie from marketing? Make them shine by adding cool pictures of them.

Don't separate your written content from your visual content. Any hot tip or funny joke can be enhanced by using cool graphic design. Here are some free tools to get you started:

Need some newsletter design inspo? Here's some related reading
As we've said in the past, achieving your objectives isn't really hard if you pay attention to companies both in and outside your industry that are doing things right. For me, Spotify is a role model when it comes to data, personalization, and always putting the audience at the center of the stories we tell.

Remember that no matter how good you are, no one really cares about your communications, they only care about how it affects them (and how it features them) so make it about them!
If you wish to learn more about our plugin and how it helps you seamlessly import and create beautiful HTML emails from Outlook without rendering issues, we can set you up with a personalized demo. Just click on the button below to book your demo.
5 steps to create the perfect internal comms plan, whether you should consider Slack for internal comms, or our article about creating kickass employee newsletters.