Ever wondered if you could boost employee engagement at your company through implementing some quick hacks? Are you constantly looking to up your internal comms game?
Luckily for you, we've got your back.  We're always looking for ways to help internal communicators boost employee engagement and enrich the overall employee experience in their organizations. That's why we recently partnered with Staffbase to put together a webinar titled, "10 Hacks for Creating Engaging Internal Comms."
We presented our hacks to a highly engaged audience, equipping them with 10 multi-channel ways to get work done, wow leadership and measure the impact of your internal comms! 
If you missed our webinar, don't sweat it! We've compiled a list of all the epic hacks for you here. So keep calm and just read on.
Recap of the 10 Hacks to Help You Bolster Employee Engagement
Hack #1: Internal Influencers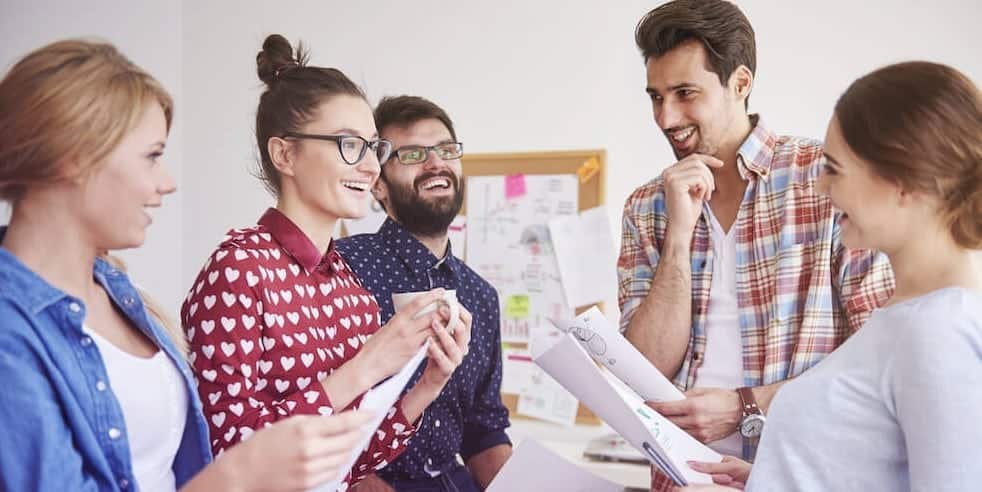 When it comes to leveraging the power of internal influencers within an organization, what often stumps internal communicators is the question: who are they? While it's tempting to think of internal influencers as executive-level employees, in reality, they are just your regular employees.
An internal influencer knows exactly what your average employees are experiencing because they are one of them; being able to identify them and leverage them is paramount if you want to boost employee engagement.
You can identify these influencers by circulating surveys, asking employees questions such as "who do you talk to everyday?" and "whom do you go to for advice everyday?"
Research has shown that the five most influential people in the organization can reach more than double the amount of employees than an executive team. So use internal influencers to enrich employee experience!
Key Takeaways:
Internal influencers have agnostic job titles & influence over work colleagues.

They can often reach 2 x the number of employees than an executive team.

Identify them by circulating internal surveys, asking key questions.
Hack #2: Video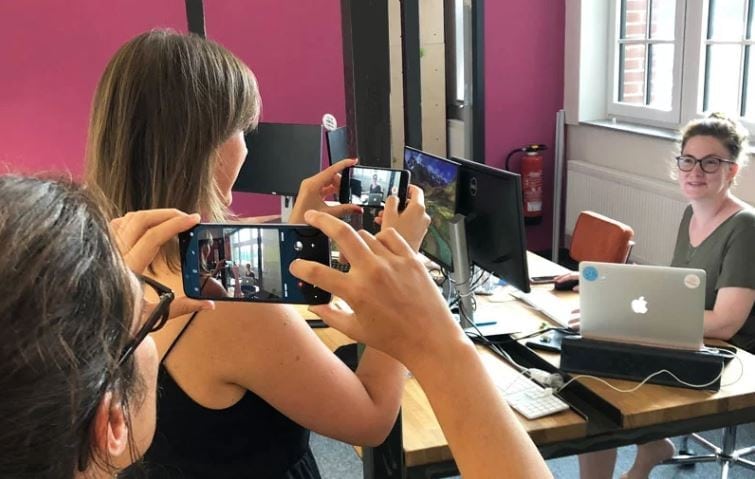 Video is hands-down one of the most effective tools for business communication and an excellent way to enrich the overall employee experience.
Staffbase used a case-study from one of their clients to report that video content for communications has been especially useful when it comes to employee onboarding and resulted in higher employee engagement levels.
So internal comms peeps, this is great evidence for you to start implementing video content into your strategy to really bolster employee engagement.
Still not convinced? Read the key points below on why you need to implement video for effective internal comms.
Key takeaways:
Video can condense information efficiently and foster more engagement.

Video content is richer and can incorporate all other mediums such as text and audio.

Visuals have proven higher success rates for communication.
Hack #3: Personalization & Segmentation
 
Use ContactMonkey to personalize your subject line and body copy
Internal comms peeps, if you're looking to increase employee engagement, it's time to say goodbye to generic messages.
In a time where you can customize everything, from your coffee cup to your running shoes, you need to ensure you're also customizing the employee experience.
Luckily for you, if you're using ContactMonkey as your email plugin, you can personalize the subject line and body of your email.
Oh, and while you're doing that, be sure to also segment your employee distribution lists according to country, region, age etc. Why? Well, your employees are more likely to engage with your emails if your email content specifically caters to their cultural habits, traits and personalities.
You can even add pulse surveys, social reactions or like buttons and gather employee feedback in real-time and see the results live within your ContactMonkey dashboard.
Key takeaways:
Personalize all messages, whether they're push notifications in an app or employee emails.

Segment employees according to country, region, age etc. to boost employee engagement.

Add pulse surveys, social reactions or like buttons and gather employee feedback in real-time.

Hack #4: Push Notifications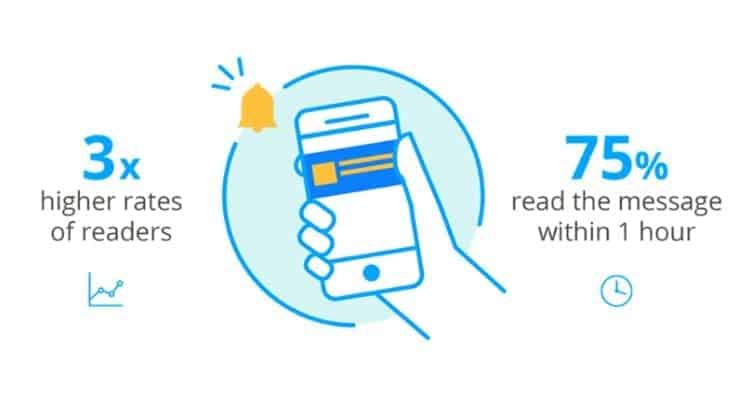 If you're using an employee app, you know how important push notifications can be when it comes to boosting employee engagement. As the above image from Staffbase tells you, 75% of messages sent via push notifications are read within an hour!
If you use push notifications, you can gain insight on employee engagement levels through the analytic traffic system attached to them. Furthermore, the "opt-in" and "opt-out" feature enables employees to stay connected rather than stay annoyed!
If you're still not convinced, read the key points below on why you need to seriously consider using push notifications to enhance employee experience.
Key Takeaways
Employees are 3 times more likely to read messages received through push notifications.

Push notifications instantly increase traffic and allow content sharing on multiple devices for dispersed workers.
Hack #5: Is Email Dead?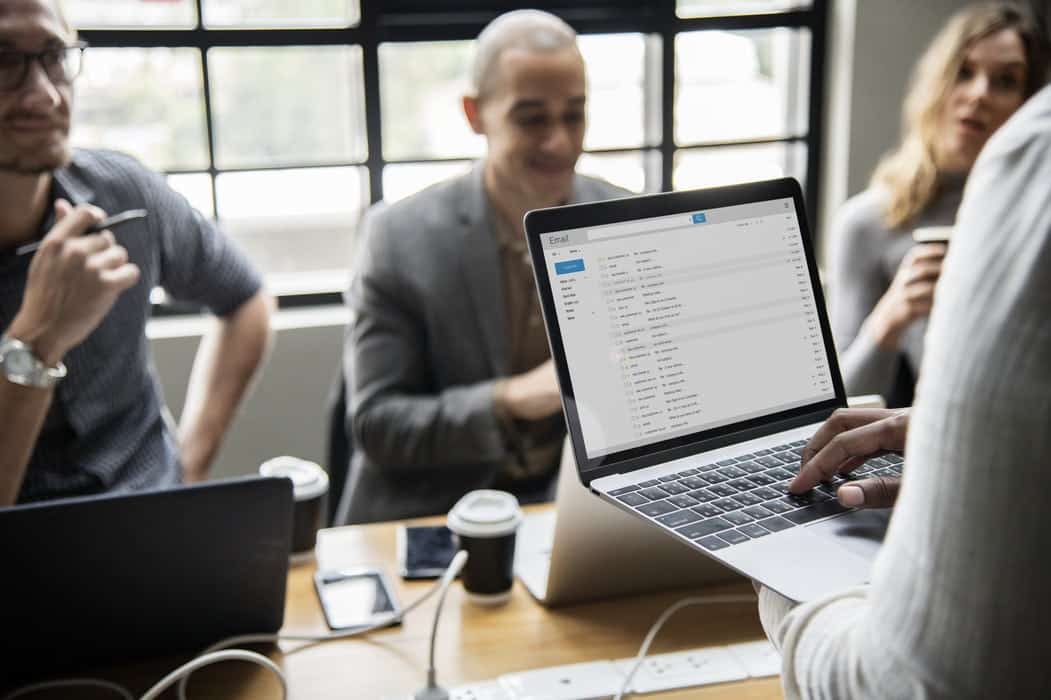 With the rise of disruptive internal communication tools and various communication channels such as Jostle and Slack, the biggest debate within the communications fold has been regarding the possible death of email.
Well, I'm here to tell you that email is alive and well. For starters, it allows users to respond at their own pace and really think about their communications before hitting send.
Secondly, with useful plugins such as ContactMonkey InternalComms, you can easily track your emails and measure the impact of your internal communications!
According to a Lifewire article, 3.8 billion people will be using email by the end of 2018, which is almost 100 million more than the previous year. This means more than half of the entire world uses email at the moment! Therefore, email needs to be a key part of your internal comms!
Key Takeaways
Email allows you to strategically respond to all communications at your own pace.

Email enables you to track + measure the impact of internal comms.

With emails, you can personalize every message and constantly test your content.
Hack #6: Mobile Access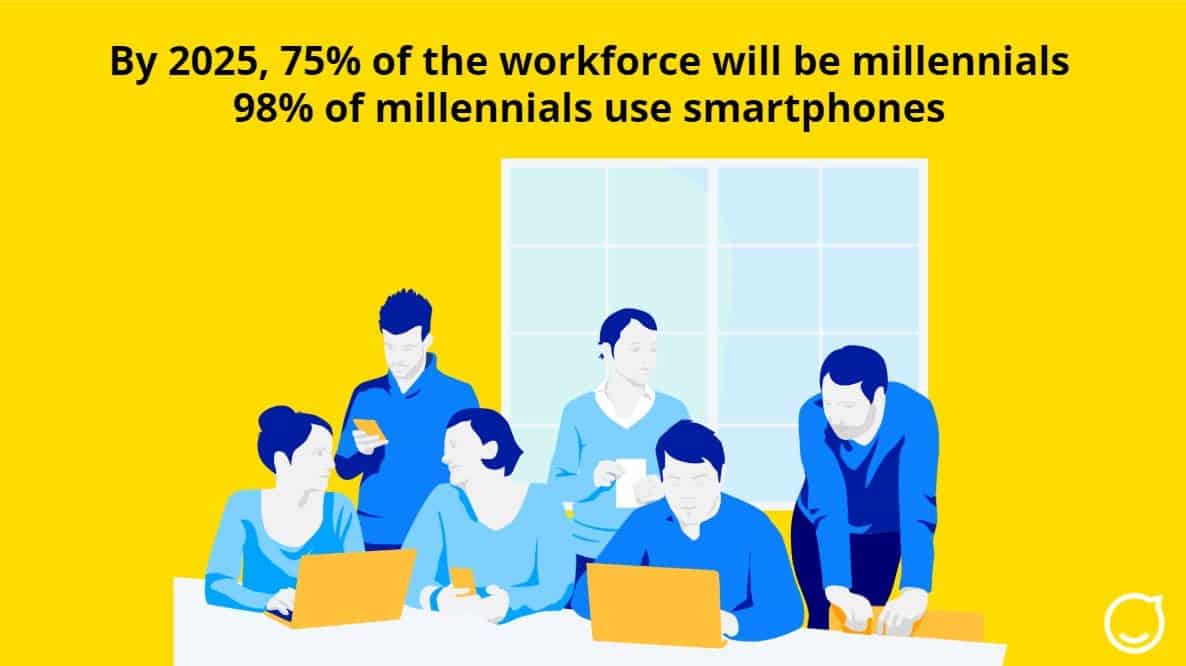 According to the above statistic, mobile is the answer to the changing atmosphere of the workplace, especially with millennials entering the workforce.
Mobile allows every employee to stay in the loop, whether they are at a desk or in the field. The workplace is becoming increasingly mobile as employees work from home and travel more often.
Moreover, mobile enables greater collaboration and better overall organization between different departments.
Staffbase presented a customer success story, narrating the effective use of mobile by a German Telekom company that managed to effectively connect their 7,000 field workers on the road by implementing a mobile-first approach.
Key Takeaways:
98% of millennials use smartphones & by 2025, 75% of the workforce will consist of millennials.

Communications that are optimized for mobile access invite everyone to join the conversation no matter where they are.
Hack #7: Storytelling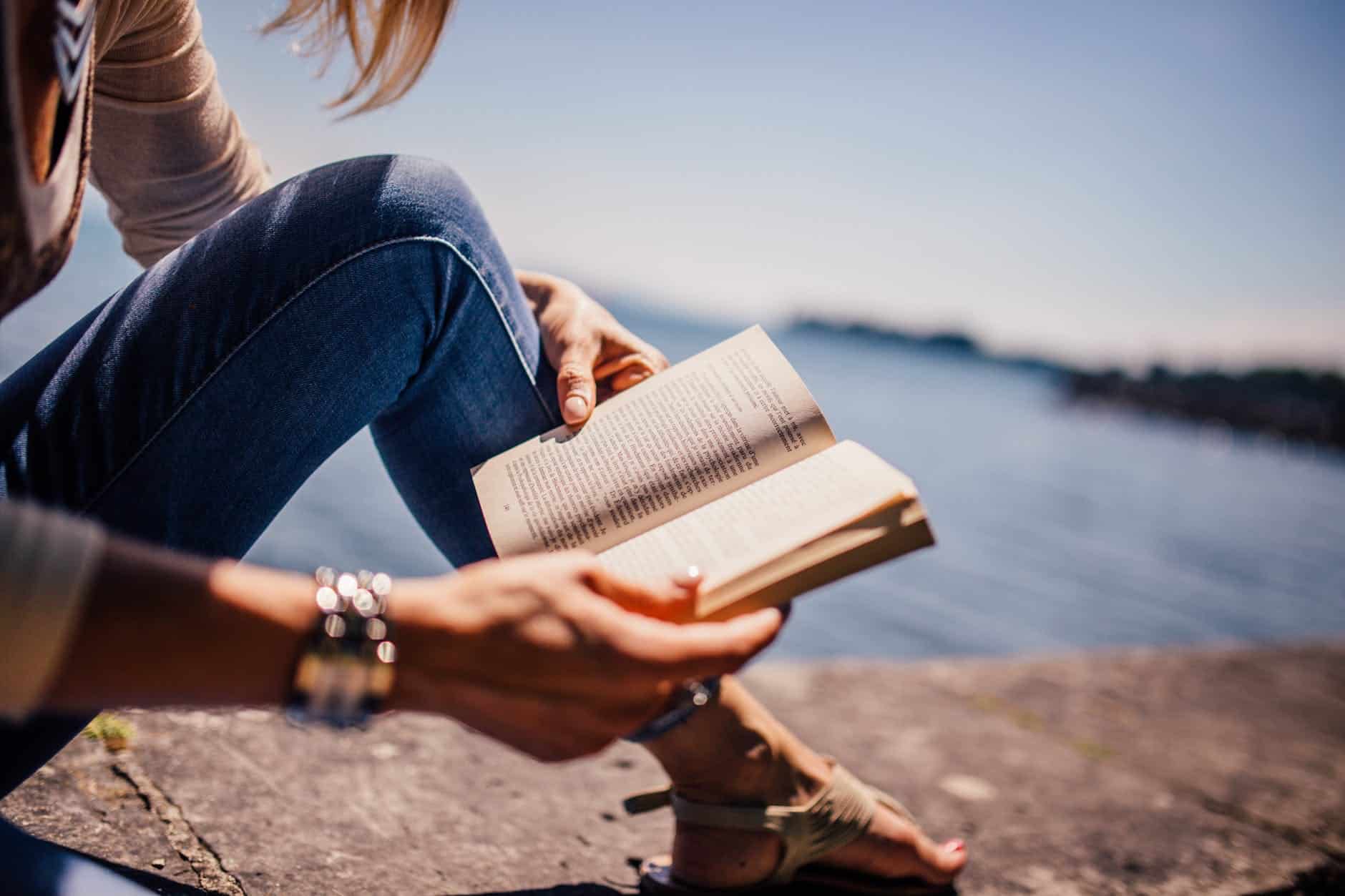 We all the know the importance of effective storytelling. Since the beginning of time, stories are how humans have come to communicate with each other and understand the world.
Millennials in the workplace love to interact and engage so give them a voice and let them be heard. Feature them in all your internal communications collateral to boost employee engagement and optimize employee experience.
You can also introduce gamification in your organization to enhance employee experience. You could create something fun like Trivia Tuesdays where you quiz employees on the company's brand values, as a way to instill your company's story within them.
Key Takeaways:
Incorporate different features within your stories such as GIFs, memes, static visuals & video.

Feature employees in your newsletters and other communications collateral to keep them engaged.

Use fun events like Trivia Tuesdays to quiz employees on your company's story.
Hack #8: Data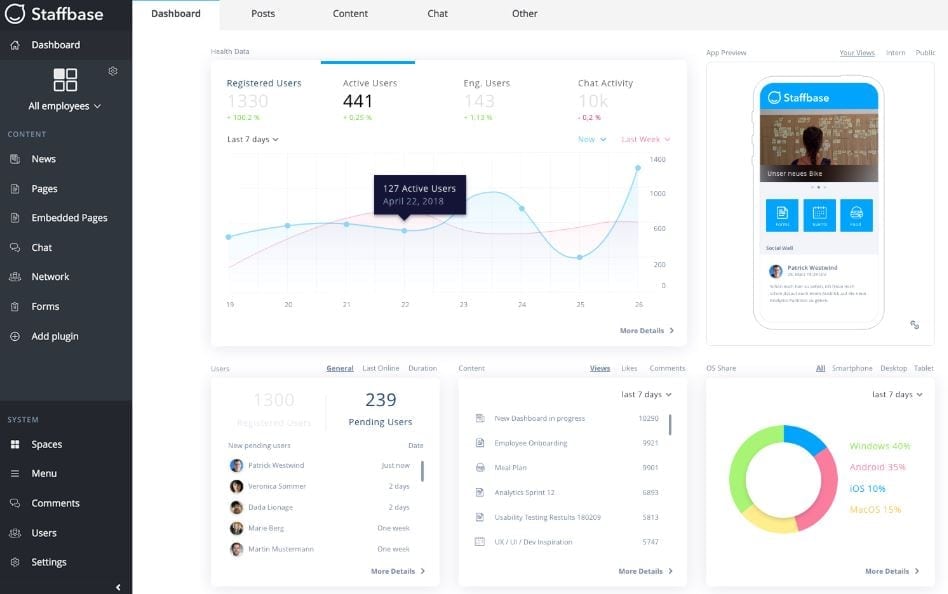 As an internal communications professional, you must know how important measurement is when it comes to getting buy-in from top executives and creating change.
Data provides you with feedback on how your content is doing, allowing you to adjust and optimize to improve performance.
You can use effective tools such as surveys and polls to constantly measure and gauge employee feedback.
Surveys allow for quick and easy measurement of employee feedback. Moreover, if you're using using an app for a survey, there's great news for you. According to Staffbase's research, survey response rates within an app are at least 35% higher than other channels
Key Takeaways:
Data allows you to measure the impact of your IC content & improve it.
You can use surveys and polls to gauge employee feedback & satisfaction.

Analyzing your data can help you build a business case for your internal channels.
Hack #9: Employee Newsletters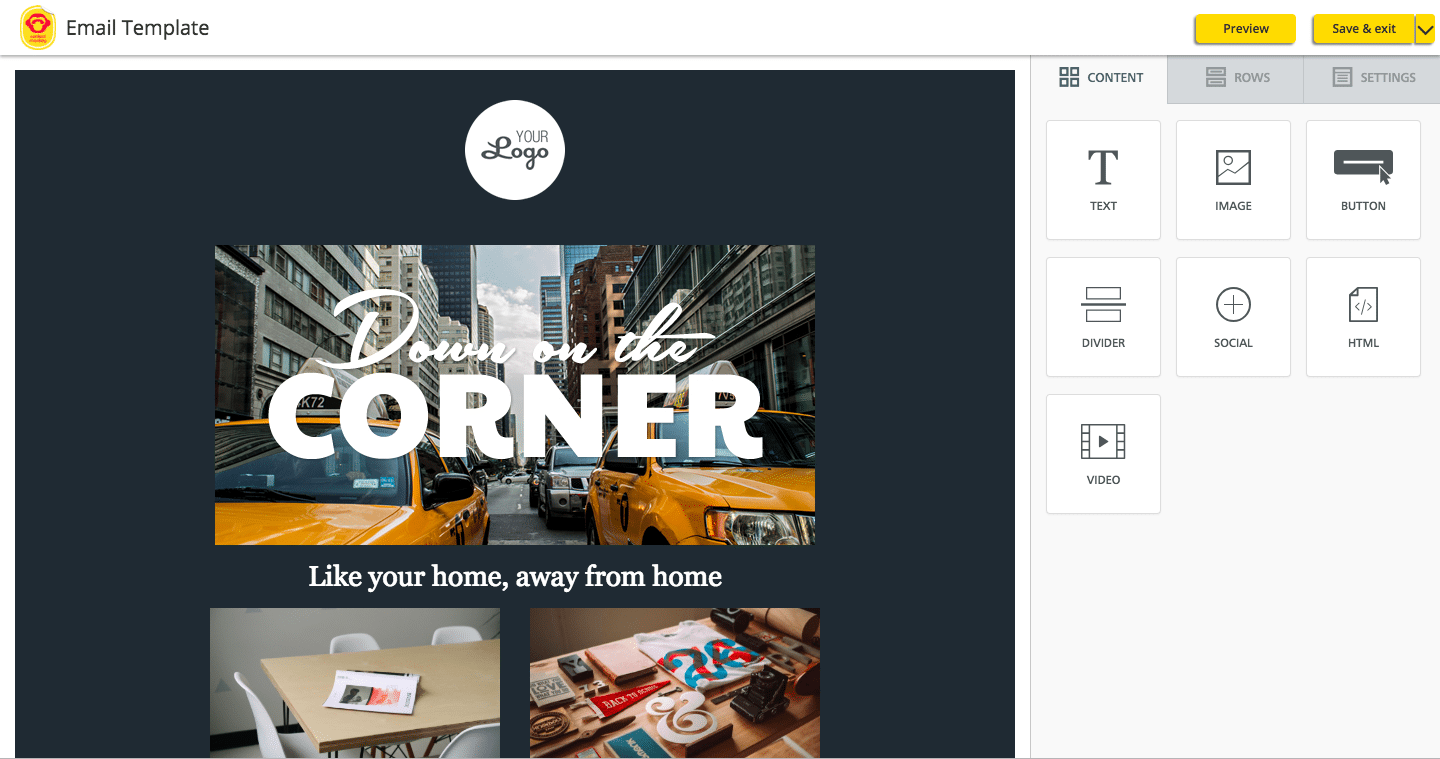 Are you using an effective employee newsletter to boost employee engagement?
If not, you need to seriously implement an internal newsletter into your internal communications strategy to engage with employees on a global scale.
For starters, employee newsletters are an excellent way to connect your company with its employees from all across the globe. Think of it as a direct line of communication to your employees.
Employee newsletters can also feature various forms of multimedia and enable you to monitor email performance and track how your audience responds.
You can look at opens, links clicks, location and device analytics of your audience and optimize the newsletter for better performance in the future. Imagine a world where your employees actually read your internal newsletters? Amazing, isn't it?
We recently introduced our brand new Email Template Builder for Internal Communicators. With our simple to use drag and drop email template builder, you can create on brand internal emails that your employees won't ignore!
You can create your own templates, choose from our library of pre-built templates or just import your existing responsive HTML designs.
Key Takeaways:
Newsletters

create a direct internal communication line, connecting dispersed employees with your company

With newsletters, you can

monitor email performance and track how your audience responds.

Hack #10: Multiple Contributors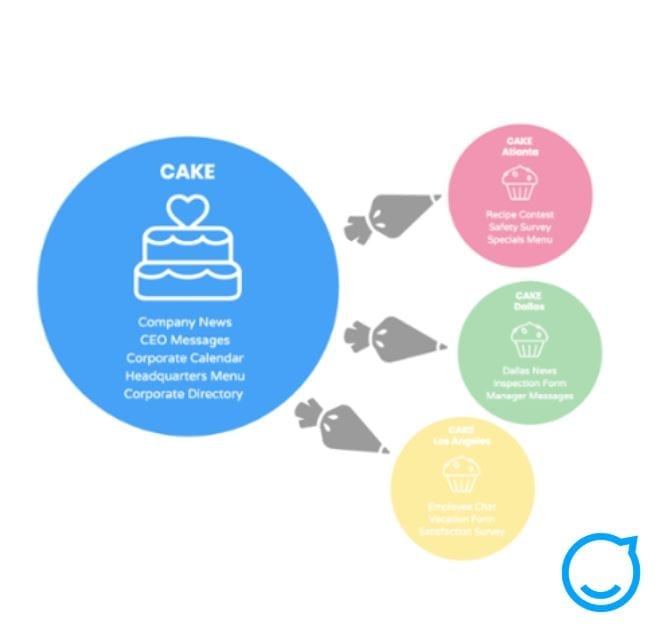 Growth often stops companies from communicating directly and personally with their employees.
This is when you should consider using an employee app for communication and have multiple admin and content contributors in several locations to help with the company's employee experience.
If you're using an employee app such as Staffbase, you should definitely look into the "spaces" feature.
The "spaces" feature helps companies create rooms for their different branches, departments and locations, allows different admins and content creators for each space and enables users to create highly targeted content.
What a great way to boost employee engagement, isn't it?
Key Takeaways:
Make your internal comms channels collaborative spaces where employees can share content.

Having multiple admins and content contributors in multiple locations helps your internal comms team and keeps the conversation alive.
Inspired to take action after reading about these highly effective hacks? You can also check out the recording of the webinar via the video below.
Convinced of the power of measuring your internal comms? Want to learn how to track your internal emails using ContactMonkey? We can set up a personalized demo for you and your team. Just click on the button below to book your demo!