Email doesn't have to be a tedious part of your work routine. Learn how to create an email template in Outlook and Gmail to save up to 4 hours a week on email communications!
If you're sending out dozens of similar emails weekly, typing out each message is a huge drain on productivity.
Learning how to make an email template will accelerate your email workflow and help you recover hours of lost productivity.
In this guide, we'll show you how to create an email template in Gmail and Outlook in just a few steps. We'll also teach you how to improve the look and feel of your emails with professional template design.
Start Creating Email Templates with ContactMonkey
Start your free trial – no credit card required!
What are Email Templates?
An email template is a reusable email layout or message. Users can save templates and simply swap in relevant text, images, and other content every time they use it.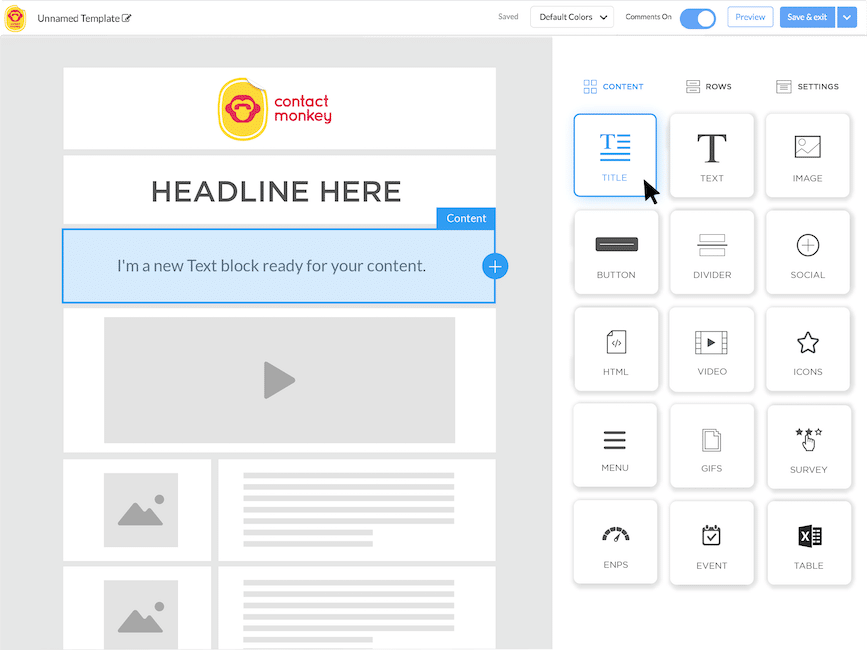 Instead of needing to build out emails from scratch, anyone can customize a template to fit a specific occasion. This saves tons of time while also ensuring consistency across all email communications.
Why Should You Use Email Templates
There are countless benefits to using an email template. And the advantages go well beyond time savings (although that's a big one). Let's examine some of the top email template benefits below:
They help you free up more time in the work week

—

Mettler Toledo was able to save 4 hours a week by using ContactMonkey's

email template builder

.

It becomes easier to create and send emails, which means less stress and more productivity.

New employees can use templates to quickly learn how to communicate in your organization.

Faster communication means you can deliver urgent messages in a timely manner.

Organizations save more money as employees become more productive.

Studies show that automating emails can increase response rates.

Templates let you create more professional-looking emails.

Automation limits errors in content and design.
Types of Email Templates
There are many different types of email message templates available and choosing the right one will depend on your email goals and audience. Popular business email templates include:
Save Time with Ready-Made Sample Emails
Our email library offers dozens of free email templates.
Most templates can be divided into two categories: plain text email templates and responsive HTML email templates.
Plain text email templates consist of the email text itself. That includes the specific structure of the message and the wording used.
Meanwhile, responsive email templates preserve the email template design and layout along with any specific messages. A responsive email template builder like ContactMonkey also ensures that your templates display perfectly across any digital device.
How to use email templates with plain text messages
Those using a plain text template would simply need to swap in unique names or details to customize the message.
For example, if you're using an employee recognition email template, you'd use a similar message structure as the example below. But you'd swap in the employee's name and relevant details about the specific project they were involved in:
How to use HTML email templates
Just as with plain text emails, HTML email template users need only to tweak the template to add relevant details.
However, with HTML email templates, users also have the option to swap images, graphics, and other HTML elements. This allows the template to maintain a dynamic yet consistent look and feel. This is super important if you're trying to showcase your employer branding.
With ContactMonkey's email template builder you can design email templates using intuitive drag-and-drop functionalities:
What Are the Best Email Templates?
Whether you're dealing with email marketing or internal communications, professional email templates are a great way for businesses to streamline and scale communications.
But to maximize the benefits of email templates, it's important to choose a quality template builder. Here are ten of our favourite tools for creating modern, professional email templates:
Keep in mind: if you're creating internal email templates, traditional marketing tools, such as Constant Contact, will not be compatible with employee communications.
External marketing tools are required by law to add an automatic "Unsubscribe" button on all emails. This law does not apply to internal emails. So using external tools to create employee newsletters only leads to more staff unsubscribing from your internal communications.
To avoid the costs of employee disengagement, use a dedicated internal communications software when building out internal emails.
How to Create Email Templates for Outlook and Gmail
If you're creating dynamic email templates for business, you'll want to use a responsive HTML email template.
HTML email templates let you incorporate text blocks, CTA (call-to-action) buttons, images, and even pulse surveys into your emails. These types of communications are ideal for newsletters, marketing emails, or whenever you need to communicate lots of different information on a single page.
Below, we'll walk you through how to make an email template, and specifically, how to create Gmail and Outlook email templates using ContactMonkey's intuitive email builder. 
Step 1
Sign in to your organization's ContactMonkey account to access your user dashboard and the email template library. Not registered yet? Start your free trial to see how it works.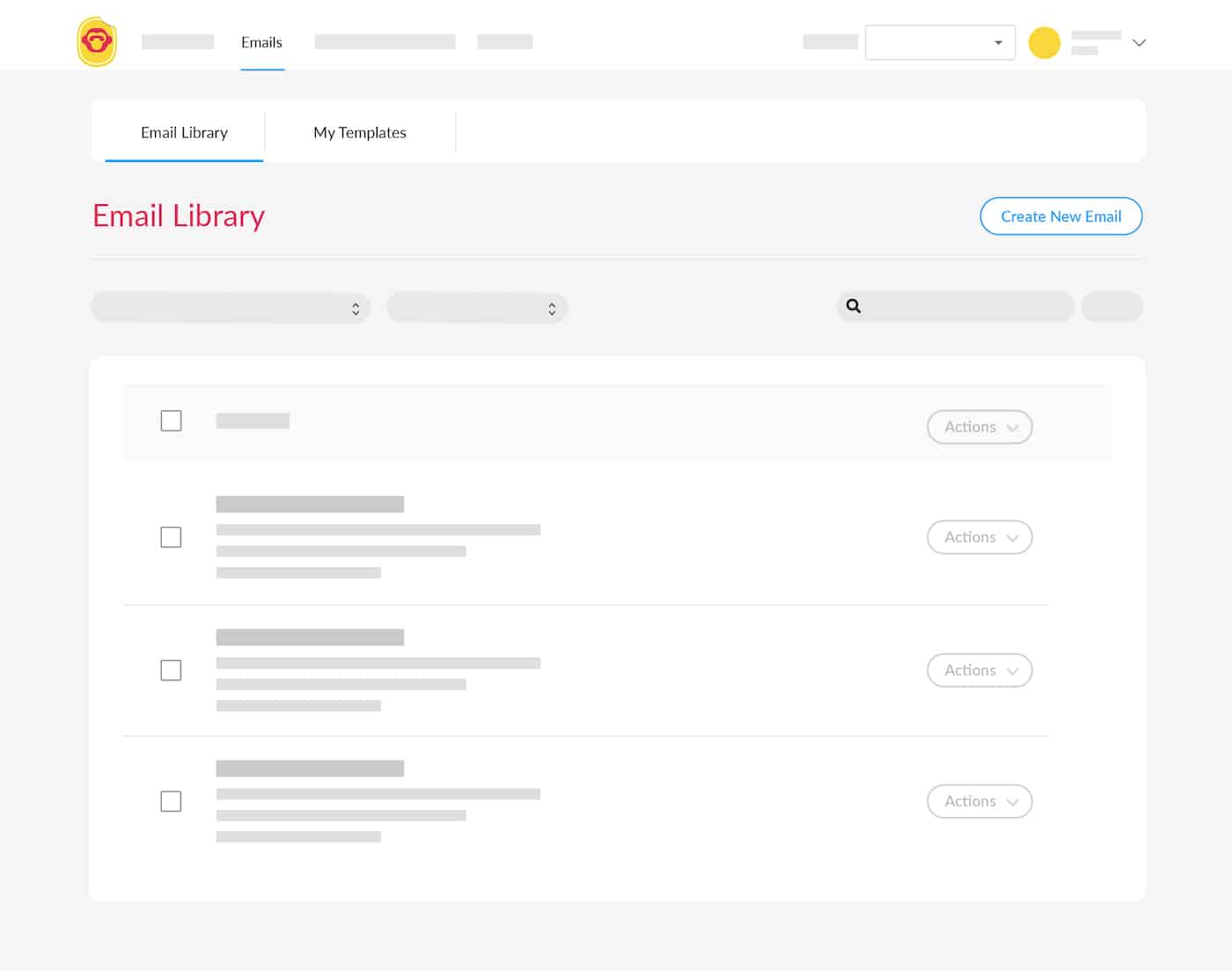 Step 2
Click "Emails" in the top left-hand corner of your ContactMonkey dashboard.
Step 3
Click "Create New Email" to start building a new HTML email template. From here, you'll be able to customize existing team templates, select from dozens of sample templates, or start from scratch and create email templates customized to your preference.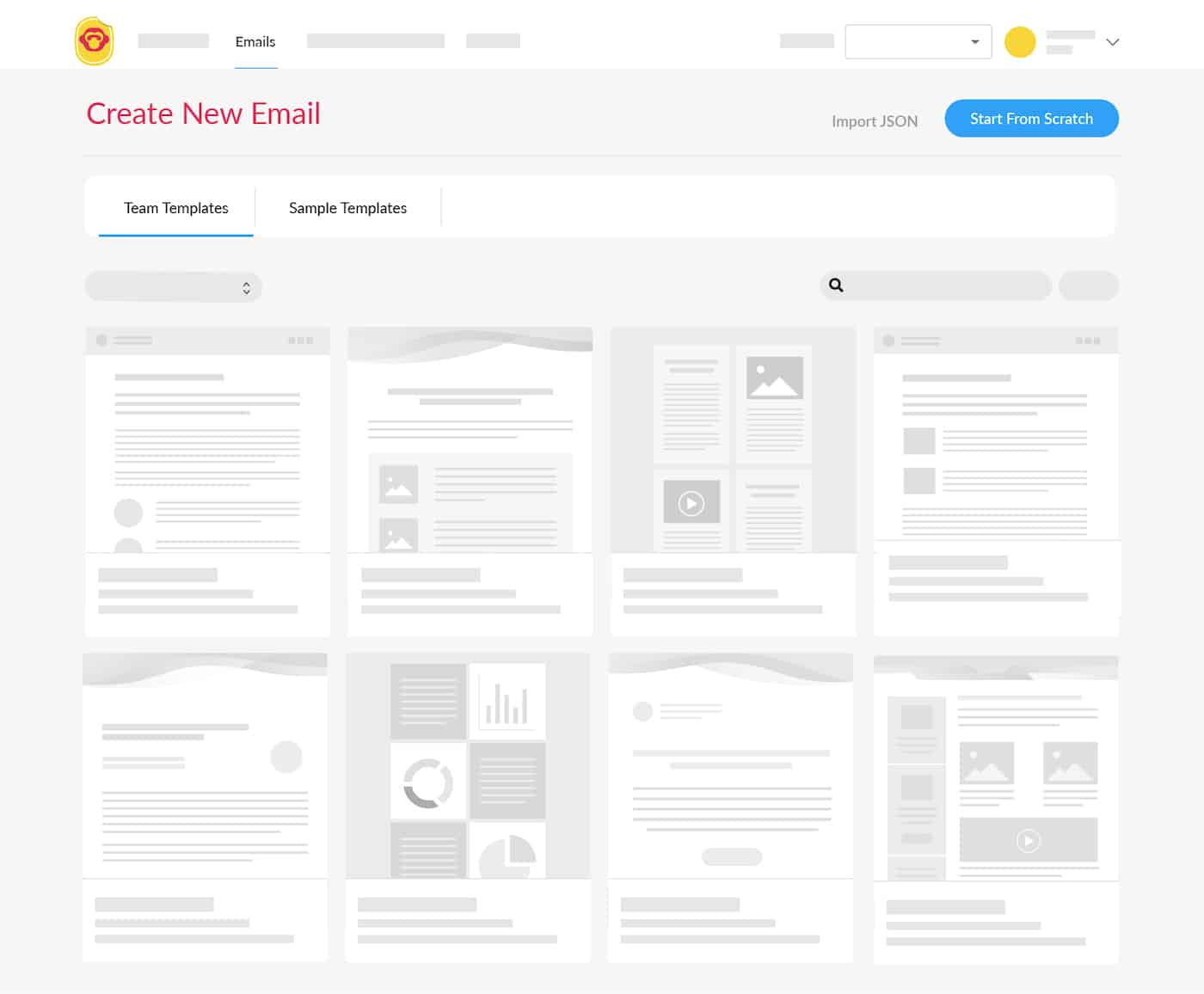 Step 4
Click "Sample Template" to customize one of our ready-made templates OR click "Start from Scratch" in the right-hand corner to begin a brand new template.
Using a ready-made template:

Click "Sample Template" and scroll through our template library to select your preferred template. Hover over the template you'd like to customize and click "Get Started." Name your new template and click "Save."

Starting a template from scratch:

Click the "Start from Scratch" button on the top right-hand corner. Name your new template and click "Save."
Step 5
Use the drag-and-drop controls to customize your sample email template or build a brand new email template from scratch.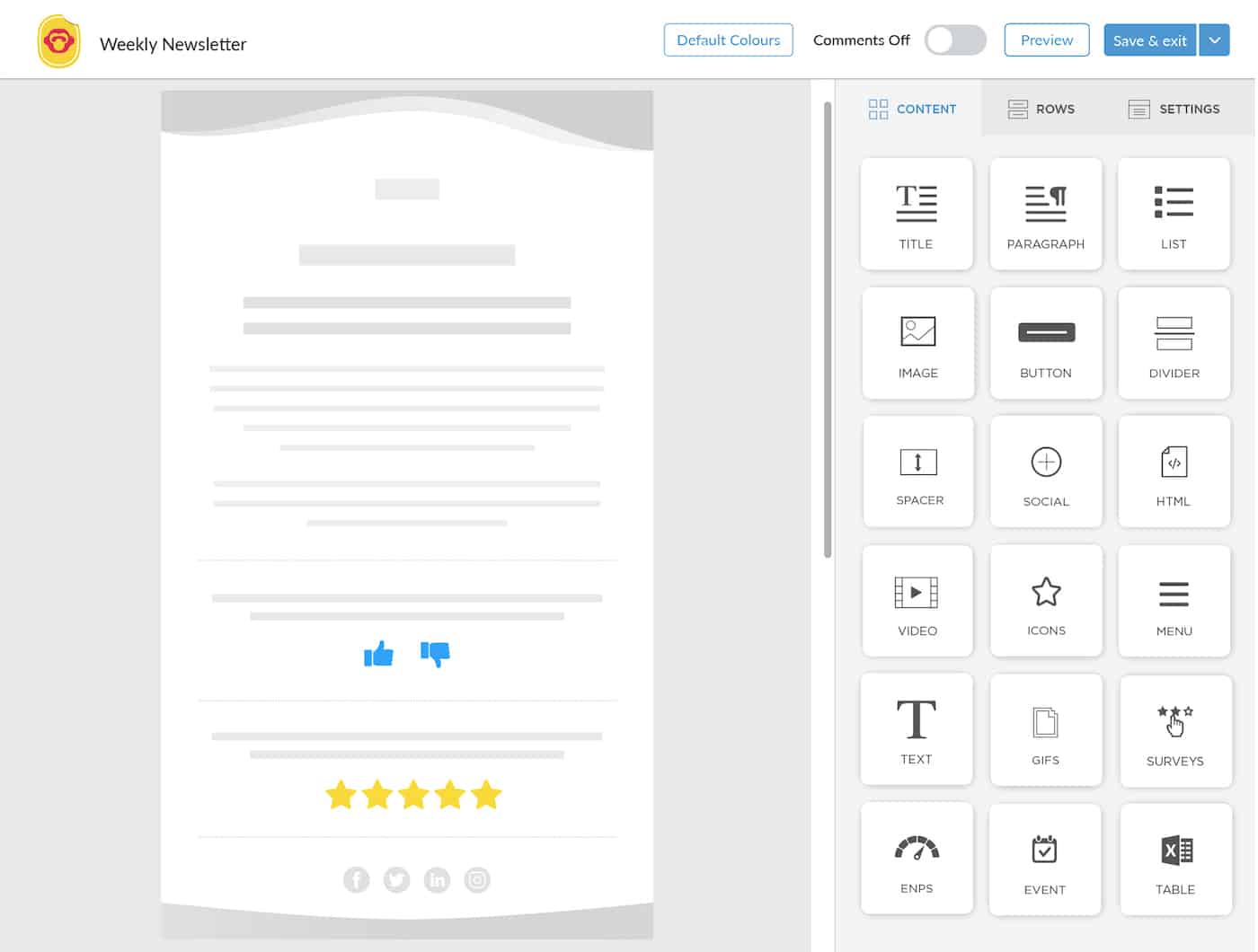 Here you have total creative control over your email newsletter template. Use the sidebar menu to add custom rows, headers, images, and graphics. All you have to do is drag the elements into your template and customize how they look using your cursor.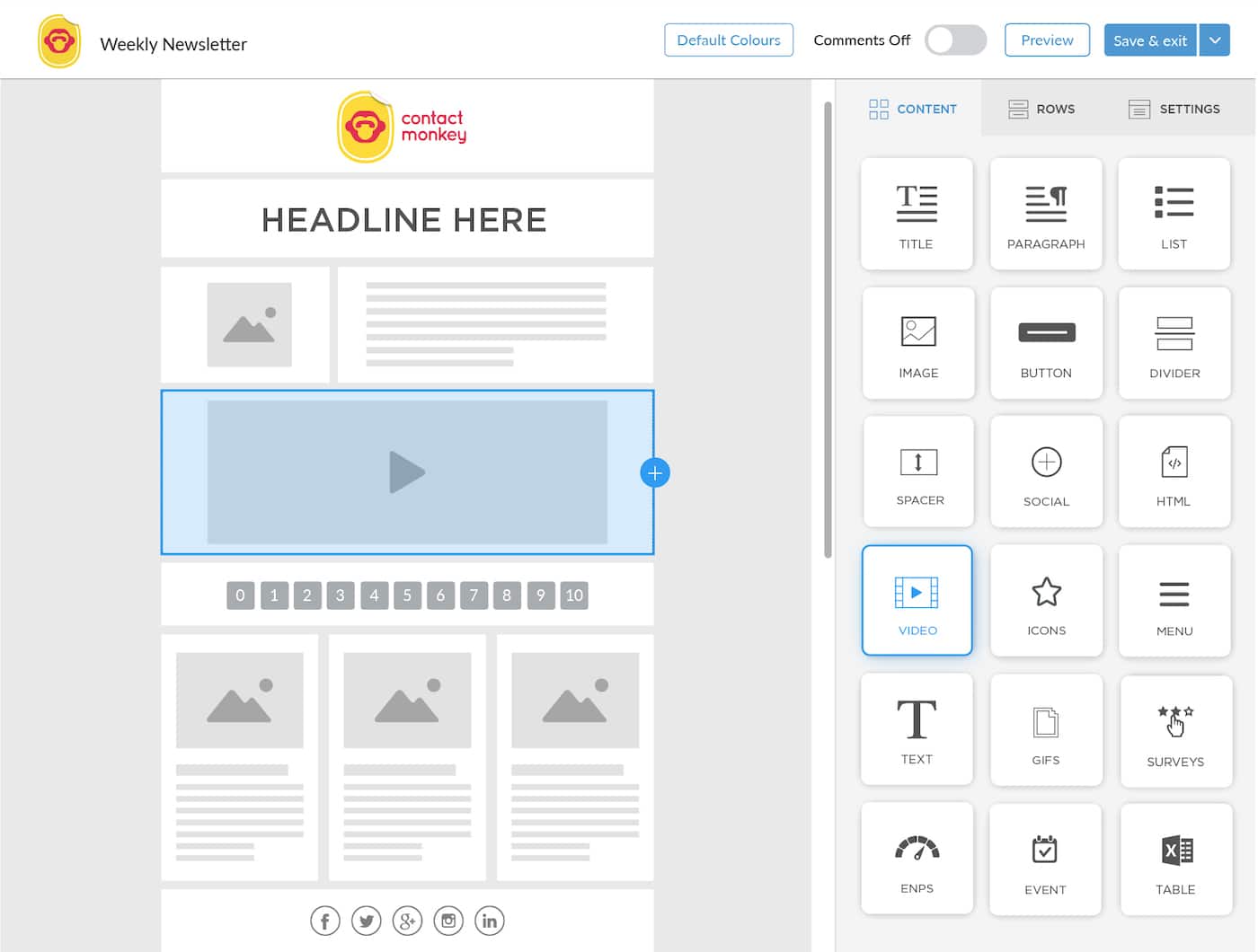 Transform your newsletter into an interactive experience by embedding surveys and comments. Choose from a range of custom survey response options, including star ratings, emoji reactions, and eNPS.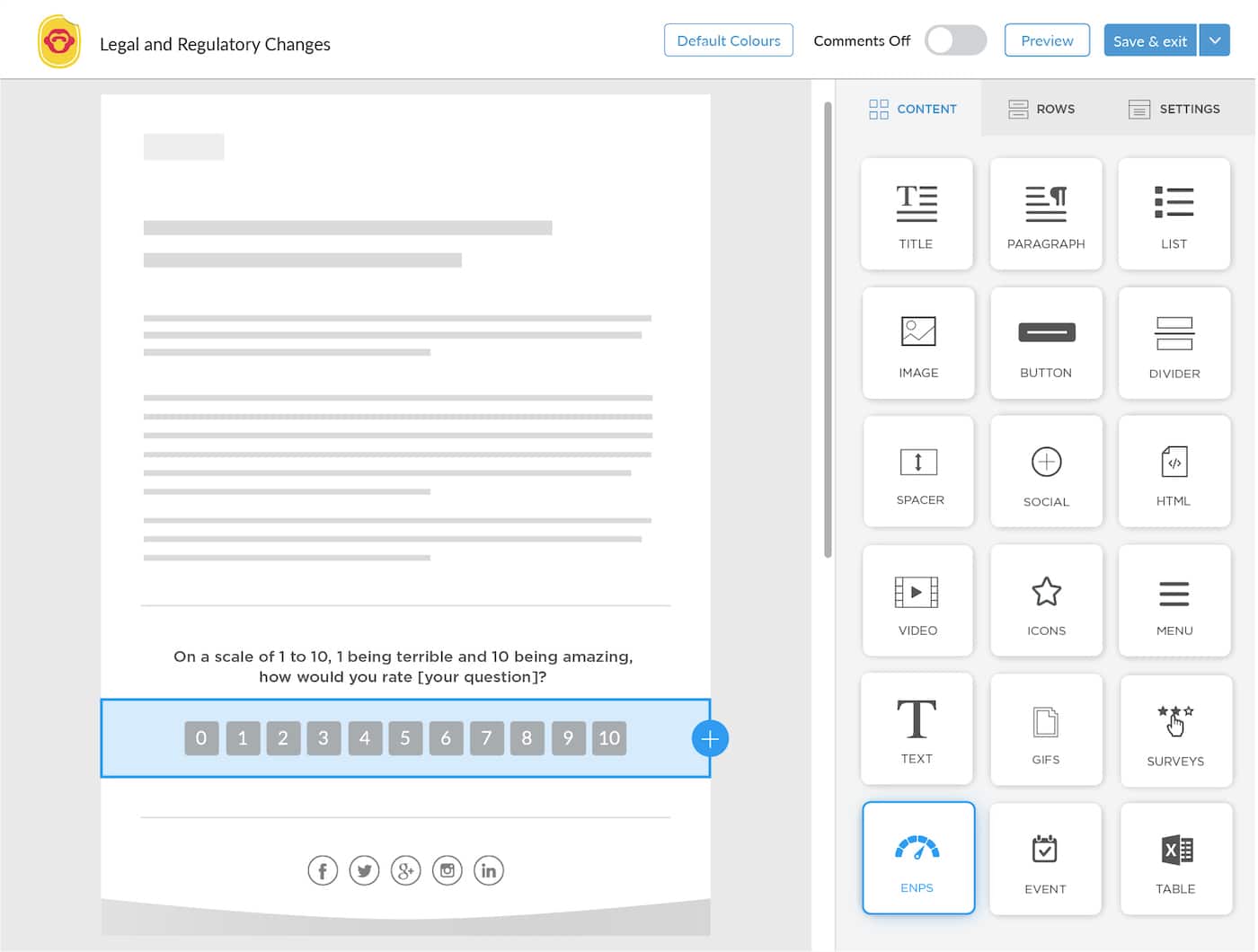 To make your newsletter even more immersive, try embedding videos and GIFs. Simply drag the elements into your template and upload your media file of choice.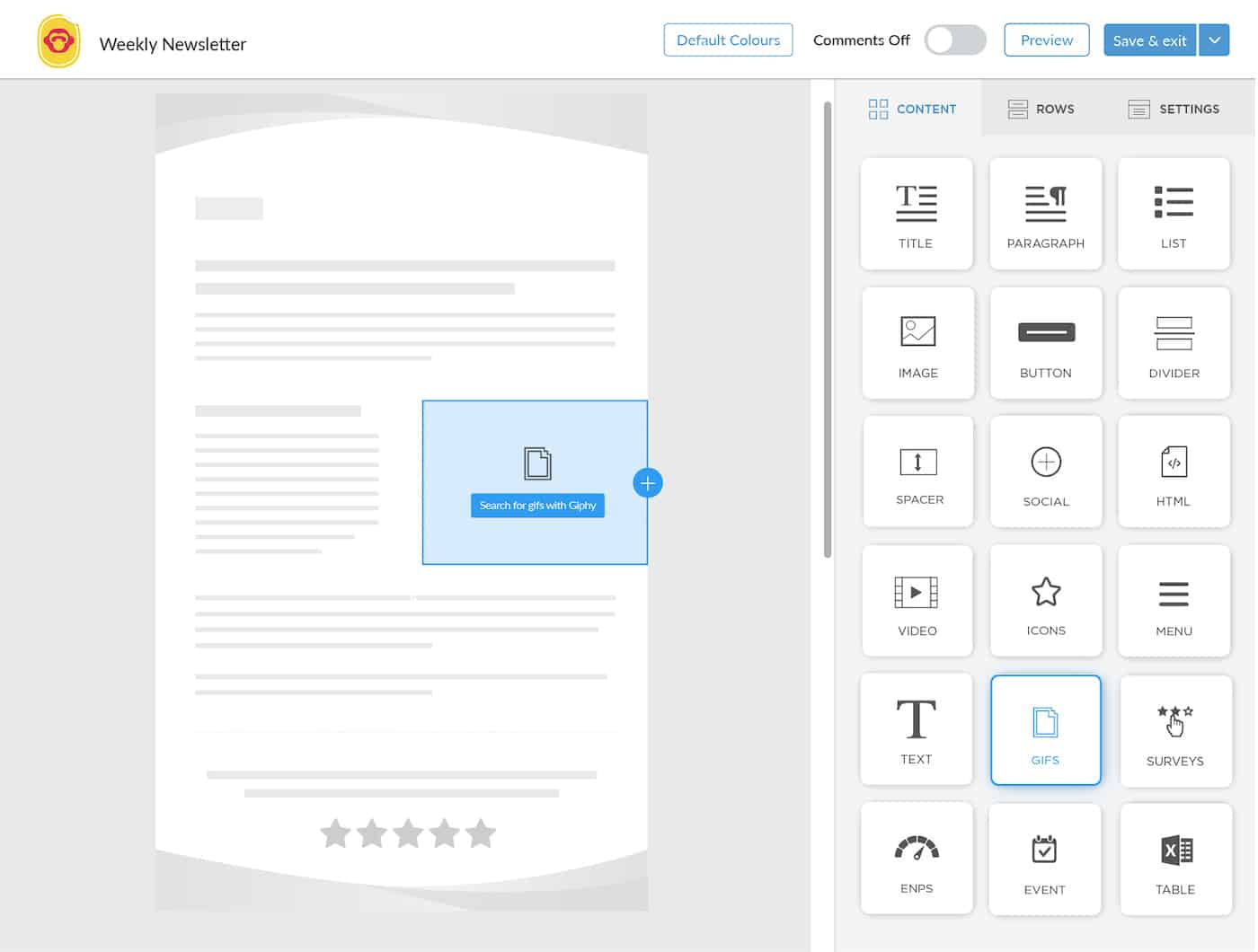 If you're creating an email template for Outlook and have an upcoming event, take advantage of our Outlook event management feature. Choose the event element from the sidebar and drag it into your template.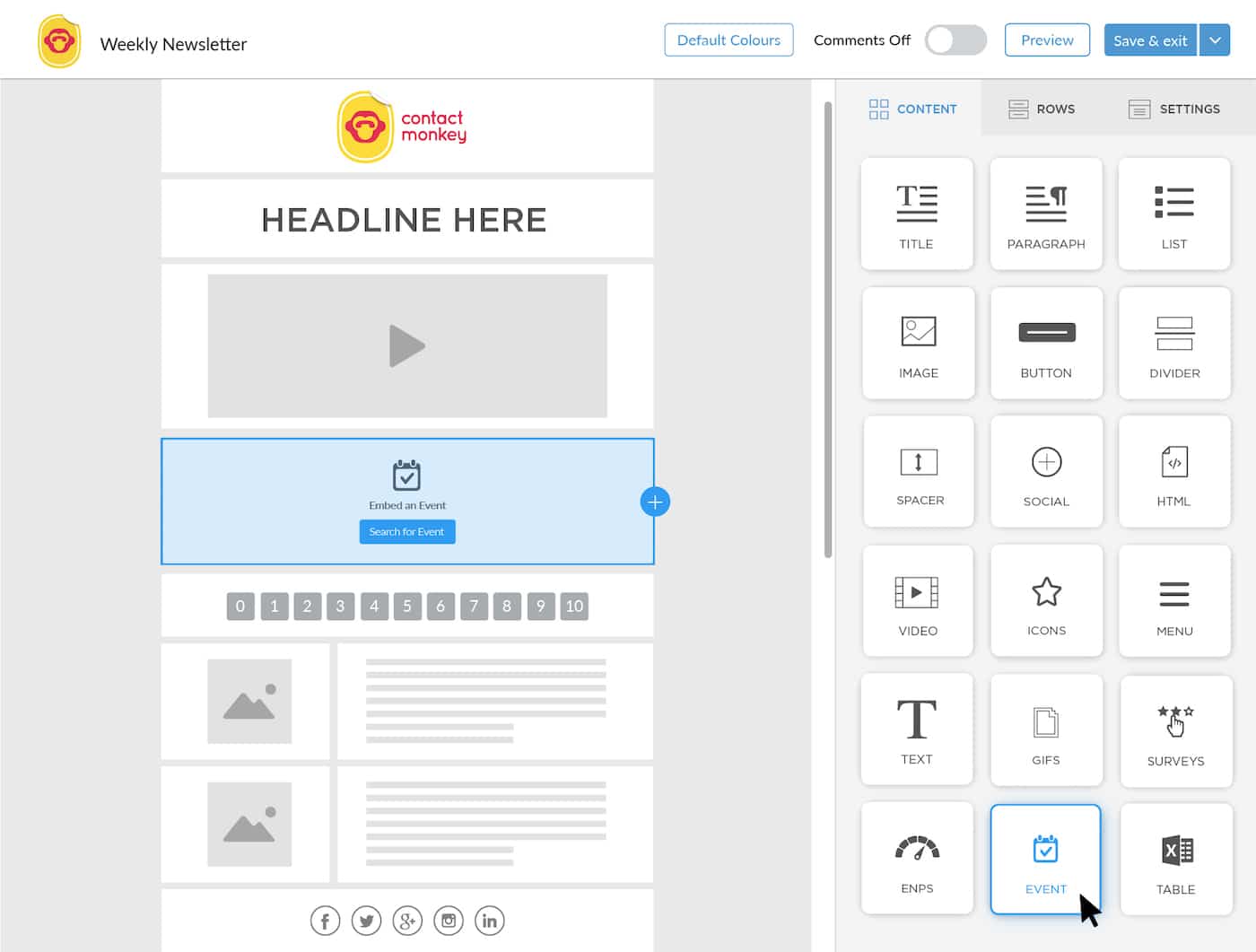 Employees will be able to RSVP to events straight from your internal emails and you'll be able to track registrations across all live company events.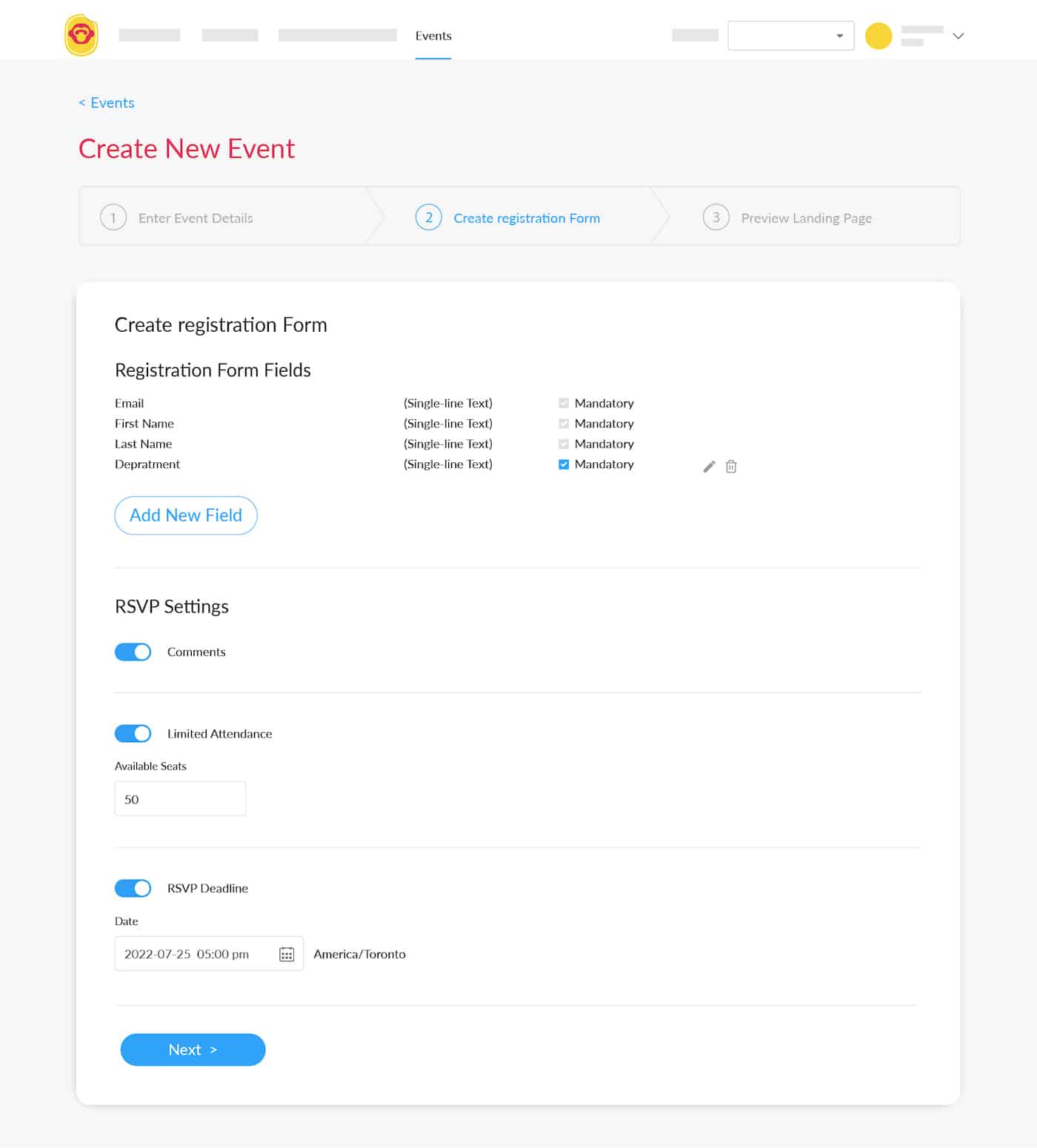 Want to brush up on email design best practices? Check out our blog on Gmail Newsletter Templates and our Ultimate Guide to Outlook Newsletters.
Step 6
Click "Preview" once you're satisfied with your template design. You'll be able to preview on both desktop and mobile using the switch on the right-hand corner of the preview panel.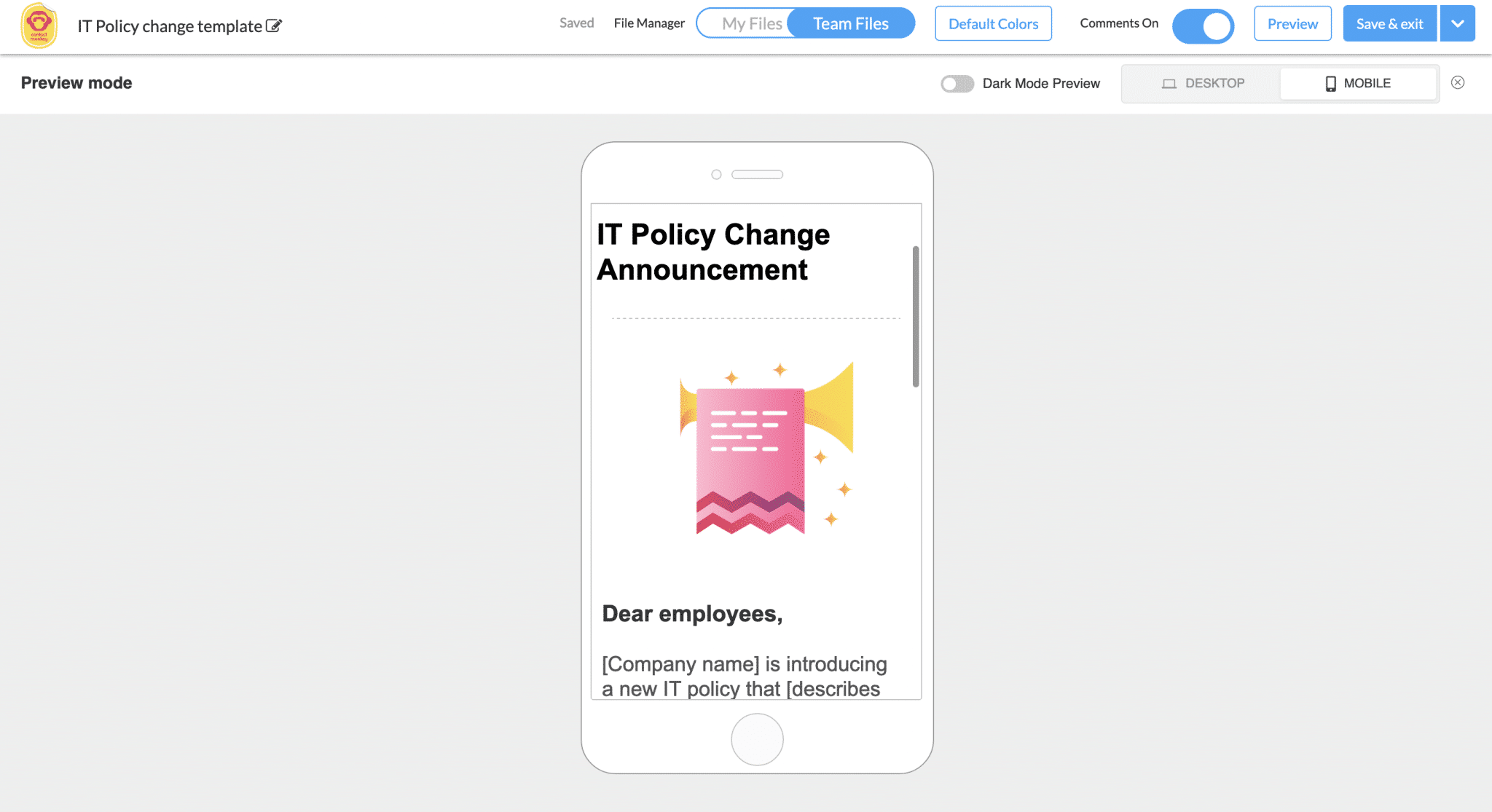 You can also check out how your email looks in dark mode: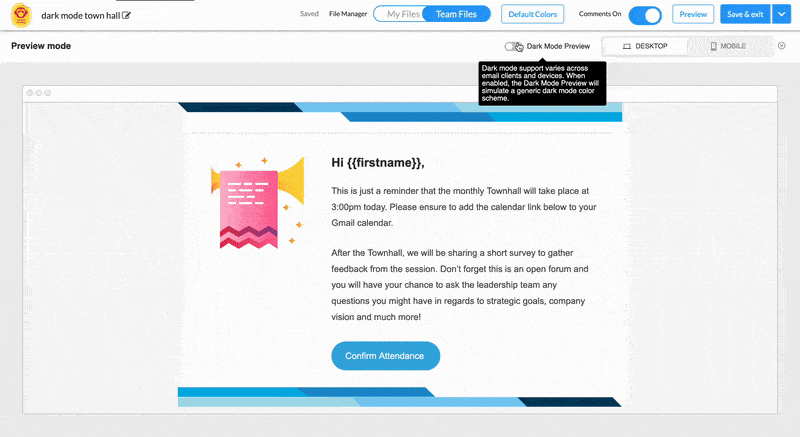 Step 7
Click "Save and Exit" to save your email template. You'll now be able to see your newly created email template in your ContactMonkey Email Library.
In the next section, we cover how to send your ContactMonkey email templates in Outlook and Gmail.
Sending Email Templates with ContactMonkey
Sending email templates with ContactMonkey is simple and intuitive whether you're sending through Outlook or Gmail. But the process will be slightly different for each email provider.
Let's break down the key steps for sending your email template with both Gmail and Outlook below.
Sending email templates with Gmail
1. Install your ContactMonkey Gmail plugin. You can learn how to do this in our Gmail Quick Start Guide.
2. Open your Gmail account. Once you've installed ContactMonkey for Gmail, you'll be able to access the ContactMonkey plugin straight from your Gmail dashboard.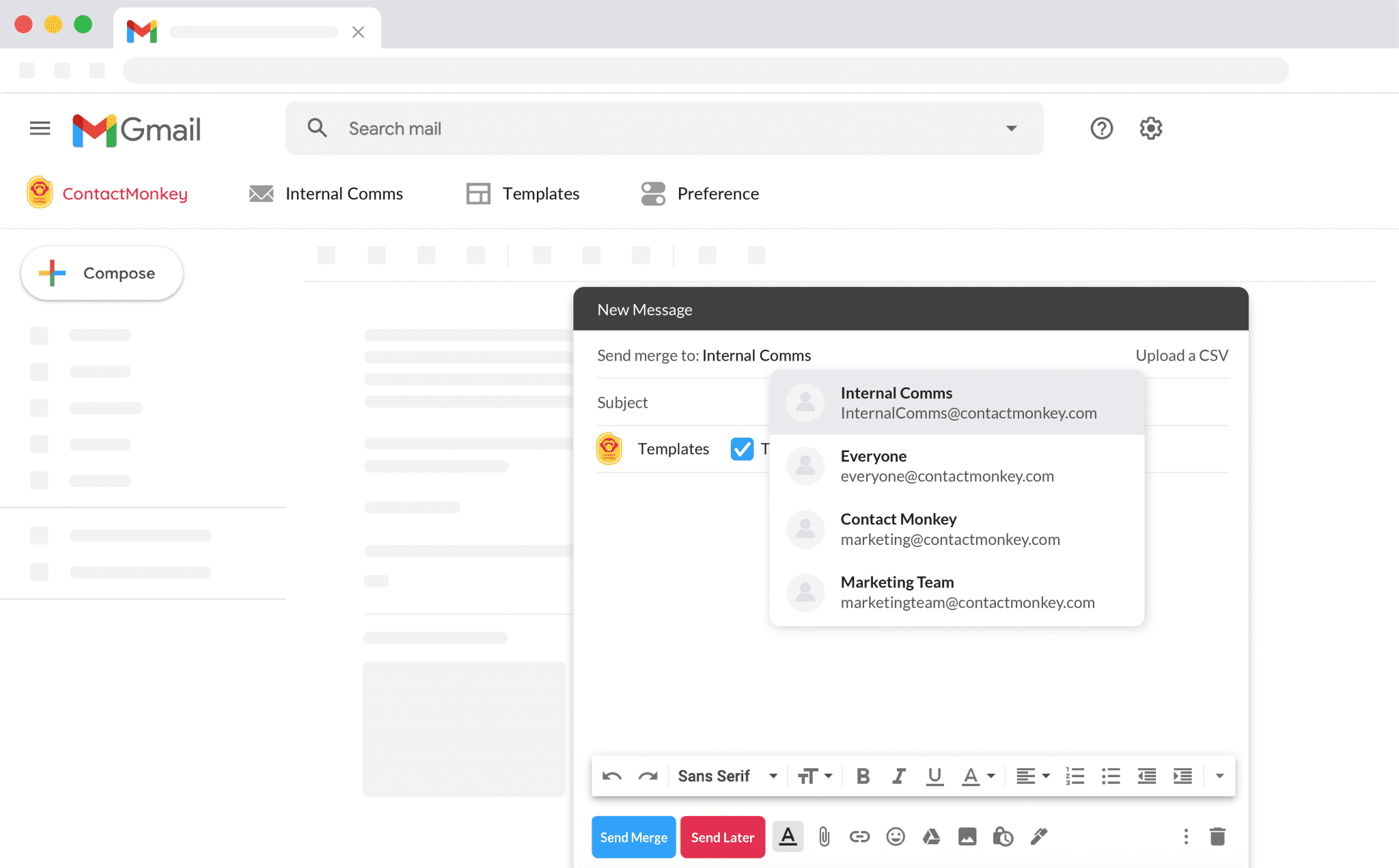 3. Click the "Internal Comms" button in the top ribbon menu. You'll be prompted to create a new message.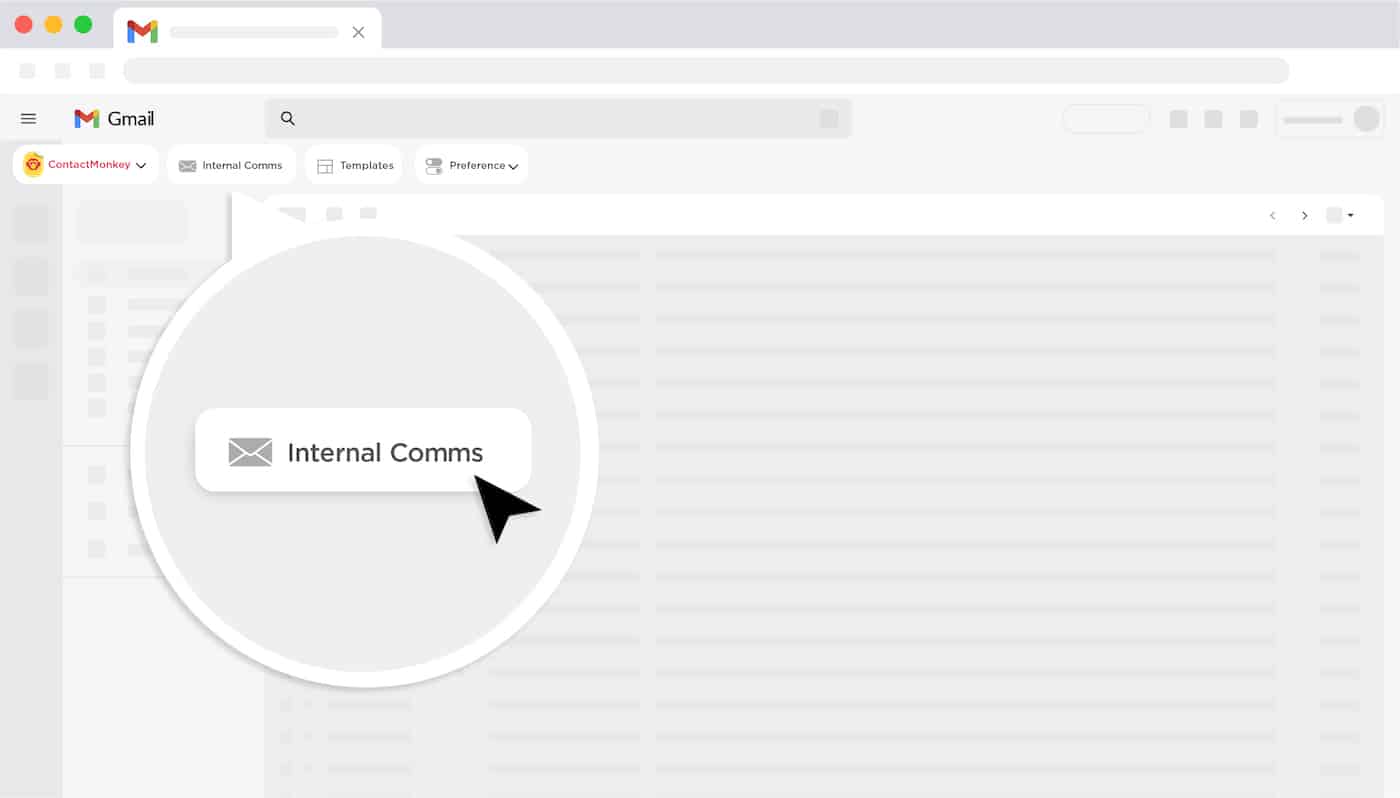 4. Click the "Templates" button at the left-hand corner of your new message box (beneath the Subject line).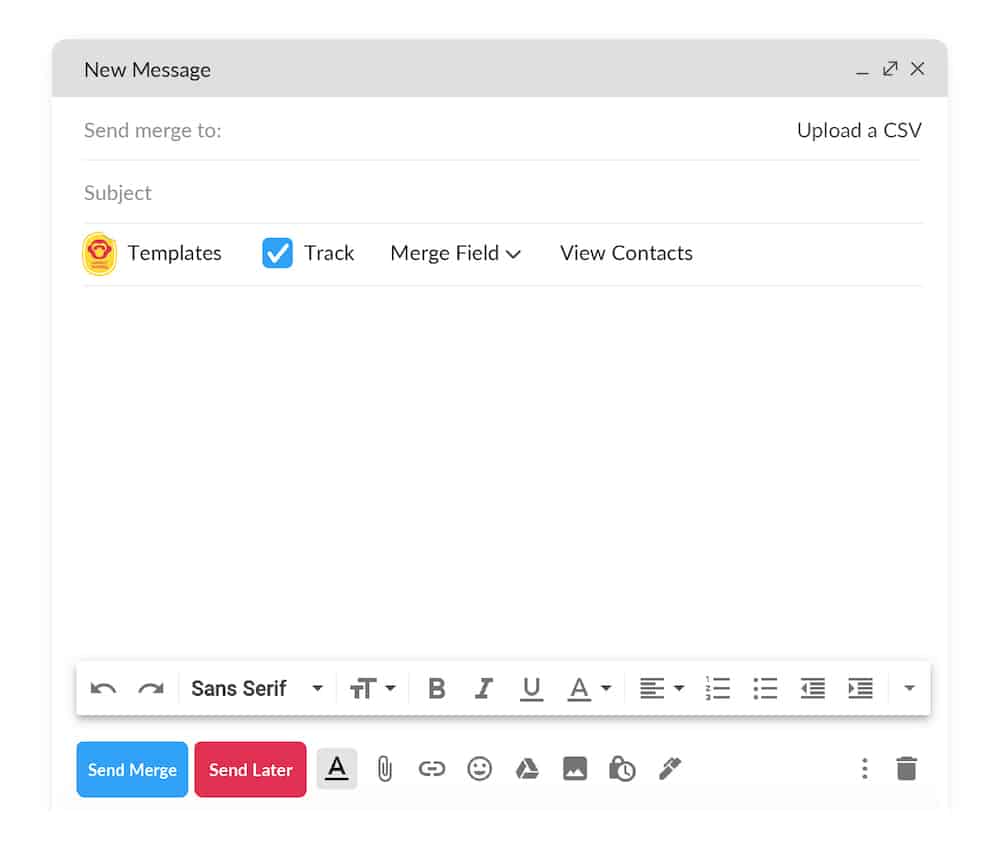 5. You'll be prompted to select your template. The chosen template will be populated into your message box.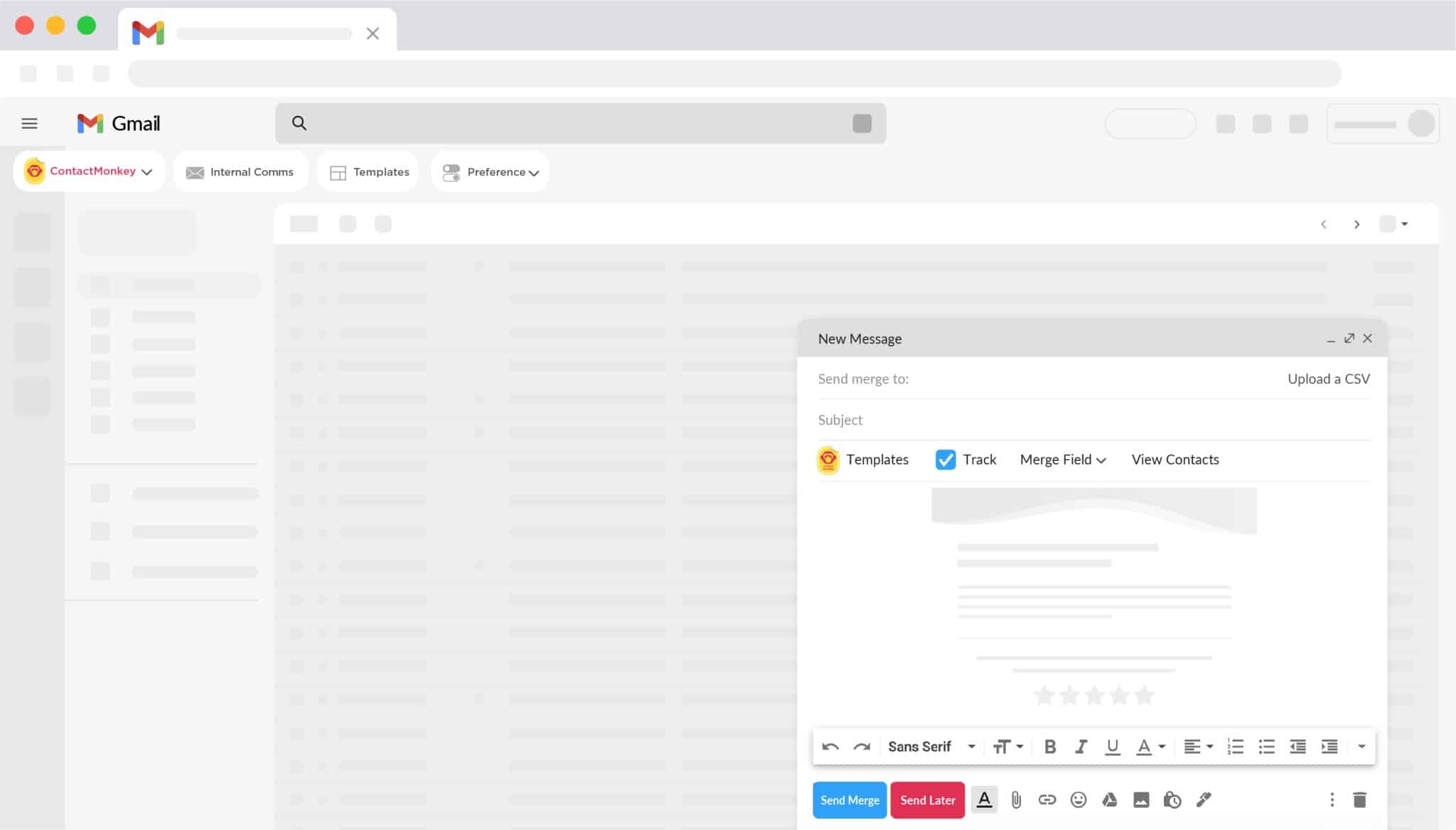 6. Create an initial test send to make sure everything works. Do this by inputting the email address of a team member and clicking "Send Merge."
7. Once you're done testing, it's time to import your contacts. You can choose from a CSV, distribution list, or a range of other sending options. With ContactMonkey's latest upgrade – Email at Scale – Gmail users can now send emails to more than 2000 individuals in a single email send. This enables internal communicators to reach more people in less time!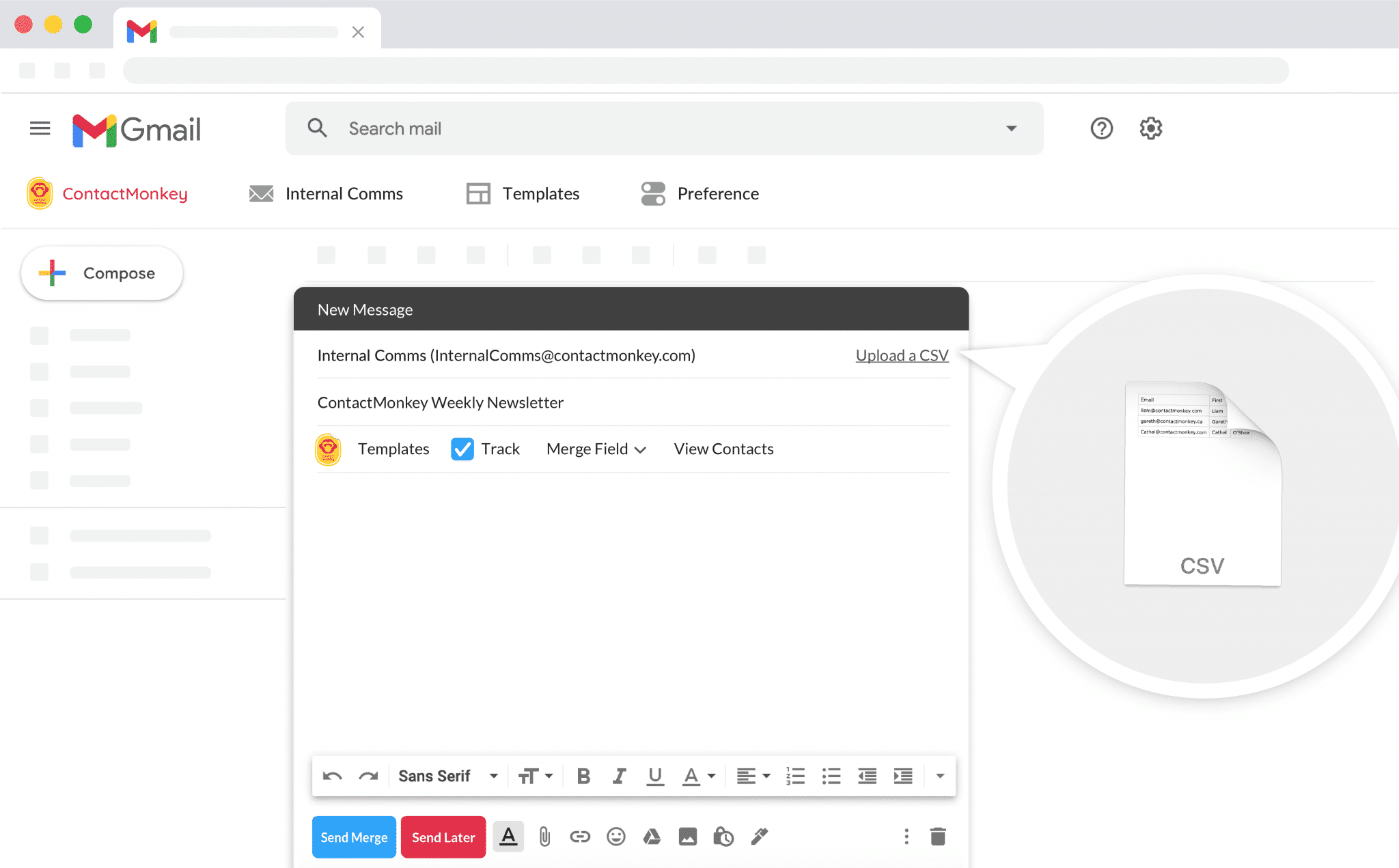 8. Choose your tracking preferences. This will determine whether you receive individual or aggregate email analytics. Check out this page to learn more about individual vs overall tracking.
ContactMonkey's new Google Group support allows you to gather individual tracking metrics on emails sent to your Google Groups. You'll also be able to access precise recipient numbers with each Gmail send.
9. You're all set⁠—select "Send Merge" to send immediately or "Send Later" to schedule your email for a later time.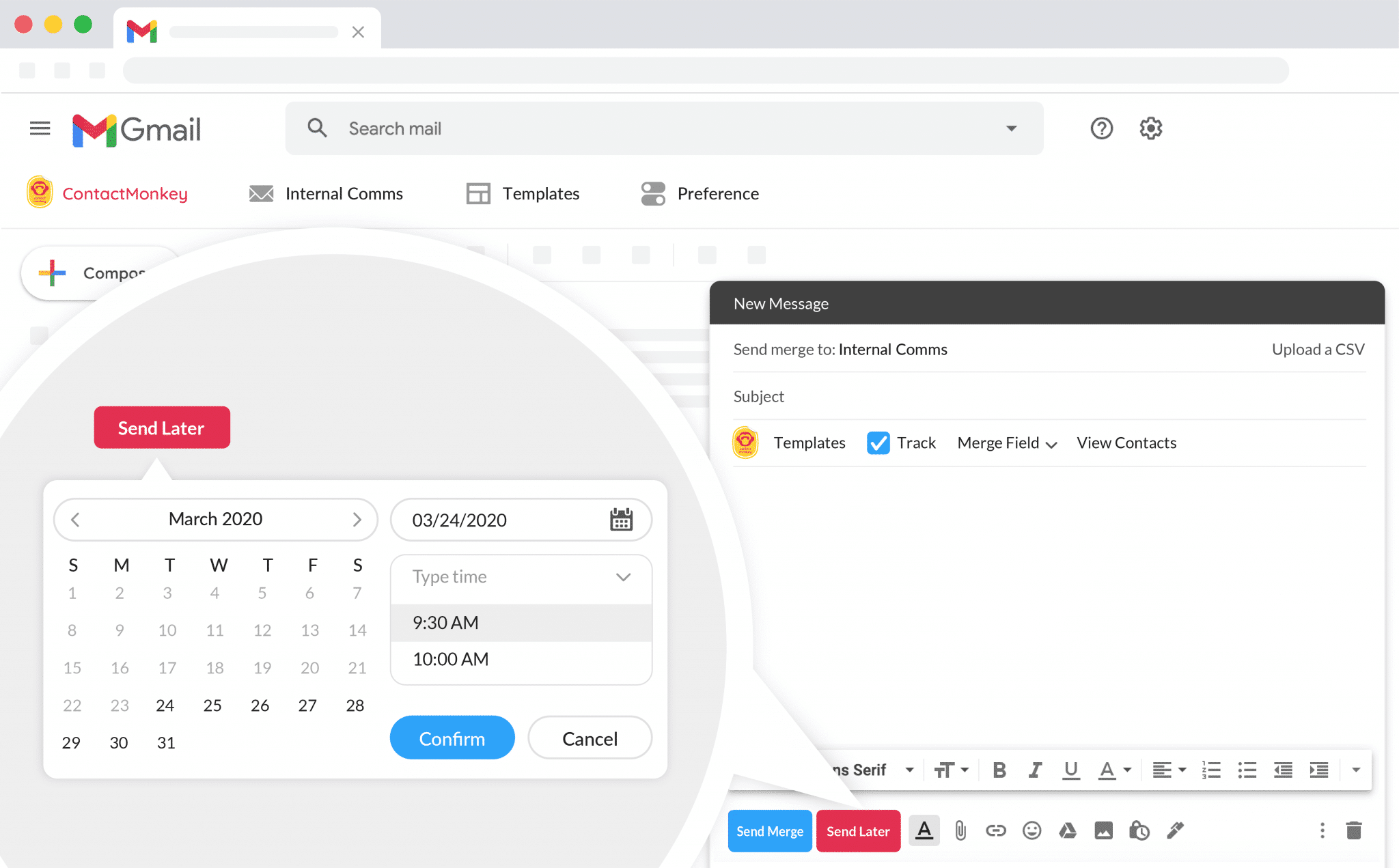 You can learn more about sending with Gmail in our Help Center.
Sending email templates with Outlook
1. Install your ContactMonkey add-in for Outlook. You can learn how to do this with our Outlook Quick Start Guide.
2. Open Outlook and click "New Email."
3. Click the ContactMonkey icon to access the sending sidebar menu. You'll have full access to your saved ContactMonkey templates.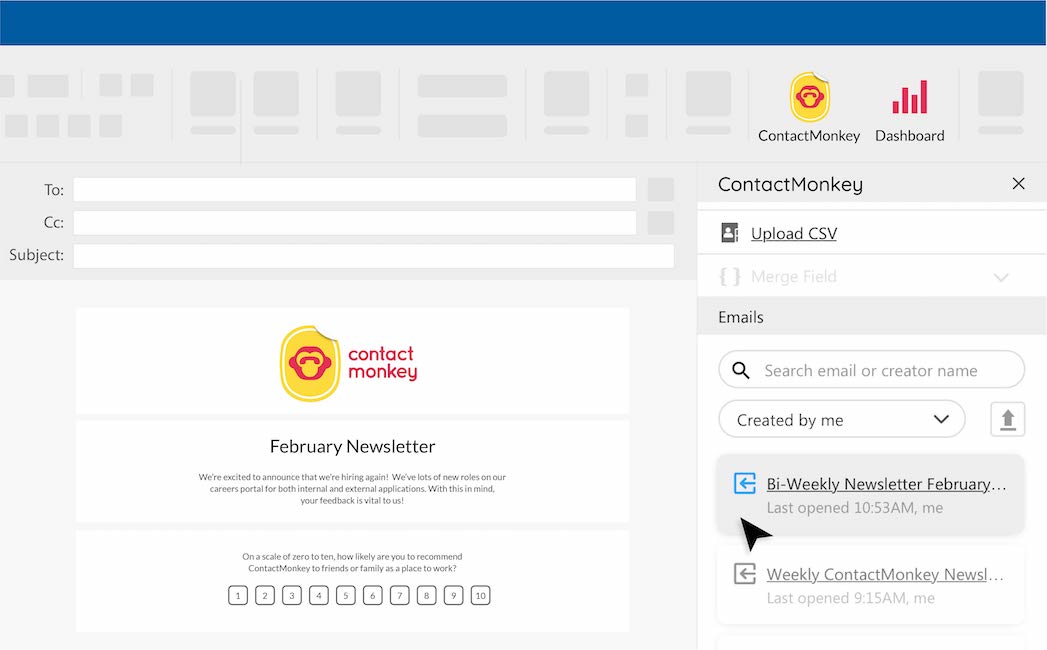 4. In the sidebar menu, select your email template. It will automatically be populated into your new message window. Use the "Search" option to find your template if it doesn't appear right away.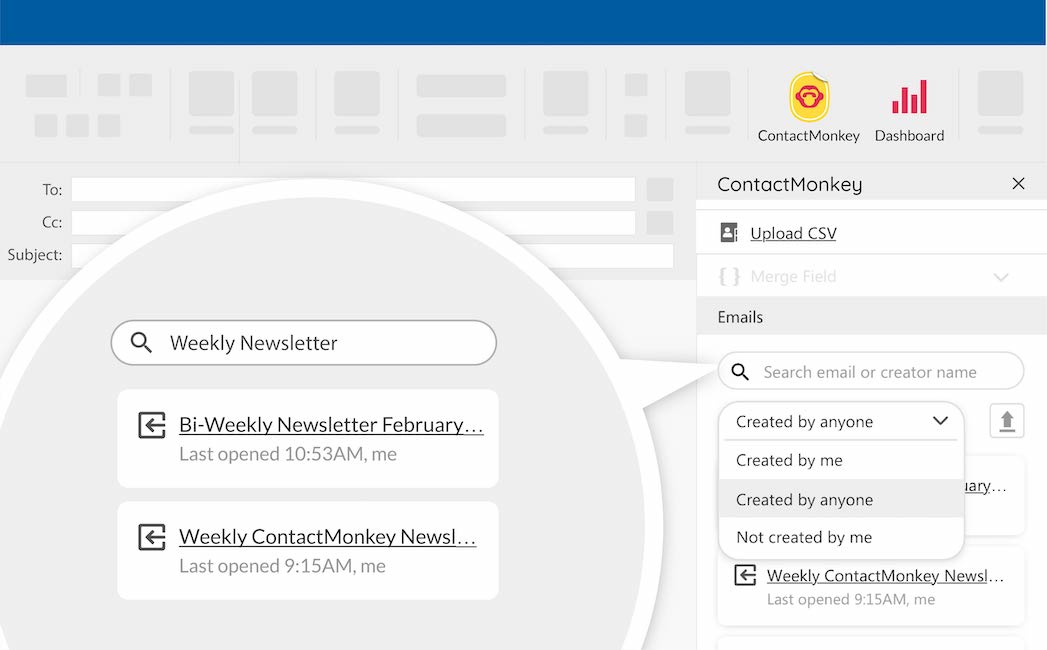 5. Send a test email to one of your close team members.
6. You're set to go: click "Send and Track" so you can get in-depth email analytics for your campaign. Alternatively, you can click "Send Later" to schedule your email for a later time.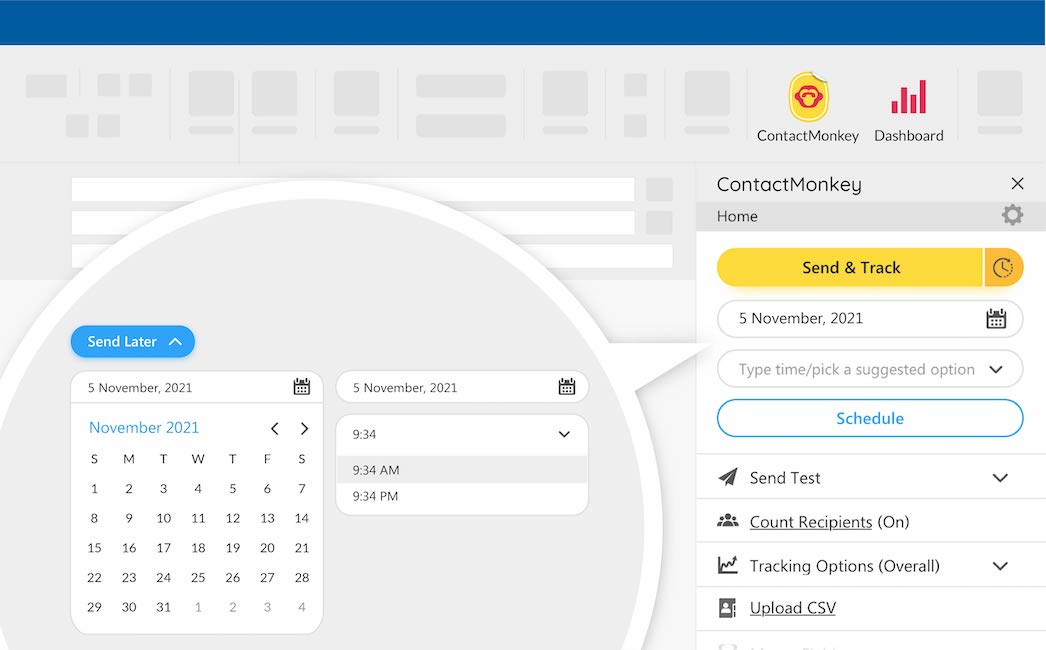 Tracking your emails
Whether you send with Outlook or Gmail, you'll be able to track a wide range of email analytics in your ContactMonkey dashboard. These include:
Open rates

Reading time

Survey responses

Click-through ratesDevice used for viewing your email

Reader location and department (with individual tracking)
Use metrics to understand how your recipients are engaging with your email communications! Try out new templates and compare different campaigns to see if reader engagement levels have improved.
Managing Your Outlook and Gmail Templates in ContactMonkey
ContactMonkey lets you conveniently manage your email templates from a single spot—your template library. Here's how you can edit, manage, and delete Outlook and Gmail email templates with ContactMonkey:
Access your ContactMonkey dashboard and go to the "Email" tab.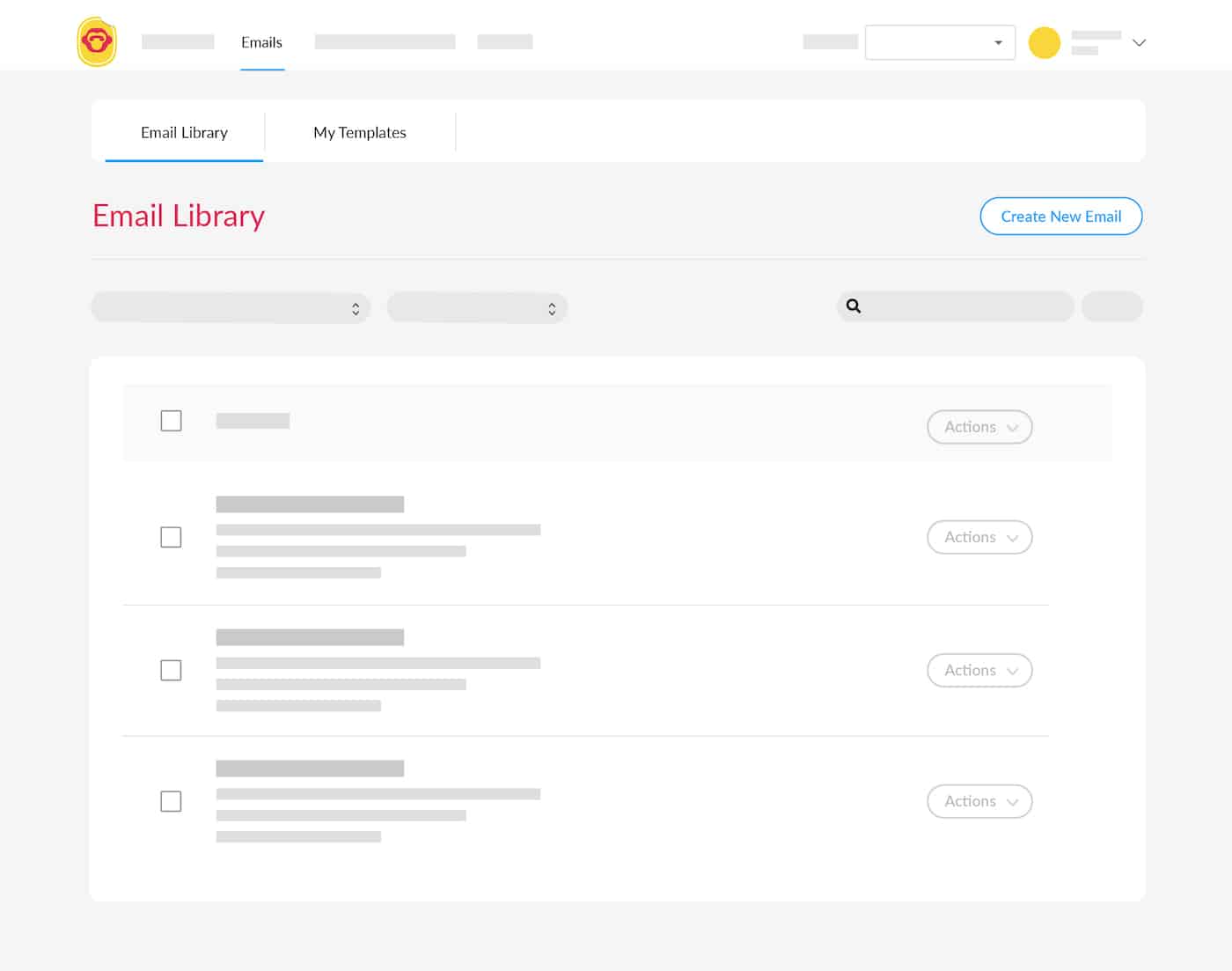 Go to "My Templates."

Use the "Actions" dropdown menu to:

Edit templates

Delete templates

Rename

Replicate

Share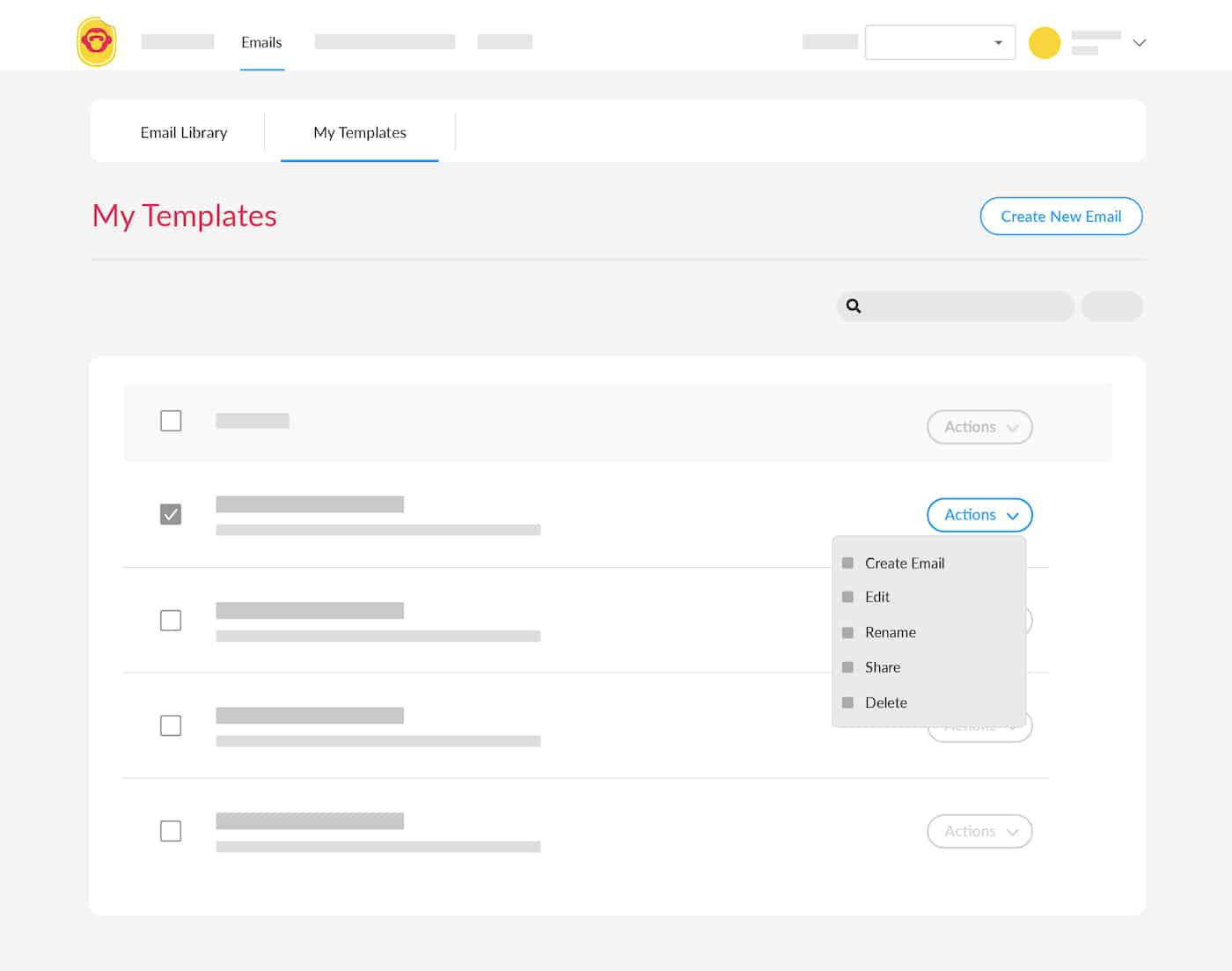 P.S. We've recently implemented a search & filter option on our "Create new email" page. This makes it even easier to find pre-existing templates created by your team members.
Speed Up Your Email Workflow with Email Templates for Outlook and Gmail
With today's modern email template software, it's easier than ever to automate and accelerate your email communications. Whether you're an email marketer or internal communications pro, email templates will help you become more efficient, make fewer mistakes, and streamline your workflow.
Design stunning, reusable email templates with ContactMonkey's intuitive email template builder. Design pro or novice—it doesn't matter. Our drag-and-drop controls will let you create the perfect email every time. Book a free demo to see ContactMonkey in action!