Many businesses know the importance of communication – but how many of us are working on our internal communication strategy?
In other words, how good are we at fostering high-level communication between our employees so that productivity and engagement remains high?
When you start to focus on improving communication among your existing staff, morale goes up, as does productivity. And who doesn't want to have more productive employees?
With that in mind, actually implementing a solid internal communication strategy is not a bad idea. If you're confused about what an internal communication strategy is, Rachel Miller from All Things IC words it perfectly:
"I view IC strategy like a map – it's an outline of your organisation's journey and is the big picture of what you want to achieve."
Don't confuse your IC strategy with your tactics. As Saskia Jones points out on the All Things IC blog, "
"A strategy sets the direction in which you are headed. It sets an approach for achieving your overall objective. A tactic is a course of action – one of possibly several – that you will embark on to bring your strategy to fruition."
If you're struggling to improve communication among your employees, you may want to take a look at your internal communication strategy and figure out what you can do differently.
Here are 8 ways to improve your internal communication strategy or create an entirely new one for future success.
8 Tips to Create an Effective Internal Communication Strategy for Success
1) Examine Your Existing Strategy
Before you start work on a brand new internal comms strategy, it's a good idea to take a look at your current one (if you have one). Chances are that it isn't working out too well (no offence!).
Indeed, stats show that only 24 per cent of global employees are highly engaged.
Spend some time assessing your current strengths and weaknesses. Are line managers able to communicate information to employees effectively? Would that fall within your strength or your weaknesses?
Do ask yourself whether your internal communication strategy is in alignment with your overall business strategy and objectives.
Then, take a look at where you want to go with your internal communications strategy. What are your end goals? How far away are you from your goals and what needs to be done to help you achieve them? What strategies can you implement that will help you achieve certain objectives?
Ask yourself what kinds of resources you're going to need to achieve your goals and how long it will take you to develop stronger internal communications.
2) Identify Your Key Metrics
Like with many aspects of your business, you'll need some key performance indicators or metrics to analyse your internal comms strategy so that you can see how successful it is, and whether or not it's actually working.
Here are some key metrics you might decide to track:
Social Shares
This is key metric that many organisations actually overlook. For whatever reason, many employees shy away from this type of engagement. According to a report, only 23 per cent of employees feel encouraged enough to share company news on social media.
You'll definitely want to see if employees are liking, sharing, commenting and engaging with any company content that is shared on social media.
This metric shows you how engaged your employees are with your brand and your overall goals. In other words, it shows how passionate they are and how much they care.
Intranet Usage
A good metric to check is the number of intranet logins among your staff. While it might make sense to track logged minutes, it's actually more helpful to to track total logins as you can see how useful your intranet really is. For example, checking logged minutes doesn't tell you a lot if the user is staying logged in all day without actually getting much use out of the system.
Instead, when you track logins and logouts, you can see how effective the system is. In other words, how much use people are getting out of the system and in what kind of time frame.
Email Opens
With ContactMonkey Internal Comms tool, you can gauge engagement through Email Opens.
Email Opens let you know whether people are being informed and in the know of important company announcements.
From a high open rate, you can deduce that people received the information you wanted them to and that your subject lines are working. If your open rates are low, you need to come up with catchier subject lines. Always remember to test different subject lines to see which ones resonate more with your audience.
Link Clicks
Whether you're checking the link clicks on a link you shared via social media or through email, this is an important metric to analyze.
A high click-through rate tells you that the content you're sending out is relevant and/or entertaining to your audience and the biggest sign that your employee engagement is at a healthy level.
A low click-through rate can be a sign of two things: either your links aren't relevant to your employees OR what the subject line promised isn't being delivered on in the body of your internal emails.
In addition to the above, if you're using an employee app, you may want to check engagement levels through that as well in order to get a complete picture of employee engagement.
3) Develop an Approval Process
It's not easy to write an effective internal communication strategy, especially if you don't let others help you.
It's a good idea to map out an approval process for any content or any of the tactics that are included in your strategy (reviews, surveys, focus groups, content for social media and so on).
Decide who is in charge of your internal communication strategy before determining the stakeholders in each department who have the ability to assist with the approval process.
Who needs to sign off on the strategy so that it can move forward?
Doing this reduces any margin for error and streamlines your content approval process.
4) Map Out Your Tactics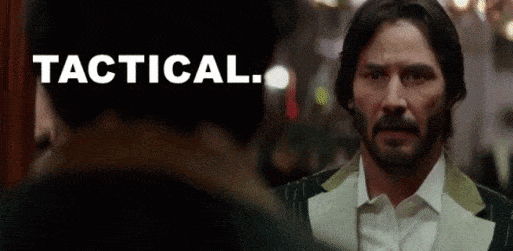 Once you've mapped out what you're trying to achieve and who will help you achieve your goals and objectives, you need to outline which communications tools and channels will help you achieve those goals.
If you have an intranet at your organization, now is the time to start leveraging it. When thinking about various communications channels and tools, you're essentially thinking about the tactical part of your strategy.
Here are some questions to ask to help you map out your tactics.
Do any of my employees have the skills needed to write blogs? How will getting my employees to do this help reach a goal I'm trying to achieve? Are they able to communicate to the whole company the everyday problems we face?
Am I able to create an employee forum on the intranet where people can ask questions and raise issues? Are we running surveys and polls? If we aren't, should we be?
When thinking of your tactics, it's important to consider using a variety of different channels because not everybody engages in the same way. For example, some prefer to use a tool to communicate, while others would prefer having a meeting in person.
5) Make Your Message Consistent
Nobody likes an inconsistent message. It confuses people and causes them to disengage.
Think of your internal comms like your brand – the message must be consistent and your content must link to your brand. Otherwise, your strategy won't be effective.
In order to ensure your message is effective, you need to find a way to communicate your vision and mission.
For example, if your firm is focused on transparency and honesty, you need to make sure that everyone in your team gets that.
But you need to go deeper. Let's say I run a blogger outreach campaign and notify the team we are only looking to be featured on high authority sites with a lot of traffic. This means I need to ensure I'm not posting messages on mediocre sites as many employees could, understandably, get confused.
The fastest way to reach your goals is to have a clearly defined direction on how you plan to reach it and ensure everyone is on the same page.

internal influencers and get them to conduct employee interviews.
If your employees are having difficulties with speaking up, it might be a good idea to launch an anonymous forum. This can ease people's fear about voicing their concerns and it can definitely encourage more participation among your staff.
You can also utilize tools like ContactMonkey to gather real-time employee feedback with pulse surveys and social reactions.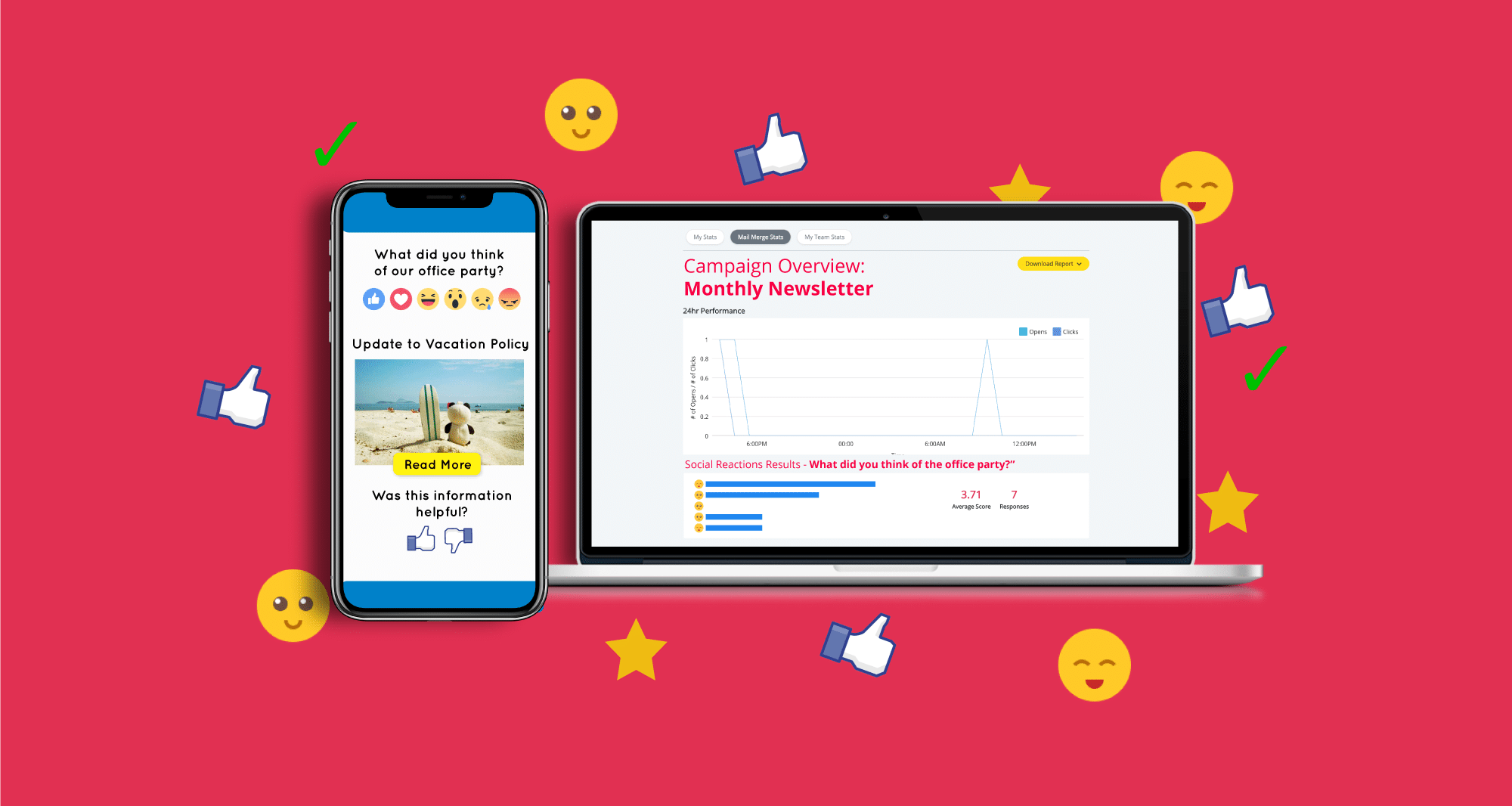 ContactMonkey's social reactions and pulse survey feature can help you transform your employee emails into an interactive two-way channel. Adding social reactions and pulse surveys to your employee emails will enable employees to react to your messages in real-time.
You will be able to analyze feedback in real-time to enhance your employee communications strategy.
7) Make Your Internal Comms Diverse & Inclusive
If you want to have an effective internal communication strategy, you need to ensure that your strategy reaches all your employees. You also need to make sure that each member of staff is able to respond in a way that suits them and in a way they're most comfortable with.
Here are some additional tips to ensure you have strategies in place that allow for diversity and inclusion within your internal communications.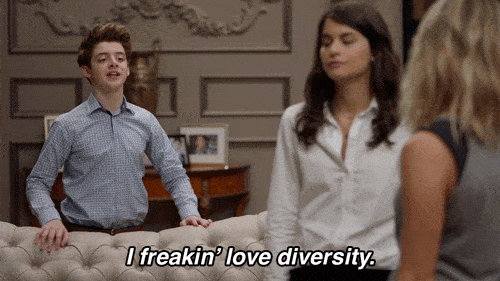 Make sure that everyone has a voice, and if they don't, find a way to give them one.
8) Don't Overwhelm Your Staff
As a final point, it's really important that you don't overwhelm your staff. Information overload is a very real thing. Too many notices, bulletins, meetings and emails can be overwhelming.
The problem is that there is so much information available. This means that you'll need to decide what's most important and what can be ignored.
Consider breaking down your strategy into sections or themes and focus on a handful at one time rather than all of them at once.
All in all, internal communications is key to the success of your business. It's super important that you find a way of keeping your staff in the loop and engaged with what's going on at your company.
Implementing the right strategies can be a challenge, but with the above tips in mind, you can start creating an effective overall internal communication strategy or improve your existing strategy. Once you've implemented your strategy, just keep measuring your results so that you can see what's working and what isn't.
Do you have any additional tips for a stellar internal communication strategy. Share with us in the comments below. We'd love to hear from you!
This blog was a guest post by Senko Đuras, co-founder Diversis Digital and Point Visible, a digital marketing agency.
Want to learn how to track your internal communications using ContactMonkey? We can set up a personalized demo for you and your team. Just click on the button below to book your demo. Do little, achieve greatness!