Who determines the workplace culture at your company? Is it the function of Internal Communications? Or is Human Resources (HR) supposed to dictate organizational culture? The answer is: it depends.
Many companies don't have a dedicated internal communications department. In those cases, HR handles many of the activities that would normally fall within the realm of internal comms—employee newsletters, crisis management, employee training, employee retention strategies, and much more.
With the growing importance of internal communications, many organizations not only have a dedicated Human Resources department but also a specialized Internal Communications team.
This is where the lines get really blurry: who is now in charge of employee experience, employee engagement, workplace culture and communication, as well as change management?
We sort out how internal communications and HR departments can work together to create an engaging and positive workplace culture.
Improve your internal comms with ContactMonkey.
Start a free 14-day trial. No credit card is necessary.
3 Ways to Collaborate with HR to Enable a Positive Workplace Culture
Here are 3 ways internal communications professionals can work with HR to set the right workplace culture, improve employee engagement, and create a stellar employer brand.
When it comes to setting positive workplace culture and communication, collaboration is the name of the game!
Work with HR to Identify Internal Influencers
In order to set the tone for your workplace culture, you need to identify internal influencers within your organization.
While it's tempting to think of internal influencers as those with executive level job titles, in reality, they're just your ordinary employees who exercise a lot of influence over workplace culture.
They're the ones who work colleagues turn to for advice regarding a workplace crisis or even problems with their managers.
If you want to introduce an unpopular company change or a significant policy and ensure your employees remain engaged with any kind of new initiative, you need to leverage the power of these internal influencers. They can, after all, exercise a lot of influence over your workplace culture.
Finding internal influencers
How do you identify who your internal influencers are? You should first look at your employee email metrics like open rate, click-through rate, and read time.
Why? Email engagement is a big indicator of overall employee engagement. Your employees who read and engage with work emails the most are likely to have the best knowledge of your business' current situation and challenges. Using ContactMonkey's analytics dashboard, you can view and sort your email metrics to find your most engagement employees: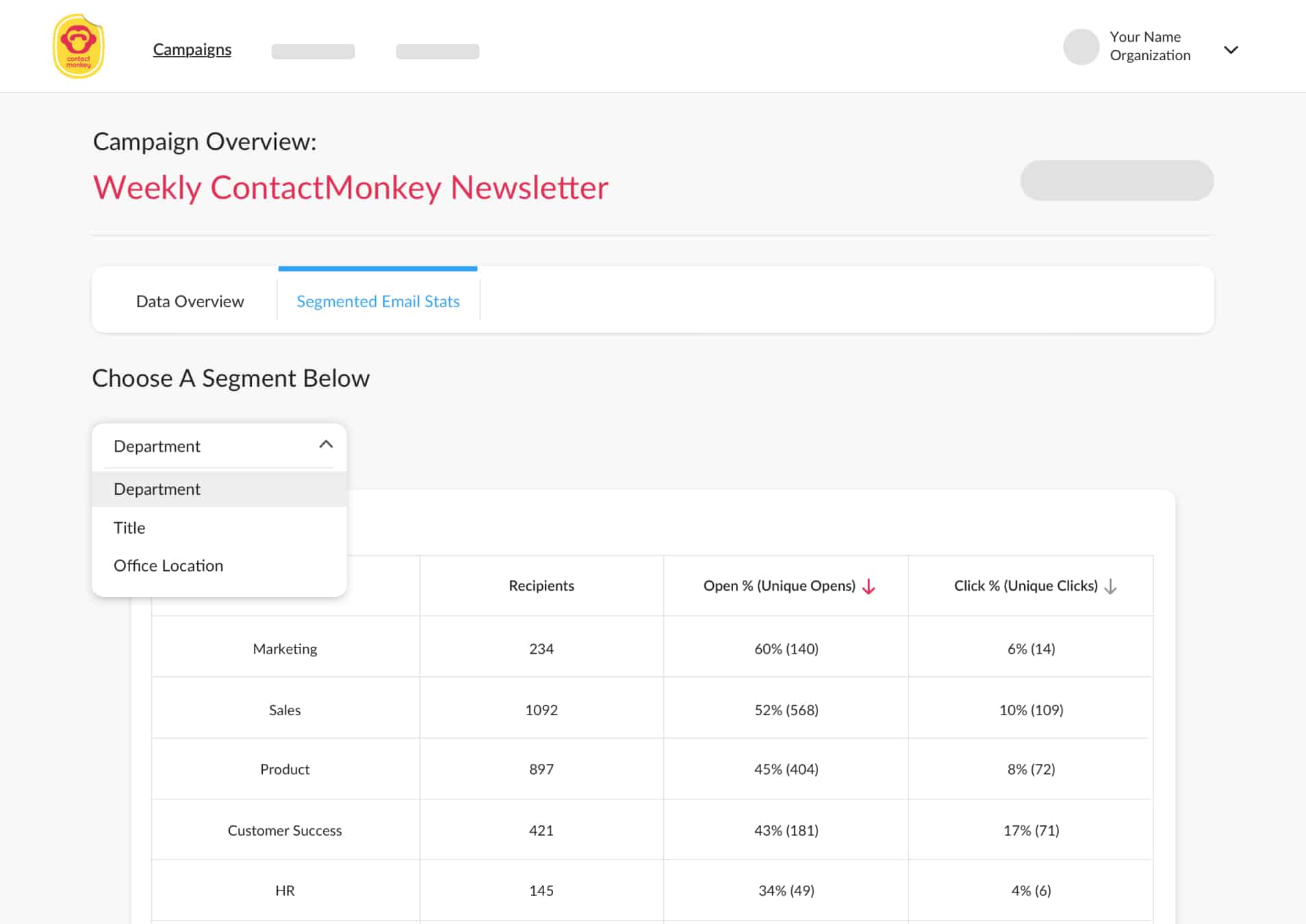 You can further analyze email stats by using ContactMonkey's Reporting feature, which allows you to compare multiple email campaigns to find your best performing email content.
If your organization has internal or external regulations around email privacy, like GDPR, you can use ContactMonkey's anonymous email tracking to gather email metrics while maintaining your employees' privacy.
Combined with HR's knowledge of employees, your email metrics can help you find the best candidates for your internal influencers.
Collaborate with HR to Communicate Change
We've talked a bit about disruption within an organization before. It's not always easy. There's an entire process that needs to be followed in order to ensure that the change or disruption about to take place is communicated in the right way to employees.
Oftentimes, employees will react emotionally to change. If the change is something major, it becomes imperative to communicate this change in the right way to employees.
If an emotional and sensitive issue needs to be handled with care, use the right language, tone, and communications. This is where you come in and teach HR how to use certain words and communications to ensure change, like changing company culture, comes into place as smoothly as possible.
Establish a good rapport with HR from the get-go so that you can work on communicating disruption together! For example, if you're communicating a change in company culture, write and send meaningful company culture survey questions to stay tuned in to what your employees are feeling.
You can ensure your employees receive only relevant information by creating custom email lists without IT using ContactMonkey's List Management feature. These custom lists integrate with your Human Resource Information System (HRIS) like Workday and ADP, as well as Azure Active Directory, so they'll automatically update as employees join and leave your organization.
Utilize HR's Help to Craft Engaging Stories
As internal comms professionals, you know how vital it is to craft compelling stories that will keep your employees engaged.
HR is the one department that probably knows the most about each and every employee within your organization. Work in tandem with HR to come up with compelling narratives that will not only boost employee engagement but also enrich your company culture.
Need an enthusiastic employee to star in a compelling video campaign? Well, go to HR and ask them who's the best person for the job. They're likely to know the answer.
The key to working with HR is to ensure open dialogue and communication with them from the beginning. Take the initiative and create a lunch and learn series with HR every month as a way for IC and HR departments to get together and exchange ideas.
Simple ideas to keep these two departments connected can make a world of difference for them and your employees.
You can also use ContactMonkey's OpenAI ChatGPT integration to generate new ideas for your internal communications. Simply provide a prompt, generate text, and edit the output according to your audience.
Collaboration is the Key
Be honest with HR about which ideas will work and which won't. It's only by operating from a place of mutual respect, open dialogue, and honest communication that you'll be able to take your workplace culture to new heights and establish a strong employer brand. From employee newsletters to leadership communications, make sure you prioritize company culture every chance you get.
Learn how to use an internal communications software to boost employee engagement and create a positive workplace culture. Book a free demo to see how ContactMonkey can make that happen.