Email Tracking
See who's opening your email. Right from your inbox.

Start faster
Outlook email tracking and Gmail email tracking are built into your Outlook or Gmail inbox so you can start tracking emails with the email client you already use.

Sell smarter
Find out who's opening your emails and clicking on your links. See what happens after you hit send. You're 27% more likely to close a deal if you call a prospect within 5 minutes of an email open. Email tracking software makes selling easy.

Team Up
More that 1,200 sales teams use ContactMonkey to track their emails every day. Email open tracking boosts your whole sales team's email open rates and performance.
Track Email Opens and Know What Happens After You Hit Send. See Who Opens Your Messages And Clicks Your Links.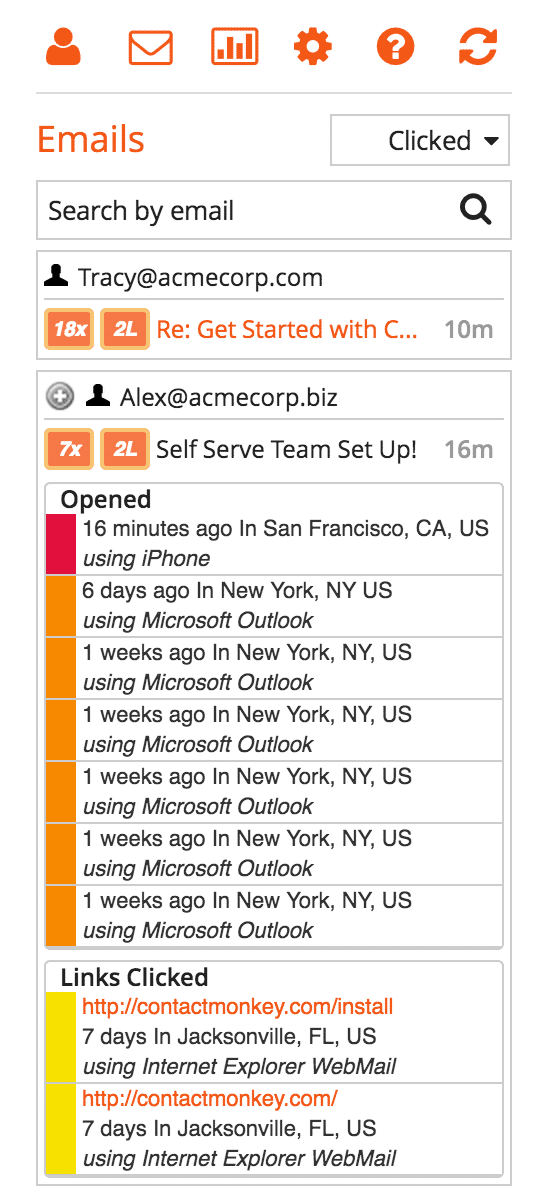 Real-Time Email Tracking Software
Know exactly when your emails have been opened, clicked, from where and on which device. Perfect for sales teams looking to identify hot leads and internal communicators who want to boost employee engagement from Outlook
See What Happens After You Hit Send
See who's opening your messages – and who's trashing them. Get a desktop notification for every read email and every clicked link.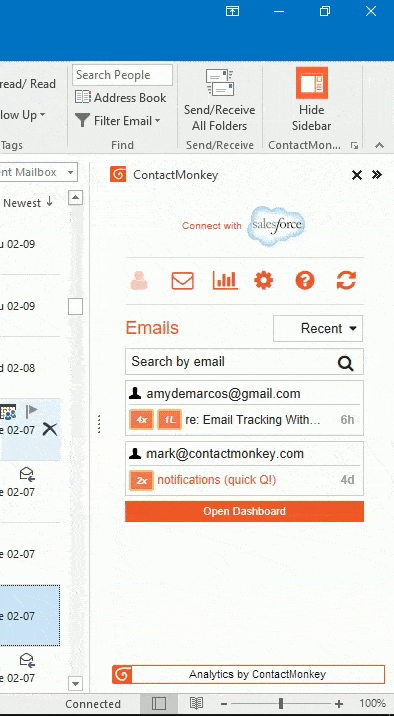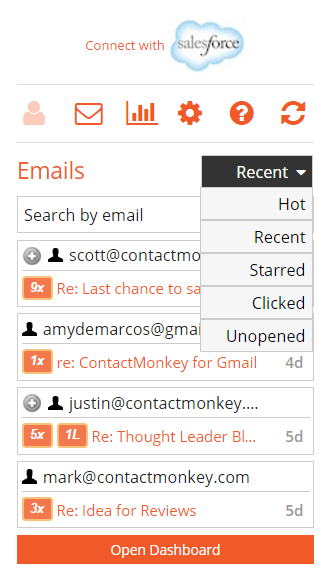 Focus on Who's Interested
You'd be surprised how many times people open your emails. See who's opened your messages the most to prioritize your hottest leads and close more sales deals.
Personalize Every Message
Send personalized messages to 2, 20 or 2000 prospects, customers and employees with Outlook Mail Merge or Gmail Mail Merge. Track the results to send smarter and sell better.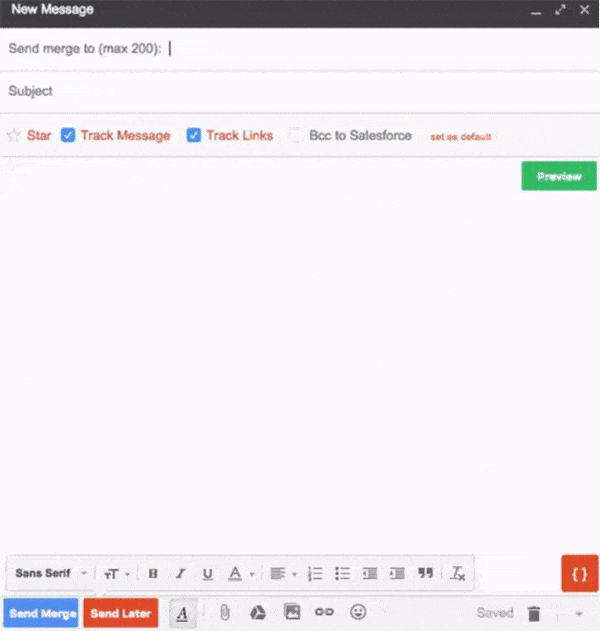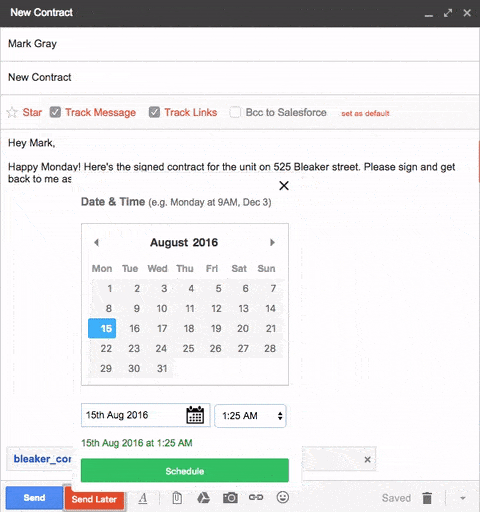 Send at the Best Possible Time
Use Gmail Delay Send to schedule emails for later, all from within the comfort of your inbox. When you're timing every message, getting emails read is a breeze.
Email Template Builder
Create responsive HTML email templates with our easy to use drag and drop email template builder. Upload your own and start editing or choose from our library of pre-designed email templates.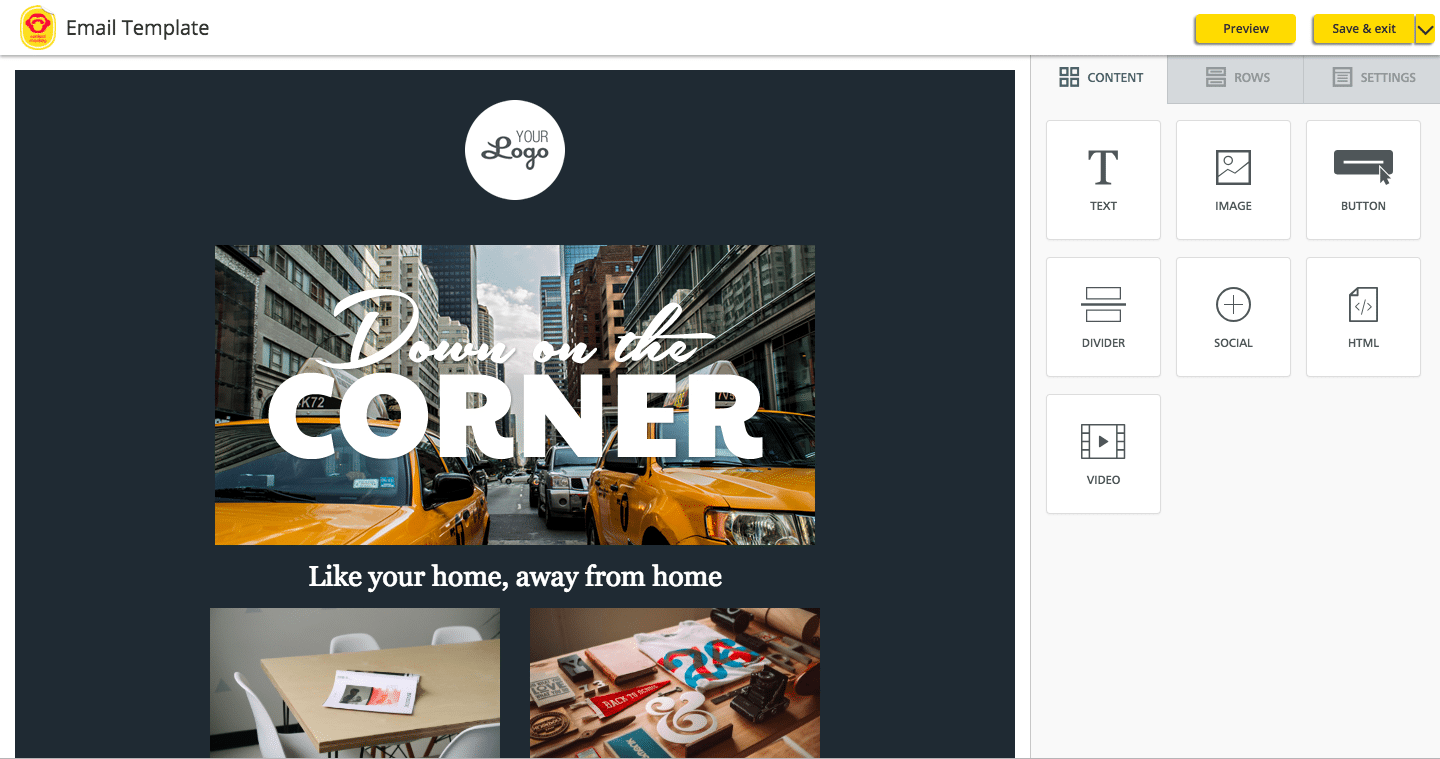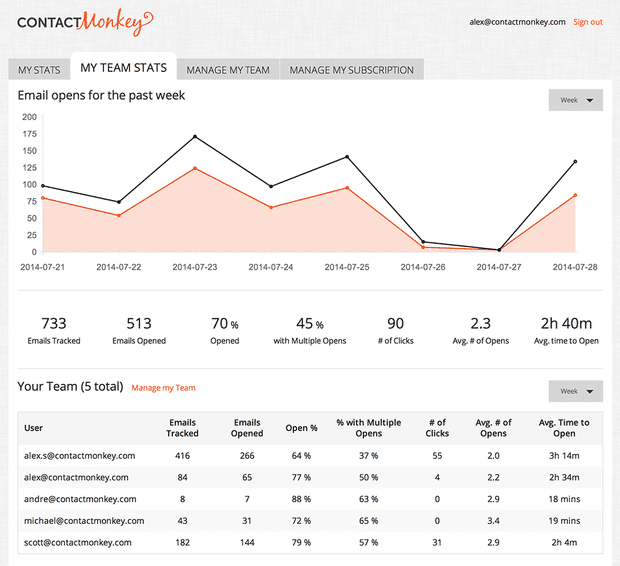 Analytics Dashboard
Use the simple stats dashboard to see your top email subject lines, links, cities and more. Open the graph analytics to get an overview of what's working – and what isn't – at a glance. Share results with your Sales or Internal Comms team and increase team collaboration and productivity.
Bring Salesforce to Your Inbox
ContactMonkey's Salesforce Email Integration is built to save you time and make you more money. It's the most advanced and the simplest Salesforce email integration on the market.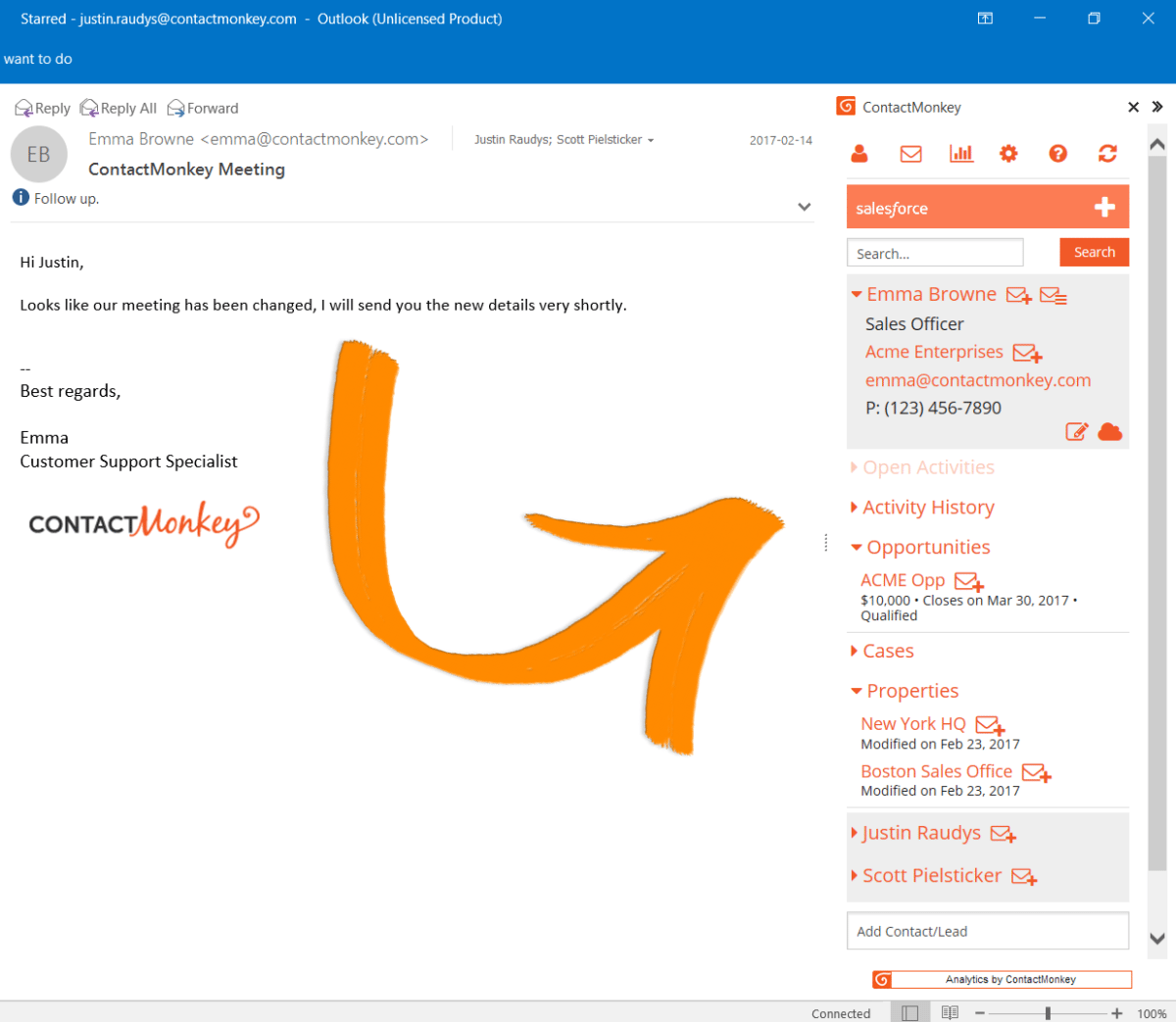 Internal Comms
The only tool that enables you to track individual metrics for your internal emails from Outlook.
"
Very happy with the Product and Platform. This is a great solution and very excited to be able to use this. The support is great and fast to resolve."
– Michael Vorsanger, Review from the Salesforce AppExchange
How Email Tracking Software Works
Secret, safe and secure: our server keeps your information completely anonymous. Here's how it works.
PRODUCT PACKAGES

Internal Comms
Personalized & measurable internal communications using your distribution lists straight from your Outlook.

Professional
Hit sales targets & stay organized! Track emails, optimize follow-ups & identify hot leads in real-time. Perfect for individuals

Team
Email analytics, real-time notifications, Salesforce integration, all in one place for your sales team.

Salesforce
Bring Salesforce right to your inbox with our Outlook or Gmail integration. Auto-sync features to make your life easier.
Bring Email Tracking to your inbox in seconds.