Ever wondered how to send an HTML email in Gmail but didn't know how?
Of course there are workarounds to this seemingly impossible task, but they're usually pretty complicated or require you to be a hacker and be able to code in order to get your responsive emails to look right.

Well, now you can say goodbye to all of that.
Below we'll show you step by step how to create an HTML email in Gmail without leaving your inbox.
Sending HTML Email in Gmail with ContactMonkey
ContactMonkey's popular internal communications email tracking tool for Gmail just got more powerful. In the latest version of our employee engagement tool you'll have the ability to send HTML emails from Gmail with our email template builder, gather employee feedback and measure trends. a
With the addition of a responsive email template builder and employee feedback feature, now internal communicators can create responsive HTML newsletters and send from Gmail.
Unlike sending newsletters using email marketing tools like Mailchimp or Hubspot, sending straight from your inbox guarantees deliverability and avoids putting your emails in the dreaded "Promotions" tab of Gmail.
The Only Tool That Supports HTML Templates in Gmail
What this means is that communicators all around the world can FINALLY send beautiful responsive HTML emails from Gmail with the certainty that they'll render exactly as envisioned. Here's how:
Step By Step Guide to Sending Responsive HTML Newsletters from Gmail
1) Get Started Within Your Gmail to Create HTML Emails
Say goodbye to the counterintuitive act of leaving Gmail to send your beautiful newsletters. All emails and responsive newsletters will be coming from your own inbox.
Once you've been setup with your ContactMonkey extension, simply hit  "Mail Merge" and get started.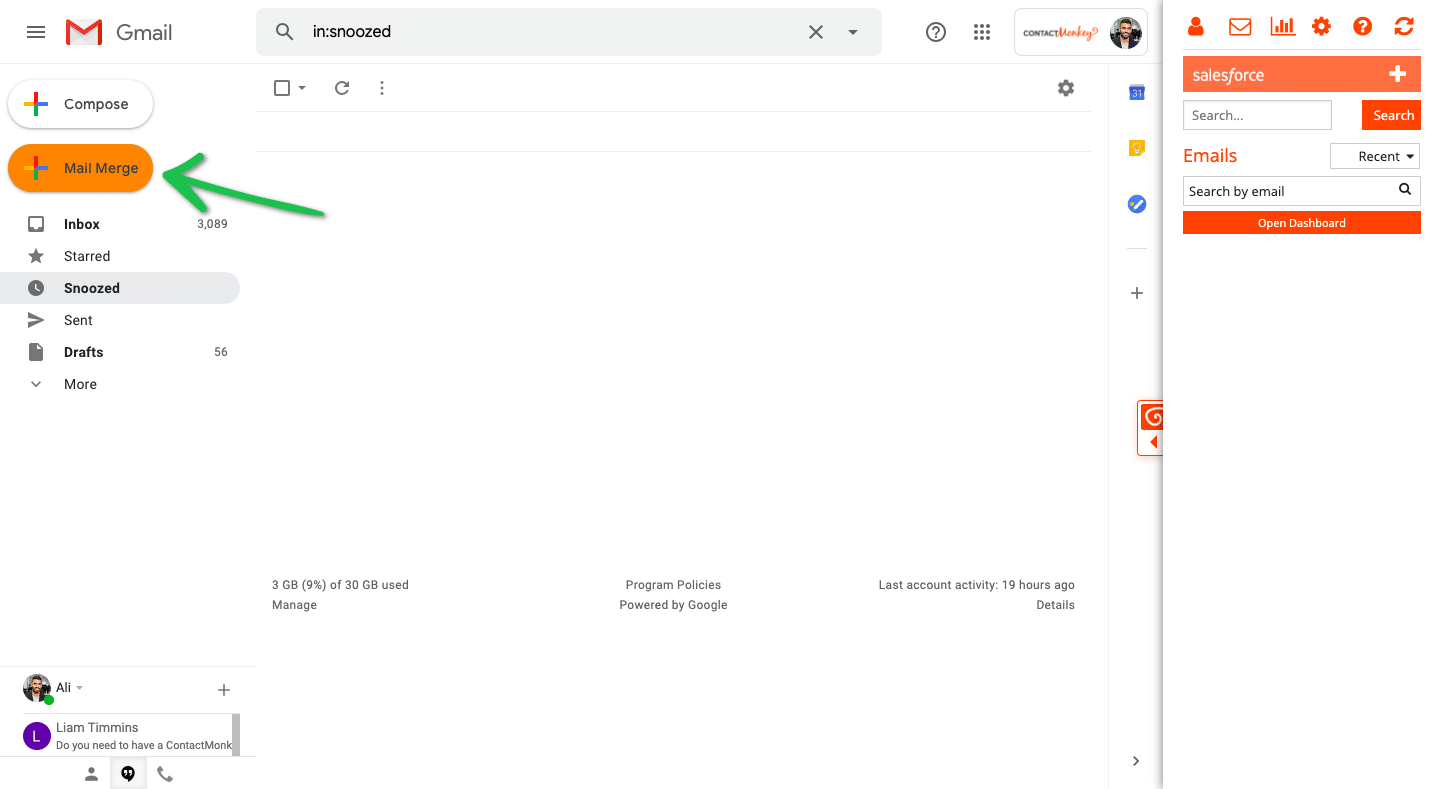 2) Drag-and-drop Email Template Builder for Gmail
You can now create responsive HTML emails, without the help of a designer or a developer and send from Gmail.
By clicking "Mail Merge" > "Templates" and then "Design HTML" you'll launch your email template builder.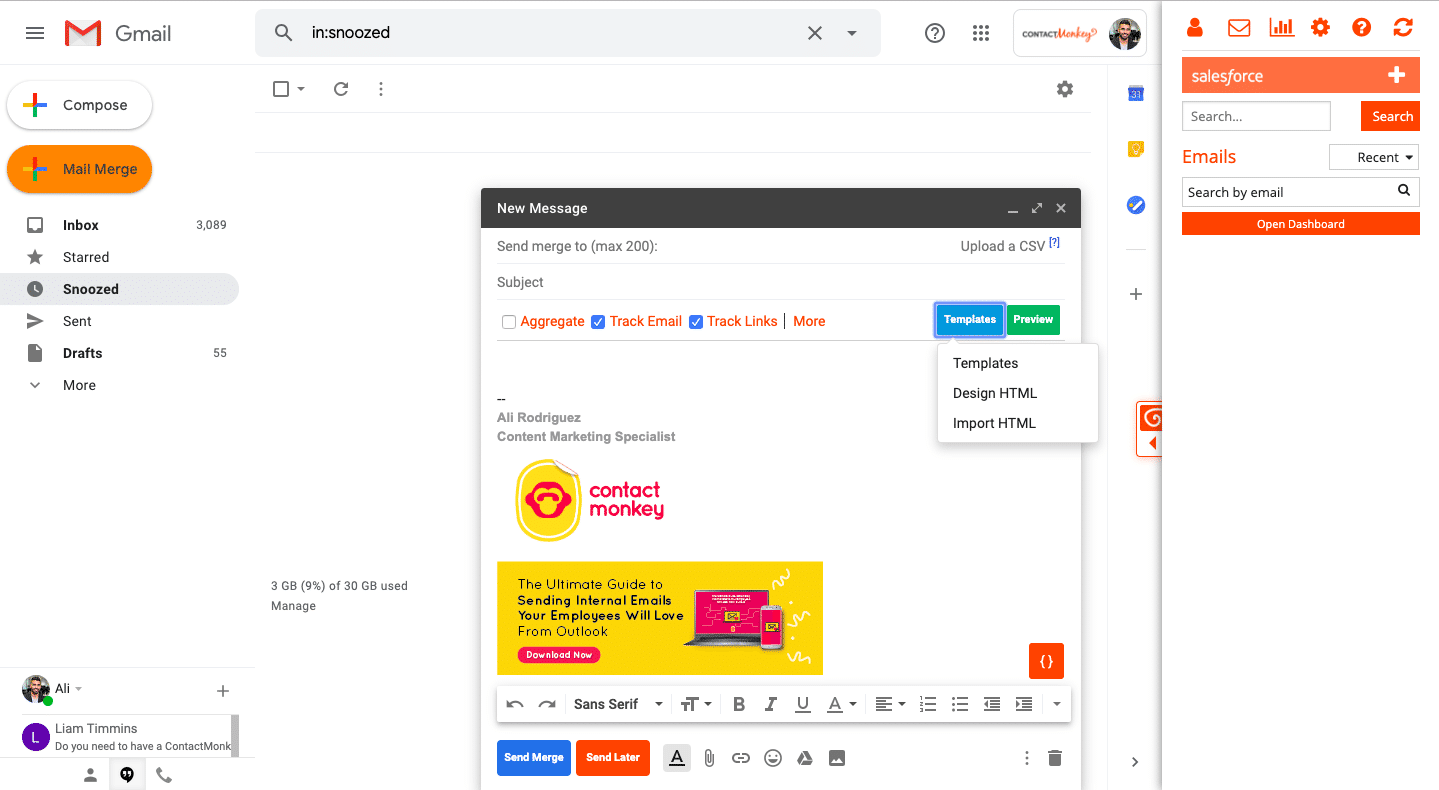 Using drag-and-drop tools you can edit dozens of pre-built responsive email templates or build your own from scratch. Simply drag-and-drop the content you want your audience to see and hit save.
With team templates you'll also be able to share and access your team's best performing templates and grow your responsive email template library.
Once you're done designing, insert HTML into your email without Gmail messing with your formatting upon sending.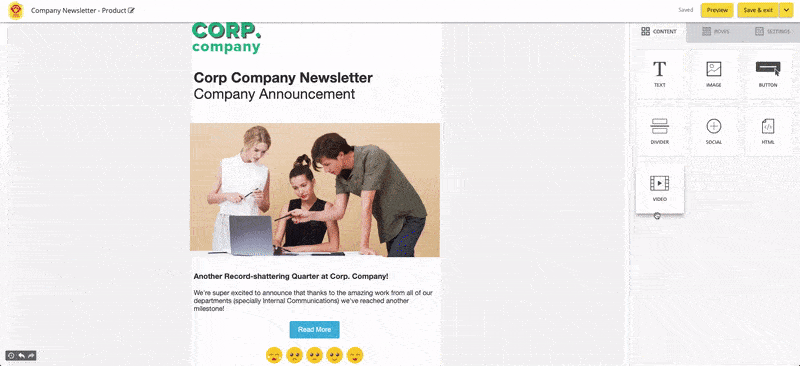 3) Gather Employee Feedback Directly from your HTML Newsletter in Gmail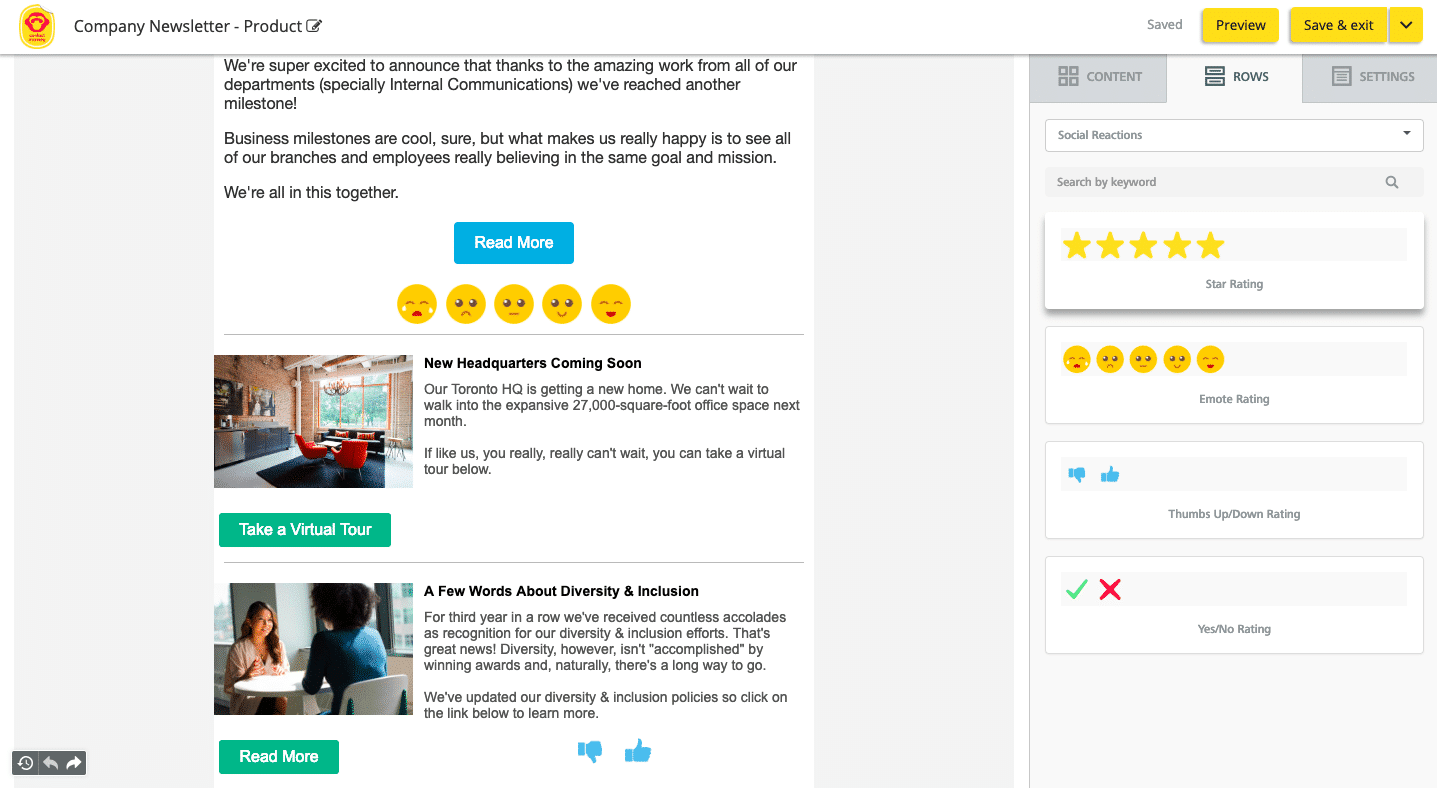 Integrate employee engagement surveys into your employee newsletters with our email template builder. Here are different ways to gather feedback from your audience:
Social Reactions & Pulse Surveys: Gather actionable data directly from your employees by giving them the ability to love, like and laugh at any content you send them via email. You'll see responses live on your dashboard. 
Like Buttons: Your employees are already liking content on all the social media platforms they use on their own time. By adding like buttons to your own internal emails, you'll be able to engage your employees with your content and actually learn what they like. 
Say goodbye to external survey tools!
4) Preview Your HTML Emails, Both Desktop and Mobile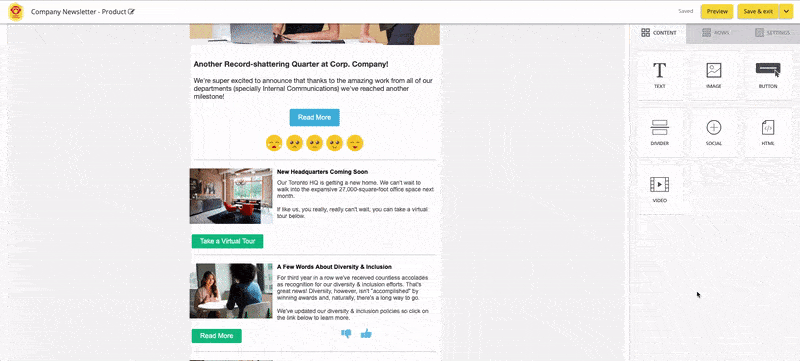 Once you've created your Gmail newsletter, you can hit on preview to see how they're going to look, both on desktop and mobile.
5) Send Directly to Your Google Groups and Mailing Lists in Gmail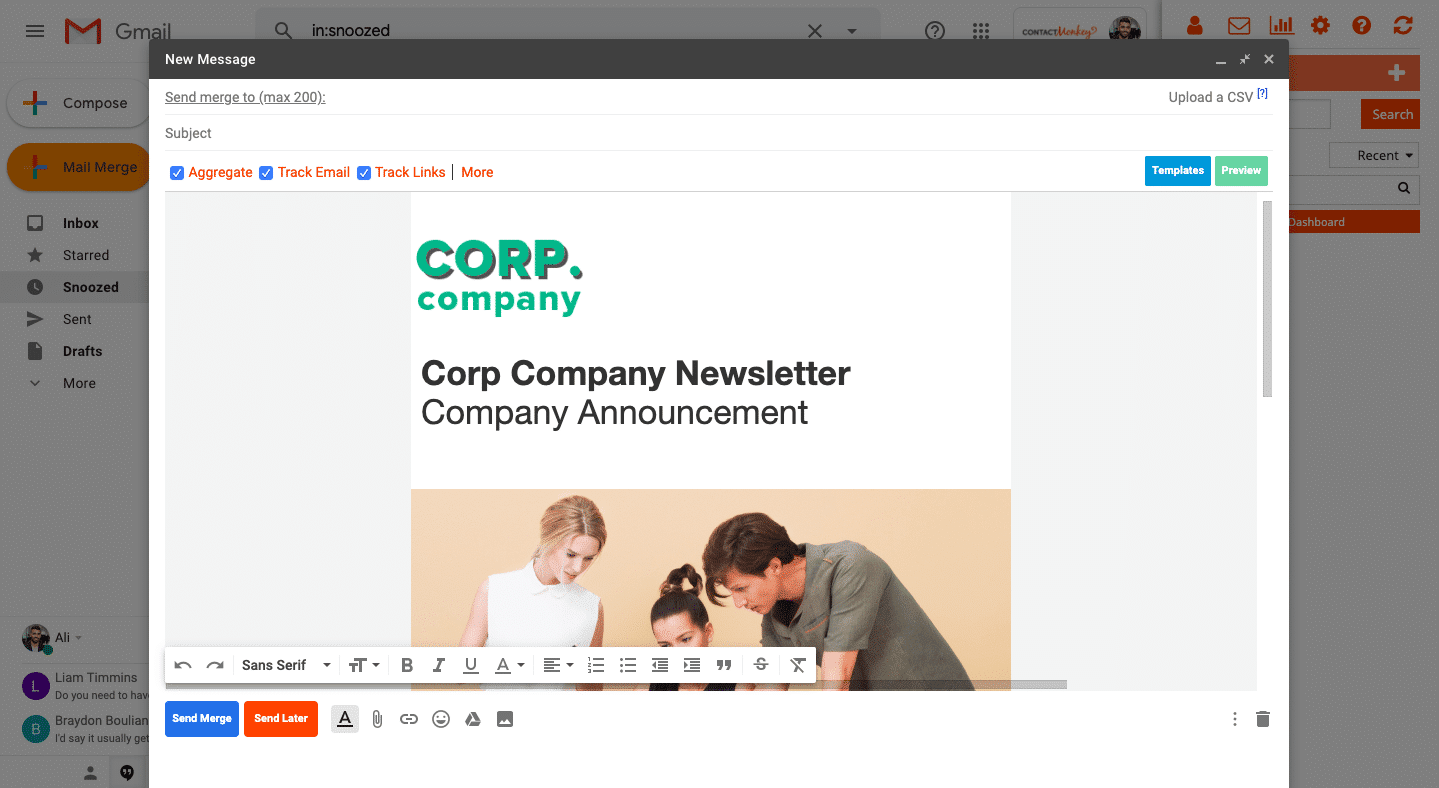 Send your beautiful emails directly from your inbox and from your own email or shared mailbox group to your Google groups and mailing lists in Gmail.
6) Measure Email Engagement with Powerful Dashboard Analytics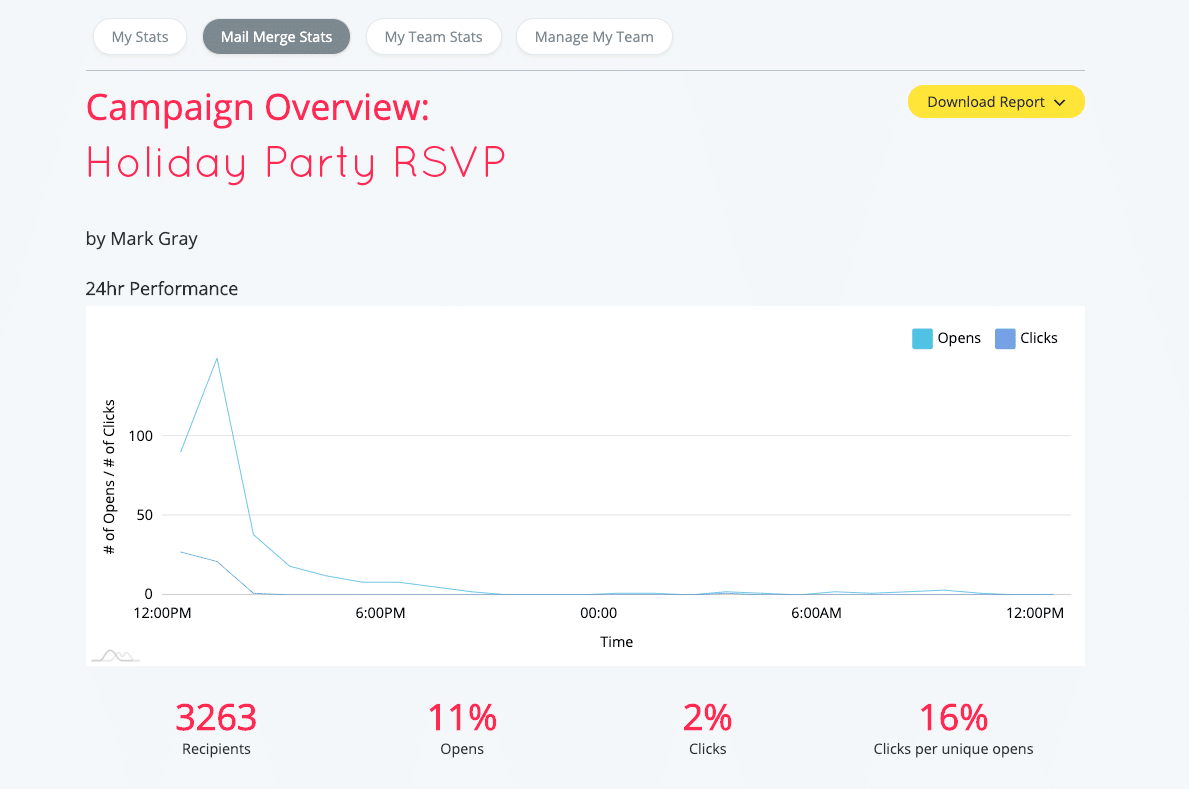 Using your powerful dashboard you'll be able to see how your campaign performs in real-time.
Being able to see opens, clicks, location and device used will also provide you with the data you need to improve your communications over time.
Get real-time notifications on email opens and link clicks sent to your internal communications database all within your own Gmail inbox.
You can also download and share your reports, so the rest of your company can see the results, success of your campaigns and your overall impact on the company.
What does the ContactMonkey for Internal Comms Chrome Extension for Gmail include?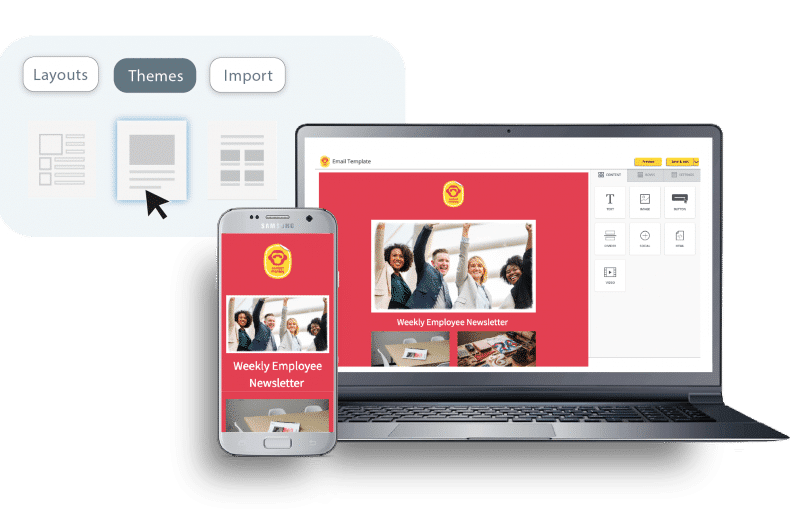 To recap, here are all the tools you'll have access to with this new update:
Email Template Builder for HTML emails in Gmail
Social Reactions & Pulse Surveys
Google Groups and Mailing Lists Support
Send from yourself, your CEO, or a shared mailbox group
Track Every Email Open and Link Click
Powerful Dashboard Analytics & Team Dashboard
See the New Gmail Experience in Action
We love showing people what their life could be like using our tool. Sign up for a personalized demo and we'll walk you through the tool in under 5 minutes, it's that easy to use!