We recently held a webinar with Venngage, covering 8 hacks to improve internal communications through the power of visual storytelling. Here's a recap of the entire webinar. 
Have you ever wondered if you could improve employee engagement at your company through the power of great visual design?
Ever wish you could create aesthetically pleasing reports, presentations and employee newsletters without having to rely on a designer?
Luckily for you, we've got your back.  
We recently partnered with a leading infographics company, Venngage, and put together a webinar titled, "Simplify Your Internal Communications Using Visual Storytelling."
[/fusion_text]
We presented our hacks to a highly engaged audience, equipping them with 8 effective strategies to help them master visual storytelling and improve internal communications.
If you missed our webinar, don't sweat it!
We've compiled a list of all the epic hacks for you here. So keep calm and just read on.
8 Tips to Improve Your Internal Communications Through Visual Storytelling
Tip #1: Learn these Visual Storytelling Rules to Improve Internal Communications
Why use visuals at all? Studies have shown that audience attention will increase by up to 65% if you use visuals to demonstrate your point.
One way to improve internal communications is to feature employees' photos in your company stories to optimize the employee experience.
Tips for Mastering Visual Storytelling to Improve Internal Communications:
(Even a boring announcement about a new coffee machine can be made interesting through the use of gifs or cinemagraphs)
Take your audience on a journey through your visuals. Highlight the

who, what and why

clearly through visuals in your communications.

Humanize your story by featuring actual employees in all your communications.

Evoke emotions by introducing fictional characters within your internal communications.
It's really not as hard as it seems!
Read all about how Asendia used LEGO imagery as a visual storytelling device to improve internal communications.
Tip #2: Digging for Content Gold for Effective Visual Storytelling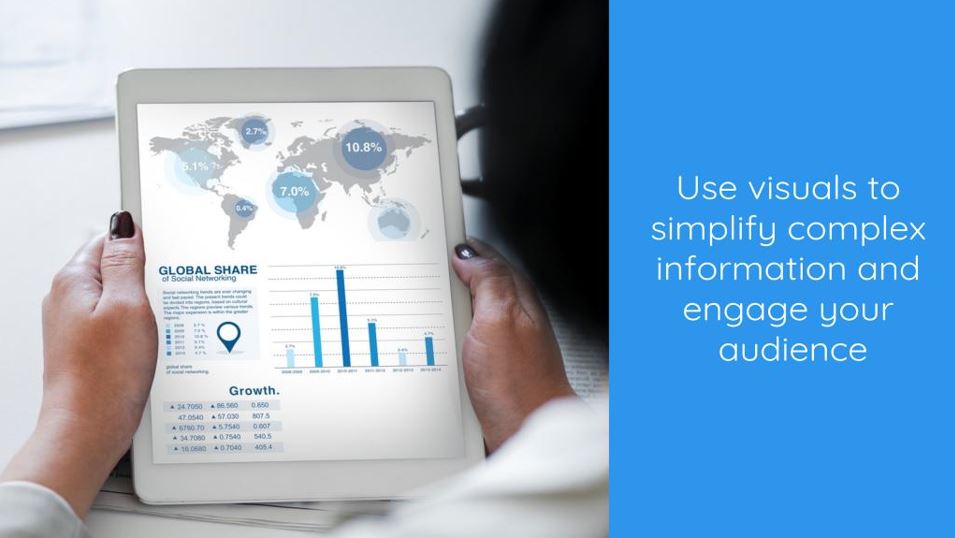 Venngage presenter, Sara McGuire, kicked off this tip by highlighting research by TechSmith, which revealed that people absorb information 7% faster when they're given text with accompanying images, versus just text.
The same study also found that 67% of people are better at completing tasks when information includes text with images or video than just text.
So if you're worried that people won't understand your message, or you're concerned that they will miss important points…try creating a visual aid to reinforce your information.
Tips for Improving Internal Communications By Digging for Content Gold:
Look for content gold. Content gold is typically information such as facts, quotes, stats, tips, hacks or step-by-step instructions.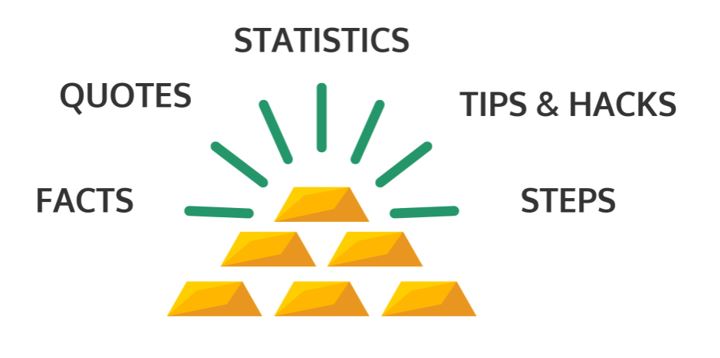 (This is the information that will be most compelling for readers, and also the most memorable – especially when you visualize it).
You can then take that "content gold" information and visualize it using charts, or by creating a simple infographic
A visual like a chart will not only be more interesting to look at, it can also help you tell the story behind the data.
Tip #3: Visualize Information Using Infographics
Ever considered using infographics as a visual storytelling device to improve internal communications?
Simply put, an infographic is a collection of imagery, charts, and minimal text that gives an easy-to-understand overview of a topic.
Odds are you've seen plenty of infographics, even if you didn't know that's what they were called.
Infographics are super popular on blogs, on company resource pages, and on social media.
Venngage conducted a survey where they asked 300 content marketers which type of content got the most engagement
And an overwhelming 40% said they found original graphics like infographics to drive the most engagement.
Tips for Creating Stellar Infographics to Improve Internal Communications:
If you don't have design experience,

use a template to create the perfect infographic

.

Once you pick a template, plug in your text and numbers, and then customize your design.

Turning a blog post into an infographic is also a good idea – just pull the main section headers, and then a few supporting points from each section and make those the sections of your infographic.

Use timeline infographics to show your employee onboarding process.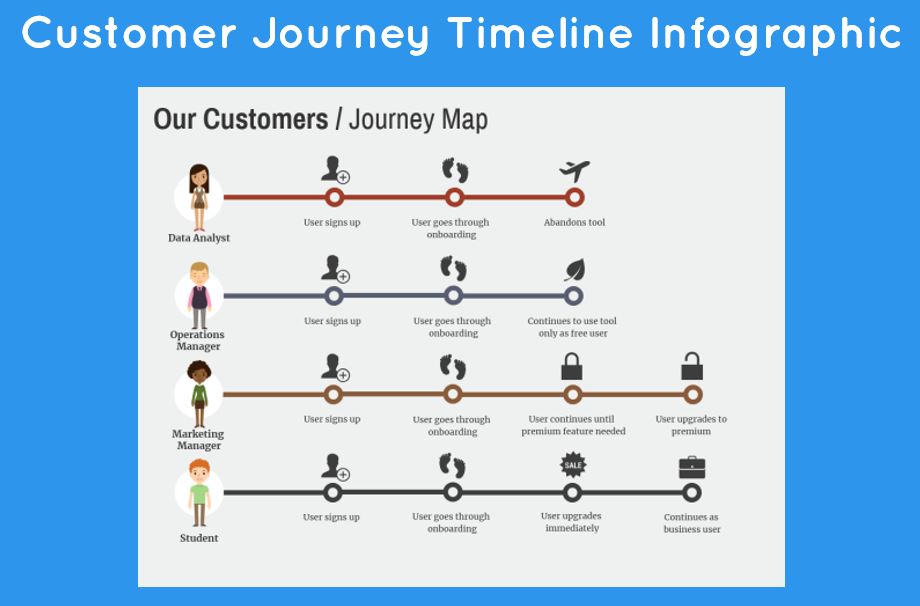 (With a timeline infographic, you can show the similarities and differences between different customer journeys).
Tip #4: Use Your Employee Newsletters to Improve Internal Communications
Your employee newsletters are an incredibly important visual storytelling device as they offer a direct line of communication to your employees.
Employee newsletters can also feature various forms of multimedia and enable you to monitor email performance and track how your audience responds.
Tips for Creating Awesome Employee Newsletters:
Always be sure to personalize the subject line and body of your newsletters, addressing each employee with their first name.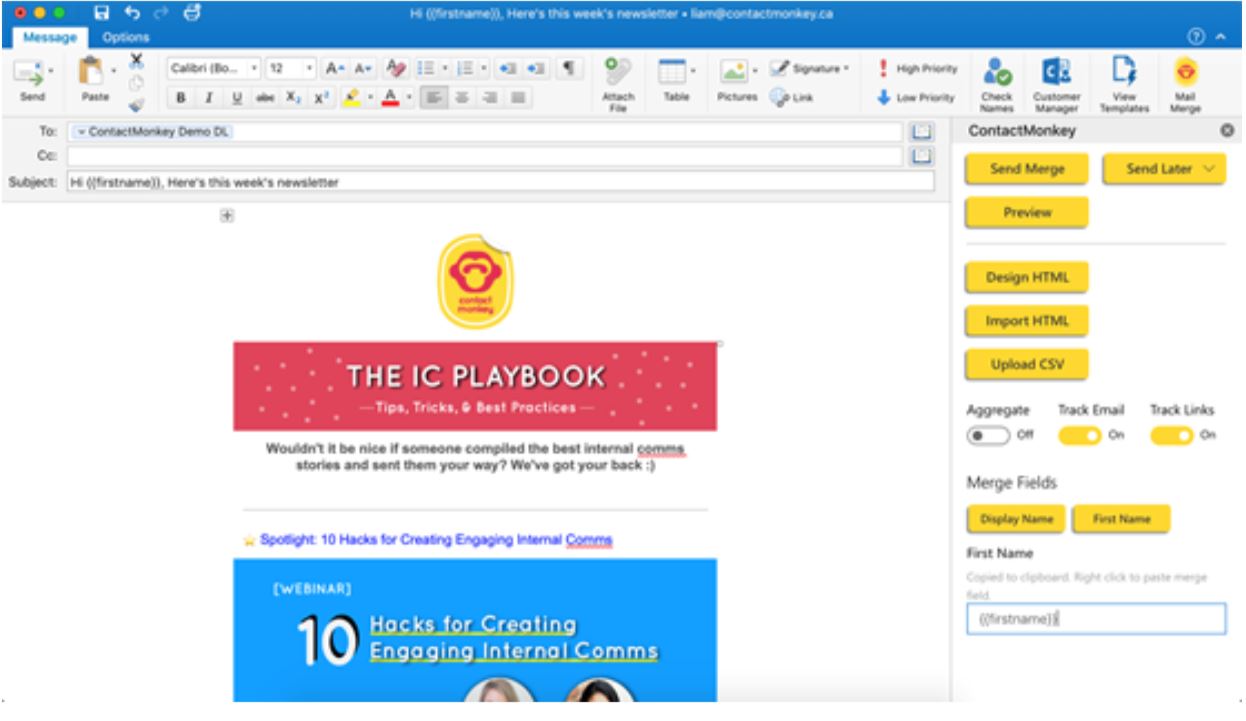 Test your employee newsletters using a tool such as ContactMonkey to avoid Outlook rendering issues.

Make your newsletter content snackable.

Use visuals at each stage.

Create segmented content for each of your employee distribution lists to appeal to different types of employees.
(This Airbnb newsletter is a great example of a personalized, segmented approach to your employee newsletters).
Tip #5: Use Video to Improve Internal Communications

Having a solid IC strategy with video as front & center goes a long way in improving internal communications and helping you master the art of visual storytelling.
According to HubSpot, 81 percent of businesses use video & 99 percent will continue to do so.
Tips on Using Video for for Effective Visual Storytelling:
Make your employees the stars of your

internal communication videos

. Look for 

internal influencers

and get them involved.

Instead of creating boring onboarding manuals on company policies, create a video outlining your main regulations.

Use video to explain a new product's main features internally.

Create videos that strive to highlight your company's culture.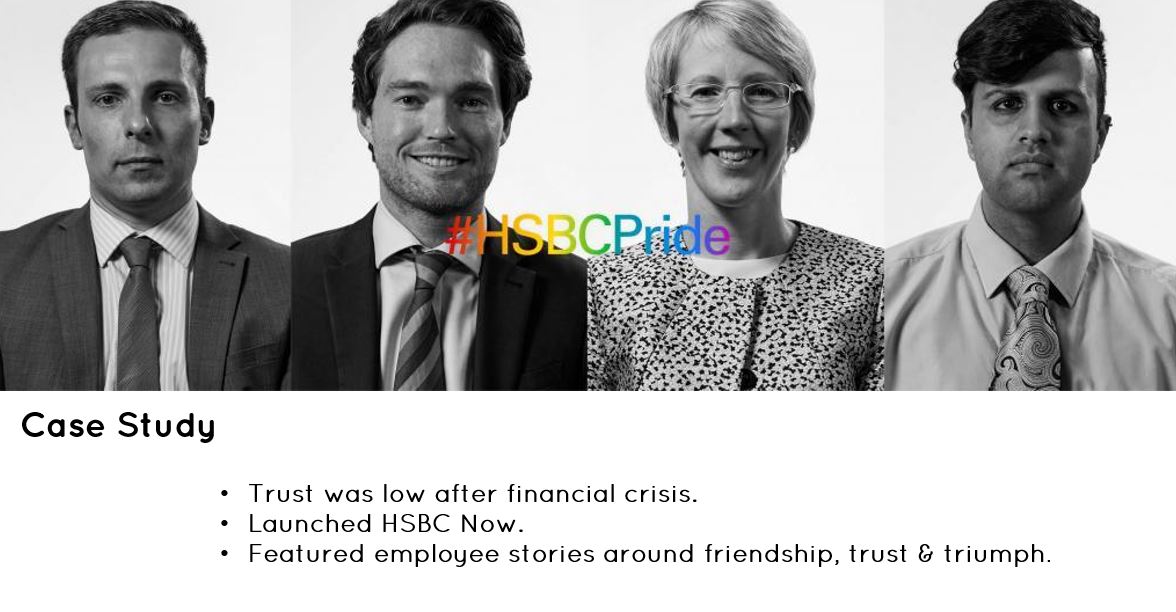 In fact, video is so powerful that one financial institution, HSBC, was able to leverage this tool quite effectively to improve internal comms.
Read all about the HSBC internal communications case study here.
Tip #6: Summarize Long Content in a Slide Deck
It's safe to say that we've all sat through our fair share of boring presentations.
And for that reason, some people may be a bit apprehensive about using the presentation format.
But the slide deck is far from dead.
According to Sara's research, SlideShare gets 5 times more traffic from business owners than Twitter, Facebook, YouTube AND LinkedIn.
So that alone should tell you that people still appreciate slide decks as a visual storytelling format.
Tips for Creating Slide Decks to Enhance Visual Storytelling:
Create an eye-catching title slide – it will set the tone for your entire presentation.
Think about what themes can you draw on in your design, and how you can reflect your brand's personality with various fonts, color scheme and images.
Use visuals like icons and simple infographics to illustrate key concepts.
Use icons to replace bullet points, and to visualize different amenities like the one showcased in the example project proposal below.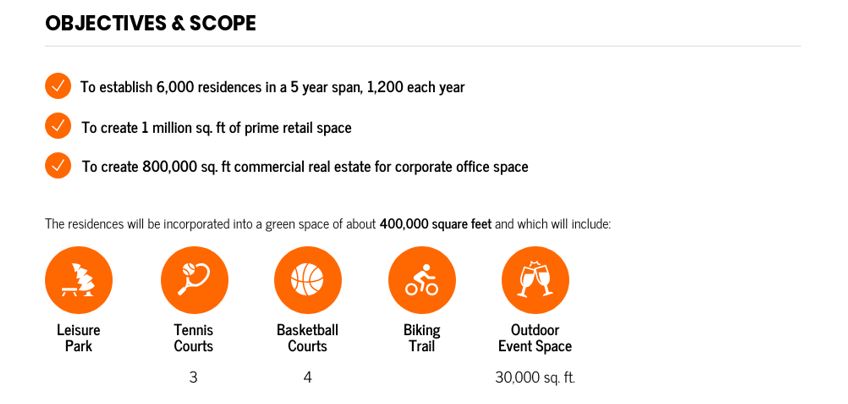 Tip #7: Use Virtual Reality to Improve Internal Communications
Virtual reality for corporate communications is an excellent visual storytelling tool.
With the use of VR headsets or goggles, an individual is instantly transported and submerged into a 360 experience, whether it's the top of Mount Kilimanjaro or a tour of the new office without leaving their home.
Examples of Virtual Reality in Corporate Communications:
The L'Oréal Beauty Lab in New York City

now has a new secret weapon in the ongoing battle for key retailer partnerships and employee engagement: an ultra-high resolution (4K) immersive visualization solution.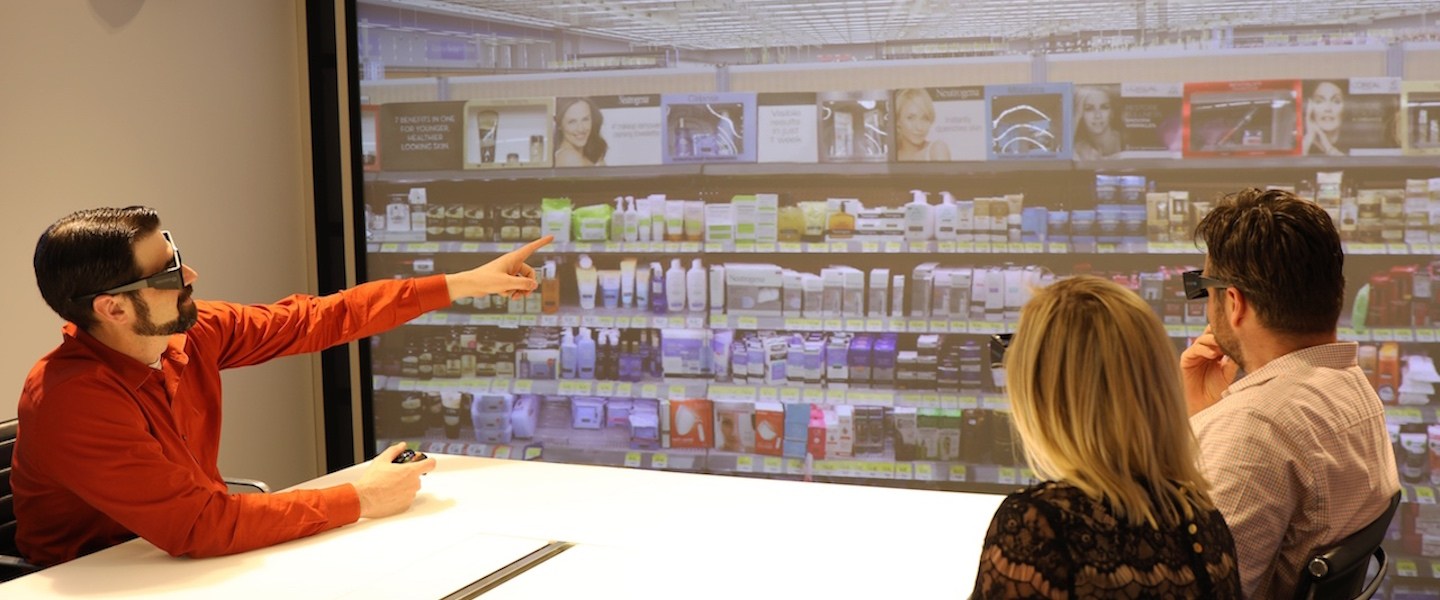 (Virtual reality technology enables L'Oréal to bring the store to different parts of their retail team, whether it's the local Walmart or a different branch in Hong Kong).
Facebook Spaces is a virtual reality (VR) app developed by Facebook that lets you invite and interact with up to 3 of your Facebook friends using a VR device.
Imagine joining a virtual reality meeting when you're working from home or you're traveling – employee engagement would go through the roof!
Tip #8: Enhance Reports with Visuals to Improve Internal Communications
Big, dense walls of text can be like sleeping pills for people – and they're definitely something you want to avoid.
And even if your report requires you to be more text-heavy with your design, try to balance out the paragraphs with visuals.
As a rule of thumb, aim for at least a 50/50 balance of text and visuals to give your readers' eyes a break.
Tips for Creating Stellar Reports that Enhance Visual Storytelling:
Infographics, charts and diagrams are perfect for replacing big blocks of text with visuals.
Pick colours, fonts and visuals that reflect your brand's personality.
Choose a bold, contrasting color that will stand out from the rest of the page.
Use a visual motif throughout your report,

 

like a particular shape, image, or color.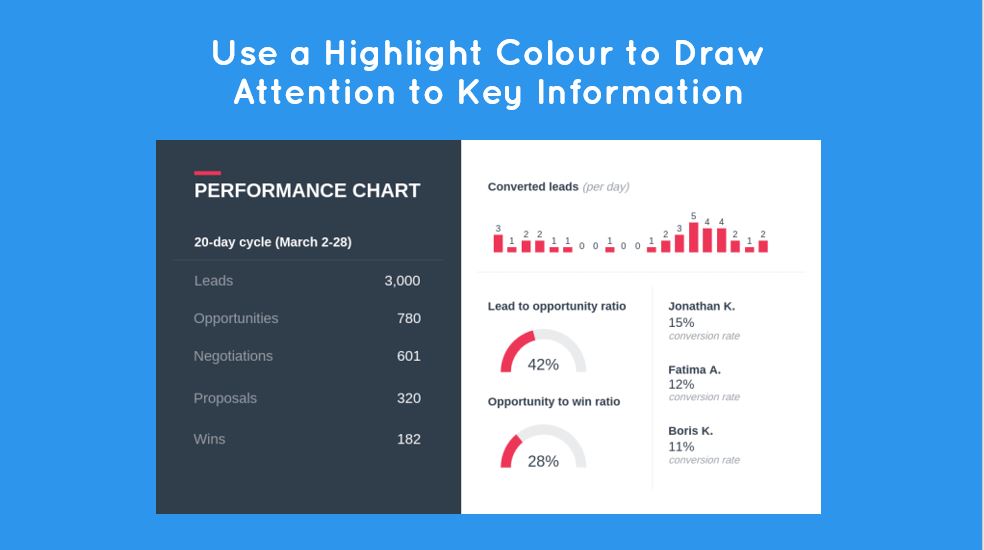 So, there you have it. 8 effective tips to help you improve employee engagement and start producing stellar content! 💪
If you want to add to this conversation, tweet at us and let's continue the conversation on effective visual storytelling.
Further Resources to Check Out to Improve Internal Communications
9 Types of Infographic Templates
Social Reaction and Pulse Surveys to Boost Employee Engagement
Design Tools for Internal Communicators
Venngage Infographic Templates
ContactMonkey's Email Template Builder for Internal Communicators
Want to learn how to improve internal communications by tracking your employee emails using ContactMonkey? We can set up a personalized demo for you and your team. Just click on the button below to book your demo!