We recently held a webinar with Venngage, covering 8 hacks to improve internal communications through the power of visual storytelling. Here's a recap of the entire webinar. 
Have you ever wondered if you could improve employee engagement at your company through the power of great visual design?
Ever wish you could create aesthetically pleasing reports, presentations and employee newsletters without having to rely on a designer?
Luckily for you, we've got your back.  
We recently partnered with a leading infographics company, Venngage, and put together a webinar titled, "Simplify Your Internal Communications Using Visual Storytelling."
[/fusion_text]
Tip #8: Enhance Reports with Visuals to Improve Internal Communications
Big, dense walls of text can be like sleeping pills for people – and they're definitely something you want to avoid.
And even if your report requires you to be more text-heavy with your design, try to balance out the paragraphs with visuals.
As a rule of thumb, aim for at least a 50/50 balance of text and visuals to give your readers' eyes a break.
Tips for Creating Stellar Reports that Enhance Visual Storytelling:
Infographics, charts and diagrams are perfect for replacing big blocks of text with visuals.
Pick colours, fonts and visuals that reflect your brand's personality.
Choose a bold, contrasting color that will stand out from the rest of the page.
Use a visual motif throughout your report,

 

like a particular shape, image, or color.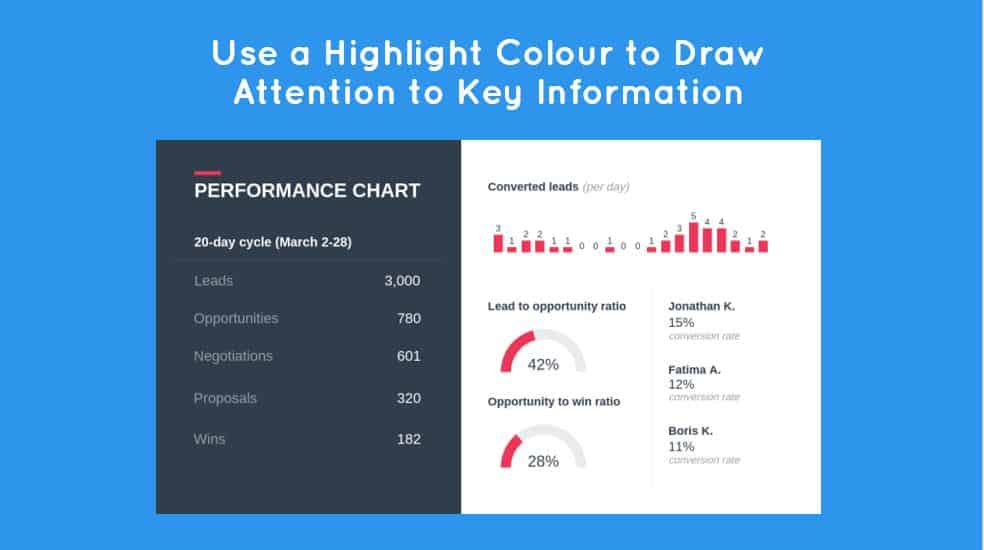 So, there you have it. 8 effective tips to help you improve employee engagement and start producing stellar content! 
If you want to add to this conversation, tweet at us and let's continue the conversation on effective visual storytelling.
Further Resources to Check Out to Improve Internal Communications
9 Types of Infographic Templates
Social Reaction and Pulse Surveys to Boost Employee Engagement
Design Tools for Internal Communicators
Venngage Infographic Templates
ContactMonkey's Email Template Builder for Internal Communicators
Want to learn how to improve internal communications by tracking your employee emails using ContactMonkey? We can set up a personalized demo for you and your team. Just click on the button below to book your demo!