Although many internal communicators focus on internal email open rates, there are other metrics they need to watch out for as well.  
Ahhh the age-old question. Sure, modern tools give me the ability to send and track any internal email and I've read a bunch of articles about what to measure.
But … what's a good open rate for my internal emails?
The first thing to keep in mind is that there's no definite answer to this.
A good open rate for an internal email in your organization will vary depending on your industry, your practices, your company culture, and even your geographical location.
Every little thing you do in your internal email practices will change the outcome of your communications strategy.
How often are you sending employee emails? Do you send different types of content? Are your newsletters using responsive HTML templates? Are your subject lines any good? 
Internal Email Open Rates Don't Show the Full Picture
Although it's great to see your email open rates go up (believe me, I love it too), just checking open rates won't give you a detailed enough picture to gauge employee engagement.
For example, what if your employees are opening your emails and quickly closing them without really reading ? What if they don't engage with them and you're just left on "Read"?
As an article by IABC puts it, open rates are a good start but might not give you enough information:

"All open rate tells you is the percentage of recipients who received it and looked at it for at least a second. An email open does not tell you if your recipient actually read your message. That's why open rate, even an accurate open rate, is often a misleading metric. If you are taking the time to write, edit and layout valuable or mission-critical content, you need to know if people are reading it".
Another example comes from Get Response, which found that, although marketing emails directed to people in Finance had a low average open rate of 8.29% (compared to, say, the food industry), they had a high click-through rate of 2.99% and impressive click-to-open rate of 36%.
"It appears that when these emails are opened, they are of interest," the report stated.
Since open rates aren't enough information, internal communicators should stop searching for an end-all, be-all email open rate, and come up with their own internal benchmarks that will help them succeed. 
The Real Internal Email Rates & Benchmarks You Gotta Watch
To get a real 360 picture of how your employees are interacting with your communications, it's important to be meticulous about your metrics.
The first step is to get a tool that allows you to dig deeper than just open rates.
By being able to track email opens, link clicks, specific location and the device with which your emails are being interacted, you'll be able to learn what content your audience craves. 
On top of all that, with ContactMonkey for Internal Comms you are also able embed employee surveys within your newsletters with a single drag-and-drop builder.


But enough with shameless plugs. Here are the metrics (beyond open rates) that will help you see the full picture of how your employees actually interact with your emails.
1. Link clicks on your internal email
Perhaps the biggest determiner of employee engagement, link clicks allow you to see whether your employees are finding the content you send relevant.
By adopting an A/B tester mentality and testing different types of content you'll be able to get to know your audience and get better at knowing what they want.
In a study reported by Forbes, NRS found that personalization was key in getting people to actually care about internal comms:
"The single biggest factor influencing open and click-through rates is shaping your message to each defined target, rather than sending the same message to all 29,000 employees at once.  Employees are more likely to open emails that are targeted towards their specific group or area of focus."
Action item: make sure your linked content is varied between funny and serious, long vs. short, and always personalized according to the target audience. Curating your distribution lists and sending targeted emails will lead to better open and click-through rate.
2. Employee feedback from surveys within internal emails
The most important data you'll ever see is the one that employees are directly sending to you.
Whether you're running third party surveys, conducting interviews, or embedding pulse surveys into your newsletters, by collecting direct employee feedback from your internal comms, you'll be able to really understand them. 
Action item: by adding social reactions to your internal communications, you'll be able to proactively learn what your employees crave. If you have 15 minutes to spare, we can show you how to use social reactions and surveys with our email template builder.
3. Device used and location
Being able to see what device your employees use to read emails is a big advantage. For example, if you notice that almost 50% of your employees use their phones to engage with your newsletter, this means that you need to make mobile responsiveness a priority for your communications. This should also influence how long your emails are since mobile users expect concise copy.
Tracking locations will also allow you to see and improve employee engagement rates and how they differ from different locations or branches.
The whole point is to use the tools at your disposal to get to know your audience better and improve your emails every time you hit send.
Improving Your Overall Internal Email Engagement Rates
Even though email open rates won't show you the full picture, embracing best practices that improve engagement rates for all aspects of email (including opens) is beneficial . Here are 4 tips to accomplish exactly that.
1. Write better subject lines
According to expert Ann Handley, "emails with subject lines of 6-10 words have the highest open rates," yet most people still send subject lines of 11-15 words!
She also suggests that using the recipient's first name in the subject line will yield a higher open rate, so get personal.  A report from Adestra revealed that emails with personalized subject lines were 22.2% more likely to be opened.
You might be asking, "but what if I am sending my internal emails from Outlook?" With ContactMonkey 's Internal Communications Tool you can click and drag any merge field you would like to use into your subject line, such as "First Name" and send straight from your own Outlook! (learn how to send newsletters your employees will love from Outlook).

2. Use awesome design
HTML responsiveness is a must — your employees will decide whether to carry on reading in a nanosecond so you need to make sure your email is visually appealing and entertaining from the get-go. The best way to accomplish that is to embrace good HTML design for beautiful, responsive emails.  
We know that can be a pain from Outlook … but we've found a solution. On your ContactMonkey Ribbon simply click on "Import an HTML File" and select your HTML email. Click "Open" and you'll see in the body of your message a preview of your HTML email.
Our internal comms plugin ensures that everything looks as envisioned for all of your recipients, including Outlook users.  
3. Don't sound like a robot
If you want to compete for your employees' attention with the likes of YouTube makeup tutorials and Slack memes, you need to avoid corporate speak and jargon whenever possible. Instead, try to sound human and conversational in your email communications. Here's an example from Buffer that nails down that human tone while keeping it professional.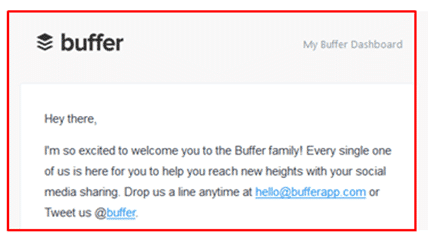 4. A/B test everything 
As mentioned above, open rates are affected by almost any changeable factor: time sent, whether your employees are in-office or remote, the day of the week, seasonality, and many others. We recommend you test all of these in isolation to figure out the best combination of factors that work for your organization.
By following these tips you'll be able to increase the overall engagement from your internal emails and go beyond open rates to really understand your employees!
With ContactMonkey for internal comms you're able to see every email open, link click, location and device used at an individual and aggregate level–all within Outlook or Gmail. Book your demo now below!