Compared to the horrible pains of using Word Mail Merge to send a simple mass email to your distribution lists, our new Email Template Builder for Outlook is a clear no-brainer and a match made in heaven for internal communicators.
At this point we've talked ad nauseam about the pains that come with opening Microsoft Word to send a simple mail merge but, in all honesty, we just hate seeing fellow internal comms pros going through unnecessary pain.
I have an idea for master of horror Stephen King: every one of his terrifying books should start with the main character asking the question: how to do a mail merge in Word?
The Traumatizing Nightmare of using Word Mail Merge
Here's what it's usually like trying to use a Microsoft Word mail merge. You slaved away for hours creating a beautiful internal newsletter and now it's time to send it to your distribution lists.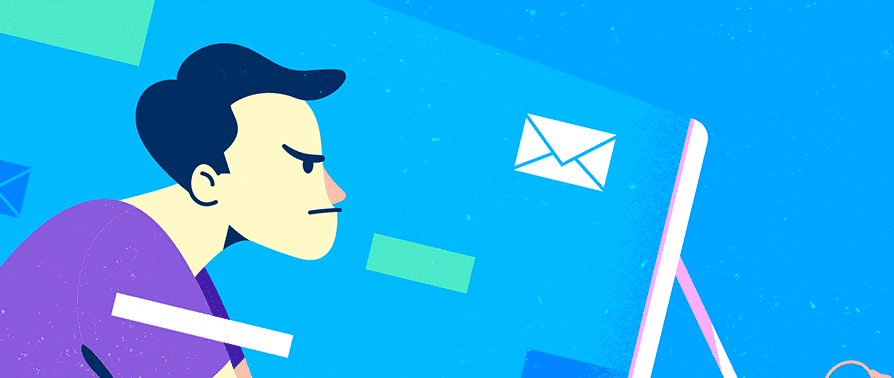 At this point, you'll be forced to open a Microsoft Word document. Maybe even an Excel spreadsheet for your contacts; as we've joked about in the past, they might as well throw in Skype, Photoshop and Solitaire while they're at it. One time the desktop version of Tinder popped up for no reason. Word Mail Merge is a wild ride.
Even if you survive the countless problems that come with Word mail merge and do end up sending your mail merge, your emails in Outlook will probably have rendering issues.  
Common Word Mail Merge Problems
And that's not all — Word mail merge issues are well documented so let's list a few:
You're forced to leave Outlook to mail merge.

You've started the mail merge but don't know what to do next.

Word merges the blank rows in your Excel spreadsheet.

Sometimes you'll need to use Microsoft Excel to select recipients.

Can't add any attachments.

Can't personalize the subject line.

Word mail merge will randomly skip some records.
On top of all those problems, multitasking isn't an option while merging: once you hit send, you have to sit there and wait because now Word and Outlook are incredibly slow.
Waking up from the Word Mail Merge Nightmare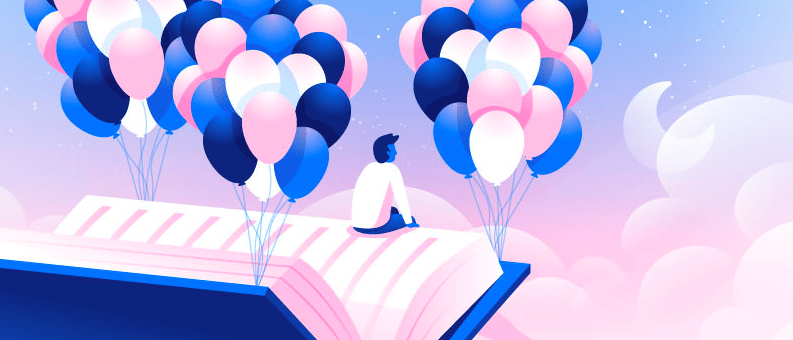 To eliminate all of those issues, earlier this year we released a game-changing new feature, Outlook Mail Merge in Office 365 with ContactMonkey.
This tool lets you send beautiful responsive HTML emails without leaving Outlook giving you the best of both worlds: the power of the cloud without having to leave Outlook to send a mail merge.
With our Outlook Mail Merge feature, you and your team can email thousands of employees (or your own distribution lists) right from Outlook, while tracking all emails, links, and subject lines.
You can also personalize the body and subject line of the emails by simply dragging and dropping a mail merge field where desired — whether you want to insert a greeting line or use a first name in the subject line.
Now you can also use internal email as an employee engagement survey tool by adding pulse survey questions, social reactions, Like buttons, star ratings and more.
Not only do you get an intuitive, incredibly easy-to-use tool to send beautiful mail merges without leaving Outlook, you also get powerful metrics.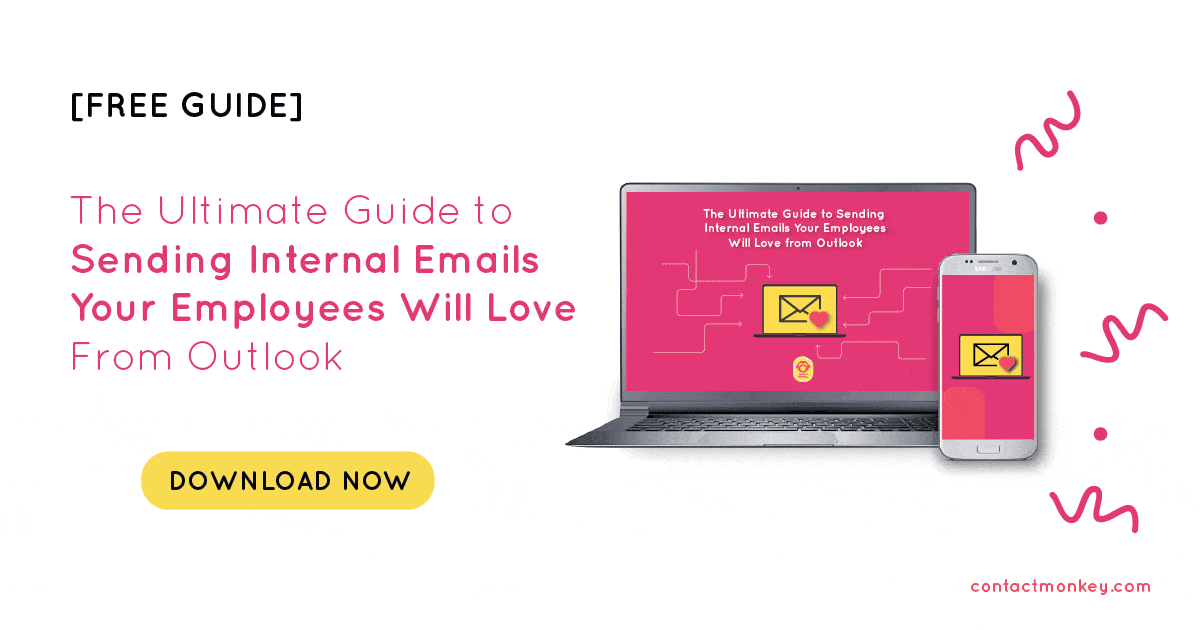 The ability to see individual and aggregate stats gives you the insights necessary to increase employee engagement rates–or close more deals, depending on your needs.
At this point of your post-nightmare life you're now able to send beautiful emails to your distribution lists with the click of a mouse *AND* track and measure each one of those emails to see what works. That has to be it, right? WRONG!
We now also have an Email Template Builder for Outlook 
Email Template Builder for Outlook: A Game-Changer
We're not saying this just because we built it but, if at the pain end of the pain-bliss spectrum is Word mail merge, our new email template builder for Outlook is at the other end.
Our new email template builder enables you to choose from and edit dozens of beautiful responsive HTML templates — or make your own using easy-to-use drag and drop content blocks.
Remember how painful it was to send a somewhat nice-looking newsletter or a simple email message to a distribution list using word mail merge?
With our email template builder, which you can access from your menu in Outlook, you and your team can create perfect emails without any developer or design skills.
From the drag-and-drop email template builder you can add social reactions, pulse surveys plus much more so you can collect real-time employee feedback straight from Outlook and measure within our smart dashboard.
What's even better is that you can also save your templates under your  "My Templates" section of the tool, so you can continue using your favourite personalized templates.
How to Use the Email Template Builder in 4 Steps
1) Choose your template: Choose from dozens of pre-designed templates or upload your existing responsive HTML email designs to get started.
2) Design and customize your template: Use our simple drag-and-drop email template builder to customize your designs to match your company's brand colours, messaging and imagery style. Add social reactions, pulse surveys, employee comments or star ratings to certain sections of your newsletter.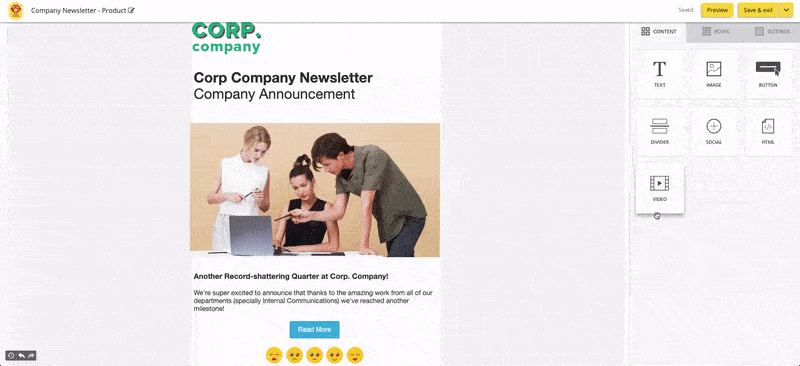 3) Preview, Both Desktop and Mobile: "Preview" lets you view what your recipients will see, on both desktop and mobile, ensuring your message will always be responsive.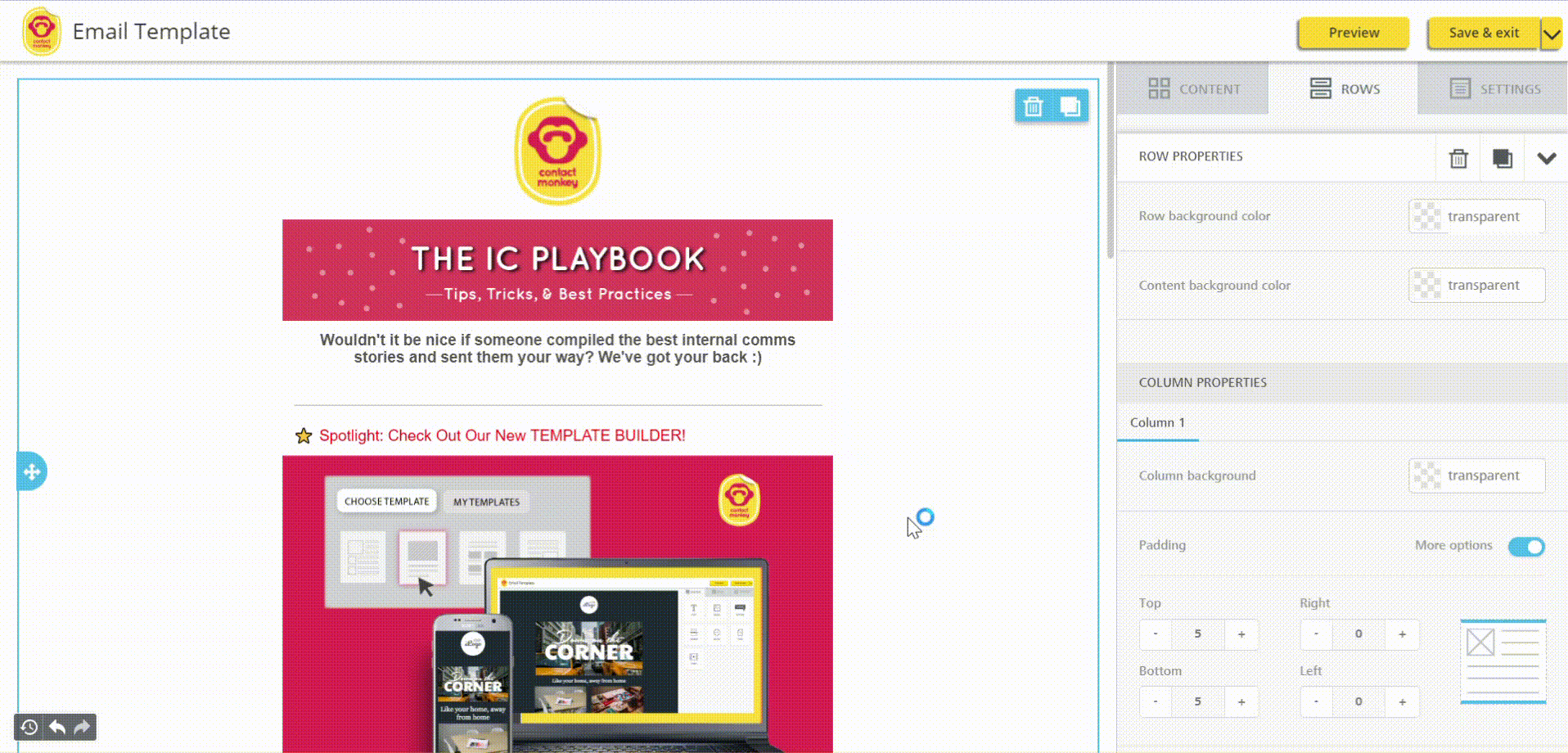 4) Send & Track your Emails: Send & track your beautifully designed HTML employee newsletter  to your existing distribution lists from your Outlook inbox.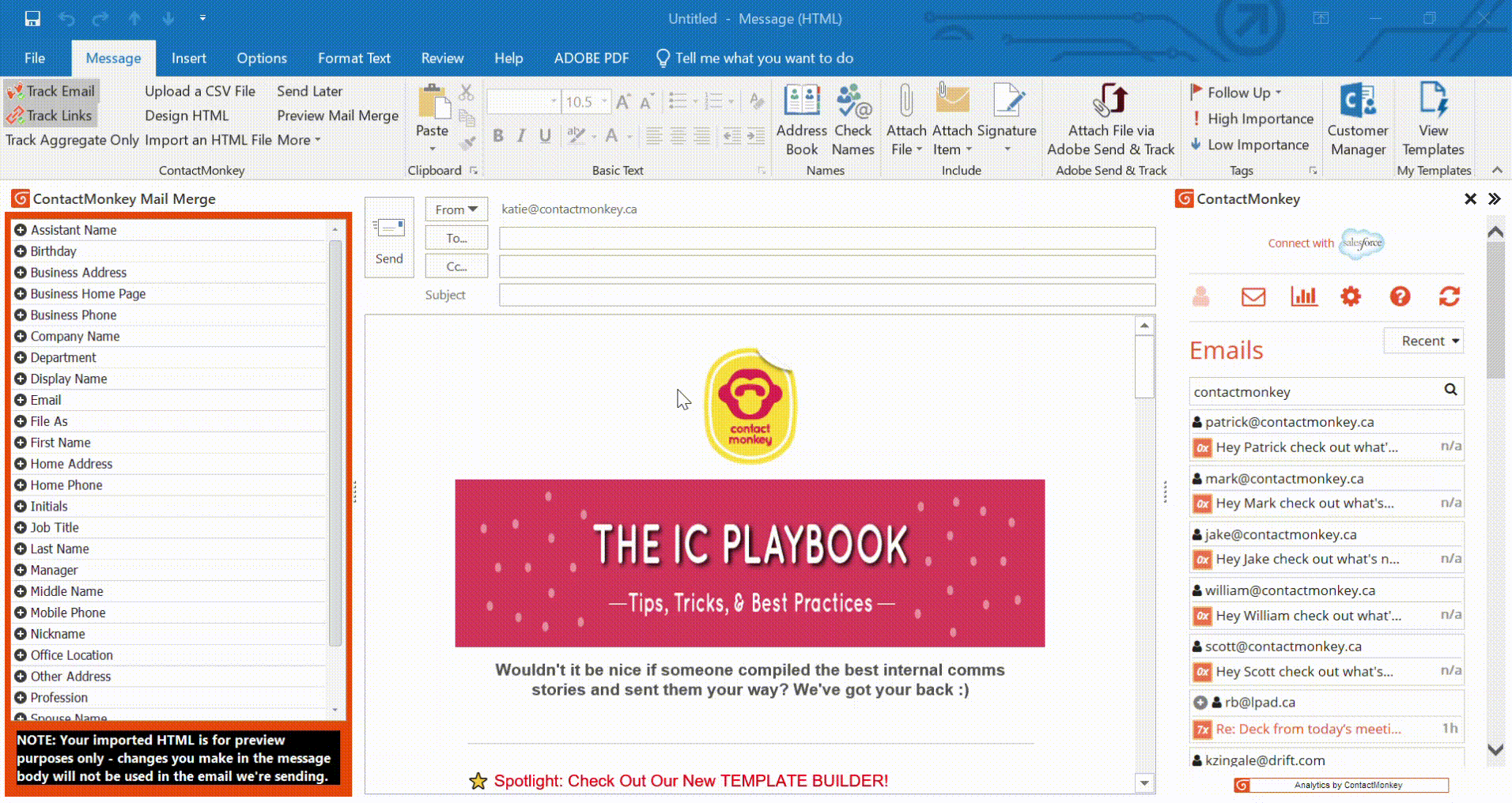 The Beauty of a Painless Outlook Mail Merge
Now that you're able to edit beautiful pre-built HTML templates or make your own, nothing should get in the way of sending beautiful internal emails from Outlook.
On top of that, using the power of the cloud your mail merges send in the background so you can send and get back to what you were working on. Zero interruptions.
You can also say goodbye to outdated Word Mail Merge complications like emails breaking when opened in Outlook or your entire merge crashing when selecting a data source.
Can't Wait to See it in Action?
We love showing people what their life could be like using our tool. Sign up for a personalized demo below and we'll walk you through the tool and get you set up on your free trial.
It's time to end the Word mail merge nightmare.