Managers want employees who work hard and stay with the company. To find out who is in it for the long haul, simply ask. Here, we offer some not-so-obvious questions to ask in employee feedback surveys to measure job satisfaction.
Managers want their most productive employees to stay with the company as long as possible. Employee productivity and retention are tied to job satisfaction or how connected someone feels to their job. If you can improve your employees' job satisfaction, you'll also improve productivity and retention.
We also explore how using dedicated internal communications tools can help you conduct effective employee surveys. To get you started, here are seven great employee engagement survey questions that are tied directly to the components of job satisfaction.
1. What Aspects of Your Work Do You Find Meaningful?
Asking employees through an employee feedback survey about the work they find meaningful will tell you more about how satisfied they are with their jobs than direct questions about happiness.
Nine out of 10 people in one survey said they would take less pay if they could do more meaningful work — work that they feel a greater connection to because they believe it fulfills a greater purpose in life. Scholars also have identified key differences between happiness and meaning, finding that meaning was a more permanent measure of job satisfaction while happiness was fleeting.
Managers can boost employee happiness metrics and help staff identify their sense of purpose by asking a series of questions on an employee feedback survey, like:
"What are you good at doing?"
"What do you enjoy?"
"What do you do that feels most useful?"
Once you receive this feedback, you can help employees focus on the things they excel at and enjoy the most.
Quick Tip: Instantly generate employee survey questions directly from your newsletter builder with ContactMonkey's OpenAI integration.
2. Are You Compensated Appropriately for the Job You Perform? If Not, What Would Make Your Compensation Fair?
Salary matters when it comes to satisfaction at work, but feeling compensated appropriately is more important to employees than feeling like they're rolling in cash.
Employees want to feel like they're compensated fairly for the work they do. Employees compare their salaries to others in the same positions, both outside and within their company.
If you find out via an employee satisfaction survey that an employee doesn't think they're compensated fairly, follow up to determine what would make their compensation just. Then do your best to make that happen.
If you can't, explain why to the employee and consider offering them other things of value like additional paid time off, flexible scheduling, or increased benefits. Also, give them a plan for progress toward more equitable pay.
3. What Professional Development Opportunities Do You Wish You Had?
No one wants to feel stuck. A fair growth and advancement process is a key attribute of job satisfaction.
More than 82% of employees surveyed in one study said a lack of progression would influence their decision to leave their jobs. But more than 90% of employees said they would stay at a company that invested in their careers. This career investment might include helping employees learn, providing professional development opportunities, and showing a clear path to advancement.
The best way to know what type of professional development or advancement opportunities your employees want is to ask them through an employee feedback survey, then work to make those opportunities available and the advancement process transparent.
Pro Tip: Never worry about IT restricting your internal employee lists. Use ContactMonkey to sync with your Azure Active Directory or HRIS. Get started today.
4. What Do You Enjoy About Your Colleagues?
We spend more time at work than we do almost anywhere else, so it's important to like the people we work with.
Gallup asks survey respondents the question: "Do you have a best friend at work?" The question is linked to employee performance. Women in the workplace who have a best friend are 63% more likely to be engaged at work than those who don't, according to the survey.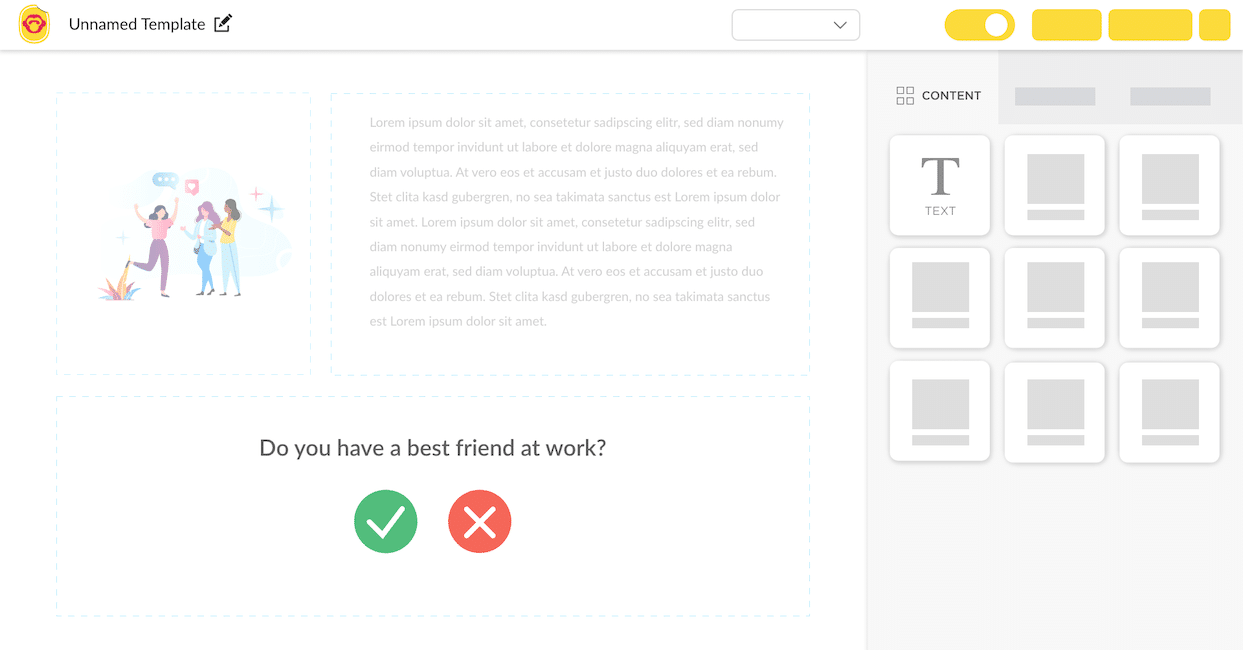 In other words, people who like the people they work with have higher levels of job satisfaction.
To foster a culture of friendship and inclusion, managers should encourage employees to get to know each other and create social opportunities through which friendships can form. These social opportunities could include monthly luncheons, mentorship programs, or pairing staffers for one-on-one calls or coffee meetings.
5. What Would You Do Differently If You Were Your Manager?
Managers account for up to 70% of the variance in employee engagement. In other words, bad managers lead to lower levels of job satisfaction.
The best managers communicate well, set clear expectations of employee performance, and focus on building upon what their employees do well. Employees experience greater job satisfaction when:
They trust their supervisor's competency.
When their supervisor provides clear job objectives.
When their supervisor gives fair positive and constructive feedback.
When their supervisor is considerate of them.
Consider using internal email tracking features, such as embedded surveys with multiple types of survey feedback options, or open-ended email questions, to allow employees to provide information through employee feedback surveys about what could be done differently. Use software, like ContactMonkey, that allows employees to provide anonymous comments if they choose to do so.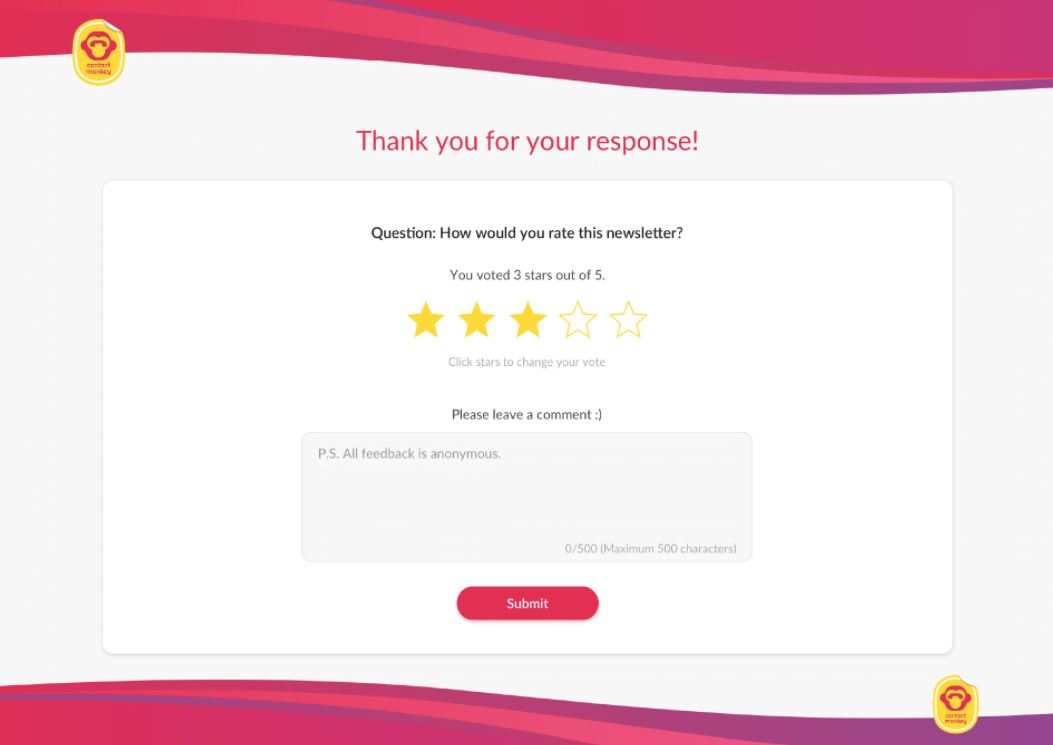 If you learn from employees' candid feedback that something you're doing isn't working, whether that thing is an attitudinal approach to work or a process used to solve a common problem, you need to change it.
Short questions like these are great for your pulse surveys. Pulse survey questions are short, focused questions aimed at making employee feedback a regular part of your company culture.
6. How Do You Reflect the Company's Values Through Your Work?
Employees are more likely to work hard for and stay with a company when they feel like they support and share the organization's values and when those values are worth working for.
Glassdoor Economic Research found that alignment with a company's culture and values were the strongest influence on measuring employee satisfaction.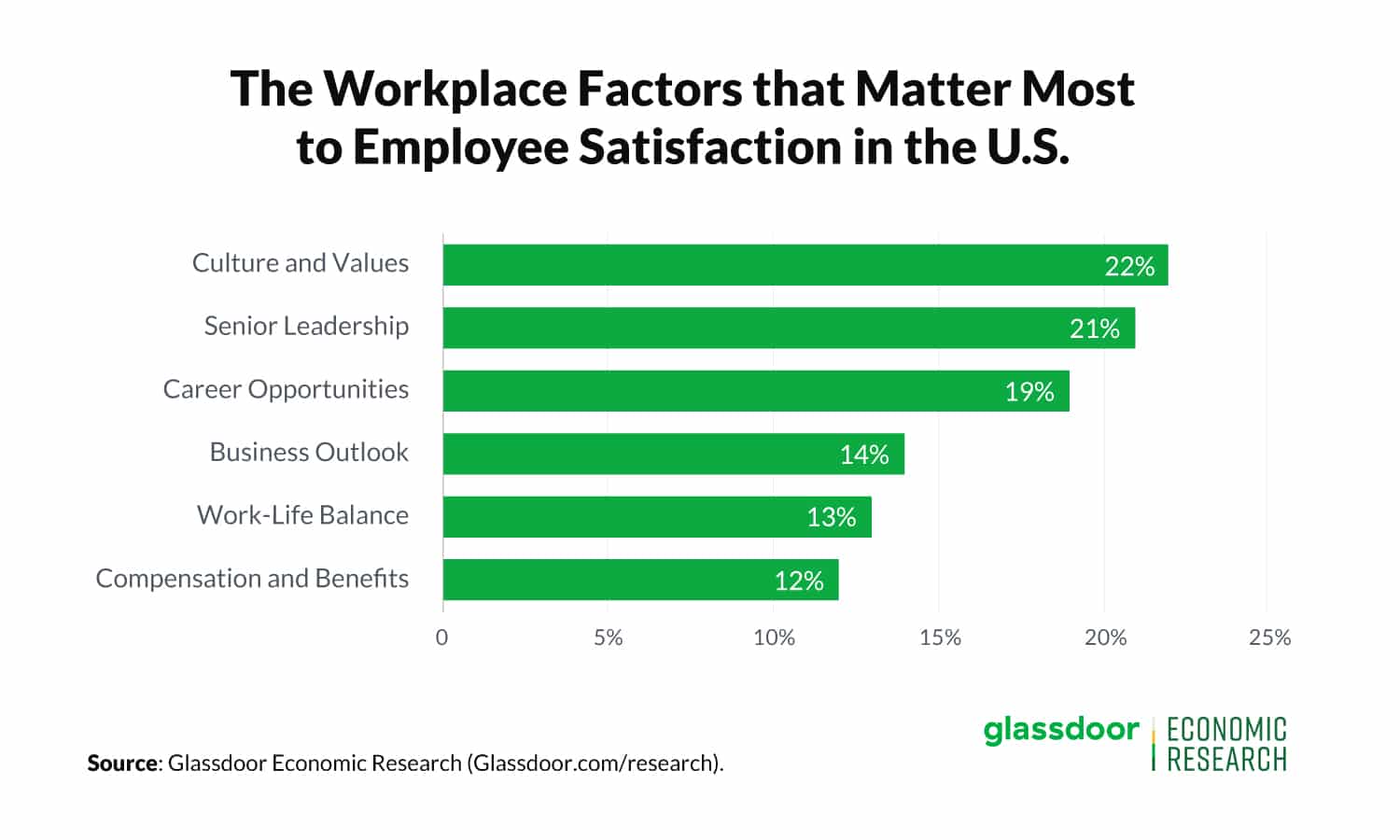 Collecting honest feedback from an employee feedback survey on how employees' work reflects your organization's values will help you know where to make changes. Employees experience greater job satisfaction when their organization's top leadership is honest, competent, and understands and communicates the organization's greater purpose.
7. How Does the Company Take Care of You?
Employees experience greater job satisfaction when their benefits are comparable to similar organizations and when they have safe and healthy work conditions.
One of the most sought-after employee benefits is financial wellness programs. Other sought-after employee benefits include mental health support, student loan debt repayment programs, and flexible scheduling. Consider conducting an employee benefits survey to find what really matters to your employees.
The best way to know if your employees think your company's various benefits are good is to ask them through employee feedback surveys. What benefits do they value most? What benefits do they wish they had? Gather this information, then either make immediate changes or communicate a plan for change.
8. Is There Any Training You'd Like To Receive?
Your employees are ambitious, and the best internal communicators learn what goals matter to their employees. Help your employees realize their full potential by understanding their goals and the ways by which they'll achieve those goals.
Not only can you find motivated employees within your organization, but if many employees are asking for the same training you can identify knowledge gaps in your existing training. The double benefit of this question is great for your business: your employees get the training they need to succeed and you can find ways to ensure new employees are equally prepared.
Pro Tip: Organize and segment employee sending lists to target the right employees with the right questions using ContactMonkey's list management tool.
9. Are You Happy With The Direction The Company Is Headed?
Employees who feel they're part of the overall direction of your business will be more willing to contribute to that success. Gathering employee feedback about your company's objectives can help you understand what's really important to your employees.
Not only can you ensure your employees values are aligned with your business, but you'll often discover great new ideas and directions for your company from your employees. Remember, success will look different to different employees in your company; what's important is to ensure that your company is going in a direction all your employees are proud of.
10. Is There Something Your Previous Employer Did That We Should Do?
Utilize your employees' experience to improve your business. Did an employees past employer have great employee engagement initiatives? Or maybe offered an incentive program for going above-and-beyond? Survey your employees to source their past job experiences.
You can get more specific to help guide your employees' answers. For example, you could ask how previous employers kept teams on the same page with one another. Simple questions like this can help hone your business practices so you can be the best in your sector.
Gathering The Goods Through Employee Feedback Surveys
Employee feedback surveys are only useful if the questions solicit helpful information and managers take action to make improvements based on the information they receive. The questions in this post are based on factors related to job satisfaction. Asking them on an employee feedback survey will give managers the information they need to help employees be happier and more productive at work.
Want to easily create an employee feedback survey that will help you gauge how satisfied your employees are at work? Book your personalized demo of ContactMonkey today!