Does this sound familiar to you when trying to hit your sales targets? You had a great demo this morning, and the prospect asked you to send over a revised quote with the payment details.
You sent a follow up email before the call ended, and expected the lead or opportunity to get back to you with their credit card details within the next hour. It's almost the end of the day, and you still haven't heard back from them.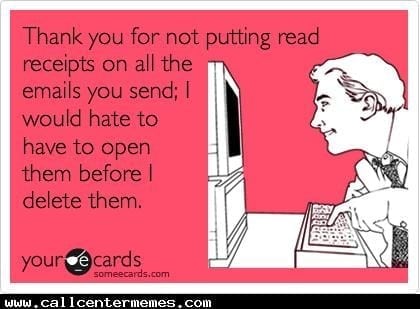 Your mind has been flooding with questions as soon as you hit "send". Did the lead open my follow up up email? Are they still interested? Did they forward or share the sales email with anyone? Did they click on the link in my email? Should I follow up with them yet?
Fortunately, ContactMonkey's Gmail read receipt and email tracking makes these questions 100% answerable. Here's how.
The solution is ridiculously simple and easy. Using a Gmail read receipt and email tracking, you can send, track and measure all your sales emails right from your Gmail inbox.
[/fusion_text]
The Gmail Read Receipt and Email Tracking
Normally, when we send emails we never know what happens to them once they leave our inbox. As a result, we never know how interested the recipient was in what we wrote. With a Gmail read receipt and email tracking you have unlimited tracking to collect data on:
When your emails get opened
How often they get opened
Where they get opened
If the links in your emails were clicked
How to get Gmail Read Receipt and Email Tracking
But how difficult is this Gmail read receipt and email tracking software to use? It's ridiculously easy and according to Adespresso and Leadboxer, ContactMonkey's email tracking service is one of the best out there! All you have to do is download your free trial of our Gmail email tracking software and compose your emails in Gmail the way you normally do. However, now you will have 2 new buttons after you download and install ContactMonkey's Gmail Email Tracking:
Track Message
Track Links
Simply tick both boxes if you want your emails and links within your emails to be tracked, then just send your emails as usual. Simple!
How do you know when someone has actually opened your email, forwarded your email or clicked on a link? Easy. Just check your new sidebar on the right side of Gmail. As soon as any activity happens with your email you will get immediately notified and your sidebar will update. It looks like this:
You can see the most recently opened email to testmonkey@contactmonkey.com was opened 6 days ago in Toronto using Outlook, and on the same day in San Francicso using an iPhone. Would this information help you?
Are you ready to install Gmail read receipts so you can use email tracking for Gmail? Start getting deeper insights into your sales emails today!
[/fusion_text]