Salesforce Gmail Integration
Experience Salesforce right in your Gmail inbox.
Never switch between Gmail and Salesforce again.
Why Connect Gmail to Salesforce?
SALESFORCE GMAIL INTEGRATION
Salesforce in Your Inbox
Access and update Salesforce data from standard and custom objects right from your Gmail inbox.
EMAIL SYNCING 
Add Emails in 1 Click
Add emails to a standard or custom object with just one click – right from your Gmail inbox.
CUSTOM OBJECTS IN SALESFORCE 
Customize to Perfection
Change your object settings and customize what you see in your sidebar. Choose whichever Salesforce objects you want to see in your Gmail inbox.
GMAIL DELAY SEND 
Send Later
Use Gmail Delay Send to schedule emails at times your prospects will actually read them. Send at the perfect time so you get more emails opened, calls answered, and deals done.
CUSTOM OBJECTS IN SALESFORCE 
Create Cases on the Fly
Using Salesforce cases to log customer issues quickly and efficiently is one of the best ways to keep your customers happy. Now you can create Salesforce cases directly from your Gmail inbox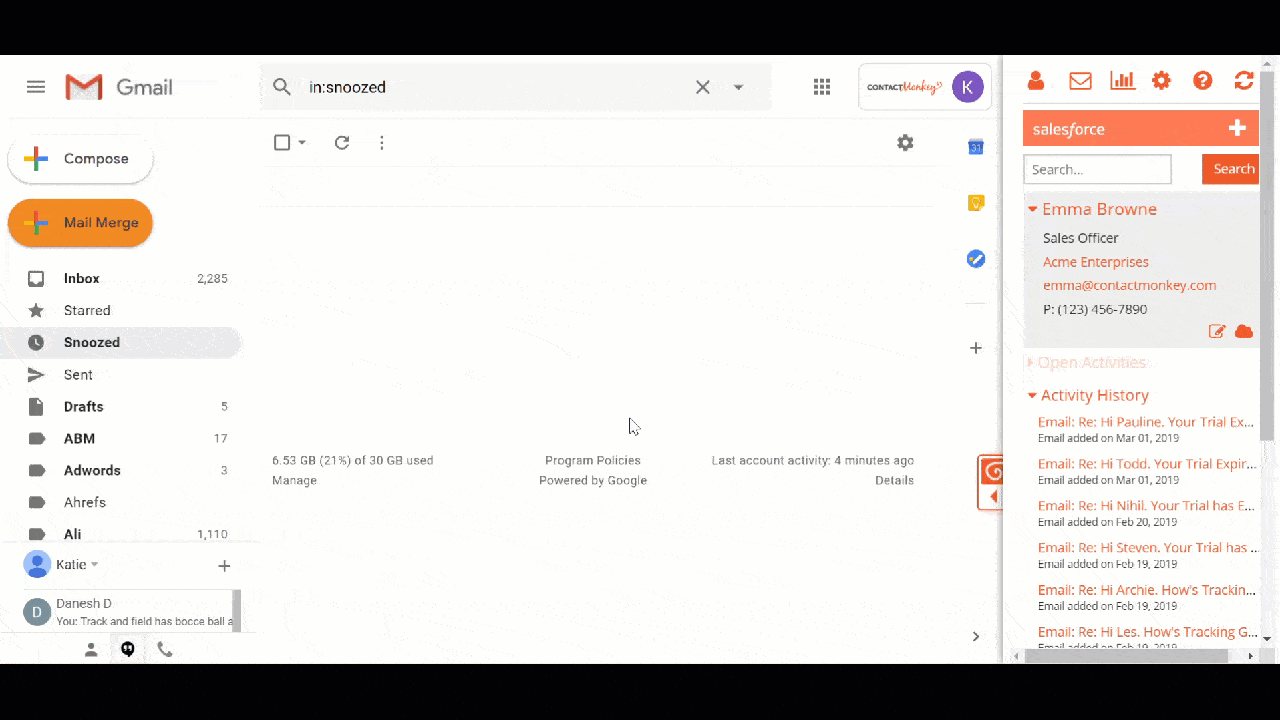 MASS PERSONALIZATION
Personalize in Seconds
Personalized emails deliver transaction rates up to 6 times higher than unpersonalized ones. Use Gmail Mail Merge to write one email that turns into 2, 20, or 200 but maintains the feel of a one-on-one message. Send with attachments of up to 5 MB.
LEAD MANAGEMENT
Update Leads Instantly
Nothing ruins your email flow more than having to jump back and forth between Salesforce and your inbox to track your daily lead progress. Skip a step and do it right from your inbox with Salesforce Gmail integration.
SALESFORCE EMAIL TRACKING
Track Emails
Find out who's really opening your emails on Salesforce. See what your prospects use most to open your email – and where and when they open it. Always know what happens after you hit send with Gmail Email Tracking.
"It's great being able to track my emails and have everything feed directly into Salesforce."
– Scott Mortimer, Review from the Salesforce AppExchange
How Salesforce for Gmail Works
Watch a brief demo to see how ContactMonkey's Salesforce Gmail Integration works in your inbox.
Bring Salesforce Gmail integration to your inbox in seconds.