Internal Comms Email Tracking
Create, send and track personalized internal emails all from within Outlook

Engage & Understand Employees
Transform your employee emails into an interactive two-way channel with pulse surveys, social reactions, star ratings plus much more. Enable employees to react to your messages in real-time and see live feedback to enhance your employee communications.

Measure As A Team
See overall campaign performance, or performance at an individual employee level including open rates, link clicks, location, devices, pulse survey results and more. Collaborate with your team to compare campaign analytics and discover what content engages employees. Use shareable reports to prove your team's success.

Work & Succeed in Outlook
Design beautiful responsive HTML employee newsletters with our drag-and-drop email template builder. Send from your own Outlook to your existing distribution lists and exchange groups in seconds (Outlook for Windows, Outlook for Mac and Office 365). 
Features to boost employee engagement from Outlook
Create in Outlook
Create responsive HTML email newsletter templates with an easy to use drag-and-drop email template builder. Choose from your library of best performing internal email templates.  Preview in both desktop and mobile before you send from Outlook. 
Personalize Emails to Your Outlook Distribution Lists
Easily personalize your subject lines and body copy of your employee emails. Send directly to your existing Outlook distribution lists or dynamic distribution groups. Having IT troubles accessing your lists or maybe they are outdated? Simply upload and send directly to a CSV file. Uploading CSV files will also enable you to supercharge email personalization for each region, department and employee!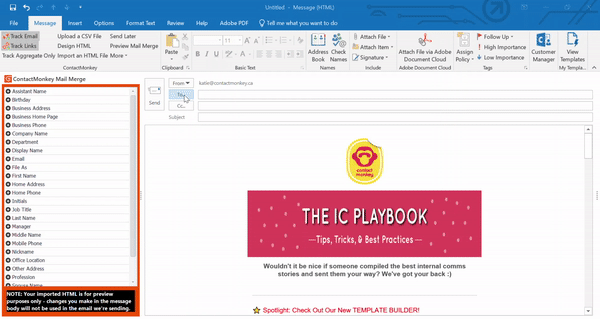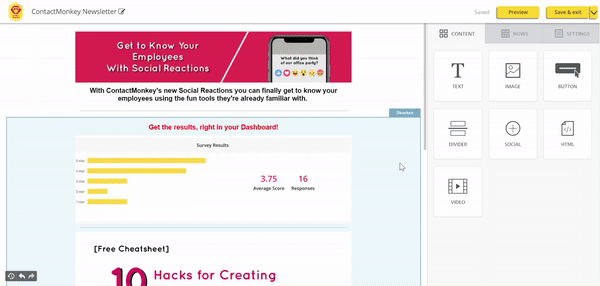 Real-Time Employee Engagement Survey
Encourage employees to interact with internal emails by adding pulse surveys, social reactions, star ratings, Like buttons and more to your employee newsletters. Identify in real-time what content, updates and announcements your employees are engaging with. All feedback is reported anonymously to encourage open and accurate responses. 
Smart Analytics Dashboard
Track emails on an individual employee or overall campaign level all within Outlook. Use real-time email metrics to identify your team's best performing subject lines, links, and most engaging content. Highlight engaged and disengaged offices on a global level with our geolocation engagement map. Easily share downloadable reports with your team.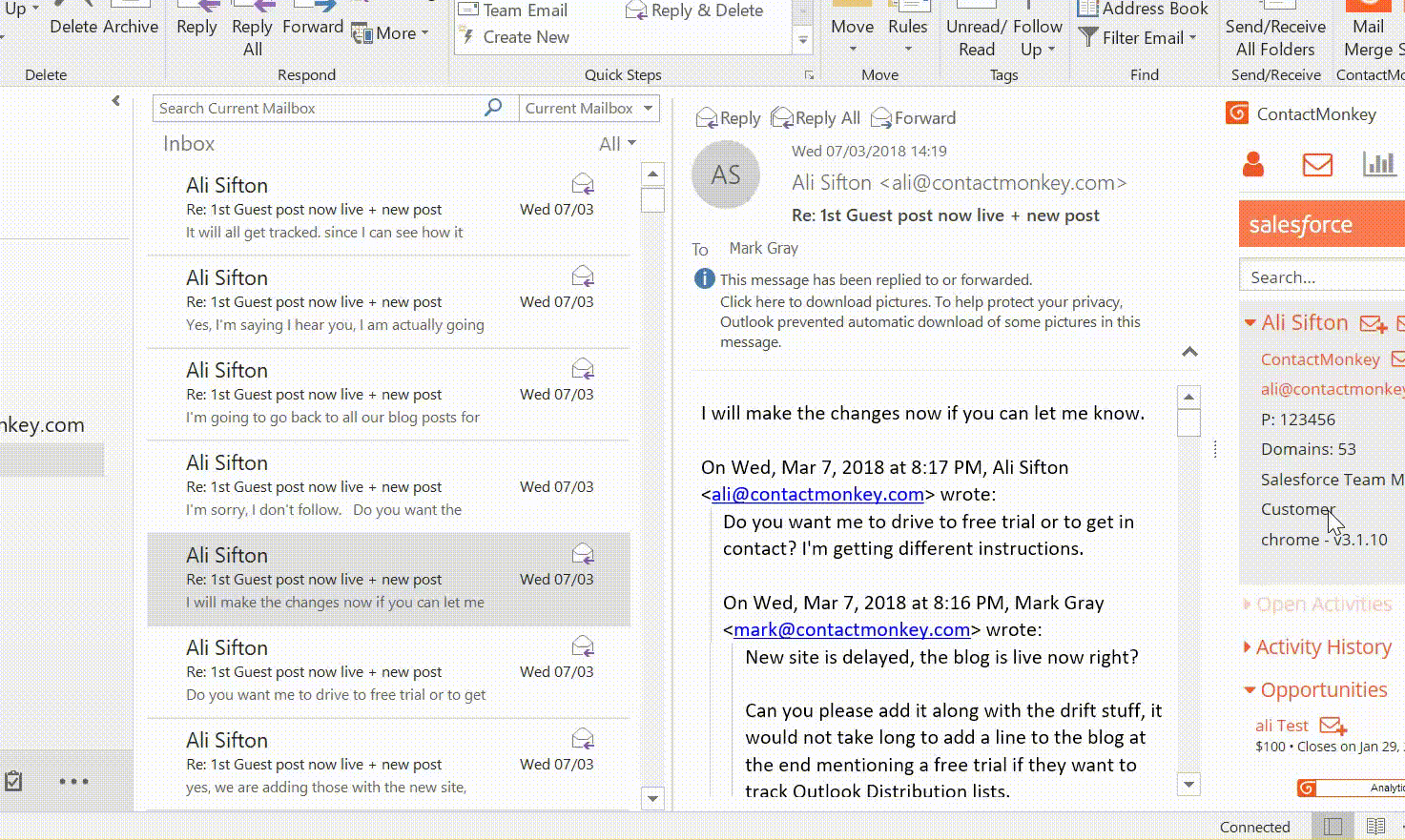 "Game Changer for Internal Communications! ContactMonkey has gorgeous, built-in HTML templates and its insight into email activity is amazing.
-Renee S, Director of Learning and Development, Review from Capterra
 See How It Works
Watch a brief demo to see how you can start using ContactMonkey to track all your internal comms emails today!
Start measuring employee engagement for free now!