Sell smarter
Does your team use Gmail tracking? They should be. Tracking emails lets your sales team see whenever a prospect opens a message. They are 27% more likely to close that deal if they call within 5 minutes of an open.

Start faster
ContactMonkey is built into your Gmail inbox so you can start tracking in seconds. No need to learn any new programs. Just install and start tracking.

Team Up
Sales teams that learn together sell more together. ContactMonkey tracks email open rates, click-through rates and more – so your messaging and offers are always on point.
Email tracking for Gmail lets you see when your contacts open your messages and click your links.
Keep Tabs on Every Email
Strike while the iron's hot. Don't just see when your emails have been opened, but from where and on which device. Gmail email tracking lets you plan the perfect follow-up.
Follow Your Leads
Get live desktop notifications so you instantly see every email opened and clicked as it happens, no matter what you're working on.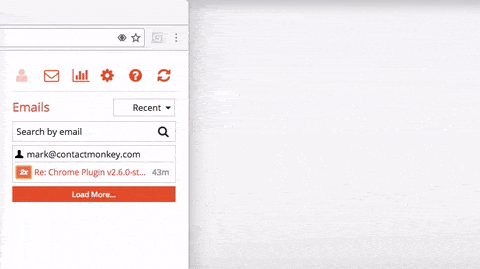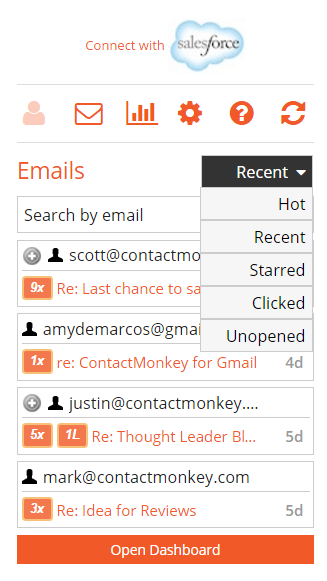 Focus on Who's Interested
Find out who's opening your messages the most so you can focus on your hottest leads. Know who's ignoring you so you don't waste your time.
Time to Perfection
Click the send later button in your Gmail compose box to automatically delay your message to a later time. Gmail Delay Send lets you specify the timing down to the minute.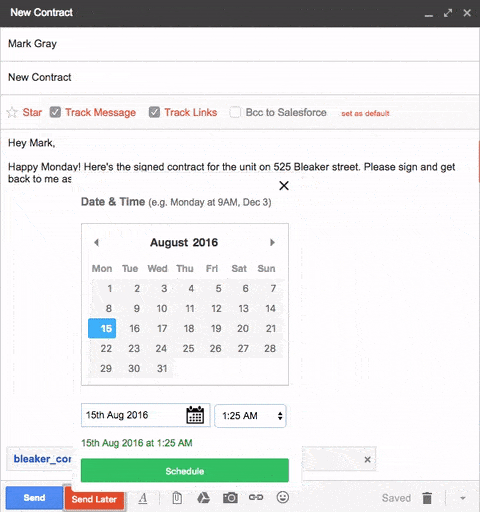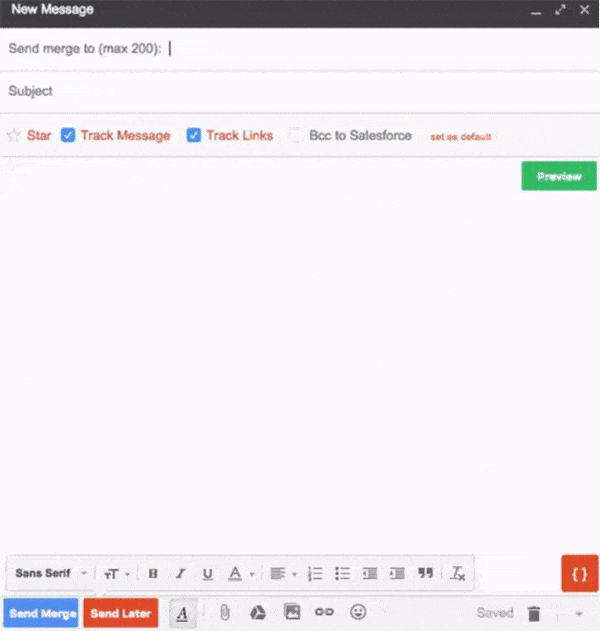 Personalize Your Emails
Write one email that turns into 2, 20, or 200 but maintains the feel of a one-on-one message. Gmail Mail Merge is streamlined for simplicity, so you can send in seconds and track every last email. Send mail merges with attachments of up to 5MB.
View Your Stats
Use the Gmail tracking dashboard to see your top email subject lines, links, cities, and more. Open the graph analytics to get an overview what's working – and what isn't – at a glance.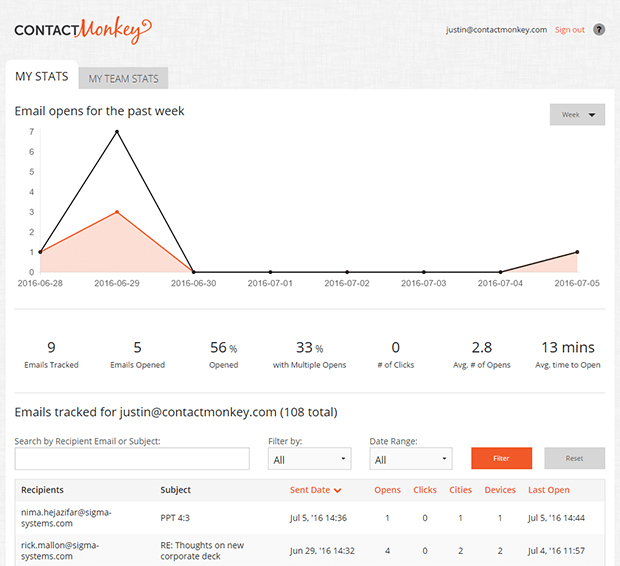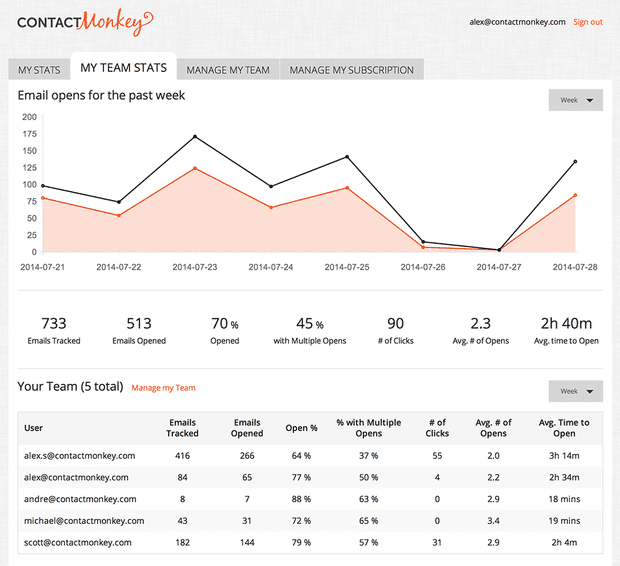 Track as a Team
With email tracking for Gmail, you can track how many emails your team has been sending, how many times they have been opened, and see which subject lines work best.
Bring Salesforce to Gmail
Bring the power of Salesforce right into your inbox with Salesforce Gmail Integration. Skip the hassle and keep all your Salesforce tools exactly where you want them.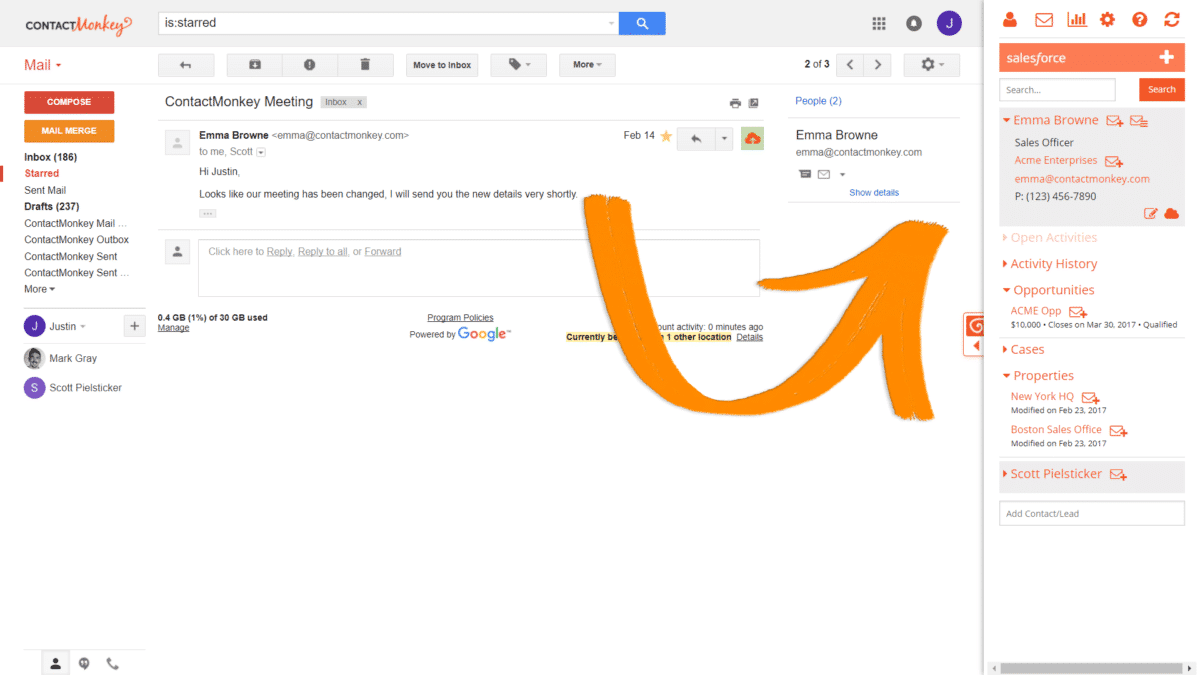 "Every sales professional should be using this tool to help them optimize their results."
-James Martindale, Review from the Salesforce AppExchange
How Gmail Email Tracking Works
Every tracked email tells a story. Watch a brief demo to see how ContactMonkey integrates with your Gmail.

For Sales Teams
Teams that use ContactMonkey track the most effective sales techniques in a simple, easy to use dashboard. Trusted by over 1,200 sales teams daily.

For Sales Professionals
ContactMonkey gives sales professionals the tools to take their sales to the next level without ever leaving their inbox.
Get Gmail Email Tracking today.