Do you use Outlook to send out business communications? Are you still stuck in the stone age and using Word Mail Merge to send mass emails from Outlook?
Did you know that you're able to send and track mass emails to prospects, clients, and employees without them even knowing it?
Plus now you can even create beautiful looking responsive HTML employee newsletters and send and track them from within Outlook, using Office 365, Outlook Desktop or Outlook for Mac.
As you probably know, using World Mail Merge can sometimes be incredibly painful and counterintuitive to navigate, whether you are using it to mass email employees or propsects.
You assume things are running smoothly until it's time to start a mail merge process and Outlook forces you to open Microsoft Word, and Excel sometimes; they might as well throw in Skype, Photoshop and Solitaire while they're at it.
But with ContactMonkey's mail merge feature within our Internal Communications Email Tracking Solution you are able to send to send personalized emails to dozens, hundreds or thousands of employees without using another system.
It's great to be able to create a Word Mail Merge, some might say it even a type of magic, but wouldn't it be even better if you could identify which recipients actually opened your email and clicked a link? This would help you to identify who seemed most interested in what you message.
Luckily it's simple to accomplish this, and you don't even have to use Microsoft Word, all you need is ContactMonkey's Outlook plugin.
For those of you who are still curious, in the 1st section we will show you how to create a Word Mail Merge, and in the 2nd section, we will show you how to create a ContactMonkey mail merge and track each email using our Outlook Email Tracking tool.
Section 1
How to Create a Word Mail Merge (for those of you still in the stone age)
The process for creating a Word Mail Merge takes some time getting used to. In this example, we will show you how to use Excel to select the recipients and use Word to create and send the email.
Step 1 – Select Your Recipients
Once you open Word the first step is to select who you're going to be sending the Word Mail Merge to. Click on Mailings ==> Select Recipients ==> Use Existing List…
Now simply locate the spreadsheet containing your recipients and click Open.
You may be prompted to tell Word how your list is separated. For example, each of your columns contains a field header and those field headers are usually separated by a comma but your columns may be separated by a different character.
Select the character that separates each field in the Field Delimiter picklist. Furthermore, each row of data also has a separator. In most cases, the character that is used to separate rows of data is (enter) but your spreadsheet may use a different character.
Once you've chosen a Record Delimiter click OK.
Step 2 – Create Your Email in Word
Now that we've selected who the Word Mail Merge will be sent to, let's show you how to write the email you want to send to your distribution list.
This is where you can personalize your email by inserting Word Mail Merge fields directly into your email. For example, if you want to personalize the email to include every recipient's firstname at the very top, you can insert this text:
Hi «First_Name»
You can access all of Word's Address Fields and Database Fields by clicking Insert Merge Field from the Mailings tab of Word's ribbon.
Once you've selected the field simply click Insert.
Note: Word inserts each field where your cursor is currently positioned so be sure to place the cursor in the right place before inserting the field!
Step 3 – Preview Results
Now that we've created the email you're going to send to your recipients, let's be sure all of the merged fields have been inserted correctly.
Simply click on Preview Results in the Word ribbon.
This replaces the mail merge fields with actual data from your list so you can ensure everything is populating properly. In order to scroll through your list you need to click on the arrows in the Preview Results section of the Word ribbon.
Step 4 – Finish & Merge
Once you're happy with the Word Mail Merge let's send it on its way! Click on the Finish & Merge button in the Word ribbon followed by Send E-mail Messages…
Be sure the To: option is set as Email_Address, include a subject in the Subject line: option, and in order to track your Word Mail Merge using Outlook Email Tracking set the Mail format: as HTML. And as you've uploaded your own spreadsheet list make sure All is selected under Send records.
Now the last thing you need to do is click OK to send the email on its way!
Word Mail Merges are tricky, this also means tracking them can be tricky too. We recommend that if you're looking to track your Mail Merges that you install ContactMonkey's Outlook Email Tracking Plugin.
Section 2
How to use ContactMonkey's Mail Merge Tool
If you want to ensure that your mail merge to your distribution list is actually tracked, firstly download and install our Outlook Mail Merge Tool and follow these four easy steps to better email communications!
Step 1 – Start your Mail Merge in Outlook
Open your ContactMonkey sidebar, click "get started" on the right-hand side and click "Mail Merge" and then "Mail Merge with Office 365" to get started. An Outlook message window will appear with our Mail Merge tool will pop up.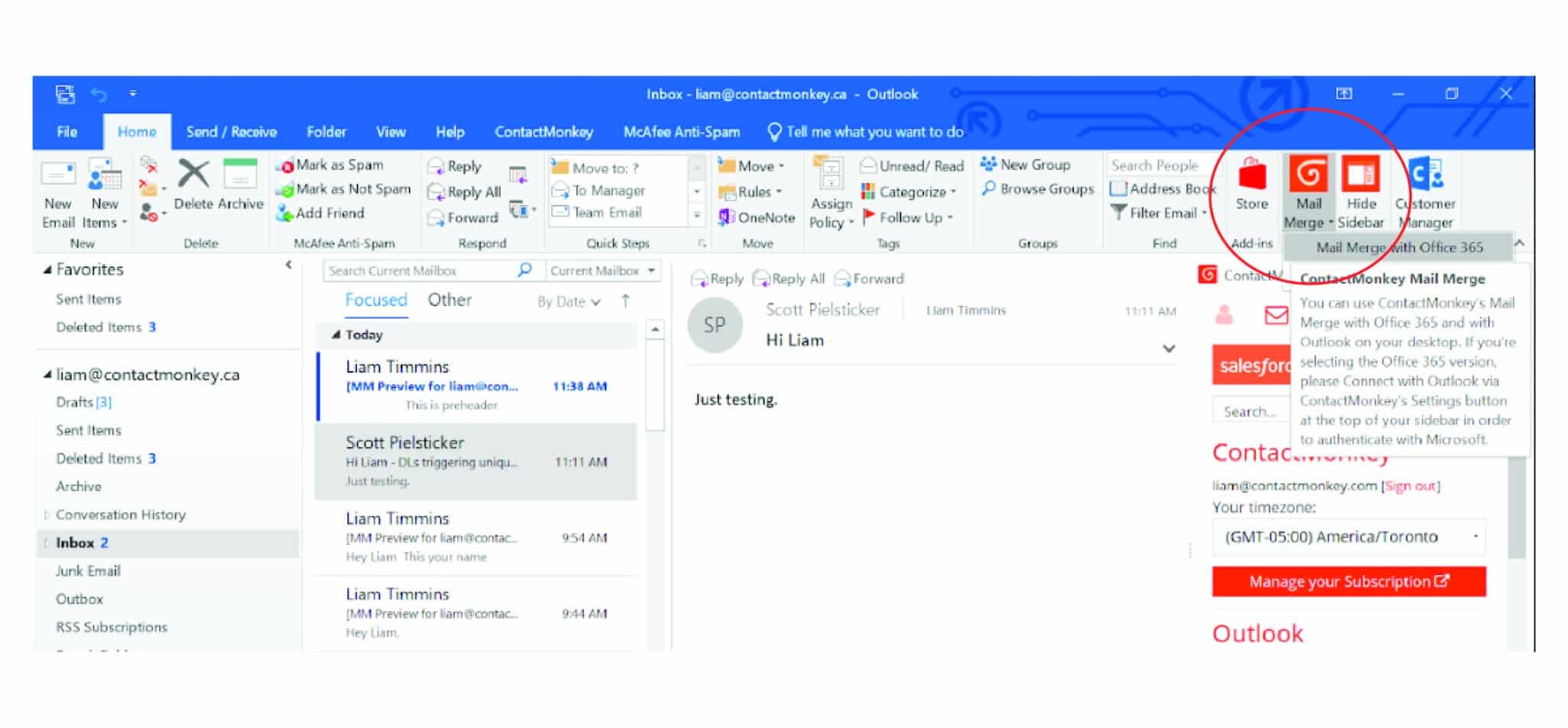 If you want to send a responsive HTML email template, you can either upload your own responsive HTML template or use our drag and drop Email Template Builder within Outlook to design you employee newsletter.
Step 2 – Choose Your Distribution Lists or Import a CSV in Outlook
Since ContactMonkey integrates within Outlook, all of your Outlook functionality remains the same, including selecting a distribution list for sending your plain text or HTML email template from Outlook. We've also made importing a CSV a one-click task.
To select a distribution list: click "To", select your distribution list from the drop down and press "OK".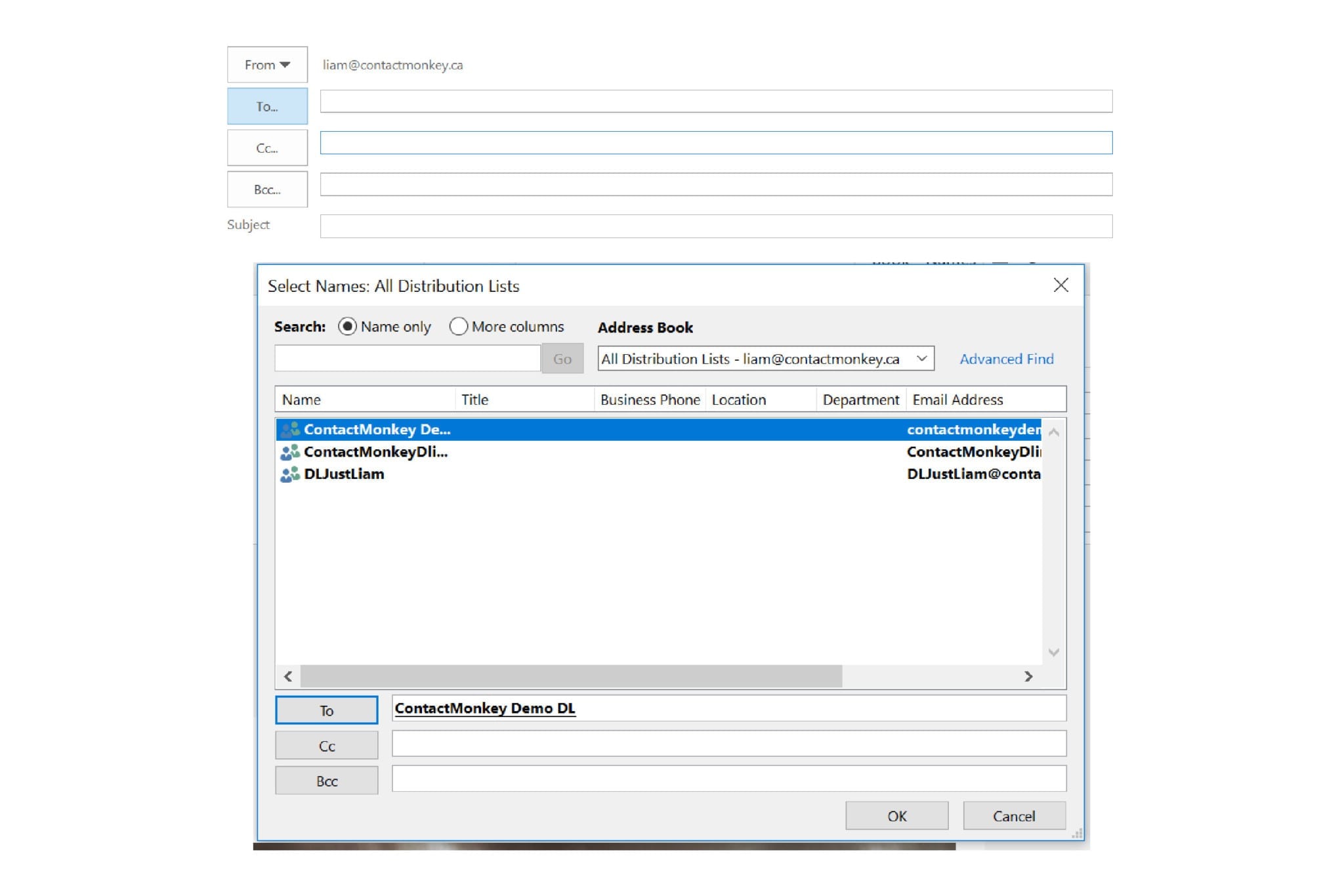 You can also upload a CSV by clicking on "Upload a CSV File" on your ContactMonkey ribbon.

Step 3 – Personalize The Subject Line or Body of your Mail Merge in Outlook
Did you know that personalized emails can improve click-through rate by 14% and conversions by 10%? Our mail merge tool supports personalization in both the subject line and body copy of your emails, perfect for boosting employee email engagement and emailing potential customers.
On the ContactMonkey Mail Merge Picker (on the left) click and drag any merge field you would like to use into your subject line. Probably "First Name".

To personalize the body, make sure you add the respective merge fields in your HTML file before uploading.

Step 4 – Preview and Send Your Outlook Mail Merge 
You can preview by clicking on "Preview Mail Merge". A window will pop up showing you whether you've inserted your merge fields correctly.
Green means everything is working properly, red means some information is missing.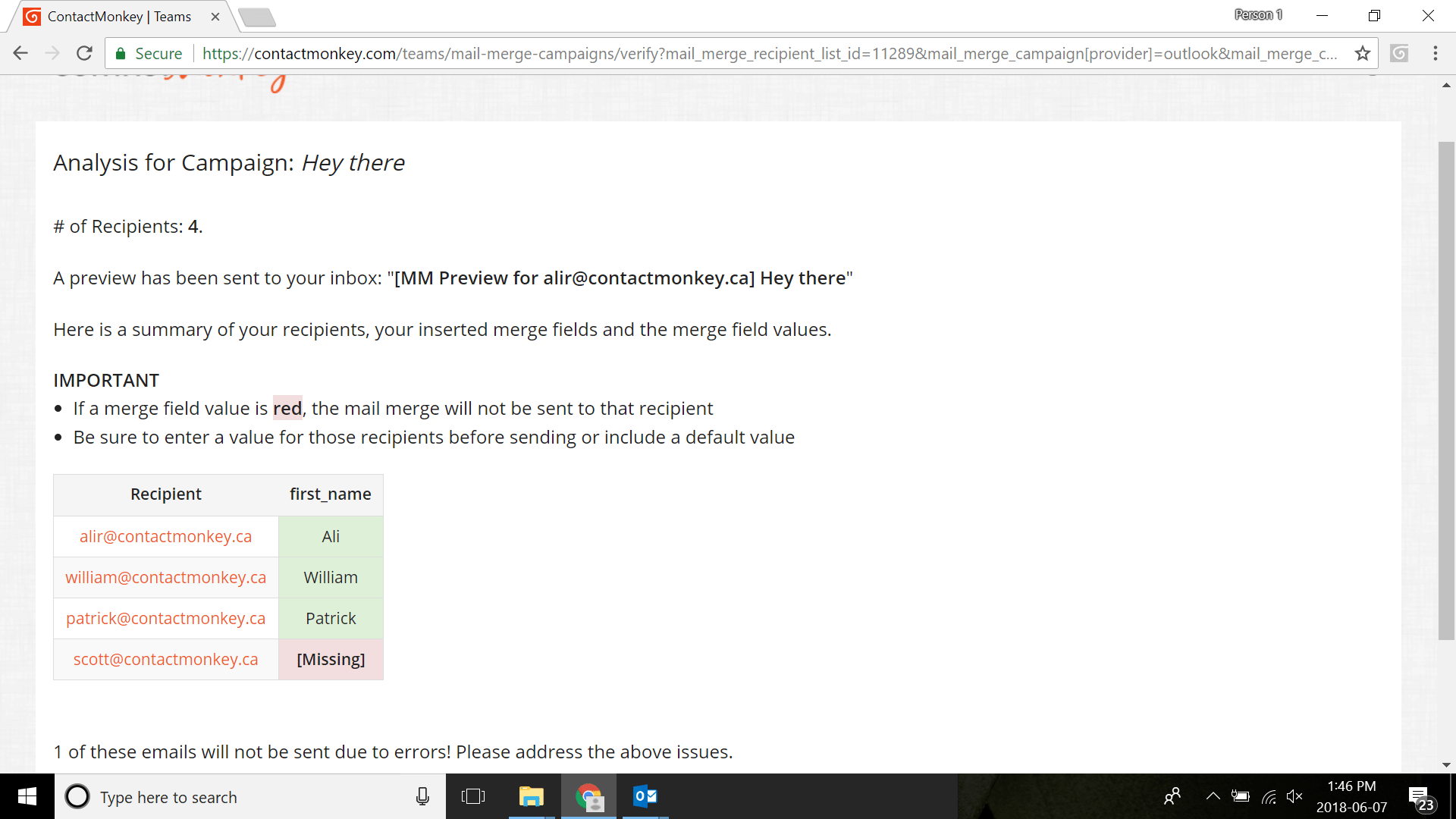 After hitting preview you will also be sent a preview of your email from Outlook so you can make sure that everything looks right.  After that you can hit send and voila!
You've now sent and tracked your mail merge to your Outlook distribution list in 4 easy steps!
Bonus Section: Email Template Builder within Outlook
If you're looking to send responsive employee newsletters from Outlook, you will need the drag-and-drop email template builder as part of your ContactMonkey Outlook Mail Merge package.
In four simple steps, you will be able to build fully responsive HTML email templates for your employees that look perfect when sent from Outlook using ContactMonkey's internal communications package.
Choose Your Template
Choose from dozens of pre-designed internal email templates or upload your existing responsive HTML email designs straight to Outlook to get started.
Design Your Template
Use our simple drag-and-drop email template builder to design your email template. Create on-brand templates using your brand guidelines. 
Add Social Reactions and Pulse Surveys
Add social reactions, pulse surveys, star ratings and Like buttons to create an interactive email template and gather employee feedback in real-time.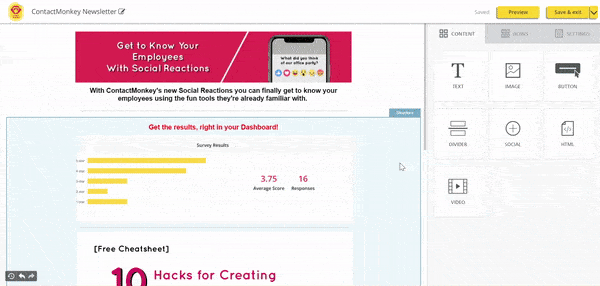 Mobile Responsive Design: Preview on Desktop & Mobile 
Preview your email designs on both desktop and mobile to make sure your emails are responsive and look just the way you intended within Outlook.
Send & Track Your Employee Emails
Send & track your beautifully designed HTML employee newsletter to your existing Outlook distribution lists from your Outlook inbox.
Ready to say goodbye to Word Mail Merge?
Now that you know how easy create, send and track mass emails to your Outlook Distribution lists using our tool, you can finally wave goodbye to outdated word mail merge mazes!
You Might Also Like:
Are you looking to start measuring your internal emails and identify your most engaged employees? Are you sick of using multiple systems to create, send, track and measure your employee newsletters?
If you answered yes, you're in luck! Find out today how ContactMonkey can up your internal communications email tracking game with our Email Template Builder and Outlook plugin designed for Internal Communicators!