Twitter Chat Recap: Is Email Dead?
Last week, we sponsored #CommChat, an online Twitter chat hosted by IABC. With the recent launch of our Internal Comms Product, we've been conversing with communicators to learn more about the industry, and one burning question always came up in our discussions: Is Email Dead?
Communicators around the globe want to know if email, as a communication channel, will survive in the near future. With the rise of disruptive tools and informal communications platforms including Intranets, Instant Messaging Apps, and Social Apps, who knows how organizations will continue to use email for business communications? More importantly, they want to find out if employees still consider email as an effective channel to receive important, job-related news and information.
That's exactly what we aimed to find out during this Twitter chat. We asked participants a series of questions and had an informative discussion that yielded some interesting results. In case you missed it, here's a recap of what we discovered about email:
Question 1: Do you think email still is, or will continue to be, a relevant communication channel for organizations?
While we're strong advocates of email as a communication platform (yes, we know we are a little biased), it was interesting to see that every single participant felt the same way about email – it's not going anywhere.
Collectively, everyone thinks that email is and will continue to be a significant communications channel in their organizations.
Supporting reasons? a) it's simple to use, b) it's cost-effective, c) people check their emails all day, every day (literally)!
That's not to say that there aren't any challenges to using email for business communications, yet they are certainly outnumbered by the many advantages.
Here' are some interesting tweets that sums up how communicators feel about email as an effective comms channel:
They've been saying email is dead since I started working in digital comms, but email has been a huge part of the strategy of every organization I've worked at for the last seven years. Don't mess with a classic.

— Barbara Magdalena (@bmagda_) February 14, 2018
A1: #Email will remain as relevant as organizations make it—like all #communications channels. If there's no strategy behind it, no message tailored to target audience, then time is being wasted. #CommChat https://t.co/KZbZXmCWIW

— Aldo Maragoni (@maragoni) February 14, 2018
A1: I don't see e-mail becoming obsolete anytime soon. It's a communication tool. The phone didn't disappear with new technology. E-mail may end up being used differently in conjunction with other tools. #commchat

— Will Tigley (@wtigley) February 14, 2018
Question 2: What other #communication channels do you see competing with email in the space of internal #comms?
There was no surprise here. Among the most popular internal comms channels were Intranets, Instant Messaging Softwares, and Face-to-face/Town-hall meetings.
Some participants agreed that it's important to consider what communication channels employees prefer, and implement their use at an organizational level:
I think live messaging is going to blow up. @davegerhardt and @dcancel are firm believers that Messaging and Voice are the two big mega trends that are going to blow up and change how people communicate with businesses.

— Sara Pion (@sara_pion) February 14, 2018
Q2: not sure if it is "competition," but a tool I see being used more often is instant messaging. This is particularly useful for connecting with those who let their unread email count get to 1000+ (!!!!!) #CommChat https://t.co/S0I1rwrlt2

— JackieSargent*Comms (@JackieOst) February 14, 2018
It was interesting to see many communicators focusing on the importance of executive leadership participation in delivering important company-wide news through personal interactions with employees.
A2: Enterprise social networks (#ESN) hands down. @Yammer and tools like it can have an enormous impact on how people communicate with each other and with you. The trick: don't over-moderate. People self-police when their names/photos are associated with their content #commchat https://t.co/DBDPatWTAo

— W. Aaron French (@AaronMoFoFrench) February 14, 2018
A2: How about just sitting down for a face-to-face chat (even it is over Skype). #CommChat

— Bill Spaniel, ABC (@billspaniel) February 14, 2018
This reiterates the fact that a lot of companies are investing time and resources building employee experiences, which leads to enhanced employee engagement.
Interested to learn more about employee experiences? Check out this infographic on the importance of investing in employee experience!  
Question 3: What are some advantages of sending business communications through email exclusively? Some disadvantages? #CommChat
One of the top advantages mentioned includes the ability to track and test emails with tools such as ContactMonkey's Internal Comms.
Tracking internal emails allows communicators to demonstrate how well their program is performing and show executive leadership how they are engaging with employees.
A3: Advantage – Test, track and learn what works best for your audience. Disadvantage – Being lost in the noise from the high volume of #email that most people receive every day. #CommChat

— Jon MacIndoe (@J_MacIndoe) February 14, 2018
A3: I think people still use email as an archive tool. We've had prospects and customers respond to our marketing emails over 12 months after the initial send. @iabc #CommChat

— Melyssa, ABC, PCM (@melyssa57) February 14, 2018
Question 4: When an internal email is opened, what keeps you interested? Please tell us about a recent email you've either received or sent that was impactful.
With so much noise in our inbox, it's evident that everyone thought short, snappy, and to-the-point emails are the best way forward for internal communicators:
A4: What do you want from me? Seriously. Bold it. Cut the fluff. Tell me so I can act on it and delete the email you sent me. #CommChat #internalcomms https://t.co/Zl0eHXHCKB

— W. Aaron French (@AaronMoFoFrench) February 14, 2018
A4: Short, snappy, and to the point, especially if it answers the "so what/why should I care about this." #commchat https://t.co/9uU4yFqJ7S

— JackieSargent*Comms (@JackieOst) February 14, 2018
A4: Usually it's about the content. If it's a topic I've been waiting to hear about or directly affects me, I'll read it. Notifications on outages or regular business processes tend to be skipped. #commchat

— Will Tigley (@wtigley) February 14, 2018
At ContactMonkey, we like to keep our emails relevant and visually appealing so we can get information to the end-user swiftly. Here's an example of an email that did really well for us: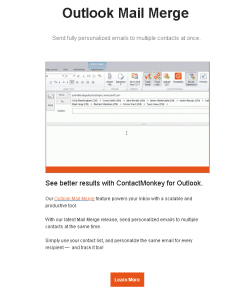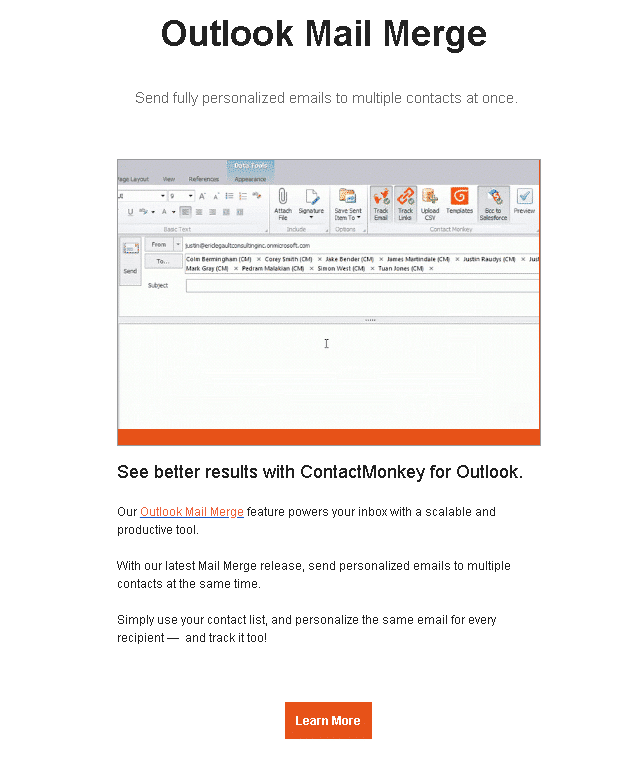 Question 5: How can an email encourage action or generate engagement internally? Please share an example.
Our very own Marketing Director, Ali was the first participant to offer her perspective:
A5: I think the right type of email can generate action, specifically when the right message is sent to the right audience. For example, sending me an email about something happening in another market and expecting me to take action, doesn't make sense…#commchat

— Ali Sifton (@alialex22) February 14, 2018
Other's had some interesting things to add:
If your subject line is boring, there's no chance it'll drive any action. Our sales team uses the subject line "Only forms", continues the thought in the body of the email "Noticed you were only using forms on your site. Why?" The user feels like they have to respond to that

— Sara Pion (@sara_pion) February 14, 2018
A5: Is it the message or the channel that encourages action or generates engagement? That said, if people can immediately do something with little effort (e.g. click on a link), then greater likelihood of action. #commchat https://t.co/YMgAHtf3tb

— JackieSargent*Comms (@JackieOst) February 14, 2018
A friend is the registrar in one of U of T's faculty departments. She has developed an email etiquette "training" document for students.

NO "Hey there" (or other casual references to strangers) allowed in it! #CommChat

— Judy Gombita (@jgombita) February 14, 2018
Did you enjoy reading through the recap? Have something to add to the conversation? Leave us a comment below or give us a shout-out on Twitter.
Want to learn more about how your employees feel about Internal Email Communications? Download our free eBook on how to create a modern internal comms strategy.