Whether you're sending an external email newsletter for customers or an internal newsletter focused on employee communication, testing should be an important part of your email newsletter workflow.
Email testing can save you time, money and loads of headaches. A broken image, bad link, or incorrect layout can significantly affect your email engagement – causing your open rates, click-through rates and email ROI to plummet.
As you prepare your next email newsletter, make sure you check these 10 crucial items before you hit "send."
10 Items to Check Before Hitting 'Send' on Your Email Newsletter
1. What Does Your 'from' Name Look Like?
What will your subscribers or employees see when they look at your email's "from" field? Is it a generic "no reply" email address? If it is, it could negatively affect your email open rates and engagement.
Make sure you're using your company name or, if appropriate, the name of someone from your organization. For example, a content-specific email could come from your Content Manager, such as "Melanie at Email on Acid." A personal message about a product or pricing change could come from your CEO or COO.
However, remember that if you're sending from a specific person, keep it consistent across those types of messages. Otherwise, your subscribers or employees may get confused and become disengaged.
2. Do You Have a Preheader?
The email preheader is quite possibly the most overlooked part of email development – and it's a huge missed opportunity! The preheader displays after the email subject line and is easy to code. It helps give additional context to your subject line and can make a huge difference in open rates.
Plus, if you have any subscribers who are using a digital assistant to read their email (such as Siri), the preheader is crucial in helping them engage with your message.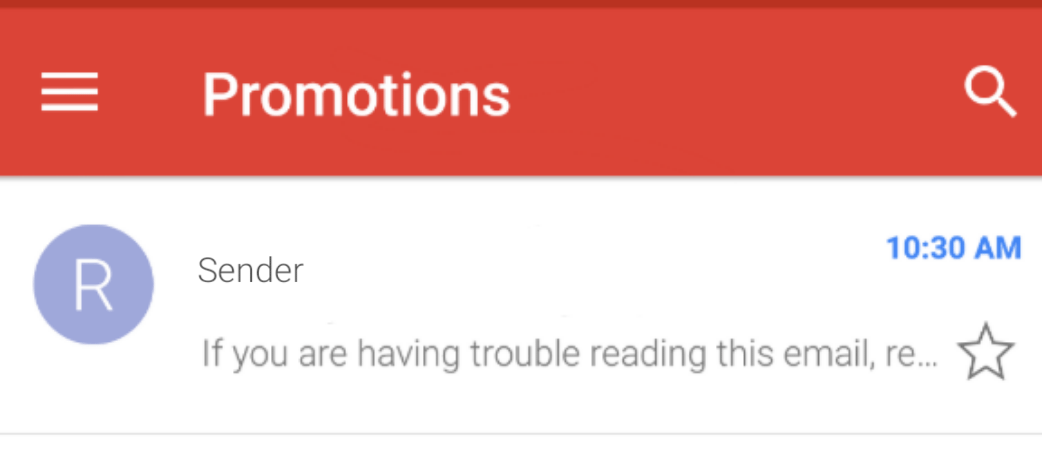 Not the best preheader, am I right?
3. Do Your Links go to the Correct Location?
If you have broken or misdirected links in your email, you could wind up with some confused or unhappy subscribers – not to mention, your email marketing ROI could take a dip.
There are a couple of ways to test your email links – you can do it manually by clicking on each link in a test email, or you can use a link validator.
4. Are You Sending to the Right Distribution List or List of Subscribers?
This one may seem like a no-brainer, but how many times have you sent (or almost sent) an email to the wrong group of people? It's easy to do!And there are tons of horrifying examples of accidental emails sent at work out there. Be sure to avoid them! 
Before you hit "send," make sure your message makes sense for the segment you are sending it to (you can read more about the benefits of list segmentation here). And if you can, don't forget to add some personalization to give your email an extra boost.

5. Do You Have an Unsubscribe Link?
If you're an external marketer creating newsletters for your customers, not including an unsubscribe link is one of our biggest email pet peeves. These links should be easy to find and easy to use. 
Plus, not including an unsubscribe link is against the law in the U.S., Canada and all the European Union countries covered under GDPR.

We like to have a little fun with our unsubscribe link at the bottom of our email newsletters.
6. Is Your Email Newsletter Mobile Friendly?
 With the rise in popularity of mobile devices, some email designers have embraced "mobile first" design. This means that they design the email with mobile clients primarily in mind, and then make sure it also looks good on desktop.
By putting mobile users first, designers hope to increase engagement and click-throughs on mobile devices. We recommend this approach especially for simpler emails like password resets, transactional emails and account updates.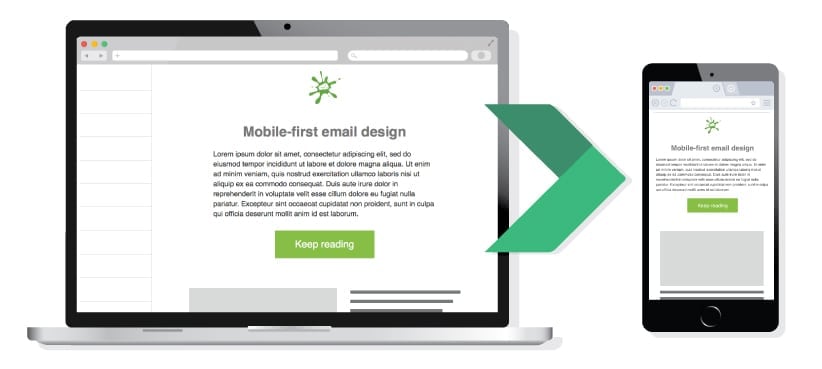 We go into detail on the difference between mobile-friendly, responsive and hybrid email design, and how to tackle each. You can also check out these handy responsive email templates for your employee newsletters.
7. Do You Have a Good Balance of Text and Images?
The most common guideline you'll hear for text-to-image ratio in email is no more than 40% image coverage and a minimum of 60% text. While there are exceptions, this rule will generally keep you out of any deliverability issues. An all-image email will likely land in the spam folder.
Make sure you have the right balance between image and text that makes sense for the type of devices you're sending to. If you're mostly looking at mobile clients, focusing on images is a good idea. If you're going to be in Outlook mostly, you may want to focus on the text more. Find the balance based off your specific campaign needs.

8. Do Your Images Have Alt Text?
Some email clients will block images by default, and some users will change their settings to block images so that they can use less data. If you rely on images to communicate your message, your subscribers may miss out if images aren't downloaded. This is why it's important to include descriptive alt text for your images and style the alt text to improve its appearance.
Alt text is also important for email accessibility; setting the right alt text will enable screen readers to accurately describe images. However, not all images need alt text. If you're using an image purely for the aesthetics of the email (such as a spacer GIF or shadow), be sure to set an empty alt="" on the image. This tells the screen reader to skip over these images.
9. Is Your File Size Under 100 KB?
There are a couple good reasons to keep your email under 100kb. First, it will pass through more spam filters by staying light. Keeping your email under 102kb will also prevent Gmail from "clipping" your email.
To keep your email under the limit, consider removing redundant or unused styles, moving some of the content of the email to a landing page, or removing any unnecessary characters from your code. Just make sure to test any changes before the final send!
10. Have You Previewed Your Email on Different Devices?
As an email marketer, internal communicator or developer, you probably know about the fickle world of email clients. What looks great on one client could look terrible in another. Some clients – we're looking at you, Outlook and Gmail – are more troublesome than others.
Because of the lack of standards across email clients, it's crucial to test your email newsletters before you hit "send." By testing first, you can find and fix problems before your email lands in subscribers' or employees' inboxes, so you can make sure your message looks perfect every time.
Email on Acid can help you test across a wide range of email clients and devices – mobile, web, desktop, Apple, Android – more than 70, in fact!
And for those of us fighting the Outlook battle, Contact Monkey has created a handy tool for sending pixel-perfect responsive emails straight from your Outlook inbos to your existing distribution lists.
Now you have the power…
…to send excellent email newsletters! These tips, combined with a great testing strategy, will help you put your best email foot forward.
Do you have more email newsletter and testing tips to share? We'd love to hear them! Feel free to leave a comment below or shoot us a message on Facebook or Twitter.
This blog was a guest post by Melanie Graham, the Content Manager for Email on Acid.
Are you looking to start sending your employee newsletters from Outlook? Sign up for your FREE TRIAL of ContactMonkey to start creating, sending and tracking all your internal emails from Outlook to your Outlook distribution lists!