At ContactMonkey, we're always looking out for teams and professionals actively searching for tools to optimize their sales pitch and simplify the sales cycle. So we're happy to introduce – email templates for Gmail.
Our latest feature allows professionals to create their own email templates, right from their inbox. This great tool allows them to share customized templates with other team members (or not!) and cut down on time sending out or answering repetitive emails.
Sounds cool, right? If you're already familiar with, or already using Salesforce email templates, then following these steps should be a breeze. New to email templates? We break down the steps below.
Create New Email Templates for Gmail:
---
Step 1: Start with 'Email Template' Button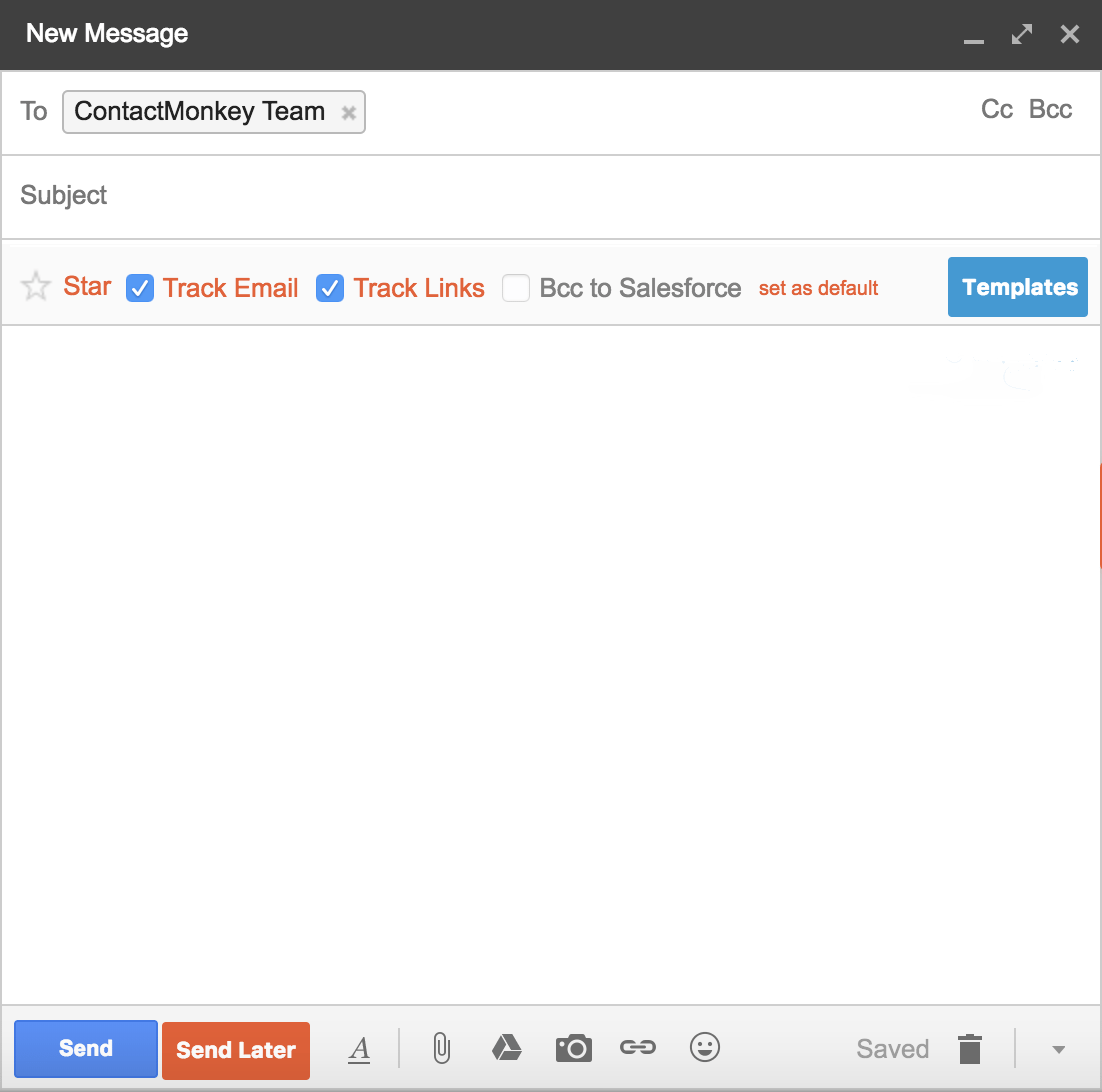 Open an email and click on the "template" button in the top right corner.
Step 2: Craft Your Email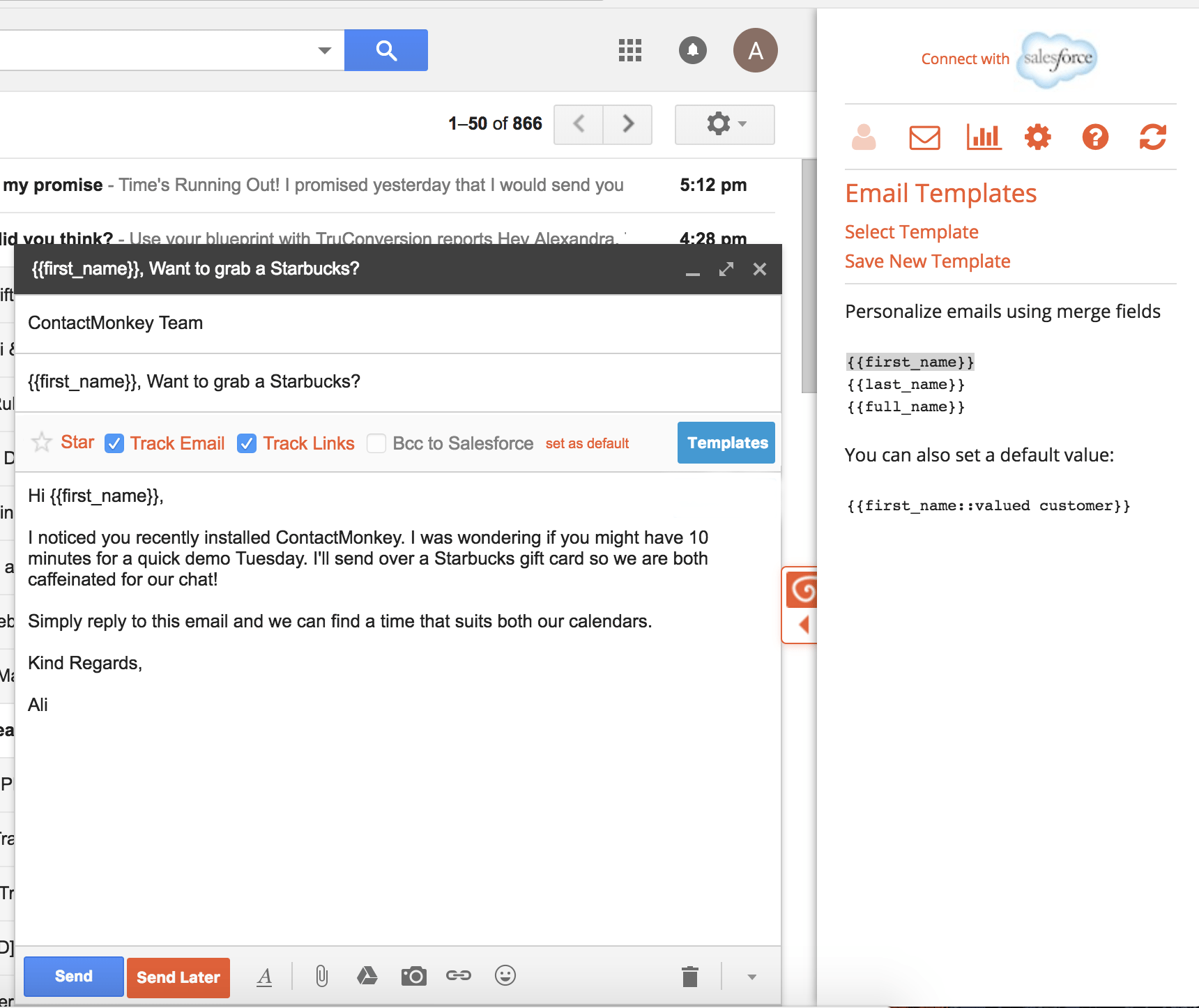 Craft your email in the body of the email. Don't forget to write your subject line! You can grab merge fields from the ContactMonkey side panel and also include inline images to work with your template.
Step 3: Hit Save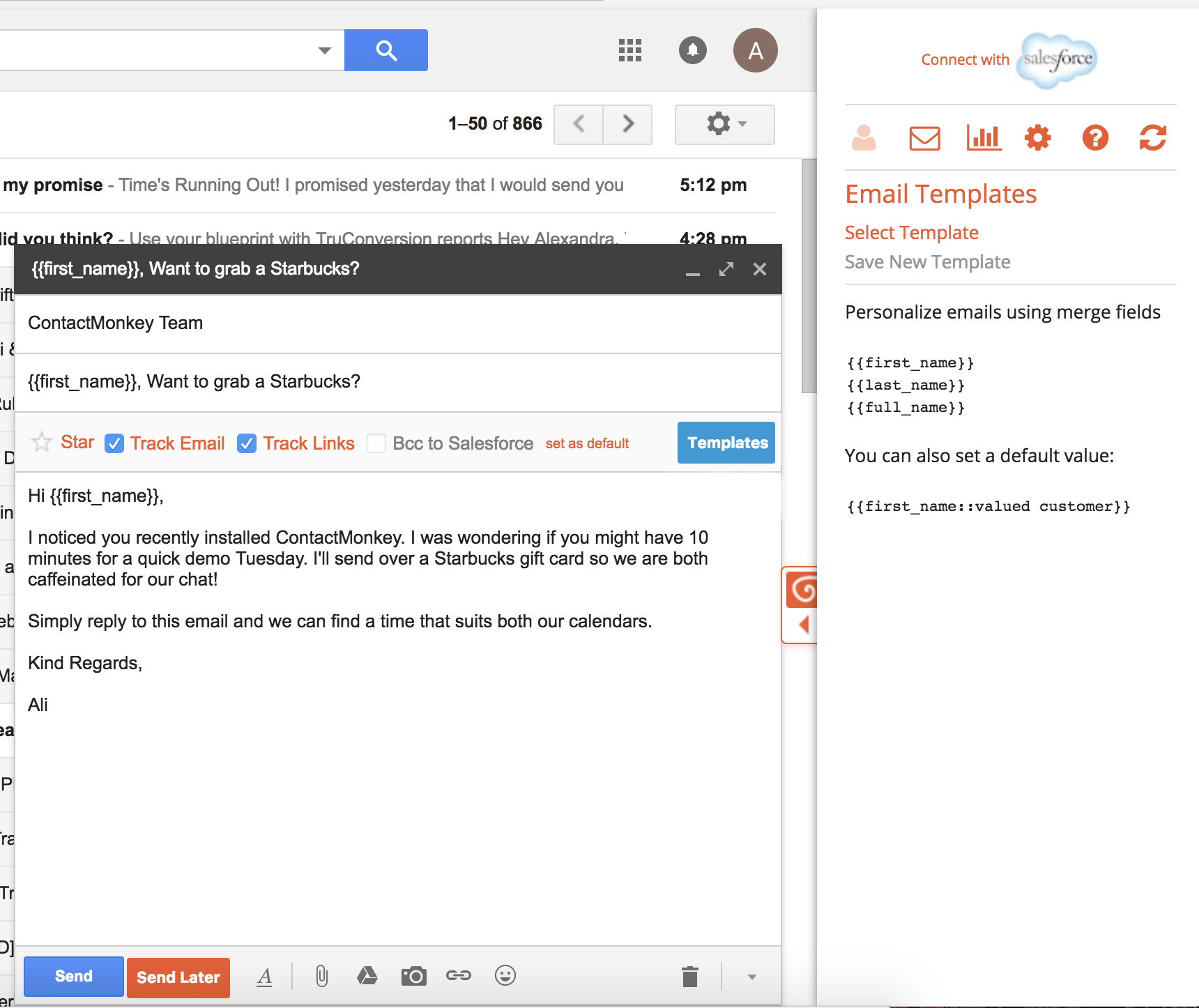 Once you're happy with the way the email is composed, you can select "Save New Template" from the side panel.
Step 4: Almost there!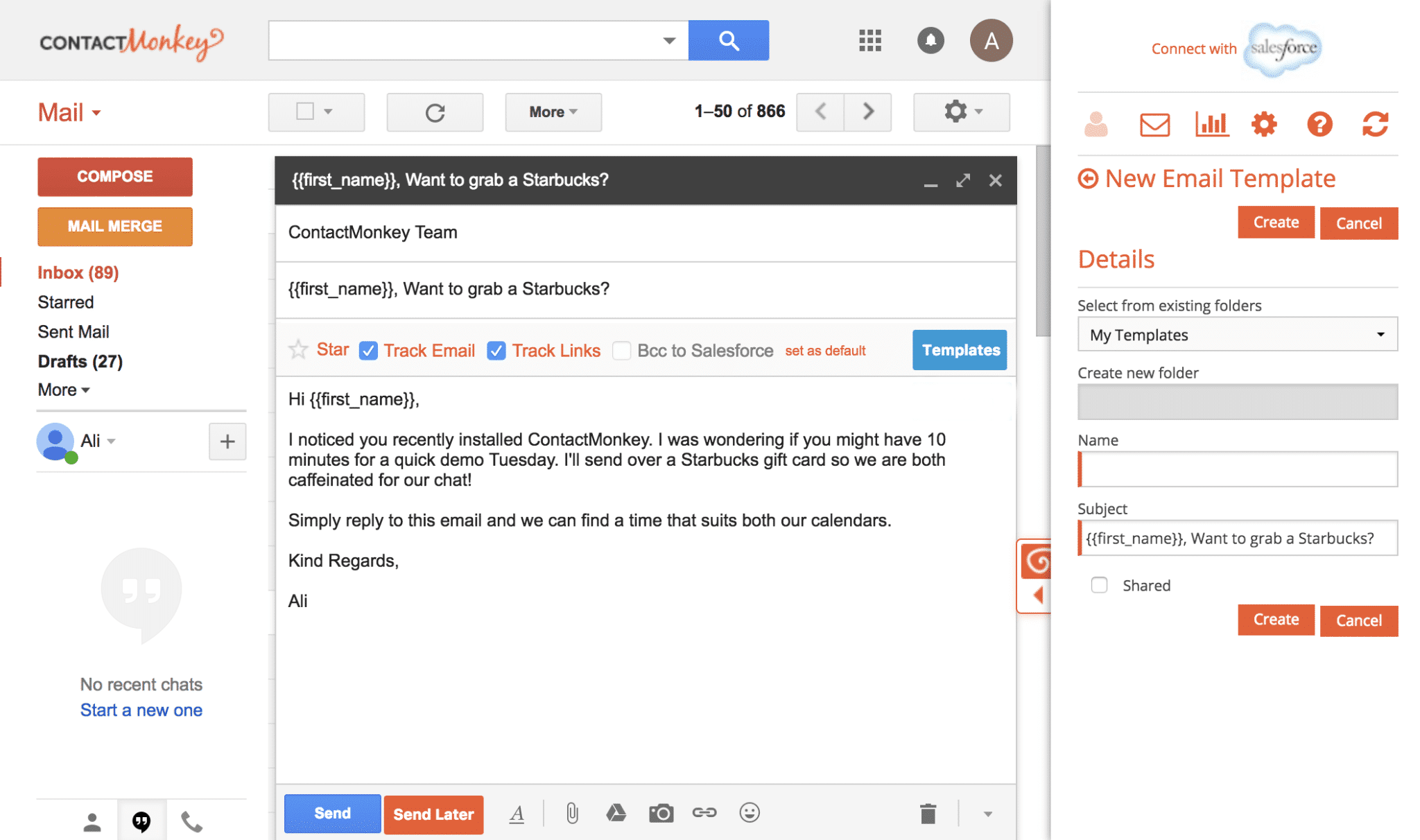 Once you have selected "Save new Template", we are in the home stretch. In this screen, we need to do 3 things:
within "Select from Existing Folders", select between "New Folder" or My existing folder, which is by default "My Folder", By Selecting New Folder, "Create New Folder", the second input box in the side panel, which become editable and I can update with the new folder name. In this case I will call it "Sales Folder".
Select a name for the template. Use one you will remember so you can easily grab and go!
The subject line we've already input so it will be moved over automatically from the email.
Step 5: To share or not to share…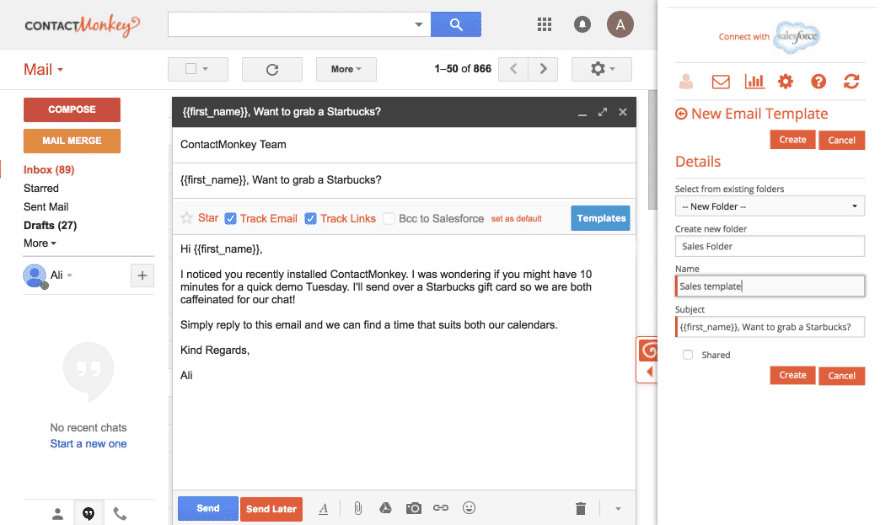 Once all the fields are filled in, I need to decide if I want to make this a shared file for my team or just for my use. In this case I'm going to be the only one using this template.
Once I hit "Create", I will be back to the original state of my side panel with the addition of "Update Template Sales Template". If I click on this button it simply goes back to allow me to update subject line or template name.
Press Send and you are good to go! To learn how to reuse this template, keep reading.
How to Insert an Existing Email Templates for Gmail:
---
Step 1: Select Template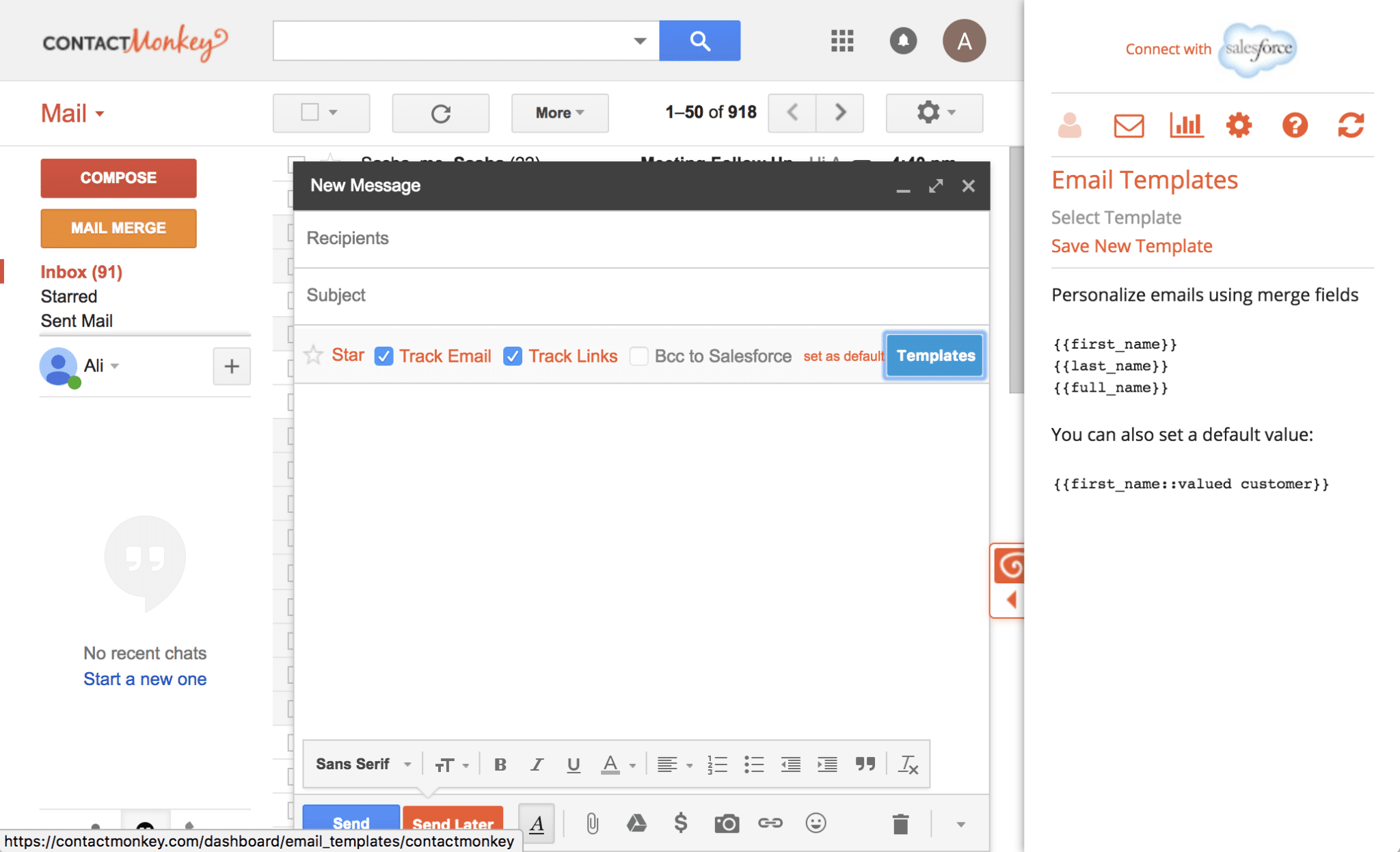 This time, we are going to start by selecting and inserting a template that we just created.
Step 2: Select the Right Folder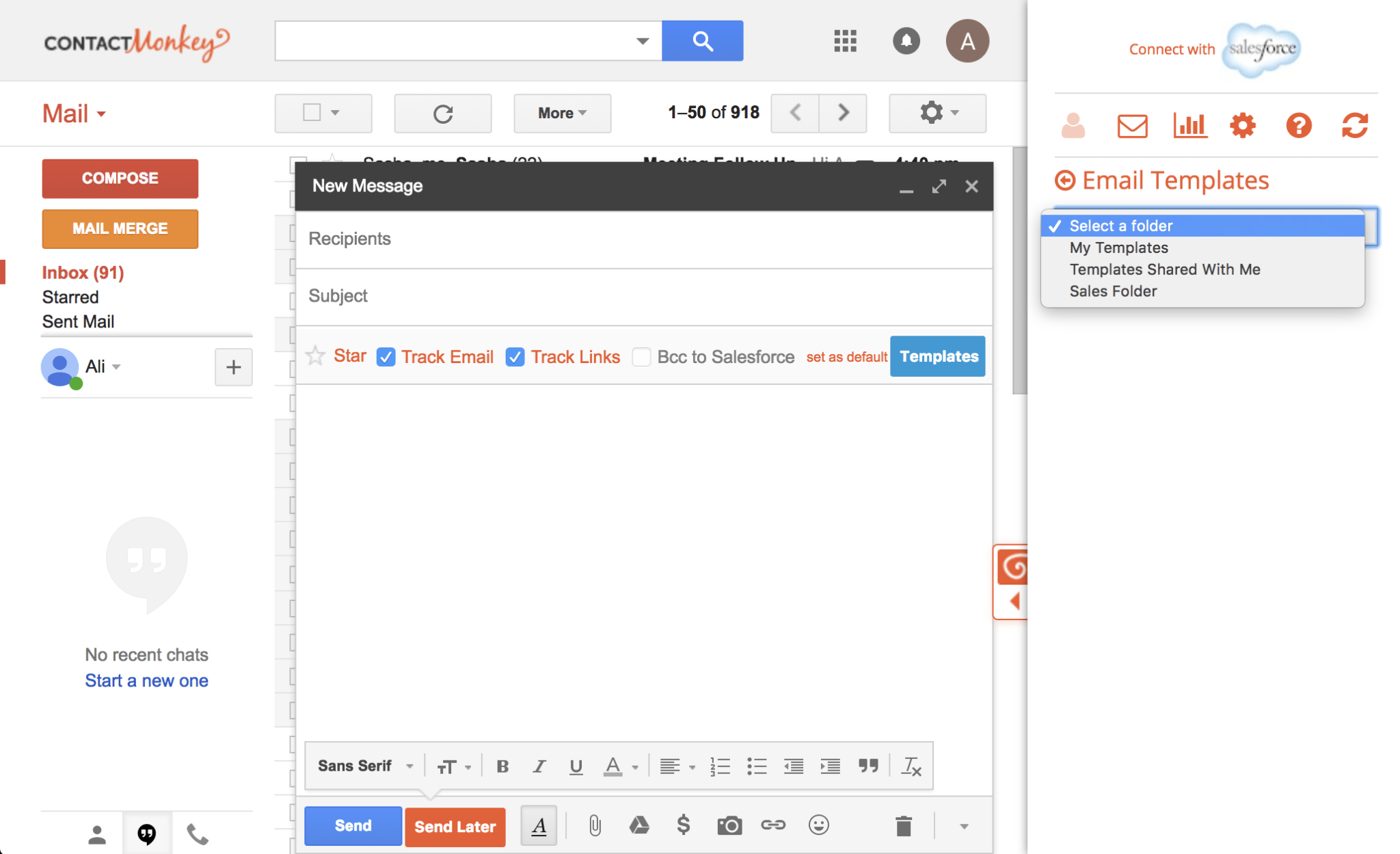 Select the folder with the saved template. If you remember, we just created the Sales Folder for our new email above.
Step 3: Select the Template You Want to Use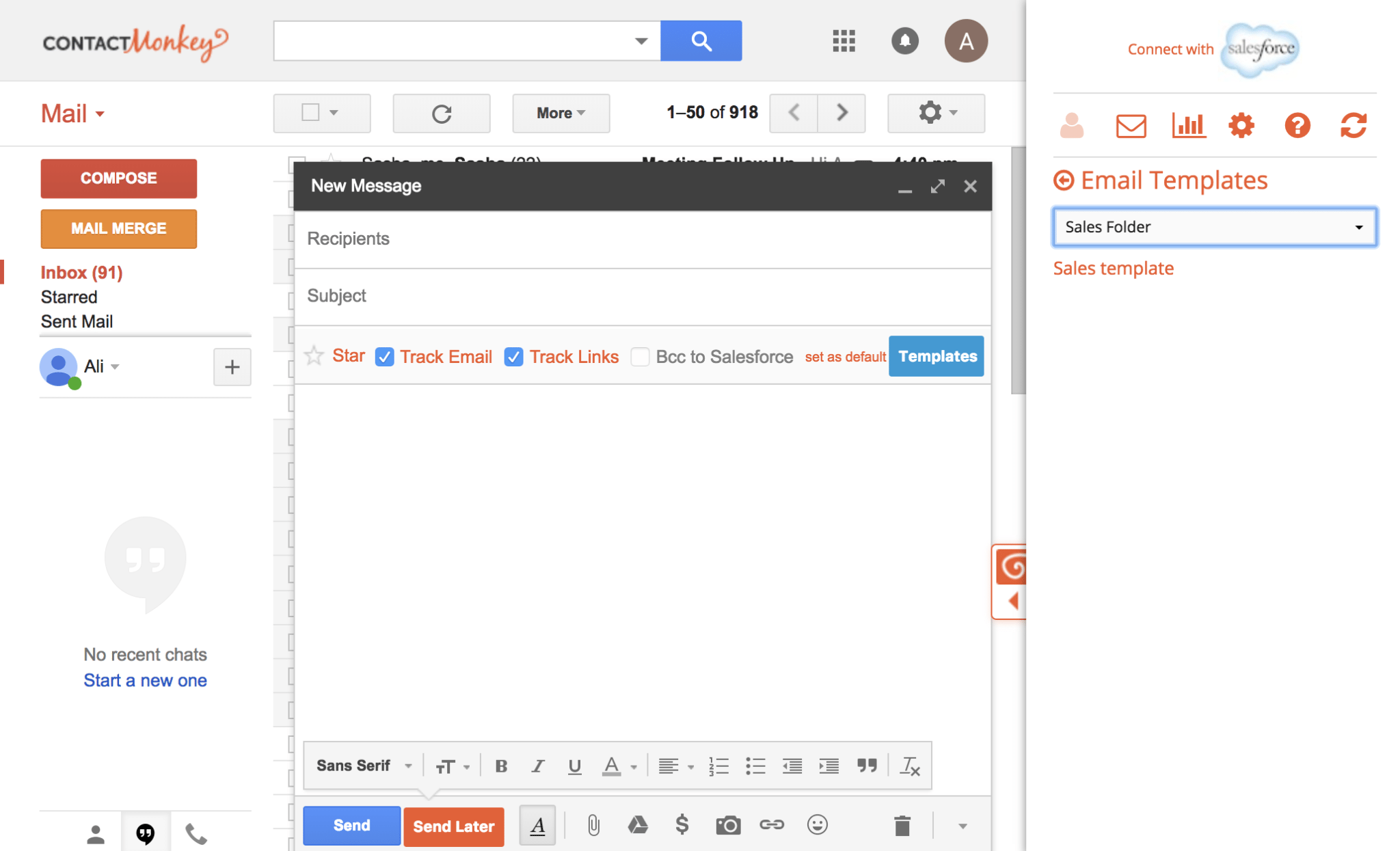 Our sales folder only has the one email, so I'm going to select it. There's our template, "Sales template" in orange.
Step 4: Making Edits on Template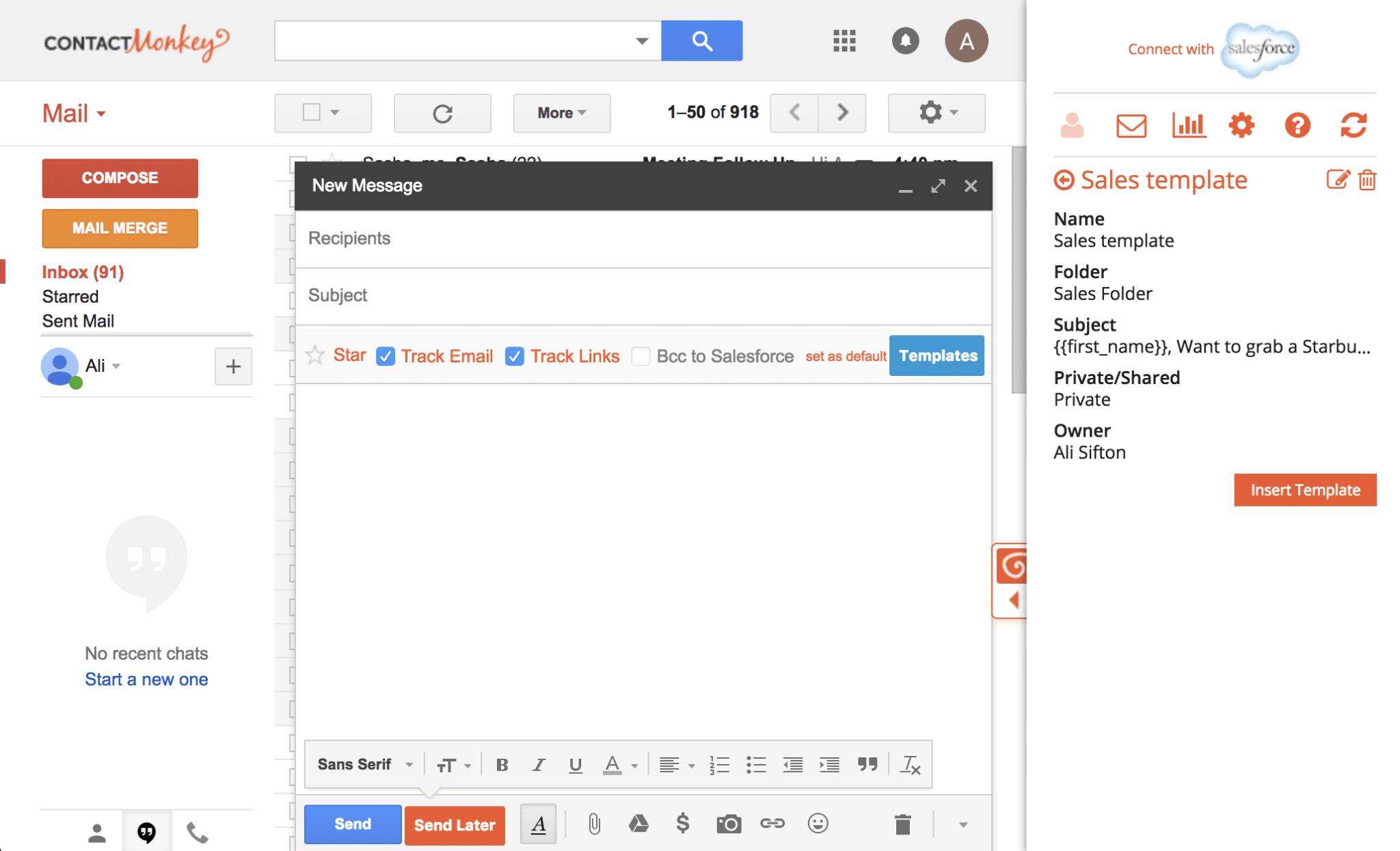 And here's what our template looks like in the side panel. I can give it a once over and click insert if everything looks good. If I want to make an edit, I can click on the "Edit Email Template" which takes me back to the screen in step 3 (or 4) above. If I simply want to insert though, I click "Insert Template".
Step 5: What It Looks Like – No Recipient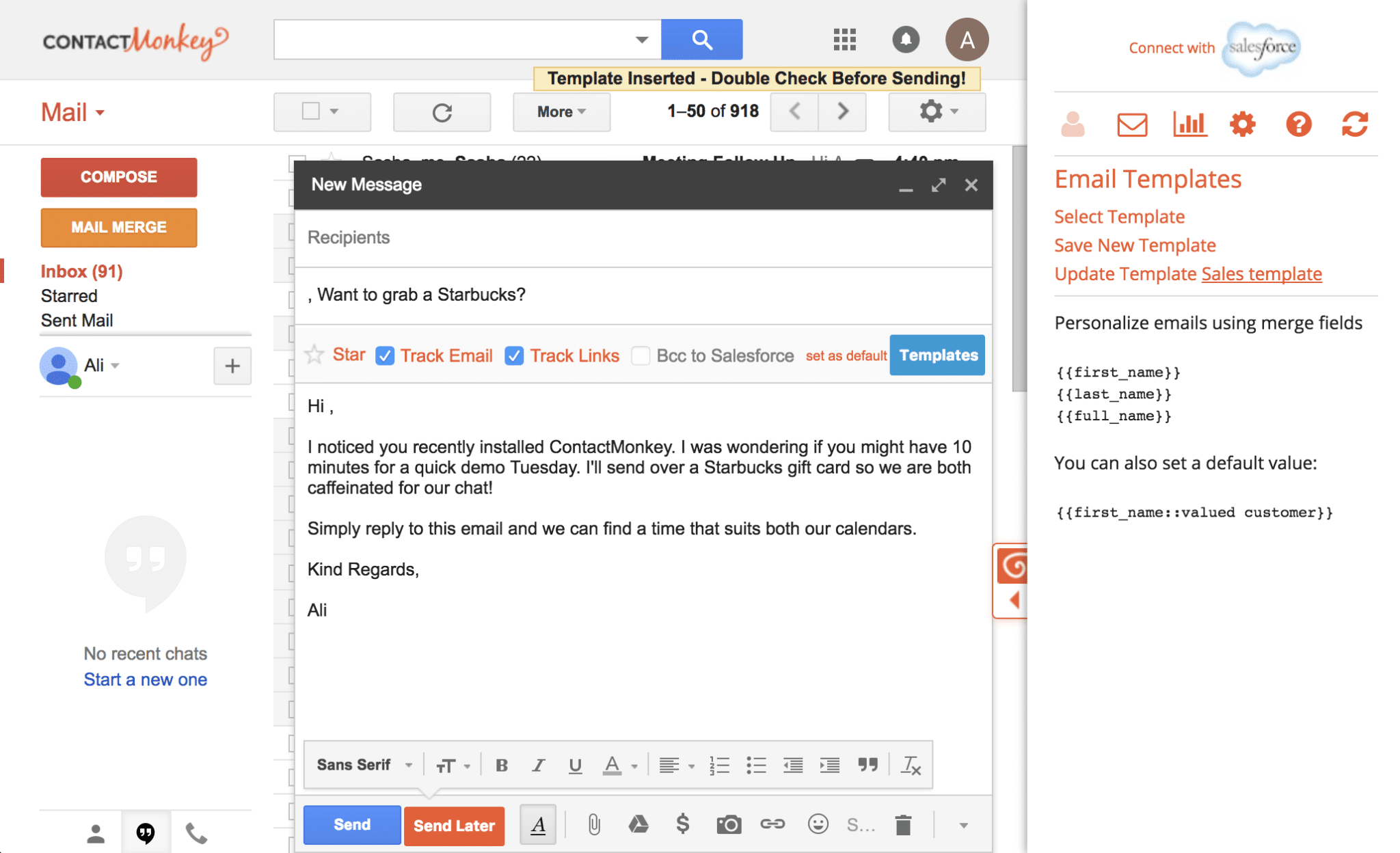 Here's what it looks like when there's no recipient selected
Step 6: What It Looks Like – With Recipient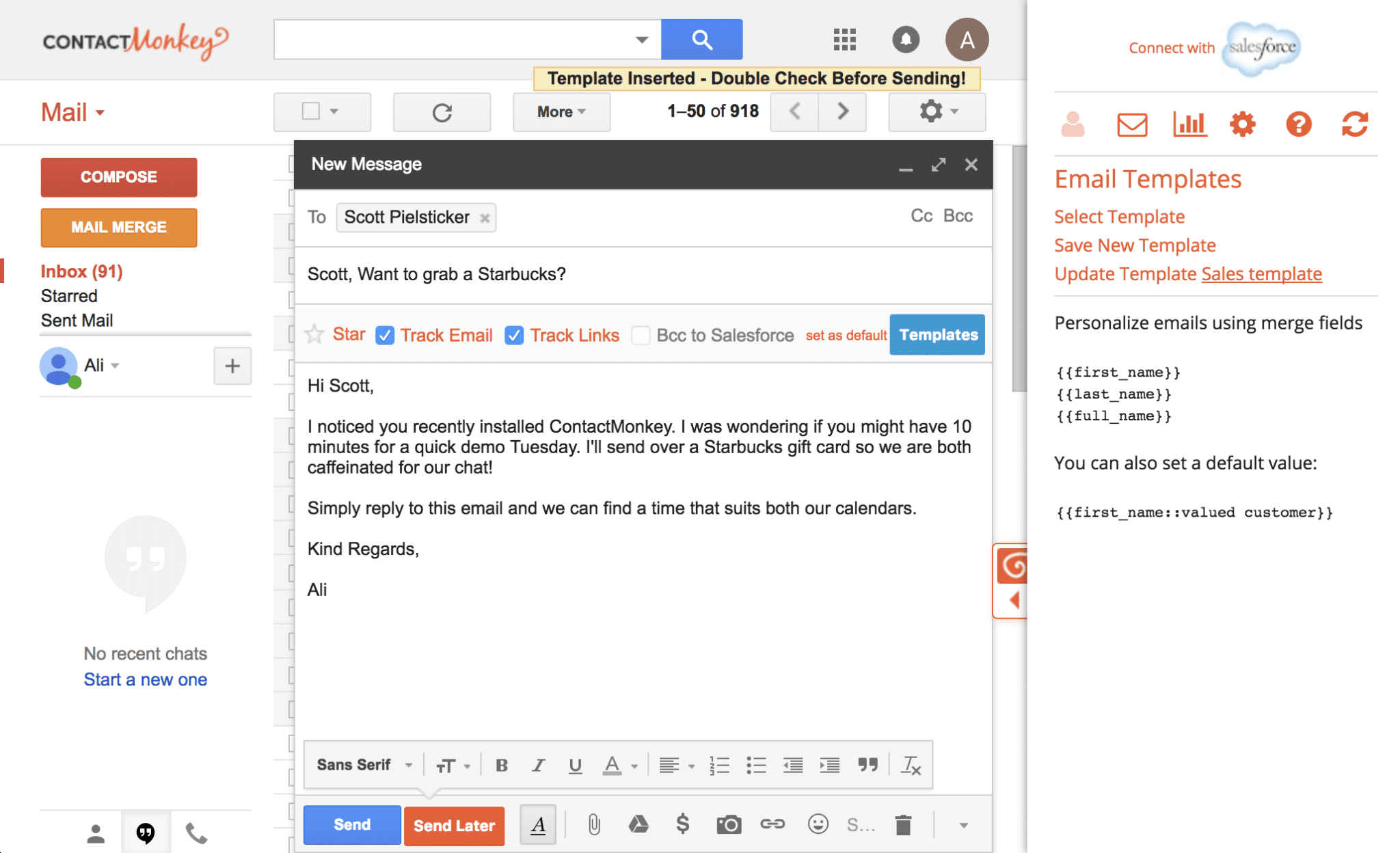 And here's  what it looks like with our CEO Scott as the recipient. He is saved in my contacts so first name "Scott" auto-populates.
Now that you know how to create email templates for Gmail, go ahead and give it a try. We promise you'll never have to spend another minute writing a tedious email ever again.
Don't have ContactMonkey installed? Try out our software for free!