Vacation time is here again and there seems to be always so many things to do before you leave the office. Are you like us and always forget how to set your out of office message in Outlook?
I can already hear the beach calling my name, luring me in with an endless supply of piña coladas and my "Margaritaville" playlist playing on loop.
While you may be living the laptop lifestyle, you really don't want to get sand in your keyboard (Trust me on this).
Instead, truly disconnect from the office and leave your laptop at home. (You're not going to get any work done on a workcation. If you do, it could be filled with hungover typos!)
If you're even bolder, turn off your phone notifications and disconnect from the office.
There—doesn't that feel better?
Wait! Before you break out the hula skirt and flip-flops, you might want to let your team know you're leaving. And your clients.
Probably even your boss.
Too many people and too much hassle? You're right. That's why you should set up your out of office message in Outlook (or your favorite email client).
Why Out of Office Message in Outlook is Essential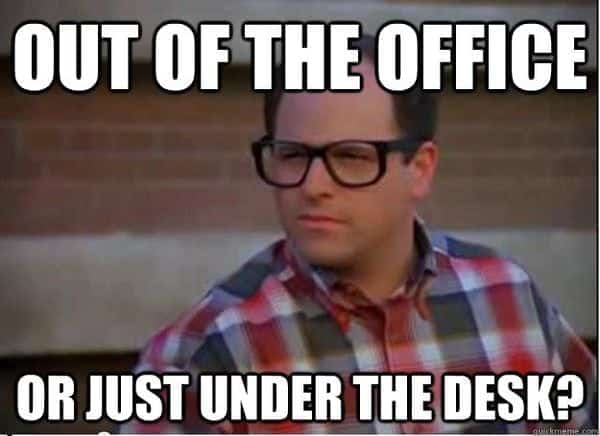 As mentioned, everyone is going to wonder where you've wandered off to if you don't give them some notice. A professional out of office message definitely delivers.
Your fellow salespeople and co-workers need to know when you'll be back in business, along with who to contact in your absence.
Your leads and clients normally save all of their questions until you're on vacation, somehow. (Mind reading? Surveillance? The jury's out on this one.) So they'll need you to provide a sense of direction, and reassurance that you'll get back to them upon your return.
Eager to discover how to set the Outlook out of office message? First, let's figure out what you need to say to keep the eager emailers from hunting down your personal cell number. Or perhaps you could just delete all their emails like this professional and have a clean inbox on your return! 
What to Include in Your Out of Office Message in Outlook
The first part is fairly standard. After your greeting, state that you'll be out of the office between such and such dates. Easy.
If it's relevant to your business, such as attending Inbound or another conference, feel free to mention where you are going— although you might have a few wistfully jealous coworkers upon your return.
Decide your estimated response time upon your return. Most people leave this vague, as in "the order it was received," but if you know you will get back to them in less than a week, go ahead and say so. They'll appreciate the ETA.
Tell them who else in the office they should reach out to, should they have an urgent issue arrive. You don't want them interrupting your hot tub time, right? Be sure to let your office mates know that they'll be fielding questions, and how they can access information if need be.
The last bit is optional, but sometimes necessary if you have important projects or VIP clients who can't live without you. You may opt to include your cell number, along with the caveat that you're only checking your phone twice a day (or whatever works best for you).
That last move is only for power users.
Sign off with your usual fare, along with a cheerful "thanks for your understanding." 
Example of An Out of Office Message
Take a look at the different sections of a professional out of office message in action, via the sample below.
A professional out of office message is short, sweet, and effective.
The out of office dates make it clear how much PTO you've accumulated over the year. No, wait, it clarifies when you'll make your triumphant return.
The networking event mention will give you something new to discuss, and help strengthen your business relationships.
A good idea of the response time comforts those who need to know when to expect an answer, as they are battling their own deadlines.
Providing alternate contacts gives those who need an ASAP answer a workaround against your holiday. Your relaxation won't slow them down!
Phone calls are reserved for the most extreme cases. Many times, it eases people's minds when they know they could reach you, but they ultimately won't.
Finally, your friendly sign-off wraps up the email, and makes the recipient start thinking of seashells in the sand too. Success!
Now, how to do out of office in Outlook? So glad you asked! There are different methods, depending on how you use Outlook. Let's go over two common variations.
How to: Version 1 – Automatic Replies in Outlook 2016, 2013, 2010 Exchange Accounts
Most organizations that use Outlook use Exchange accounts. If you are uncertain, you can ask your IT guy, or you can just look for the Automatic Replies function. If it's not there, then you are not using an Exchange account, and will have to set your out of office message in Outlook manually.
Automatic replies is pretty self-evident. But you knew that.
First, click on the file tab to find the Automatic Replies button.

Choose "send automatic replies." At this stage, you can set the date range for your vacation, or leave it blank if you want to turn it off yourself upon your return. (Just in case you need a few days of vacation from your vacation.)

You have the option to leave two separate messages: one for those who are inside of your organization, and one for those outside. Copy and paste your message (or messages) in the appropriate fields.

Proofread your message for any typos, then click OK to confirm.

Take a deep breath. That was easy!
Automatic replies makes sending a professional out of office message a breeze.
But what do you do if you are not using an Exchange account? Never fear, POP or IMAP users—you can manually set up the same function with just a few more steps.
How to: Version 2 – Manual Outlook Out of in Office Setup for POP or IMAP Users
If you find that you can't do out of office message in Outlook automatically, you will have to do it the old-fashioned way: via setting up rules. While the process is simple enough, you might not have thought of doing it this way on first glance. Let's take a look at how it works.
Click to create a new email in Outlook, as you normally would.

Fill in the subject line and paste your out of office message.

Save as an Outlook template by choosing File, then Save As, then select Outlook template under the Save As Type dropdown menu.

Enter your desired filename and click Save.

Now it's time to create rules. Under File, click on Info, then under Account Information you'll find Manage Rules & Alerts.

Choose New Rule, then from the available options, select Apply Rule on Messages I Receive, then click Next.

Next, it asks you what conditions you wish to apply. Only choose the option When My Name Is in the To Box, then click Next.

On the next screen, check the box that says Reply Using A Specific Template, then you'll click the underlined phrase in Step Two, A Specific Template.

Choose your template and click Open, which returns you to the previous screen. Your file name should appear in the bottom box, then click Next.

Under Exceptions, check the box that says Except If It Is an Automatic Reply. (You don't want to set off a chain of auto-replies!) Click Next once again.

Name your rule and click Finish! You did it!
Whew! You are almost on your way to your well-deserved vacation. Still, there's a nagging feeling. Did you miss anything?
Let's double-check and make sure.
Tips and Tricks for Out of Office Message in Outlook
Here are a few tips for making sure your out of office experience is a pleasant one.
Once you have everything set up, make sure it is working by emailing yourself from a different account. You don't want all of your hard work to be for naught!

Be sure to save your template and rule with names that are clear and easy to understand. You won't remember what these files are when you're purging your computer months later.

Double check your dates and response times. Inaccuracy can set up unintended expectations in your readers' minds.

Read it again for typos. We all have them.

Exercise online safety, and don't give out too much personal information.

Go over your vacation plan with your coworkers, and make sure everyone is clear on how they should handle urgent issues.

Use puns sparingly. Yes, they're fun, but they grow tired with overuse.
Turning Off your Out of Office Message in Outlook
After you have applied aloe to your sunburn and remembered that work exists, you'll want to come back to your inbox with style. If you entered a date range in version 1, your inbox will automatically return to normal.
If you're me, you will send yourself another email, just to check.
If not, you will need to go back in and turn it off manually. Version 1 makes this easy, with a ribbon notification that has a Turn Off button right there.
Ribbon notifications are not good for wrapping presents, but they make life easier.
For version 2, you will have to return to the rule you created, open it, and uncheck the box that says Turn On This Rule.
Then, let your colleagues know you have returned, and you'll be ready to tackle the 5,000 emails that await your immediate attention. But that's for another article.
Conclusion
Vacation prep is a lot of work, both professionally ("how do I cram four weeks of deliverables into the two weeks before I leave?") and personally ("how many tiny tubes of toothpaste do I really need?")
But now, you won't have to worry about your out of office message in Outlook anymore.
Instead, you will have a professional out of office message, set up and ready to dazzle anyone who pops into your inbox.
Enjoy your time away! Your inbox awaits your return.
Looking to start tracking all your sales email? Get started with your free trial of ContactMonkey's email tracking and salesforce integration today!