ContactMonkey now offers a pretty exciting way to personalize emails right from Outlook. Say hello to Mail Merge in Outlook.
This feature allows you to send personalized messages, employee newsletters and more to dozens, hundreds or even thousands of contacts at once using merge fields.
But why should you care about how to use Mail Merge in Outlook?
 1. You'll Get More Responses.
Research shows that personalized messages get much higher response rates. Write one message that gets personalized to a mass list, but keeps the feel of a one-on-one message.
2. You'll Get More Done.

We got pretty sick of going through thousands of steps using Word Mail Merge just to send a personalized message in Outlook. Now, you don't have to leave Outlook to send a Mail Merge.
3. You'll Get Better Data.

You need data to know what's happening and to make the best decisions. You can track every Mail Merge you send and get real-time insights on a range of key metrics.
How Mail Merge in Outlook works
Fire up Outlook Mail Merge by clicking this trusty icon — built into your Outlook ribbon so you can perform a Mail Merge whenever you want.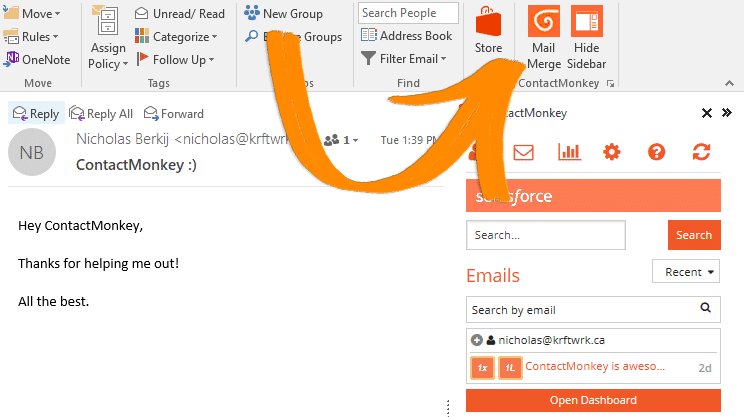 It's the same… but different.
You've now launched the Outlook Mail Merge application — which looks, feels, and acts the same as your regular Outlook compose window — only you're now capable of sending personalized messages in bulk.
On your marks…
First, Upload your list of contacts…

…and we'll do the heavy lifting.
When you upload it, you'll notice in the left hand column of the screen that there are some merge fields imported from the actual CSV.
Drag Away
Now you can personalize the message to each recipient, based on who it gets delivered to. All you need to is drag in the merge fields, which can be dragged into the subject or the body of the message.

Great. You've whipped up a quick message, and each of your recipients will receive an email that looks completely personalized.
Preview & Review
If you want to make sure everything's right, click the preview button.

This lets you see exactly what your merge tags are doing and what your recipients will see — right from your compose window.
The preview is conveniently fixed on your Outlook ribbon so you don't have to click around or waste time. We've got you covered.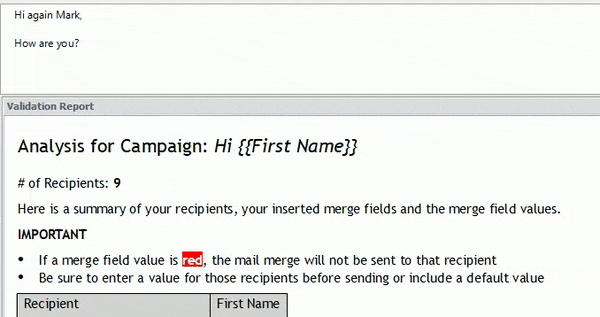 All that's left to do now is actually send the message…
…But wait!
You have a few special options before you do send.
href="https://cta-redirect.hubspot.com/cta/redirect/6282300/1603ebdd-d94d-4e3e-9d1a-59d287ec24ab" >
Track Your Message
As always, you can use email tracking to track the message and see who has opened it or clicked any link inside it.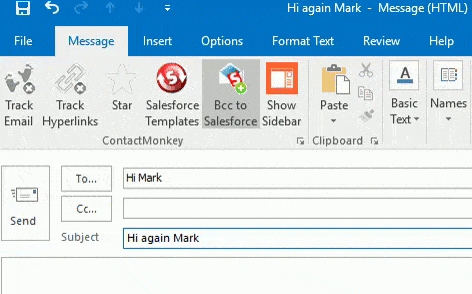 BCC to Salesforce
And, if you're a Salesforce Integration user, you can BCC the message to Salesforce. In one click.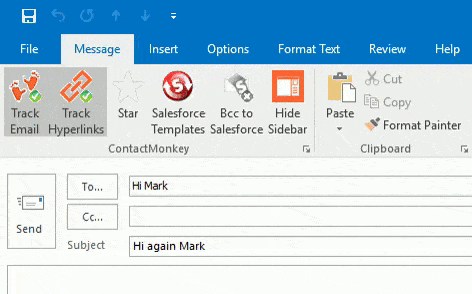 Plan of Attach
Finally, we support attachments — So you can include an attachment with your Mail Merge and everyone will get it.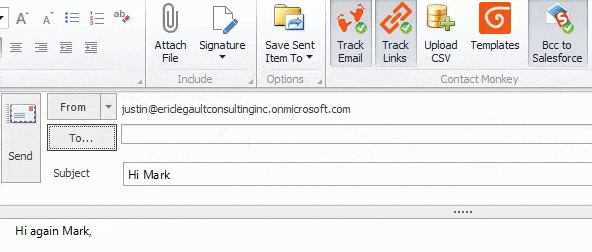 Sweet replies
Ready to send? Fantastic. Fire away and wait for those sweet leads to roll in.
Time saved = more money made.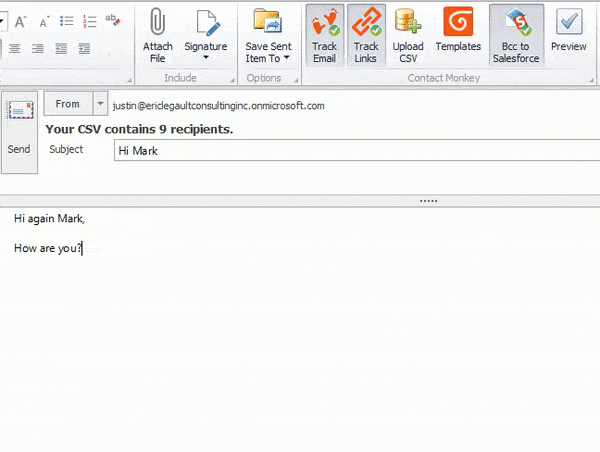 Statistics, Ahoy!
It just wouldn't be a ContactMonkey feature without real-time, in-depth insights. See how your merge performs by observing your open rates, click rates and more.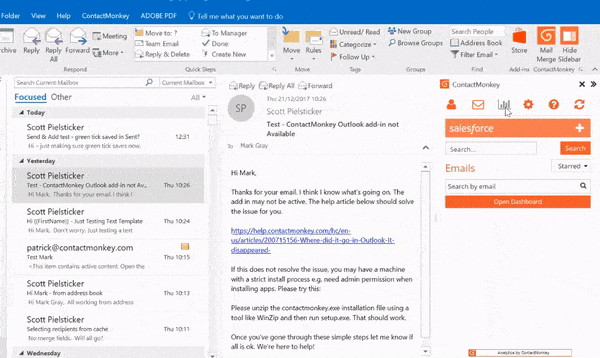 Amazing, isn't it?
There you have it! That's how to use mail merge in Outlook.
href="https://cta-redirect.hubspot.com/cta/redirect/6282300/1603ebdd-d94d-4e3e-9d1a-59d287ec24ab" >
See Mail Merge in Outlook in Action
[/fusion_builder_column]
Try Outlook Mail Merge Today.
Any thoughts, comments, or suggestions on our new feature? We're always listening. Join the conversation below! Still haven't tried it out yet? Start your free trial if you want your sales team to start using this new feature or book your personal demo if you want to start stracking internal employee emails from Outlook! 
 href="https://cta-redirect.hubspot.com/cta/redirect/6282300/5bdfb1bf-4869-444c-9ccb-234e6d7a7d55″ >