As an internal comms pro, did you ever have the most uber-creative, awe-inspiring idea?
You couldn't wait to approach your executive management. They're going to love this one, you thought to yourself. You could barely contain your excitement.
But when you approached the C-suite, they claimed they didn't have the budget to launch something like this internally. Or worse, they asked you to prepare a strategic plan outlining exactly how you'll launch the exciting campaign.
You worked day and night on the project. Only to be told after giving a stellar presentation outlining your strategic plan of action, that your organization just doesn't have the budget for it.
What if we could make such problems go away? What if we gave you your chance to exercise and utilize your creative thinking and strategic skills to launch the project or campaign of your dreams?
We put our heads together with Internal Communicator, Mike Klein from Changing the Terms, and came up with the idea of introducing an exciting contest in the form of The Gorilla Games.
This is your chance to flex your creative gorilla muscles!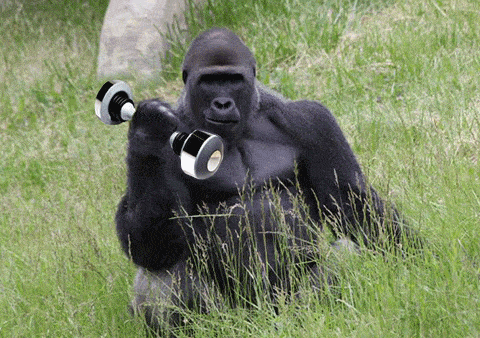 Internal Comms pros can choose from 5 different situational scenarios or challenges and attempt to solve one or more of these by writing a creative solution, using a "guerrilla approach." The best entries will get a chance to win! Entries will be judged by our esteemed panel a.k.a The Gorilla Troop.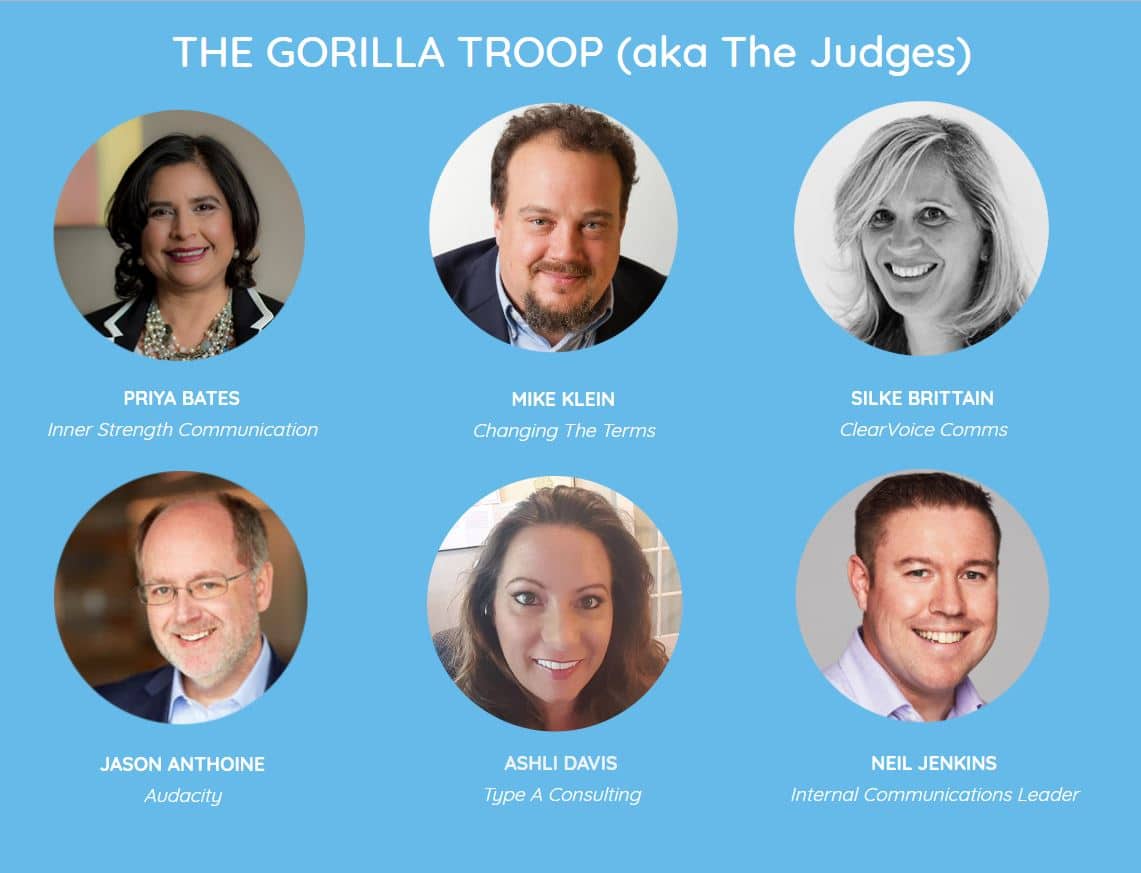 This is your chance to monkeyshine! You can get as wildly creative as you want! So, what are you waiting for? Start submitting your entries here.
Let the Gorilla Games begin!
You can also read our press release below for more deets. 
LET THE GAMES BEGIN: ContactMonkey, Changing The Terms to launch "Gorilla Games" Internal Comms essay competition
The following is a joint press release marking the launch of an essay competition for internal communicators, with ContactMonkey and Changing The Terms giving participants the opportunity to tackle one of five relevant communication scenarios and compete for prizes and recognition.
Toronto, ON/Delft, NL: In an effort to jumpstart the flow of new thought leadership and content into the internal communication profession, ContactMonkey, an email tracking service for internal communications professionals, and Changing The Terms, an internal communication consultancy based in the Netherlands, are joining forces to launch their first-ever essay competition, the "Gorilla Games" focusing on different aspects of what they call "Gorilla Internal Communication."
"In asking communicators to write about what they would do in relatively common scenarios if they were free to act, we open up insights into a new, 'guerrilla' approach to Internal Comms. And since ContactMonkey is involved, it's only appropriate to change the terms – hence 'Gorilla',' said Mike Klein, Changing the Terms' Principal.
"The approach is guerrilla in that it challenges prevailing trends. In a profession that sees itself as visual and digital, we are doubling down on the power and centrality of the written word. In a field where the awards are given for best practice, past-based performance, we are inviting people to share next practice, and what they would do if they were enabled to fight with their bare hands,' said Scott Pielsticker, CEO of ContactMonkey.
Participants for the contest can choose to submit entries in response to a number of scenarios common within the internal communication profession. The goal is for communicators to apply a guerrilla approach as a solution to the scenario of their choice, exercising their creativity and thought leadership.
Participants may submit one entry submission for each category of scenarios if they so wish. Internal communicators wishing to participate in the contest can submit their entries online starting on 1 of November 2018 via the entry form that will be hosted on ContactMonkey's website. The last day to submit entries is December 1, 2018.
Participants' entries will be judged on innovative thought leadership and use of creativity. Esteemed judges from the internal communications industry will decide on contest winners. Moreover, ContactMonkey and Changing the Terms will provide visibility to the winners and their work on one or more of their platforms.
ContactMonkey is based in Toronto, Ontario and focuses on innovative solutions for internal communications professionals with its out-of-the-box solution to email building, tracking, and analyzing for Outlook. It is the only solution that enables you to measure individual and overall employee email engagement and send beautiful responsive HTML emails from Outlook to Outlook distribution lists using their intuitive drag and drop Email Template Builder.
Changing the Terms (CTT) is based in Delft in the Netherlands and works through a global network of relationships. Mike Klein, CTT Principal, is one of the world's leading internal communication bloggers, and is the author of "From Lincoln to LinkedIn," a communication manual outlining guerrilla-style approaches.
For more information please contact:
Katie Liston, Head of Marketing at ContactMonkey
Email: katie@contactmonkey.com
Mike Klein, Principal, Changing The Terms
Email: mike.klein@changingtheterms.com