When you send an email, do you find yourself checking your inbox every couple of minutes for a response or wishing for a Gmail read receipt? Do you find yourself posting on search forums, asking "How to request a read receipt in Gmail" or "How do I get a read receipt in Gmail"
I did, all the time.
Imagine a world where you didn't have to wonder anymore. A world where you could just send an email and know who opened your email, when they opened it and where they were located. Imagine if you could also know which device they viewed your email on?
Does that sound scary? Or absolutely, blissfully wonderful!
I think it's just fantastic to be able to have all this information. It's literally like stumbling into a gold mine or frolicking in the Bahamas with no care in the world because you know you've got this. It's this awesome sense of being all-knowing. It's like possessing the absolute powers of an email-tracking god!
So you can imagine how relieved I was to find out that Gmail allows users to send emails with a Gmail read receipt option, which notifies users when a recipient opens the email. This was how I reacted upon the news. And that's not even the best part folks!
ContactMonkey is Evolving
We've come along way since read receipts. Now we're helping communicators send beautiful responsive HTML newsletters from Outlook and Gmail.
Learn More
The best part? The recipient doesn't even know their email is being tracked.
As a sales professional, the ability to send an email and know exactly when the recipient opened and read my message drastically changes the way I sell. Not only does it enhance my chance to pursue a lead when its hot, it also increases the chance of converting a lead into a sale.

So ultimately, when I discovered that there is a tool that not only tracks an email but also provides data and metrics – I knew my selling game changed to a whole different level.
ContactMonkey's Email Tracking tool allows users to send and track email, while providing data such as email open rates, device/location where email was opened, best performing email subject lines, and so much more!
Here's how ContactMonkey integrates Gmail read receipts with their comprehensive tool:
Your browser does not support the video tag.
Read Receipt in Gmail
It's ridiculously easy to track your emails in Gmail. Just compose a new email or reply to an existing email like you normally would. However, in this case you'll see 2 new buttons embedded in your Gmail window, like this:
Every time you're composing a new email simply tick Track Message and Track Links if you want the email to be tracked. You can set those settings as default by clicking the Set as default button.
Now that your emails are getting tracked, how do you get notified with a Gmail read receipt when they get opened? Great question! Once you're set up, you'll see a new sidebar on the right side of Gmail.
This sidebar will update with real-time alerts as soon as your emails are opened and your links are clicked. You will even be able to see where your emails are being opened, how many times they've been opened and whether they've been forwarded.
Once you see a lot of activity on a certain email you can pick up the phone and close the deal. A salesperson's dream! Here's how your new sidebar looks in Gmail: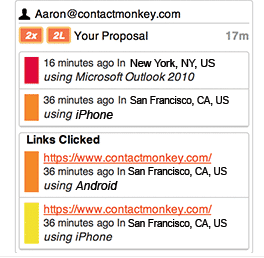 How to Add a Read Receipt in Gmail
Now that you're excited to get going, you may wonder if there's any way to find out if an email that you have already sent has been opened. Unfortunately not. If you've already sent the email without the new Gmail Read Receipt installed, there's no way to find out if the email has been opened.
Start tracking emails now with read receipt on Gmail so this doesn't happen to you! If you've ever wondered how to add a receipt in Gmail, here's your answer: just add ContactMonkey to your inbox.
Here's how to setup your new Gmail read receipt:
Install from ContactMonkey's signup page here
Sit back and send emails as you normally would.
Voila! That's it. ContactMonkey's obsessed with speed and simplicity. That's why our Gmail Read Receipts are ridiculously easy to use – and why ContactMonkey's powerful email tracking suite is used by over 100,000 people and counting every day. Happy tracking!
Related reading: